Mountblue is a leading technology skills development company offering intensive coding boot camps and upskilling programs for aspiring software developers. With a strong focus on practical learning and hands-on experience, Mountblue Careers provides participants with the technical skills and industry-relevant knowledge to excel in technology. By joining Mountblue, individuals can gain a solid foundation in programming languages, frameworks, and tools that are in high demand by companies worldwide. The company's curriculum is designed to bridge the gap between traditional education and industry requirements, ensuring that participants are job-ready upon completing their programs.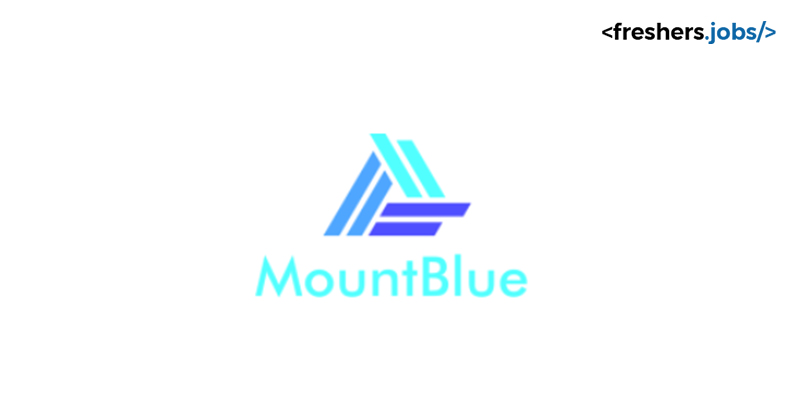 Mountblue also offers mentorship and career guidance, helping participants secure job placements with top-tier organisations. The company has established partnerships with leading companies and startups, providing participants with valuable networking opportunities and various career prospects. Mountblue's commitment to lifelong learning and professional development equips individuals with the skills to adapt to the ever-evolving technology landscape, opening doors to continuous career growth and advancement. With a strong track record of successful alumni and a reputation for delivering high-quality training, Mountblue Jobs offers promising career prospects, and jobs alert for individuals seeking to embark on a fulfilling and rewarding journey in the field of software development.
Eligibility criteria in Mountblue
Educational Qualifications: Mountblue typically requires participants to have a bachelor's degree in a relevant field such as computer science, engineering, or a related discipline. However, exceptions may be made for individuals with strong programming skills and relevant industry experience.
Programming Skills: Mountblue Technologies Recruitment process expects participants to understand basic programming concepts and languages. While prior experience in coding is preferred, individuals with a strong passion for programming and a willingness to learn for freshers jobs are also considered.
Technical Aptitude: Participants are expected to have a keen interest in technology and a desire to pursue a career in software development. They should possess problem-solving abilities, logical reasoning skills, and a mindset for continuous learning.
For the latest job openings in the Hyderabad IT sector, you can look out for jobs from freshers jobs in Hyderabad.
Interview rounds in MountBlue
The interview process at Mountblue Careers typically consists of multiple rounds designed to assess candidates' technical skills, problem-solving abilities, and overall suitability for the coding boot camp or upskilling program. While the exact number and format of the interview rounds may vary depending on the specific program and level, Mountblue generally follows a comprehensive approach to evaluate applicants thoroughly. The initial round may involve a screening interview or a technical assessment to assess the candidate's basic programming knowledge and aptitude. Subsequent rounds may include technical interviews conducted by experienced developers or instructors, where candidates are evaluated on their coding proficiency, algorithmic thinking, and ability to solve real-world coding problems.
Mountblue may also conduct behavioural interviews to gauge a candidate's communication skills, teamwork, and overall fit for the program. Throughout the interview process, Mountblue looks for individuals who demonstrate a passion for coding, a strong learning mindset, and the potential to thrive in a fast-paced and collaborative coding environment. By assessing candidates' technical abilities and personal attributes, Mountblue aims to ensure that the participants selected for their programs have the best chance of success and can make the most of the learning opportunities provided.
The Mountblue Fresher salary for a Software Engineer is approximately 4 LPA nd the Mountblue salary for a Software Developer is around 4 LPA.