ICICI Bank, A significant private sector bank in India provides personal banking services to satisfy your financial needs, including accounts and deposits, cards, loans, insurance, and investment products. It also provides Net banking services. A few of the best B-school students in the nation join ICICI Bank each year as managers. The ICICI careers campus hiring is conducted by the principle of guiding young people along a professional path to evolve into potential leaders for the future. There are several examples of people in the ICICI bank who started out as trainees and worked their way up to the top executive positions.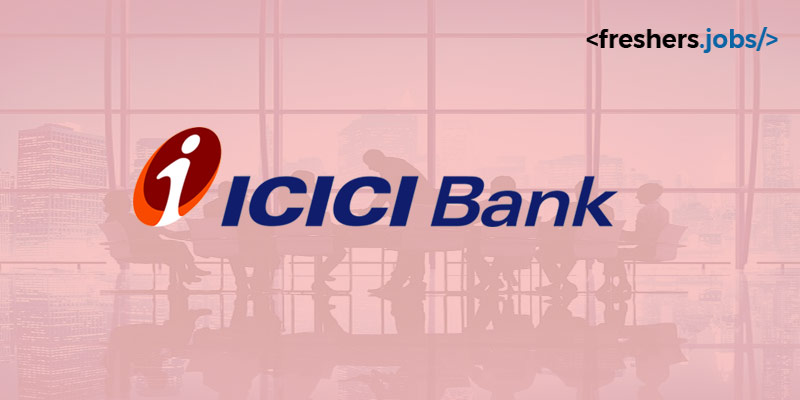 Every year ICICI bank releases numerous job vacancies for freshers and the experienced. Working at ICICI Bank, one of the most well-known private sector banks, where you can use your experience and abilities to help the bank become more profitable.
The ICICI Bank, which is among the greatest places to work, provides fantastic perks and benefits as well as a competitive salary for both beginners and experienced employees.
Why do freshers prefer to work in ICICI Bank?
Due to the brand name, Most of the employees share a good working experience at ICICI Bank and freshers choose to work with ICICI bank. ICICI Bank, one of the biggest private banks in India, is well known for its accomplishments.
Quality of Work- Work quality is essential in today's busy environment. The bank pays the highest salaries because current and previous employees rate the bank favourably for good employment quality.
Work Environment-  Most of us look for companies with vibrant cultures. Most of the employees at ICICI jobs for freshers believe that the working culture is positive.
Colleagues- Your level of professional performance is significantly influenced by your team and coworkers. At ICICI Bank, more than 15% of staff say they adore their coworkers.
Training and Development- Technology is constantly evolving. Our working methods need to be updated frequently. A little over 15% of employees believe that the bank provides a superior environment for learning and development.
A minimum cumulative grade point average of 55 per cent is required for applicants to ICICI Bank jobs in any field, including bachelor's degrees in engineering, science, business administration, bachelor's degrees in commerce, and master's degrees in computer applications for

ICICI bank recruitment.

Probationary Officer posts will be considered for those who meet these requirements and successfully complete all four screening procedures.

Since mathematics is an important subject of all banking, candidates for the ICICI Bank must be very bright in this field.

You only need to be knowledgeable about sales, marketing, and customer service.

All freshers who apply for jobs at ICICI Bank require these core skills.
Let us know how to apply for ICICI Bank jobs 
Online applications are always available on the ICICI Bank Bank website. Candidates who have read and understand the job notification are eligible to apply for ICICI Bank Fresher Jobs. Below is a detailed explanation of the ICICI Bank application process.
You can check the ICICI bank's official website if you're a fresher.

A screen with numerous links with

ICICI Bank vacancy

and

jobs alert

 will appear. 

You can read the entire document by downloading the recruiting announcement that contains the clauses.

Include all information required on the application form, such as the applicant's name, age, educational background, mobile number, and so on.

Your application should be attached with documents like marks reports and other documents.

Before clicking the Submit button, confirm the details of your entry one again.

Take the printout for further reference.
The necessary skills for ICICI Bank jobs
Working in a bank won't require a lot of IT experience.

Yes, Knowing how the System functions are also beneficial for

bank jobs.

A certain set of financial-related skills, including accounting, finance, marketing, and sales, are also required for

ICICI bank jobs for freshers

.

You need to be good at arithmetic because banking is primarily a game of numbers (Tally, Accounting, Sales, Marketing, etc.).
Freshers can sign up at any time for Tally classes, accounting classes, statistics classes, CA courses, etc.

Since you will be working and interacting with clients, communication is the most crucial ability to possess.

Dealing with consumers will require some patience and good communication abilities.

The candidate must also have a good analytical and thinking capacity.
Important Documents to carry
Bring all required documents and mark sheets to interviews on hand.

A recently updated resume.

Identity documents such as Aadhar cards, passports, and other documents of identification with the most recent passport-size photo.
Designation of ICICI Bank
Marketing Manager 
The Marketing Manager in

ICICI careers

works with other departments to present clients with a variety of offerings that can serve as successful marketing tools.

Using tools for social media marketing and managing social media, launching marketing campaigns, and planning marketing-related events.

Carrying out promotional activities, regulating both online and offline advertising, and consulting with public relations experts.

Creating advertising budgets, hiring advertising agencies, managing bulletin boards, and others.
Account Managers
The Account Manager manages and improves the maximum utilisation of the working capital constraints of the business clients.

To better understand how to use available credit limits in higher-earning credit facilities and where to find bank lines of business, analyse the cash flows of the corporate clients.

To ensure a higher limit allocation in the working capital consortium of reputable clients.

It is necessary to obtain mandates for managing cash management services from corporate and government banking clients, including Payments and Collection solutions, and E-Tendering Services, in order to improve low-cost deposits (CASA) from the client relationships.
Customer Relationship Managers
The Customer Relationship Managers are hired through the

ICICI bank recruitment

and involved in Offering them the appropriate goods and services based on their financial needs as you work with them.

Uphold the standard of the portfolio while fostering ties with current clients.

Delivering cutting-edge, brand-new solutions while assessing market trends, consumer preferences, and prospective partnerships.

Make a short, medium, and long-term sales pipeline based on market opportunities.

Coordinate the usage of several marketing methods by working together.

Collaborate with product experts, authorities, and administration teams to assure planned and distinctive solutions that address customers' demands.
Phone Banking Officers
The Phone Banking Officers apply for

ICICI vacancy

and is responsible for monitoring and addressing phone-based client inquiries and issues.

Cross-sell a range of banking products by providing customers with the relevant product and service information over the phone.

Freshers are capable of handling the duties of this role. This position pays highly for fresh icici hires and has few educational requirements.
Assistant Managers
The assistant bank manager informs his personnel of any new developments in the industry and ensures they know about the goods and services the bank offers.

Making certain that the bank's clients receive excellent financial help is the responsibility of the assistant bank manager.

The assistant bank manager must inspire his staff to put in hard work and produce the desired results.

The assistant bank manager is in charge of establishing and guaranteeing the accomplishment of the sales targets for the sales team that reports to him.

In some direct circumstances, assistant bank managers may need to speak with customers personally.

After conducting interviews, the assistant bank manager takes part in hiring new bank employees.
The Interview Process at ICICI Bank
The hiring process at ICICI bank jobs for freshers typically consists of three rounds. Your banking industry knowledge will be evaluated on the first-round written exam you take up. Your interpersonal and communication abilities will be assessed during the second round's group discussion. Given a detailed description of each round.
Written exam
Aptitude will be tested in the written exam for entry-level posts at ICICI Bank.

Multiple-choice questions with optional questions will be asked in the tests.

The majority of the part from which the questions will be derived are those on general English, comprehensive reasoning, problem-solving, mathematics, and other science-related themes.

The mathematics elements will receive more attention.
Group Discussion Round
The group discussion is the part of the process where the candidates are divided into small groups of eight or more.

Sometimes the candidates are given the option of selecting a general or current-events-related topic for the discussion.

The applicants are allowed to speak about the topics during a debate.

The main goal of this activity is to determine how confident you are, how good a communicator you are, and how up-to-date you are.

Discussions of the topic's advantages and disadvantages are welcome.
Personal Interview
The candidates who have made it through the first two stages of

ICICI bank recruitment process for freshers

jobs are chosen for the final phase, the personal interview round.

The recruiter may ask you about your educational background, general subject-related issues, or personal queries at this point.

To end the hiring process, speak out in this round with confidence.
Training and Development in ICICI Bank
Possible career change

Difficult roles with the potential for greater impact.

Take on important and challenging roles beforehand.

Flexibility to experiment with new concepts and learn from past errors.

Possibility to discuss your possibilities for improvement with superiors.

The highest level of empowerment.

The ideal setting for developing leadership.
Training Program
The human resource at

ICICI careers

is seen and valued as a key source of competitive advantage. 

As a result, the development and management of human resources is a fundamental element of their strategy and a crucial managerial function.

Due to the rapidly changing business climate in the banking industry and the continual issues it poses to enterprises and businesses, it is crucial to continuously upgrade and develop knowledge and skill sets across the organisation. 

According to ICICI Bank, creating a learning organisation is crucial for maintaining product and service competitiveness, as well as for meeting consumer demands and achieving customer happiness.

The Bank has made major investments in training and development to build competence in a variety of fields. 

To give training on products and operations, internet-based training modules are used. 

Specialized training programmes on functional training and leadership development are held at a dedicated training facility to boost knowledge and management skills. 

Training and development are crucial to the expansion and development of the organisation, according to the ICICI bank.
Work Culture at ICICI Bank
A culture at

ICICI bank for freshers

where freshers can be openly and fearlessly interact with superiors

Accepting honest mistakes.

Suggestions can be made when strategy, organisation, and policies are well communicated freely.
Probationary officer program
A one-year full-time residential training programme is available for probationary officers at Bangalore's ICICI Manipal Academy. 

Participants receive a Post Graduate Diploma in Banking after completing this programme satisfactorily (PGDB). 

The course imparts information and skills in essential banking domains related to day-to-day operations, such as banking products, processes, systems, rules, and compliance frameworks.
With ICICI Bank's internet banking, you can conveniently manage your money and do all of your financial duties from anywhere in the world. 

With the more than 350 services and features available on our internet banking platform, you may get real-time access to all of your accounts. 

With ICICI Bank's internet banking, which offers a feature-rich dashboard and an intuitive user interface, your banking experience will be made easier and easier.
At

ICICI Bank jobs for freshers

Employees receive cards for their health, medical, and life insurance policies.

The ICICI  is responsible for paying the fuel allowance and other reimbursements.

The employees are given benefits after retirement.

Benefits for employees include travel and hotel expenses for families.
The ICICI Bank Salary for Freshers is exceptionally good. The starting pay probationary office is 3.6 LPA to the Relationship manager is around 3.5 LPA.