Are you a fresher dreaming of joining Capgemini? Then you can get detailed information about Capgemini qualification criteria for freshers. Now, Capgemini job openings are scheduled to hire more than 14,000 freshers from several campuses. Capgemini is a multinational corporation with headquarters in more than 40 countries across the world. Capgemini exists in every state of India including Bangalore, Chennai, Gurgaon, Hyderabad, Gandhinagar, Mumbai, Kolkata, Pune, Noida, Salem, and Trichy.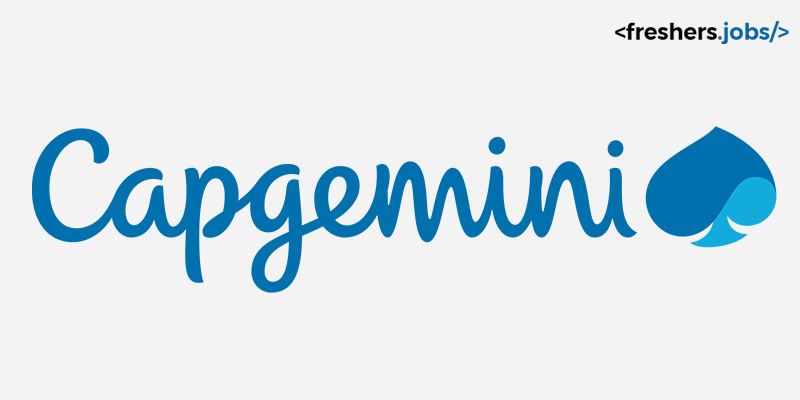 Capgemini Jobs for Freshers
There are various freshers jobs in Capgemini. The job titles include Software Associate, Software Engineer, Senior Software Engineer, Associate Consultant, Consultant, Senior Consultant, Manager, Senior Manager, and many more job opportunities.
10 Reason to Join Capgemini
Integrity, confidence, trust, flexibility, team spirit, modesty are essential values that guide us. If you share these values, you'll fit in perfectly with us.

We encourage sharing of ideas, respect for diversity, and everyone's well-being in the workplace.

6 months training that they give is one of the best.

You might also be able to work on development projects using cutting-edge technologies.

We have 300 offices in 40 different countries. You will have the chance to travel or work in a variety of domains.

Whether you're a fresh graduate or an experienced professional, you'll instantly begin working on demanding projects  with the right guidance.

Every day at work, you will have the opportunity to learn something new, which will keep you motivated and passionate.

A recent graduate can easily relate to their fellow managers, and the work atmosphere allows you to quickly integrate into your team.

Capgemini aims at offering the best training process for

freshers

and many recruitment processes and will assist you to build your career and professional skills foundation.

Capgemini promotes a development environment that allows you to acquire practical knowledge for your career growth.
Capgemini Recruitment Criteria
Only full-time degrees will be accepted (no part-time or correspondence courses).

Bachelor of Engineering or Bachelor of Technology in any discipline (CSE / ECE / IT/ EEE / TELECOM  / EI).

Only engineering graduates from the years 2020 and 2021 are allowed to apply.

M.Sc. Computer Science and Information And technology graduates are eligible to apply.

Graduates of the Master of Computer Application are also eligible to apply.

The graduation must be a full-time course approved by the Indian Central/State governments.

The candidate must have excellent communication and effective interaction skills and a strong understanding of technical subjects.

B.E./B.Tech / MCA / M.Tech passed out from the year 2019 to 2021 are eligible.

B.E/B.Tech, MCA (open for only Circuit Branches – IT, C.SC, Computer Engineering, E.E.E., Electronics & Telecommunication, E & I).

M.E/MTech candidates must be in one of the following specializations: Computer Technology, IT, and Computer Science.

Must be able to communicate effectively in English, both written and verbal.
An applicant must have a grade point average of at least 60% in  10th and 12th grades (or diploma).

An applicant must have a graduating grade point average of at least 60%.

A maximum interval of one year is permitted after HSC but not after SSC or between semesters of graduation.

At the time of the Capgemini selection process, a candidate should not have any outstanding backlogs.
Documentation Required for Fresher
At the interview, all original mark sheets of SSC, HSC, and Graduate Degree must be presented. Also, bring a copy of a complete set of all documents to the interview.

A current copy of the candidate's resume

Passport size photographs.

A government of India issued original identification evidence (Aadhar Card, Pan Card, Voter id, Passport, etc.) are required.
Fresher Eligibility Process
A candidate is not eligible to apply if they have attended an interview within the last 6 months from the date of the current application.

If a candidate is declined by Capgemini during an interview, the candidate is not allowed to apply for six months after the interview.

If Capgemini has terminated the candidate's application for any reason, the candidate is no longer eligible to apply.

If a candidate loses the opportunity to offer an interview after applying to Capgemini for any reason, the candidate has the opportunity to reapply and participate in the recruitment process.

The applicant must be a Citizen of India; however, graduates from Bhutan and Nepal are permitted to work in India without getting a job-related VISA. All other foreign citizens must have a work visa or an OCI / PIO card.
Services Offered by Capgemini
Consulting Services: Capgemini encourages corporations and organizations to make transformational businesses, which helps their customers to increase growth and hone their competing edge over other businesses.
Technology Services: Capgemini offers technological services to implement project schemes that imply intricate system integration in designing and developing the new system.
Deploy Services: Capgemini services handle and maintain clients' IT systems, including their applications and systems and their business operations.
Technical Services: The company provides digital services relevant to particular infrastructure, technical, and operations needs.
Capgemini, like other IT and consulting firms, uses the band designation scheme. P, M, O, and L are the four primary bands. On the other hand, the technical hierarchy is covered by the P and M bands, while others are related to management.
It is a technical position that is at the entry level. You will assist the software engineers with their basic procedures in this area. Freshers who have recently graduated from university are eligible for this role.
In this position, a fresher with a B.Sc degree is typically hired. After one year in this band, there is a mandatory promotion.
If you are a recent engineering degree holder, you will get hired for this company. You will be allocated to work on various development and maintenance initiatives after a few months of training.
A senior Software Engineer or project leader will be your guide and if you're a Bachelor of engineering graduate, you'll get a mandatory promotion after a year.
You will be hired after two years of experience as a Software Engineer. There are no other differences in the operations; you will just have more familiarity with the software or project and will be in charge of guiding others.
A consultant's responsibilities are distinct from those of a software engineer. As a fresher,  Under the Consultant's supervision, you will learn about the functions and tasks of a Consultant.
It is claimed that based on your progress, you would be promoted after two years.
The consultant is the individual who engages with clients and advises them on new technology deployment. He should have a broad technical background and the ability to plan the procedure.
A consultant can also take on various positions, such as team leader, technical analyst, or test engineer, etc.
They are in charge of the project that has been allocated to him. A project manager will oversee the work of a team of consultants and engineers to ensure that the project is completed correctly. They should possess both technical and managerial abilities.
Fresher Job Opportunity in Capgemini
Software Developer
As a software developer, you will be working as a team. The Consultants will evaluate, design, and build technology-based solutions for Capgemini's clients.

You will be working as a technical, operational, and industry

expert

to develop, integrate, and implement inventive software systems, such as methods, devices, and

techniques.

Contribute valuable services to the clients by satisfying their needs.
Java Microservices Developer
As a Java Microservices Developer, you should have expertise in Core Java, Java & J2ee.

Experience with OOPS ideas, Spring 3.x, SpringBoot, Hibernate, and MVC-based web applications using the JSP/Struts framework.

Implementation experience with JMS and Knowledge of HTML5, CSS, and JavaScript is required.

Participate in the project lifecycle for feasibility analysis and contribute to the technical design of innovative solutions using the most up-to-date software design approaches.
As an analyst, you should have the ability to create test cases and should have responsibility for the work/task/job assigned and adhere to the team/testing firm's standards and policies.
Should have experience working on projects that used Agile/SCRUM techniques. At the end of the cycle, generate Test Completion Reports. Knowledge of Liability, Accounts, Financing, Payments, Processing, and CIF Generation is required.
Capgemini Recruitment Process for Fresher
Round 1: The first round consists of an online aptitude test. There are 16 questions in each of the two parts, Aptitude and Verbal Ability. There are no negative marks on the aptitude test.
Aptitude Round: In the Online Aptitude Test, questions are equally balanced between Quant and Logical Reasoning.   There are no time constraints for each segment, but you should make sure you meet the sectional cut-off points. There is no system of negative marking.
Questions may be asked on Tables and charts, Bars charts, Graphs,  DI, and other concepts are covered in the Logical Reasoning Section. 
Essay Writing: You will be required to prepare an essay on a single subject.
The subjects are typically technology-related, and Sentences should be grammatically correct.
Round 2: Pseudo/Technical Code Round – Before writing the actual program in a specific language, Pseudo Code is used to write code for programs using simple English words. MCQs focused on Pseudocode and it is asked  in the following formats:
You must check for faults using a Pseudocode.

Trying to put the pseudo-code together to create the required result.
Round 3: Technical Interview – Projects you've performed on: Ensure everything that you have mentioned in your Curriculum vitae.
The topic of interest is: You will be questioned about your preferred subjects/subjects of interest before moving on to technical questions. All of the questions in this interview will be aimed toward evaluating your understanding of those topics.
Current technology: You should be updated with the latest technology such as artificial intelligence (AI), cyber security, and so forth. There's a chance you'll be questioned on these subjects.
Finally HR interview:
This level will be intended for students who have passed the technical interview. 
Be ready for general HR interview questions like:
Tell us about yourself.

What is your expectation with regard to the role?

Why Capgemini?
The questions may be on anything relevant to your personality, family, education, hobbies, internships, work experience.
Excellent communication and effective interaction Skills

Skills in Technical Field

Aptitude Skills

Programming skill

logical thinking skill
Before stepping into the Capgemini company, you should follow the steps which are mandatory to be followed.
Make sure you're ready for interviews.

Prepare the mandatory documents before joining.

Keep updated in technical skills and programming languages skills

Ready to face challenges and cooperate with the team to solve complex problems
Capgemini Salary for Freshers is paid around Rs 3.5 lakh per year. The average yearly wage for hires from IITs and NITs is Rs 6.4 lakh. The pay scale depends on the role, experience, skills of the applicants.
To apply, students must go to the official website at https://www.capgemini.com/careers/. Alternatively, you can go to

freshers.jobs

to receive the direct application link.

Select the Capgemini Careers area.

Fill the application with your information.

Apply for the job you're interested in.

Fill out the entire details and submit the required certificates.

Make sure you double-check your information and then finally click submit.

Finally, fill in the Google Doc given at the end of the page.

Candidates who have been shortlisted will be called to the test assessment/selection procedure.

The complete selection process, from the assessment test to the interview, will be conducted entirely online.