DXC Technology is a full-service information technology company. Their two segments are Global Business Services and Global Infrastructure Services. Outsourcing, analytics and development, apps, security, the internet, IT insourcing, and the contemporary workplace are just some of the company's services.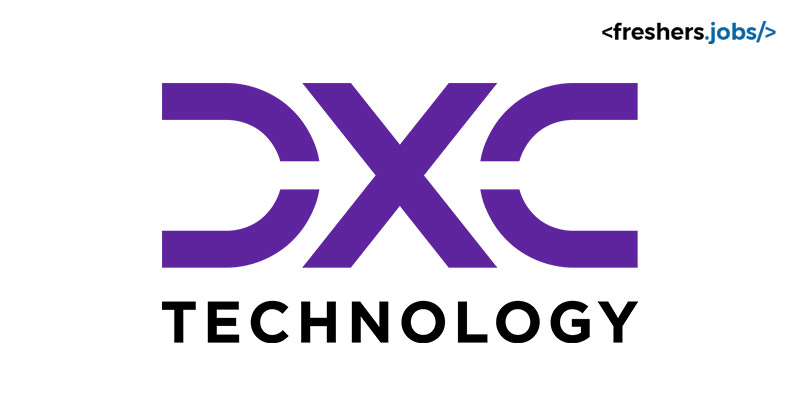 One of the finest things that may happen to a new employee is to begin their career with DXC. DXC technology jobs for freshers provide a well-structured training program that allows newcomers to settle comfortably. As a new employee, you learn how to be disciplined and keep accurate records, which is lifelong learning that will help you succeed in your career.
This page is for candidates interested in learning more about DXC Technology Careers. Furthermore, we have given extensive information regarding the qualifications, selection rounds, and job responsibilities required for freshers.
The Reasons to join DXC Technology
DXC careers

is a place where talented people embrace change and take advantage of opportunities to enhance their careers and help customers succeed.

We support and collaborate with one another both worldwide and locally.

We are dedicated to ethical and environmentally friendly business operations.

Our accomplishments show how we go above and beyond for our customers and coworkers.

We honor our most forward-thinking technologists.

DXC technology

offers a comprehensive benefits package with a variety of alternatives and a high level of flexibility

Excellent advantages and a fantastic work environment

Benefits are flexible.
Criteria for DXC Technology
All candidates should make sure that they meet the eligibility requirements for DXC technology careers for freshers
Candidates with a bachelor's degree or higher in many fields, such as

B.E/B.Tech

,

M.E/M.Tech

,

M.Sc

(CS/ IT),

MCA

,

B.Sc

,

B.Com

,

BCA

,

BA

, can apply.

At the time of applying for the DXC, there must not be any ongoing backlogs.

A cumulative grade point average of 60 percent or above is required.

A gap in the education of more than one year cannot apply.
Every IT firm seeks out enthusiastic, active, and hardworking candidates. The following are some of the qualities that DXC Technology recruitment team looks for

They should be adaptable to the degree of project work's timing constraints.

Aspirants should be able to work around the clock.

Communication abilities.

Candidates must have a fundamental understanding of the operating system, Microsoft Office, and programming languages.

Candidates must be able to effectively manage their time.
Candidates can check out http://cognizant.com/en/careers for the detailed eligibility criteria, but it is advisable to be a graduate from any of the recognised universities or equivalent qualifications in Engineering.
How to apply online for DXC technology?
To apply for the DXC job openings, follow the guidelines below. You may easily move in an accurate manner using these techniques.
To begin, go to dxc.com, which is DXC Technology's main website.

On the home screen, look in the Careers section and the

freshers jobs

You will be directed to the new page.

Also, use the search bar to locate your ideal employment.

Check the screen for any current openings.

On the screen, a page appears with

jobs alert

.

Then you can choose a job based on your preferences.

Additionally, you must click the "Apply Now" option.

Fill in all required fields and submit the form before the deadline.

Print out the page and keep it for future reference.
Candidates must bring the following documents with them when they attend the DXC technology recruitment.
Designations and responsibilities of the fresher roles in DXC technology.
Assistant System Engineer
System Analyst
Associate Software Engineer
Technical Support Engineer
Associate Application Developer
DXC technology Recruitment process
Those of you who are passionate to apply for the DXC technology openings for freshers in various job roles should read this section to learn more about the DXC Recruitment Process. The DXC Recruitment Process aims at the  fundamental Hiring that uses to bring in motivated and resourceful individuals to join their existing team. Furthermore, we would like to emphasize that if the DXC Technology Selection Process changes, we will promptly update this section.
DXC Technology Recruitment's selection procedure is divided into four primary sections: 
1) Round of online aptitude testing 
2) Round of group discussion 
3) Round of Technical Interviews 
4) Round of Human Resources 
Every round of the selection process is an elimination round, and candidates must pass the previous phase to advance to the next.
Aptitude Round
In this section, aspirants can learn everything they need to know about the DXC technology fresher recruitment Written Exam. The topics included in the aptitude section is the reasoning ability, Essay writing, Quantitative ability, and a few programming questions too.
Group Discussion
Prepare yourself for this round. The group discussion round is used to evaluate your leadership abilities and how confident you are in speaking, handling, interacting, monitoring, and concluding the conversation.
Technical Round
The DXC Technology Technical Interview will be open to applicants who have been shortlisted in the Group Discussion. Aspirants who face this round can expect questions about the significant project you completed during your college, your favorite subjects, the most current technology, and so on. As a result, make sure you're up to date on both your academic subjects and the most recent technology publications.
HR Round
At DXC technology jobs for freshers where HR Interview will be open to all candidates who were shortlisted in the Technical Interview phase. This round will be a breeze for you if you have excellent communication skills and a high level of confidence. The interviewer will inquire about your personal life, family history, and other basic inquiries in order to determine whether you are qualified for employment. You may also ask the interviewer any questions you have about the company or the job.
DXC Academy
Since 1992, DXC Academy has provided training, certification, and consulting services to businesses across various industries. We provide local and global cooperation for your transformation and talent development as part of the worldwide functioning DXC Technology parent company.
Business analysis and soft skills work hand in hand with project management and product management. We tailor our training to your specific requirements at dxc careers whether they are traditional, hybrid, or agile.
Project Management
Project management is the process of applying strategies, tools, techniques, and skills to a project in order to successfully implement product changes or adjustments.

Traditional or agile tactics are used depending on the context and success factors.

Combination methods, often known as hybrid project management, are increasingly being used.
NEXTGen Skills
Because data is now available in digital form, digitalization is having an increasing impact on businesses, driving a revolution in business processes and IT. It's centralized and protected, then analyzed and prepared for future business decisions. The data is accessible in real-time via multiple devices, allowing employees to view it from any location and at any time.
Companies are attempting to seize the prospects of the next IT generation and achieve competitive advantages by implementing digital strategies. The first phase is to create market-leading, unique concepts that are subsequently executed in projects.
The training collaboration brings trainees from many firms and industries together. In the DXC Academy's seminars, students from different disciplines of study learn together. Because many of the topics are interdisciplinary, our many years of experience from our dual program have proved that this is a crucial success factor for the future of aspiring IT specialists. The trainees learn not just at their workplaces, vocational schools, and seminars, but also from one another through group experience sharing.
Benefits at DXC Technology
The comprehensive health insurance at

DXC technology careers for freshers

covers employees and their dependent family members.

An improved work-life balance

Working mothers might choose from a variety of professions.

It makes regular commutes to work more convenient and flexible.

As a people-oriented company, we encourage our employees to participate in higher education programs so that they can achieve their dreams of studying at some of the country's most famous universities.

In order to develop talent, the DXC technology Academy focuses on developing leadership characteristics, executive coaching, and personal skills.

Bring employees and their friends/family special offers/discounts from over 30 B2C companies in our network.
The DXC technology salary for freshers is determined by the employment role he chooses. Furthermore, how well you perform in the interview will decide your pay. DXC Technology offers the most competitive compensation package in the business. Furthermore, income rises in tandem with experience and work. The average yearly income at DXC technology ranges from around 2.5 LPA for a Technical Support Engineer to 4 LPA for an Associate Application Developer.