Genpact is a multinational company that deals with professional services in finance and accounting, essential business services, sourcing, procurement, supply chain management, and information technology. Genpact runs its processes for hundreds of Fortune 500 companies and helps clients with digitally-led innovation and intelligent operations made possible by digital technology. The Analytics Insight report says that Genpact careers are one of India's top 10 Data Science companies for new graduates to work for.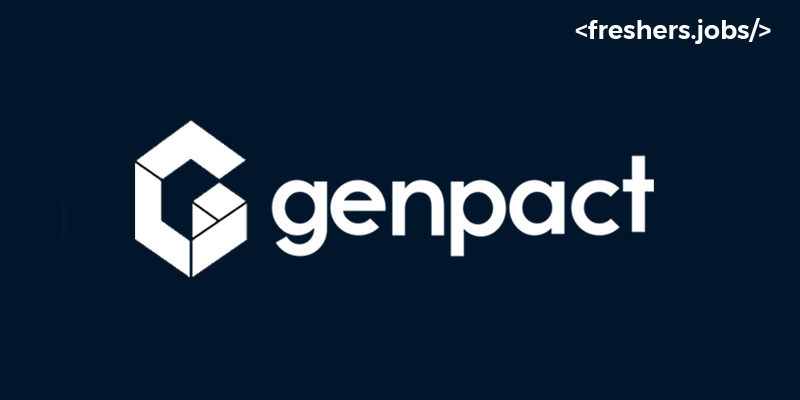 You can improve your skills in a great way if you are looking for a job at Genpact. They offer educational opportunities as well as jobs that are satisfying. Genpact jobs are great for people who are just starting and need to learn, and they pay more salary for freshers. They can also help you move up in your career.
Why do freshers prefer to join Genpact?
At Genpact, we want all of our new employees to feel valued, appreciated, and free to do their jobs on their own.

We have several projects going on worldwide to support Genpact's diverse and inclusive culture, and We delve into greater depth to ensure that all of our new employees can take part and feel valued. Genpact will be an excellent experience for you as a whole.

Compared to other places of work, the

Genpact Jobs

culture here is excellent.
If your profile satisfies the Genpact Recruitment Eligibility Criteria, you can take advantage of this fantastic career opportunity.
Academic Eligibility
Everyone who wants to work for Genpact should meet the correct eligibility requirements. This blog will provide a complete list of conditions and other information that every applicant must undergo while attending the Genpact Recruitment.
Candidates must have completed their Bachelor's and Master's in any stream with at least 60% aggregate throughout their academics.

Those who want to work for Genpact must not have any backlogs during their academics.

The gap between academic years can't be more than a year.

To work at Genpact, you need to know about Engineering, marketing and finances.
How to apply for the jobs in Genpact?
Create an account at http://careers.genpact.com, sign up for

job alerts

, and fill out the job application forms with your personal information and other information.

You can download the form and then apply by filling it out and sending it to the HR manager.

After you finish the application process, they will look over your Genpact application, and if it satisfies the criteria, you will be asked to come in for an interview.

If your Interview goes well at the

Genpact Jobs For Freshers

, you will be given a job and asked to finish the following steps: a background check before you start working.

After you have done everything that is asked of you, you will get a briefing and start working for the company.
Required documents to be carried out for the Genpact interview.
Carry all the interview-related documents along with you.

Have copies of the mark sheets, certificates, and interview call letter.

A recently updated resume.

The most recent passport-size photographs.

Identification proofs like Aadhar card, Passport, etc.
Essential skills required for the jobs at Genpact
The candidate must be good at solid problem-solving and analytics at Genpact

company

freshers jobs

.

Decision-making skills, excellent communication skills, and interpersonal skills are required.

You should be detail-oriented and capable of delivering data and patterns, identifying problems, and devising practical solutions to problems at

Genpact Vacancies

.

You must be self-motivated and confident, with an entrepreneurial spirit and a desire to work in a fast-paced, results-oriented environment with various tasks.
Designations and job responsibilities in Genpact
Process Associate
The Process Associate in

Genpact Careers

Looks for delays, problems, and weak spots in the way things are made.

Fixing problems with processing.

Taking a look at process tasks.

Advice on how to improve processes to speed up production and cut costs.

Taking care of and fixing up the production equipment.

Letting the quality assurance team know about flaws in the production.

Making sure the place where the product is made is free of obstacles and pollution.

Making sure that production processes follow the rules for safety and quality.

Putting together reports for the Technological process.
Application Developer
The Application Developer is hired through

Genpact Jobs

and Analyzes

the ideas, business models, and user needs to make a plan for how to design the product.

Play the role of a renter to develop a workable application design and coding parameters that include the essential features.

Split the process into several packets that can be sent to other relevant technology project teams.

Create different flowcharts and working models to speed up the process.

Coordinate the development process and ensure the different modules work well together.

Supervise and run performance tests and trials to ensure users have no problems.

Keep a record of and document each step of the application development process for future use and maintenance.

Install and deploy the applications to show that the software works well and meets client expectations.

To Fix up most of the problems that come up during the test cycles and keep improving the quality of the deliverables.

Talk with other application developers and technology experts to ensure you're doing good work.
RPA Support Developer
The RPA Support Developer is hired in Genpact Job Openings

Finds and design business processes that can be automated.

Setting up, testing, and keeping an eye on automated workflows to ensure that business processes work as well and are error-free as possible.

After automation has been set up, it needs to be monitored and maintained, and any problems need to be fixed so that business can run smoothly.

Putting together process documentation so that mistakes and successes can be written down and processes can be improved in the future.

Using Quality Assurance (QA) processes to ensure automation is good and stop any bugs from happening.
Data Analyst
The Data Analysts in Genpact Careers

get data from primary and secondary sources by using automated technologies.

Getting rid of broken data, coding problems, and other problems.

Rearranging data into a format that can be read is a part of making and managing databases and data systems.

Evaluating data to figure out what it means and how good it is.

Look at reports and performance metrics to find coding mistakes and fix them.

Using statistical tools to find, analyse, and explain patterns and trends in large data sets could help diagnose and predict.

Putting numbers on essential business functions so business performance can be measured and compared over time.

Analysing local, national, and international trends affects the organisation and the industry as a whole.

Using relevant data to make reports for management that show trends, patterns, and predictions.

Working with programmers, engineers, and management to find ways to improve processes, suggest system changes, and develop data governance plans. This is an essential part of what a data analyst does.
Digital Marketing Manager
Digital Marketing Manager Plans and runs all digital marketing campaigns, such as SEO/SEM, marketing database, email, social media, and display ads.

Create, build, and keep up with our social media presence

All digital marketing campaigns should be measured and reported on in terms of how well they met their goals (ROI and KPIs) in Genpact Jobs For Freshers

.

Find trends and insights, and then use those to improve spending and performance.

Think of new and creative ways to grow.

Planned, carried out, and measured conversion tests and experiments.

Work with your teams to make landing pages and improve the user experience.

Use your strong analytical skills to look at the whole customer experience across all channels and points of contact.
Business Analysts
Business Analysts are in charge of evaluating company processes, predicting needs, finding places where things could be better, and coming up with and carrying out action plans.

Make sure that business cycles are looked at regularly and that there are ways to make them better.

Keeping up with the latest communication and

IT jobs

trends so that structures can be automated and updated.

People talk about their ideas and discoveries at social events and when meeting new people.

Examining what needs to be done.

Keeping track of and sharing the results of your work.
The Interview Process in Genpact
The Genpact Recruitment consists of three rounds, namely,
Online written round.

Technical based round

Human Resource round.
Online Round
In this particular round, the applicants will be asked multiple-choice questions about English, basic math, science, programming, and other topics. Freshers can study well for the aptitude questions and time management so that they can answer all of the questions in the time allowed.
Technical Round
This round is mainly made up of technical questions about things you learned in college. Some questions might also be about the topics from your favourite subjects. So you should be ready to answer most of the basic questions about programming languages.
HR Round
This is the last round. The HR Manager will ask about your personality, hobbies, family, strengths and weaknesses, and a lot more about Genpact Vacancies. This round checks how confident, passionate, and real you are.
Training for Skill Development in Genpact
Genpact has always made sure that its employees get the training they need. There has been training on technology, including the newest ideas and projects that require special skills. You can talk to the Learning and Development department, and they send out emails every week about what's going on.
Genpact Careers

Adapt & Rise now offers free skill development courses to help professionals develop their skills in Thirteen different professions, including business analysis and more.

Training Resources for the platform are available via web and mobile applications.

About 100 hours of learning content for each role-based channel have been created, concentrating on skills across professions, such as artificial intelligence fundamentals, change management, customer experience, design thinking, storytelling, etc.
The new program is teaming up with EdCast, an AI-powered cloud platform that helps reskill workforces and establish a deployment-ready talent pool.
At

Genpact Recruitment,

we want all of our employees to feel like they are valued, appreciated, and free to be themselves.

We have many programmes worldwide to support Genpact's diverse and welcoming culture, and we ensure that most of our employees can take part and feel like they belong. 

Genpact will be an excellent experience for you as a whole.

Compared to other firms, the work culture is excellent.

Management will help with both work and how to use new technology.
Before beginning a career with Genpact, you must follow the following steps.
Make sure you are well-prepared for the Interview.

Before the Interview, double-check that you have all the necessary documents.

Keep your technical talents and computer language skills up to date.
Benefits offered in Genpact
Employees have the option of acquiring health and life insurance through Genpact. Medical benefits are supplied to opted-in employees in exchange for the submission of invoices.

An employee can suggest a possible hire and be compensated if the employee works for at least 180 days and becomes a verified employee.

Genpact careers

offer great activities on Fridays. Birthday parties, Learn & Share events, and contests, to name a few. 

Fun-filled activities range from New Year's and festive parties to various Weekend Trips throughout the year.

Employees in all categories can apply for an interest-free loan that will be paid back in six to twelve months if they purchase a SmartPhone or enrol in any pre-approved educational programs.

Gift allowances, holiday presents, annual bonuses, time off for volunteer programs, group vacations, an annual day off, FY closing meets or celebrations, SMILES trips, international assignments, and other benefits are available.
The Genpact Salary for Freshers is excellent. The Salary of a Process Associate is 2.75 LPA to the salary of a Data Analyst is around 3 LPA.