Axis Bank is a Mumbai-based provider of banking and financial services in India. It provides financial services to SMEs, retail establishments, and large and small businesses. India's economy is expanding quickly, and any successful economy needs a solid financial system. However, many rural areas and third-tier cities still lack a full implementation of this system. In terms of rural outreach, Axis Bank has been trying hard to keep up. With Axis Bank career, you may create your own job prospects and decide how you want to contribute to society. We think that giving our employees a variety of responsibilities, education and job opportunities for freshers will provide them with the freedom to mould their careers.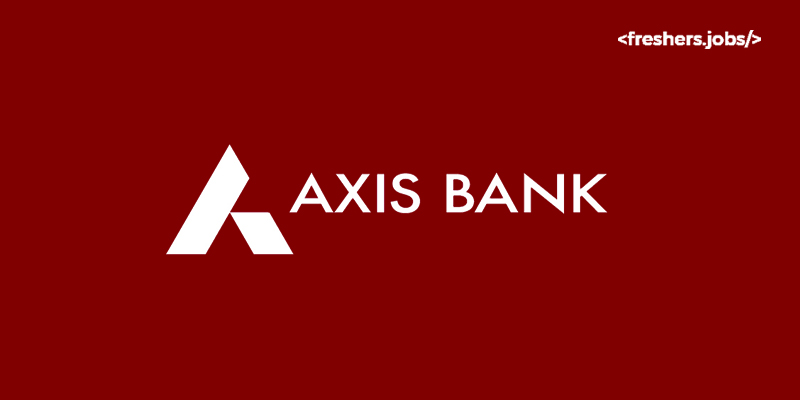 Why do freshers choose to work in Axis Bank?
Axis bank is where you can show off your talents and get exposed to other banking systems.

Axis Bank is hiring candidates from various parts of the country for numerous domains as a part of the opening called Arise.

Axis bank offers a recent graduate or an undergraduate a good place for everyone even if you are experienced or not.

Your aspiration and dreams are valued and considered at all times in Axis Bank.
Axis bank hires as many candidates every year and conducts recruitments on-campus hiring and off-campus recruitment by letting out jobs alert of every vacancy. The candidates before applying can go through the recruitment eligibility criteria and apply for the Axis bank recruitment.
The candidates can apply for the Axis

bank jobs

having graduated in any graduation like

Engineering

, Business management, or three-year degrees with an aggregate of 55% and candidates having done

banking jobs

courses will have an added advantage to work for

Axis bank jobs

.

The Probationary Officer position will first be offered to new applicants.

The candidates having a background in mathematics will be an added advantage. 

The candidates must be knowledged in

sales

, marketing, and finance to apply for the jobs in Axis Bank.
Let us know how to apply for the Jobs at Axis Bank
Candidates can apply for the Axis Bank through the online application form. The candidates can look for the latest job openings and vacancies and apply for these freshers jobs. You can apply using the process listed below, which is easy to access.
Candidates can only submit applications through the www.axisbank.com website. 

Log in to the career website first before using the Axis Bank Young Programme Link, which will take you to a different page. 

Here, you must complete the necessary documentation and submit it right away.

Before submitting, the candidate should make sure they meet all qualifying and other conditions. 

The Bank's decision is final on the candidate with regard to all issues involving the candidate's eligibility and the documents that must be produced for the purpose of conducting the examination, interview, selection, and any other issues pertaining to recruitment. 
To have the necessary skills to join Axis Bank
Freshers applying for

Axis bank vacancy

roles must also have a particular set of financial-related skills, including accounting, finance, marketing, and sales.

Because banking is mainly a game of numbers, you must be a master in math (

Tally

, Accounting, Sales, Marketing, etc.).

Courses like CA, accounting, statistics, and Tally are open to new students at any time.

The most important skill to have is communication since you will be working and engaging with clients.

It will take persistence and effective communication skills to deal with customers.

The person must also be able to think clearly and analyse situations.
Essential Documents to carry for Axis Bank jobs
A very structured Resume.

Carry all the original mark cards and copies of them and the necessary certificates like the Course completion, Additional Courses and so on.

A recent passport-size photograph.

An identification card that proves your identity.
Designations offered in Axis Bank
HR Manager
The

HR

Manager in

Axis bank jobs for freshers

performs initiatives and strategies that should be developed and put into effect in accordance with the overall business plan.

By attending to requests, complaints, and other difficulties, you can strengthen the bonds between management and the workforce.

HR regulate hiring and the employment process.

To meet present and future company demands, human capital develops, inspires, and is maintained.

The organisation should establish and maintain its whole HR strategy, methods, tactics, and processes.

Create a culture of support at work while managing and operating a framework that rewards excellence in performance.

Examine the program's training needs and keep an eye on them.

Inform management and Utilise HR metrics to support decision-making.

Manage human resources while ensuring ongoing legal compliance.
Product Analyst
The Product Analyst in

Axis bank career

collects evaluates and records the specifications for digital lending products with the ability to turn them into user stories.

Support for analysis in tracking, observing, and reporting key characteristics and experiences.

Assistance with A/B testing, particularly with performance tracking and monitoring to ensure that all stakeholders are informed of the outcomes of each test.

Lead KPI tracking to ensure that every product performs as expected and that any manufacturing issues are identified and fixed.

Assist Product Managers with partner issues research, communication, and actions.

Help product managers, UX teams, and design teams create new products and enhancements that will benefit customers and the business.

Investigate market and company needs, then assist in converting them into feature sets that are prioritised.

Analyze the opposition and let the group know if any new companies are joining the market.

Take part in the roadmap and product release planning.

As required, take part in stand-ups, backlog reviews, and sprint planning.

Participate in user acceptance testing. 
Customer Service Representative
The Customer Service Representative in

Axis bank jobs

Offers efficient and accurate service.

Provide prompt, friendly, and accurate service.

Respond to customer complaints and concerns.

Protect the bank's reputation and image.

Inform the bank of all concerns and questions from customers.

Verify the accuracy and timeliness of the data the bank has provided.

Keep up with new technological developments and other important news.

In addition to these basic activities, a customer service person is responsible for resolving any client complaints or questions regarding the bank.

The customer service agent monitors client feedback and ensures that the bank upholds its reputation for offering top-notch customer service.
Business Development Executive
The Business Development Executive is a new recruit in

Axis bank career

who earns a competitive bank salary and is in charge of finding sales opportunities for both internal and external products, which demands creating new client connections and partnerships.

Maintain business ties with current clients to strengthen existing ties.

Reach the monthly sales targets set for the business by the company.

Make use of the CRM system to document each action.
Probationary Officer
The job of a Bank Probationary Officer at

Axis Bank jobs

requires them to assist the branch manager in all parts of the financial system. 

They are employed through the bank's fresher recruitment procedure.

Due to the increased workload and expectations placed on the clerks as a result of various government programmes connected to the nation's banks, it has become necessary for the probationary officers to oversee the cash department of the banks.

While probation officers are in charge of keeping an eye on the client and making an effort to provide all the information and care that the bank has requested, the secretarial staff of the bank is mostly in charge of scheduling appointments.

The probationary bank staff members are required to open and close new accounts each day in accordance with the banking process.
Interview Rounds in Axis Bank
Axis Bank recruitment has three rounds of interview process such as Aptitude Test, Technical Round, and HR Round. Let us discuss all the rounds in detail.
Aptitude Test
Aptitude will be evaluated in the written exam for entry-level posts at Axis Bank.

Multiple-choice questions with an optional element will be the test pattern.

Most of the concepts from which the questions will be asked are from General English, comprehensive thinking, problem-solving, mathematics, and other science-related subjects.

The mathematical concepts will get additional consideration.
 Group Discussions
The group discussion is part of the

axis bank jobs for freshers

procedure where the applicants are split up into smaller groups of eight or more.

Latest subject.

The speakers are allowed to discuss the topics during a debate.

This employer's primary goals are to assess your level of self-assurance, communication abilities, and thinking. 

You can talk about the benefits and drawbacks of the subject.
Personalized Round
The candidates who make it through the first two rounds of the Axis bank Fresher Jobs programme are picked for the final round, a personal interview.

The recruiter may ask you about your educational background, general subject-related issues, or personal difficulties at this point.

During this round of the interview process, speak up with comfort.
Be ready for the interview.

Bring every document you can think of.

Check your knowledge in subjects like math.

Answer each question truthfully.

Be confident and self-assured when addressing the recruiter.
Training and Development in Axis Bank
Recent graduates in

Axis bank career

can benefit from a start in their banking careers thanks to the Axis Bank Young Bankers programme.

The programme selects aspiring bankers and uses the Learn-Earn-Grow methodology to give them the knowledge and skills necessary to succeed in the industry.

To ensure that students understand banking completely, the curriculum includes role-playing exercises, internships, and classroom training.

Graduates of the programme who are successful are awarded a Post Graduate Diploma in Banking Services, which entitles them to employment with Axis Bank.

We provide a full-time, yearly residential programme at Manipal Global Education in Bangalore.
Training at Campus
At the nation's top management schools, Axis Ahead identifies potential and cultivates it into leaders.

Upon completion of their course, the bank will make pre-placement offers to hire students based on how well they do during their internships, which involve a variety of bank activities.

The trainees' preparation for their leadership roles as well as the demanding and significant opportunities made available to them.

In order to find applicants for jobs in sectors like analytics, technology, payments, and finance, we also visit a few business schools and technical campuses like IITs, NITs, and ICFAI.

Our initiative "WeLead" has worked with reputable management institutes across the nation to find and nurture female middle management leaders.
The Work Environment in Axis Bank
Axis Bank provides a strong starting point for new hires to start their banking careers, a decent working atmosphere, and friendly seniors, management takes care of their excellent resources as a result of a highly busy work schedule. 

They hire new employees by paying them more and offering training to them who are the best and best trained, who have good knowledge and working experience.
The Benefits offered by Axis Bank
Axis Bank jobs positions for recent graduates Employees receive cards for their life, health, and medical insurance.

The fuel allowance and other reimbursements are paid by Axis Bank

After retirement, the workers receive benefits.

Benefits to employees include housing and travel expenses for relatives.
The Axis Bank Salary for Freshers is exceptionally good and in Axis bank, the Probationary officer gets a salary of about  2.08 LPA and an Account Manager gets a salary of 3.5 LPA.