One of the most critical parts of any recruitment process is the interview. Employers will better get to know their potential employees, discover their strengths and limitations, and put their practical proficiency and communication skills to the test.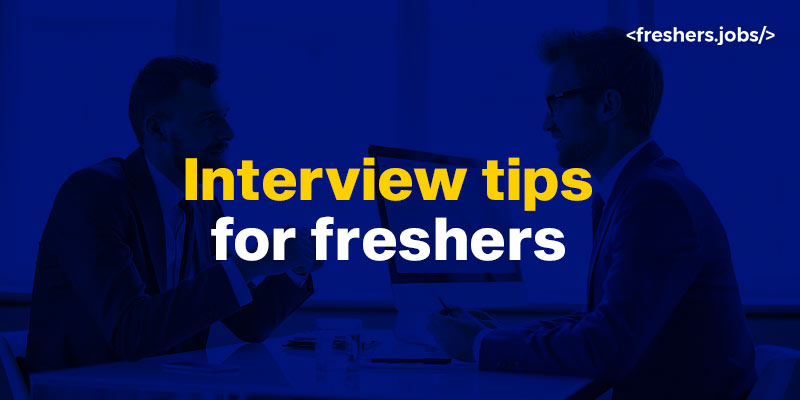 Interviews can be a reason for worry for freshers who are new to the corporate world, and planning and preparing for it could appear to be an incredible test. This is due to the fact that many freshmen lack proper training and direction on how to prepare for interviews.
Let's clear up some common interview confusion and offer some helpful interview tips for freshers so you can ace your interview and land your dream job.
As a newcomer, you may believe that your technical abilities are the only thing that matters in an interview. They're crucial, yet an Interview is about something beyond a specialized assessment.
As freshers, most of them are unsure about what questions the interviewer would ask and how the interview will go. But don't worry; we've included some advice for newcomers so that they can ace their interviews.
So let us start with the job interview tips for freshers that you have to follow 
Create a Perfect Structured Resume
We'll talk about the tips for freshers in this part. It is preferable if you provide relevant details in your CV. 

The CV is the first thing that interviewers look at. 

Make a list of your academic achievements. 

Recruiters understand that you are a fresher with no work experience.

You must, however, know how to construct a resume profile or summary statement to make your professional profile strong.

Make a point to list any technological tasks you've dealt with in your resume.

Additionally, add your project to highlight and include a link to it in your CV. 

Before the interview, the recruitment staff might look over your responsibilities and projects.

Keep your CV to the one-page maximum as a best practice.
Know about the Organisation and the job role
Apart from the salaries, and requirements, you must know about the organization in detail which is a very important interview preparation tips for freshers.
How do u know about the company?
You must research and check the company website and know about the detailed structure of the company, this can be done by going through the company website, and its social media page, and conducting online research. 

In what domain are they dealing with and their growth in the past and recent years. 

Check for the company's work culture, environment, salaries they are offering, benefits, etc. 

The majority of candidates neglect this crucial stage.

If any of your pals are working for that organization which you are searching for, You can always ask them about the company's strategies, and many more details that prompt in your mind.

Another key thing that candidates should do is know the job role, which is an essential

tips to crack interview for freshers

assuming you feel a little unsure, it is ideal to know it previously heading to the interview.   

If you found the position through an advertisement or another source, study it thoroughly and consult the recruiter if you have any questions.
Be Punctual
Are you aware of the advantages of being on time for a job interview?
If you're having a face-to-face interview, arrive early. It gives you an opportunity to adjust to your new environment conditions and get comfortable. 

You'll have a lot of chances to thoroughly consider things and intellectually plan for the Interview.

It also helps to eliminate any last-minute confusion about where to go for the interview.
Follow  the Dress Code
You must know how to dress for a job interview. 

This is a very important

interview tips for freshers

because interviews require a formal conversation. 

Companies have dress codes in place for job interviews. It's a good idea to check ahead of time whether there are any company-specific requirements that must be followed.

Advice for freshers, you do not need to dress specifically for the interview unless the recruiter specifically requests it. When in doubt, follow a formal dress code.

It's also important to dress appropriately for video interviews. 
Prepare for basic interview questions thoroughly
Preparing for the basic interview questions is another

job interview tips for freshers

.

The employer will ask you a series of questions, such as "Tell us about yourself" and "What are your future goals?" "What makes you want to team up with us?" "Talk about your strengths and weakness, etc., and so on". 

As a result, prepare responses to these questions and double-check that they correspond to your abilities.

You can also add interest to your replies by telling them instances and including examples from your previous experience. 

Additionally, be confident; you can rehearse with your family and friends and work on your flaws if you wish.
Exhibit Confident Body Language
Do you know how to be self-assured during an interview?
The first thing an interviewer looks for is body language, which is an important interview preparation tip

for freshers

. 

As a result, your nonverbal communication should exude self-assurance.

With a pleasant smile, greet the interviewer. On the off chance that you're Interview is face to face, give a confident handshake to establish a decent first meeting. 

Try not to alter your conversations. 

Having the right look is likewise significant. 

It is preferable to conduct a face expression analysis before an interview.

Recognize the significance of the interviewer's comment and respond appropriately.
Demonstrate Effective Communication Skills
One of the most crucial steps a candidate can have is outstanding communication abilities. 

You should be able to communicate effectively and know how to transmit your points whether it is vocal, nonverbal, or written. 

Many freshers are hesitant to speak with recruiters or ask questions, but this should not be the case.

If you're going to work with someone or a corporation, you should ask them everything. 

When giving replies, organize them in a way that demonstrates confidence and avoids sounding negative. 

Always pay attention to the interviewer and respond while utilizing your talents.
Interview Mocks
The mock interview serves as a comprehensive preparation tool for your actual job interview. 

It gives you a fair chance to practise and improve the areas where you are poor. 

Keep all of the necessary paperwork in one location, along with a notepad to record the feedback, even if it's just for practice. 

Besides that, take a try at the formal dress to decide whether you feel good in it.

Furthermore, avoid appearing robotic, instead of memorizing responses, communicate in a style that sounds interesting and makes you appear qualified for the position.
Ask the Right Questions
This is one of the professional

interview tips for freshers

.

Asking your interviewer questions demonstrates your research and makes you appear interested. 

Consider the inquiry "Do you have any doubts or questions?" as a good opportunity to demonstrate your abilities.

You can impress the interviewer by asking questions about their company and industry, which you may join in the future. 

This also offers you a better understanding of the tasks you'll be doing soon.
Positive Thoughts
Keeping a positive attitude can save your professional life. 

Maintaining a good attitude, on the other hand, is vital because it helps you demonstrate your confidence in front of the interviewer. 

Showing any kind of freaked-out reaction to the individual sitting in front of you can lose you the job.

Everyone wants to recruit someone who can work well with others and is calm in stressful situations.
Appreciate the opportunity
Do you have at least some idea of how to send a message to an Interview with a thank-you email? For sure is the appropriate way to deal with offering thanks after an Interview?

If you don't hear back straight away, politely question when you can expect to hear back.

You must wait patiently until that time to learn the outcome after you've chosen a date. 

Don't call the recruiter too often. 

Always make a good statement at the end of a conversation.
Follow-ups
Following the interview, offering thanks to the interviewer is standard. 

This is one of the basic

interview tips for freshers

. You should send a thank you email to them within 24 hours, expressing your thanks for providing you with such a wonderful opportunity. 

It also distinguishes you from other prospects by keeping you at the forefront of their minds. 

When you get the response, you can make arrangements and choose whether or not to join the organization.

Also, you may not receive a good response every time, therefore, in that situation, you may enquire as to why you were not granted the position.

This will help you improve for future interviews, and you may be considered for a new role within the same firm.

As a result, following the above-mentioned advice will assist you in preparing for the interview and ensuring that you succeed. 

Though you may not have any experience as a fresher, putting all of your efforts into interview preparation may help you crack one and land into your dream job!!
Conclusion
It is never a waste of time to attend an interview, whether you are a new or experienced candidate. If a person does not obtain the job, he or she should use the opportunity as a fresher to practice interview skills and prepare for future interviews. Similarly, if an experienced candidate fails to pass an interview, it is a fantastic opportunity to learn about the pattern and types of questions that companies use to assess a candidate's fitness for a specific job role.
Individuals should be aware that increased population is proportional to increased competition. There could be tens of thousands of people applying for the same job.
At that time, it's critical to develop your exceptional abilities. One of the best interview tips for freshers is to keep going to as many interviews as possible until the ideal job comes along.