Byju Raveendran started BYJU'S (Think & Learn Pvt Ltd) in 2011 with the K–12 concept in mind. Byju has changed the student's and parent's thinking about learning by giving them personalised learning experiences that meet their needs. BYJU launched the Learning App in 2015 to make it easy to access good content for students and learn from professional teachers. BYJUites work to build a community of active learners who have a strong grasp of concepts from a young age. Byjus careers mission is to be a resource for all learners, no matter where they are in the world. This is what motivates us to succeed, execute, and develop.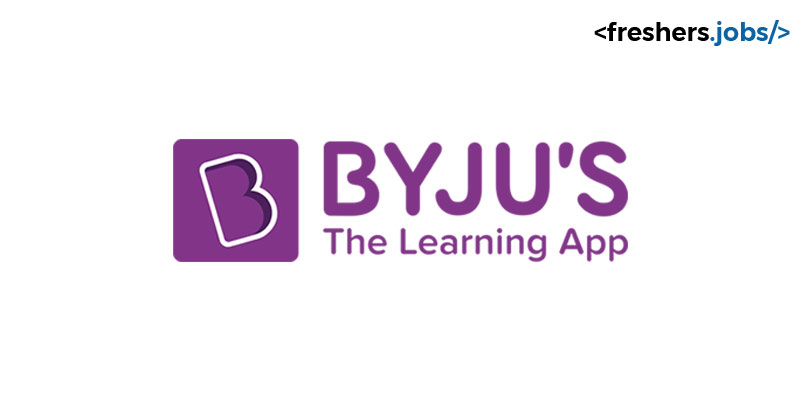 Career Opportunites for freshers in Byjus
Byju's has a lot of job openings for freshers, and there are jobs in every field, such as Academics, Business Development Associates, Brand Marketing and Communications, Content, Customer Support, Software engineering, Digital Marketing, Finance, Operations, Supply Chain Management, Tech, etc.
Byjus is searching for talented, dedicated individuals who can think both within and uniquely and creatively to assist students in learning more effectively in a more dynamic, tech-based environment. This is the place to be if you want to convey the "Think and Learn" idea to people in new and creative ways, and the salary for freshers is excellent. It's a great chance to work on something important and be part of a fun, a great team at the same time.
Why do freshers choose Byjus?
Every organisation has started implementing the latest technologies and moved their prospects into AI, Digital marketing, etc. The Byjus has implemented the same prospects on the online teaching method, which benefited the students during the pandemic. Due to the company's drastic growth, a high recruitment strategy has been implemented to hire more candidates in different fields. As this is a Startup, most young graduates are always keen on joining Byju's jobs. 
Do you enjoy educating and learning new things? Do you enjoy coming up with fresh ideas, discovering new things, and expanding your knowledge?
Then you might have a chance at BYJU'S!!! Join the Learning Tribe and learn with people all over the world. 
Byju's is the most popular educational company in the world.

Provides a comprehensive range of benefits to its employees.

Dedicated to assembling a great team of media, technology, and content specialists. 

Provides an excellent incentive system.

Provides excellent career possibilities as well as competitive pay and perks.
At

Byjus recruitment,

Any graduate or postgraduate with a grade point average of at least 60% in

B.E/B.TECH

, BDS, B.Sc, MBBS, M.E/M.Tech, B.ed, B.COM, BA, and BCA are eligible to apply for the Byjus Jobs for freshers.

Science (Physics, Chemistry, and Biology) and Math should be well proficient, especially for grades 6, 7, 8, 9, and 10.
Skills Required in Byjus for Freshers
Excellent skills in writing and communicating with people.

Interpersonal skills and the capacity to present are required.

Must be full of energy and passion.

Plan and follow through with strategies.

Ability to convince people and make deals.

Work well under pressure and as part of a team.

Quick learner, pays attention to details and drives himself or herself.
Documents to be carried for the Interview
Carry all the necessary documents, such as the mark sheets, certifications and other relevant documents.

A precisely structured resume.

Passports size photographs.

Proof of identity such as an Aadhar card, passport etc.
How to apply for Byjus Jobs?
Before submitting an online application for Byju's jobs for freshers, go to the career portal at www.Byjus.com and follow the instructions below.
Visit the https://Byjus.com/apply website till the bottom of the home page by scrolling down.

Search for the career link, then click it.

Visit the Byjus

jobs alert

notification link.

Open the online form and review the requirements.

Fill in the fields carefully, including Your Name, Date of Birth, Education, Past Year, Percentage of Marks, City, and so forth.

Before applying, double-check all of the information.

Press the Submit button to print a copy.

An email with the essential information will be sent to the shortlisted candidates.
Designations offered in Byjus
Business Development Executive
The Business Development Executive at Byjus careers for freshers

Discover all of our firm's products and services.

Getting new clients by networking and working with the marketing department.

Making connections with possible consumers and researching while networking.

Maintaining close relationships with current customers to ensure their retention.

Recommending upgrades or fresh offerings that clients would find valuable.

Drafting agreements and business offer to entice clients to pay more.

To get the lowest prices, bargain with customers.

Providing workers with the social and technical skills they need to boost sales.

Evaluating consumer feedback and making the necessary corrections.

Observing customer trends to ensure that our products remain useful.
Creative Content Writer
The Creative Content Writer at Byjus careers

Conducts an extensive study on business subjects to create original material.

Writing content for social media, blogs, articles, and product descriptions.

Assisting the marketing division in producing content for advertising campaigns.

Examining the material for consistency and grammatical errors.

Existing material is edited and improved to make it easier to read.

To improve website traffic, use SEO best practices and keyword research.

To bring in the target audience, use attention-grabbing headlines and body text.

Locating the content gaps in the company's current offering and recommending new content to fill them.
Academic Specialist
The Academic Specialist is hired through

Byjus recruitment

and involves developing and executing academic interventions in reading and using research methodologies.

Keep in regular contact with the faculty to find out how the student they are teaching is progressing.

Obtain enough information from several sources, such as the teachers, staff, and even the students, to make an informed decision on the students' careers.

Give the whole report, and the gathered data to the people who will make the decisions, like the administration, the parents, and the students.
Student Success Specialist
The Student Success Specialist in

Byju's jobs

mentors the students allocated to you by ensuring they are interacting with the product and materials.

Throughout their academic career, point the student in the direction of the right resources, valuable information, and academic learning.

To communicate with kids and parents and to serve as a mentor, use various communication methods (phone, chat, video).

To chart the kids' overall progress, carefully examine their performance dashboards.

Just use dashboards to provide parents with frequent updates on their children's learning and development.

Encourage student success and performance in academics and extracurriculars by giving them constant support and direction.

Make the app usable and completely interactive for both students and parents.

Keep your daily, weekly, and monthly goals intact while adhering to your superiors' directives.
Software Engineer
The Software Engineer in Byju's jobs for freshers

and works for

IT jobs

sector.

Creates high-quality code and does unit tests, builds, and tests according to the planned timings.

The SDLC's best practices are followed and supported by testing, coding standards, code reviews, and code comments.

Provides updates to key stakeholders about problems and developments to avoid surprises.

Concepts are organised and communicated clearly and concisely.

Possesses excellent problem-solving skills.

Aids in accomplishing team goals and exhibits excellent teamwork.
Interview rounds in Byjus
Byjus recruitment process consists of a total of 5 rounds. Candidates must prepare thoroughly for the interview procedure conducted by Byjus recruitment. Below mentioned are the rounds.
Pre-assessment

Written test

Group Discussion

Technical Round

HR Round
Let us discuss each round in detail.
Pre-assessment
Pre-assessment is an initial round that is conducted in Byjus freshers jobs. This Round is mainly on selecting the right candidates by reviewing their resumes and shortlisting them for the interviews.
Written Test
A written Test is conducted for the candidates who cleared the pre-assessment round.

This Round mainly has aptitude questions, and it will have mainly questions related to the techncial based, English based, Some mathematical questions, and problem-solving questions. 

It is determined by the job profile you have chosen. 

If you choose a marketing or engineering field. The questions will be pertinent to it.
Group Discussion
Group discussion in

Byju's jobs for freshers

does not happen for every job role.  

It is mainly for candidates who are in the Software, Business areas. 

In the Group discussion round, the candidate is grouped into teams and given topics to choose from or the topics chosen by the recruiter. 

The candidates can speak about the topic, and the recruiter mainly looks for confidence in you and how well you are cooperating with the teams. 

The Employer also looks for your communication abilities, English proficiency, and confidence level.
Technical Round
The Technical Round in Byjus is conducted for the candidates who clear the Group Discussion round. 

In this round, the recruiters ask the candidate about technical subject-related questions and ask to solve some problems. 

If you seek a job in IT, you will be required to write code and programmes. 

This round in Byjus is very crucial as this round is tough for candidates to clear.
HR Round
HR Round is the final round in Byjus recruitment

, and the candidates will be asked about their personal queries like their passions, interests, aims, hobbies and salary expectations. 

The HR manager will also brief you on the company's policies. 

You can  also ask queries regarding the company, location, etc.
Training and Development in Byjus
When using an on-the-job training program, employees get to experience learning a task by doing it themselves and carrying it out in real time. The five various types of on-the-job training methods are as follows:
Induction training is the teaching provided to newly hired employees in

Byjus careers

to familiarise them with their company's processes. New hires can quickly adjust and become comfortable with their responsibilities within an organisation by doing this.

Job Rotation: This practice of moving individuals between different roles within an organisation promotes experience and variety.
Apprenticeship: New employees learn under the guidance of highly skilled professionals or supervisors for a defined period during an apprenticeship. Activities requiring a greater skill level are practised using this training method.
Internship Training: Technical organisations and institutions work together to provide training as part of internship training. This training aims to provide new hires with a blend of theoretical and practical knowledge.
 Coaching: A fresher is responsible for assisting an experienced manager who acts as a coach. This arrangement enables the workers to see how the coach's approach to problem-solving functions and aids the workers in finding solutions to difficult problems.
The Work Environment in Byjus
At

Byju's jobs

, the work atmosphere promotes growth, a healthy work-life balance, and, most importantly, employee welfare. 

We uphold an innovation culture. 

The goal of transforming learning for kids throughout the globe drew our team together. 

The young and vivacious team aggressively emphasises the importance of diversity and inclusion.

And we encourage every staff member to use their skills to produce the best work. Furthermore, achieving the perfect balance is important to us at Byjus careers for freshers.
Benefits for Employees in Byjus
The advantages and benefits of Byjus employees include health insurance, transportation, a work-from-home policy, and educational financial aid.

Its excellent and comprehensive pay for freshers reflects its commitment to its employees and their families throughout their careers.

Vacation time and opportunities for career progression for the rest of one's life are all benefits of working hard.
Salary for freshers in Byjus
The salary in Byjus is exceptionally well for the freshers. As it is a start-up company with many job opportunities, they offer a very high salary scale for the freshers and the experienced. The Byjus Salary for Freshers for a Business Development Executive is 1.8 LPA to the salary of a Student Success Specialist is 3 LPA.