Cognizant Careers for Fresher
Cognizant is one of the leading IT and software companies that offers many career opportunities. Becoming a successful cognizant employee may seem difficult, but you can indeed become a valuable employee for this company with proper training and guidance. Cognizant has different branches all over India where they employ numerous engineers. If you want to start your career as an engineer, then cognizant is one of the best places to start your career as it gives you the required guidance and training to cope with its high technical standards.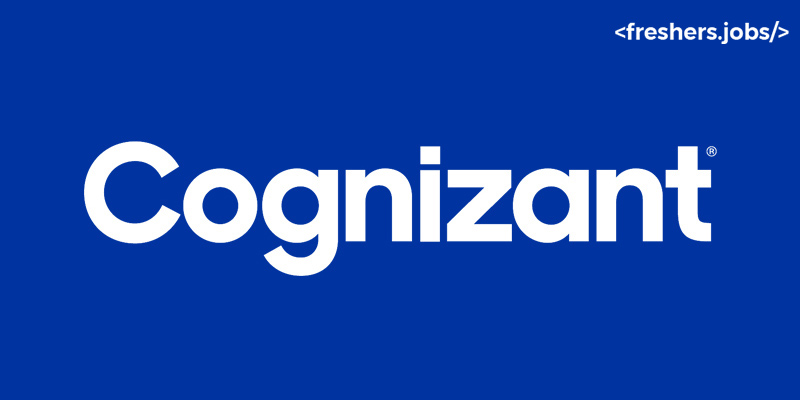 Why Cognizant is the best for Freshers
Cognizant is the best company for new graduates. How? Here are 10 reasons to support this claim:
A variety of career options in engineering, finance, marketing and IT services are available
Helps you develop your leadership skills through diverse roles in various verticals
You can grow rapidly into a leadership position by showcasing your work
The company has an atmosphere of friendliness where new graduates are integrated with peers who have more experience
It is situated in multiple locations across the world, allowing you to become exposed to various cultures and lifestyles
An innovative culture shock allows employees to think outside of the box, which helps them develop their skills
Career progression is indexed to performance with no scope for politics and nepotism which plagues other companies
Provides an opportunity to learn something new every day at work, keeping you motivated and enthusiastic
The company has a fun-loving and caring team of mentors and leaders who take personal interests in your growth
A new graduate can easily relate to his/her seniors who have been in the company for a while, and the work environment is such that you integrate easily into your team
Cognizant is an Indian multinational corporation, headquartered in Teaneck, New Jersey, in the United States. Cognizant provides business consulting, information technology (IT) services, digital solutions and other services to corporations worldwide.
Eligibility Criteria for Freshers
Candidate should be a BE/BTech from a recognized University or an equivalent qualification
Candidate must have a minimum of 60% aggregate marks in 10th, 12th and the bachelor's degree
Candidate must have cleared the Institute/board or any other statutory examination requirement
Candidates appearing for their bachelor's degree examinations and seeking admission into an Engineering / Management course through lateral entry at a later date, will also be eligible.
Candidates can check out http://cognizant.com/en/careers for the detailed eligibility criteria, but it is advisable to be a graduate from any of the recognised universities or equivalent qualifications in Engineering.
Benefits for freshers joining in Cognizant
Free transportation to site/office/home.
Onsite medical facility with doctors available round the clock.
5 Days work week (with the flexibility to work from home on alternate days with no working hour restrictions).
Well equipped Gymnasium with personal trainers available round the clock.
Free Locker facility to employees at all Cognizant locations.
Performance bonus/monthly incentive for top performers.
Internal career advancement opportunities
Employee referral bonus program
Leadership development programs and on rotation programs
Global Presence – work in different countries. Work with high profile clients.
A brief overview of Cognizant recruitment process for freshers
Every year, a large number of students join multinational companies for their budding careers. Cognizant is a leading IT Consulting and Services company, named after the famous symbol 'Cognizance', which means being aware or mindful about something.
It has been awarded as one of the world's best employers by an independent survey conducted by Forbes. It offers services in different sectors like financial services, manufacturing, insurance industry etc.
Cognizant places an extensive focus on Human Resource Development (HRD) and offers a vibrant learning environment with vast potential to its employees thereby translating into immense opportunities for growth. The process of hiring takes place at three levels
Selection Stage: At this stage, the candidate is selected based on his/her performance in the written test followed by group discussion & interview conducted at Gurgaon or Mumbai center of Cognizant after passing out through selection rounds such as Round 1, Round 2 and finally face to face interview which gives the most weight age to candidate's background, education, experience, performance in GD & Interview.
Training Stage: Candidates are trained for 6–12 weeks prior to joining the client site; depending on their level of expertise (new grads receive 6 weeks training). The candidates undergo training sessions covering topics like technical skills, soft skills like communication and personality development etc. This is done through varied delivery methods such as e-learning portal, classroom coaching(including English language), corporate libraries, seminars, mock projects etc., at Cognizant's Training Centers (located at Bangalore / Gurgaon / Chennai / Coimbatore / Hyderabad / Mumbai) or Learning centers set up by Client companies or third party vendors
Joining Stage: After joining the client site, the candidate undergoes a 3-6 months on job training period in which he/she is provided hands on development support from Cognizant team members and experienced professionals drawn from Client Site.
The below steps gives you information about the cognizant recruitment process, so that if any student is interested in knowing about this process may refer to it. This will be helpful for freshers who are looking forward to attending the interview procedure at cognizant . The brief procedure that they have to follow includes:
STEP 1 : Fill your education details and contact information
STEP 2 : Write an email to cognizant and attach your resume and passport size photograph. You can also mention your preferences of the location you want to work at.
STEP 3: Apart from this, write a letter mentioning why you are interested in working with cognizance. The recruiter will ask some questions related to projects, played by you during college days or as a part of co-curricular activities etc. Also, write down the projects undertaken by you during your final semester. This shows how serious and determined you are for the job.
STEP 4: After completing these steps, the rest depends on them. They make shortlisted candidates for further procedures and also give you the feedback mail.
In cognizant, assessment tests are conducted at different locations to shortlist candidates for face-to-face interviews. In most cases, these tests are required to be performed online and applicants can take it from any location as per their convenience.
The company was established in the year 1988, and since then it has grown into a large conglomerate with an international presence. It provides services across different industries like insurance, healthcare, education, retail and manufacturing among others. Its headquarters are located in Teaneck, New Jersey, USA. They also provide training programs for freshers to get acquainted with software development tools and techniques so that they can become proficient at their jobs soon enough.
The procedure to apply for cognizant careers is very simple. You should go through this article carefully so that you know all the details required to apply online for Cognizant jobs for freshers. Look at the different career options available below.
There are various vacancies that are up for grabs in this company. Some of them are as follows
Senior Test Engineer – Experience any degree graduate with a minimum of 2 years experience in manual testing using QTP/UFT or Selenium or any other browser automation tool and should be well-versed with the relevant scripting languages like JavaScript, VBScript etc. Should be able to work independently and proactively solve issues and take care of production support responsibilities (Tier 1).
Developer – Any graduate with relevant experience. Should have knowledge of SQL and advance JavaScript technologies.
Network Engineer – Any graduate with relevant experience. Must be a certified CCNA /CCNP practitioner. Expertise in implementation, administration and troubleshooting of network devices is essential.
Analyst Programmer – Any graduate with relevant experience as a programming analyst using IDL/IsInNet or Autosys or Unix Shell scripting to support & enhance existing COBOL systems. Desirable: Oracle DBA certification would be added advantage
Manager – Any Graduate with at least 10 years post qualification work experience across any industry requirement, preferably from the manufacturing sector into the sales function of a multi-company, preferably from an MNC environment.
Trainer – A Bachelor's degree holder in any discipline and he/she should be good at conducting web-based training. Should have knowledge of e-learning tools and presentation skills.
Content Writer – Any graduate with relevant experience as a content writer for the company's products & services. He/She is expected to create quality content by using his/her creativity, technical expertise and domain knowledge. Desire: An MBA will be an added advantage (Preferred).
These vacancies are available in almost all departments like IT development, Finance, HR, Quality Assurance etc. You can also check out the different types of jobs here – freshers.jobs.IT Graduates, fresh graduates, 10+2 or 12th pass can apply. Candidates with specializations in Java, .Net , Oracle, SAP etc are most preferred by this company
In Cognizant Salary for Freshers get paid around 5.5 lacs per annum with Incentives and Volvo cars. Freshers can get a huge growth opportunity in this company because of its vertical integration model . For fresh graduates, it provides a high salary package. The main attraction of joining Cognizant is the benefits offered by it for employees to enjoy life besides their work commitments. This company offers a very good work culture to its employee fraternity.
Some major steps which need to be followed before joining cognizant are listed here :
Prepare yourself for interviews.
Make a list of all the required documents before joining.
Keep your technical skills updated on various software's or languages.
Be passionate about doing work and enjoy every challenge that comes along with it.
Organize yourself for any new challenges which may come in future by practicing more.
So if you are looking for cognizant jobs for freshers, it's time to make a move towards this company as there is no one-stop solution to get hired anywhere these days. Also, here candidates can learn many things apart from getting placed easily. So what are you waiting for? ..Go ahead and apply now!
To know which companies show high growth right now, visit.
Visit us : Freshers Jobs
What Cognizant does, how it operates and if it is the right place for your career.
Cognizant is a global leader in consulting, technology and outsourcing. It helps clients redefine their businesses, transform themselves by leveraging the power of complex information technology solutions. The company's focus on next-generation services that include business process management comes from its primary goal – to help clients bring together people, processes and technology into a cohesive unit for effective transformation of their organizations. Cognizant has over 190 locations across six continents and serves customers in more than 50 countries.
Cognizant has been ranked as one of the top companies hiring now, whether you are an entry-level or experienced professional! In fact, it is among those companies showing high growth now.
The advantage of joining this company is that one can get training on the latest technologies like mobile, cloud service management etc. which are in demand these days. Also, at cognizant campus recruitment drives occur frequently so job opportunities are plenty.
Cognizant hiring freshers is an interesting job for fresher's who would like to build their career here. Well designed training programs along with internal certification will help you grow as a professional from being a fresher to an expert level employee over time. Apart from regular projects, international projects also come along with work experience. Opportunities won't stop here as well as there is an opportunity for employees to grow themselves in terms of promotion, salary hikes etc.
As cognizant is an IT services provider company, it needs employees who are skilled, knowledgeable and have communication skills. Also, they need people with leadership qualities. So if you want to join this company then you need not worry about communication skills or the technical knowledge part because there are ample opportunities for training right from being a fresher. Apart from their internal programs, candidates get enrolled into certification courses where they can learn many new things which will be helpful during interviews as well. The basic requirement here is passion towards work along with an attitude which makes one hardworking and efficient while doing a job.
About Cognizant Training & Placement Cell
Cognizant training cell gives free training programs for students who are looking to build careers with them. According to this company policy they train every student required for the post of Software Engineers so that he/she can get placed shortly after college completion. This way, Employers can choose from an engaged pool of potential employees who have already shown their interest in the particular company.
Cognizant is getting more popular among students due to its forthcoming internship programs, fast placements and an excellent corporate culture. So, instead of working in a small firm with low aspirations, work for big companies like Cognizant which are not only well known but are also fulfilling career goals of many professionals.
Cognizant careers for freshers is one of the most sought after job opportunities in India. It offers excellent growth prospects to its employees.
Process of recruitment at Cognizant for ITES Operations — BPO Role
Cognizant recruits graduates from all disciplines for its ITES Operation – BPO division i.e., process of recruiting freshers purely depends upon their academic background and major subject opted by them during graduation or post graduation. The roles recruited are as follows:
In addition to above, some other roles which have been recently added to these lists are:
Also new initiatives such as Workforce Management, Testing etc. are also taken up by Cognizant to meet its business goals and achieve excellence in delivery of services to its clients.
Training & Placement Procedure for Freshers at Cognizant: — IT Role (For New Graduates)
Cognizant recruits graduates from all disciplines for its IT division i.e., process of recruiting freshers purely depends upon their academic background and major subject opted by them during graduation or post graduation. The roles recruited are as follows:
The process of hiring people for above mentioned jobs is like any other ITeS/BPO company wherein selection occurs through 3 stages- Written Test, GD & Interview based on the candidate's profile check followed by confirmation of joining date (after getting selected). However, cognizant offers high remuneration as compared to other ITES/BPO companies and also due to its process of recruiting people, cognizant is known as one of the top pay master in India field.