ICICI Bank has pioneered a number of technical innovations in the market, including Internet Banking, Mobile Banking, Tab Banking, and Fully Automated Touch Banking. ICICI continues to innovate with India's first contactless Debit and Credit Cards, the world's first Facebook Banking App, and money transfers via Twitter, all with the goal of providing an amazing banking experience to its clients and the employees working for ICICI. Furthermore, the bank features an innovative internet banking platform that allows consumers to personalize their online banking experience, demonstrating its futuristic attitude.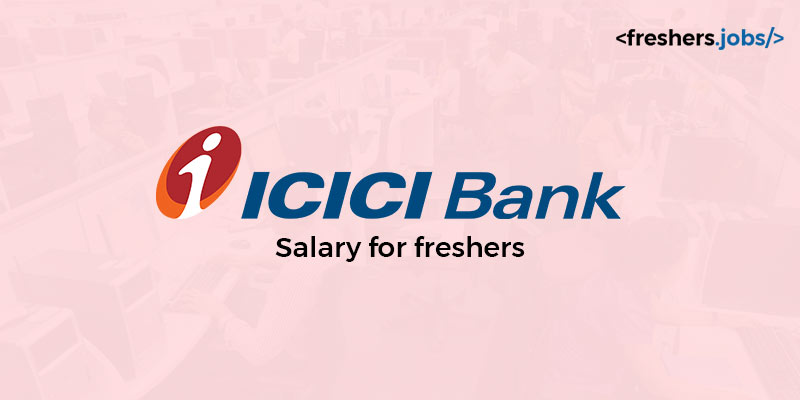 ICICI Bank is one of the most significant private sector banks, and you will be delighted to work for them, where you will be able to apply your knowledge and talents to help the bank become profitable.
The company provides exceptional awards and perks and a competitive ICICI salary for freshers and experienced employees, making it one of the greatest places to work.
Why do candidates prefer to Join ICICI bank?
Because of the brand name, about 30% of employees and ex-employees choose to work for ICICI bank. ICICI Bank is one of India's major private banks, and it is well-known for its accomplishments.
Work quality- In today's busy world, work quality is extremely important. Nearly 20% of employees and ex-employees have given the bank a positive assessment for job quality and thus receiving the best

ICICI fresher salary.

Workplace culture- Most of us are looking for dynamic workplace culture. According to 15 percent of employees, ICICI has a positive work environment.

Colleagues- A large part of your professional success is determined by your team and coworkers. In ICICI Bank, over 15% of employees say they love working with their coworkers.

Training and Development—With each passing day, technology advances. It's critical that we stay current with all working methods. About 15% of employees believe that the bank is a superior environment for training and development.
ICICI has its headquarters in Mumbai and has numerous branches across India with nearly one lakh employees working for it. More than 700+ job vacancies are released by ICICI bank for freshers and experienced across the country. So freshers need not worry, you can easily apply for the jobs at ICICI as they provide jobs in many domains of the Banking sector.
Some of the best brains from India's top business schools join ICICI Bank as managers and get the highest ICICI bank MBA fresher salary every year. 
Every candidate can think of applying for the jobs at ICICI as the jobs here seems to be prestigious and you will be promoted to higher designations with a greater pay increase. When compared to other banks such as HDFC and others, you can feel the most at ease because there are several opportunities for career advancement and a competitive income.
There are various jobs in different domains of ICICI banks offering you a splendid ICICI salary for freshers. Some of the job domains in ICICI Bank are Accounts, Sales and Marketing, Business Management, and so on.
Freshers with any educational stream can apply for the ICICI bank jobs. Specifically, you need to be good at accounting, sales, and marketing areas. Having good knowledge of these areas can clear off the interview process easily.
Probationary officers( Entry-level i.e Clerks), Marketing Managers, Account Managers, Sales Executives, Assistant Managers, Branch Managers, Phone Banking officers, Customer Relationship Managers, Product Managers, and so on are some of the job roles offered in ICICI Bank for freshers and experienced
Let us now have a look at some of the job role responsibilities and what they work for. Starting up with.
Probationary Officer
Getting to know the ins and outs of banking. You will be expected to do clerical duties or provide support to senior workers in a variety of banking activities. These tasks are a vital part of your probationary period, which can span anywhere from one to two years. You will be paid a great

ICICI fresher salary

during the probation period

.

Learning about billing, accounting, and money from a practical standpoint. You'll learn about banking processes including billing and disbursement, as well as the fundamentals of keeping books for accounts and financial management.

Carrying out bank-provided financial services. As a probationary officer, you will deal with customers and their transactions, such as passing a check, issuing a draught, disbursing cash, and so on. 

Meeting with clients and responding to their questions and concerns. You get to meet consumers, try to solve their problems, and answer their questions correctly. Contributing to the branch's business development.

Participating in the bank's key roles. You can progressively begin engaging in choices connected to planning, budgeting, loan processing and approval, investment management, and so on once you've become familiar with your function.
Sales Executive
The candidates can apply as fresher Sales Executive and can get a profitable icici salary for freshers by undertaking the below responsibilities 
Distinguish deals with prospects and performs business improvement tasks on a proactive premise in the assigned locations. 

Accomplishing the month-to-month deals focuses on various things and administrations that have been shared with.

Follow the bank's different inside strategies and methods.

Guarantee client satisfaction by interacting with them on a regular basis.

Client assistance issues/questions must be settled, and client assistance must be made simpler.
Phone banking officers
Taking care of and addressing customer concerns and questions over the phone.

Cross-selling multiple banking products to customers over the phone by providing appropriate product and service information.

This job role and responsibility is feasible for freshers to carry out. This profile does not require much qualification and also earns a good

icici fresher salary.
Customer Relationship Managers
Partner with customers throughout their lives and provide them with appropriate goods and services based on their financial requirements.

Maintain the portfolio's quality while nurturing current customer connections.

By onboarding new clients, you can expand and enhance your customer base.

To deliver new and technology-driven solutions, and analyze consumer demands, current market trends, and possible partnerships.

Construct a short, medium, and long-term sales pipeline based on market opportunities.

To implement various marketing tactics, collaborate and coordinate.

Work together with product specialists, authorities, and administration groups to guarantee organized and customized arrangements that address clients' issues.
The above details discussed the responsibilities of ICICI fresher employment roles. Enrolling in these domains jobs as an MBA Graduate can earn a great ICICI bank package for MBA fresher salary. Let's have a look at the requirements for attending an interview for a job with ICICI Bank.
Academic requirements in ICICI Bank
Graduates with a cumulative grade point average of 55 % in any field like Bachelor of Engineering, Bachelor of Science, Master of Business administration, Master of Commerce, Bachelor of Commerce, or Master of Computer Applications are eligible to apply for ICICI Bank jobs. 

Candidates that meet these criteria and successfully complete all four phases of the screening process will be considered for Probationary Officers. 

The candidates applying for the ICICI Bank must be smart enough in Mathematics as it is the base of every banking foundation. 

You must just be knowledgeable in Accounting, marketing sales, Handling Customers, and so on. 

These are the basic skills that are looked for in every fresher applying for ICICI Bank jobs.
Now let us see how the interview process in ICICI Bank  for freshers
We have a multi-stage recruitment procedure at ICICI Bank.
Application: You can apply online for employment postings that match your qualifications. If no opportunities match your qualifications, you can register in our database and we will notify you when one becomes available.
Shortlisting: The profile will be shortlisted if found apt and relevant to the ICICI Bank educational requirements.
Character Profiler: Prior to the meeting, you will be mentioned to finish an online-based character profile survey.
Documentation: you must carry the required documents for the interview.
Interview: The time, date, and location for the interview will be conveyed, and it will be face to face, by video call, or through I – Studio.
Offer: We will communicate with you about the job function, location, and salaries, after which you will receive a formal offer to join ICICI Bank.
Joining: Based on your presented documents, a background verification will be performed.

You will begin your career with ICICI Bank through the I-Banker program, which is a unique induction program for freshers.
Let us now discuss the Salaries offered in ICICI Bank for different fresher roles.
The ICICI Salary for a Probationary officer is approximately 3.36 LPA.

The salary of a Sales executive in ICICI Bank is 2 LPA.

The

ICICI bank fresher salary

for a Phone Banking Officer is 2.5 LPA

In ICICI Bank, a Relationship Manager for customers earns 3.5 LPA.

The Assistant manager's salary in ICICI Bank is approximately 3.8 LPA.

The Salary of an Account Manager in ICICI Bank is 3.82 LPA
Hope you have got an idea of the ICICI Bank salary for freshers and the various job roles offered in ICICI Bank. You as a fresher need do not feel confused and tough for applying for the banking sector as this is one of the Dominated, prestigious roles where the country's financial sectors are undertaken and controlled fully by the banking sectors. Henceforth, Tap to freshers.jobs to know more about the jobs at ICICI Bank and start applying right today.