Uber is a multinational ride-hailing company that connects passengers with drivers through a mobile app. It was founded in 2009 and has become one of the most well-known and widely used transportation network companies globally.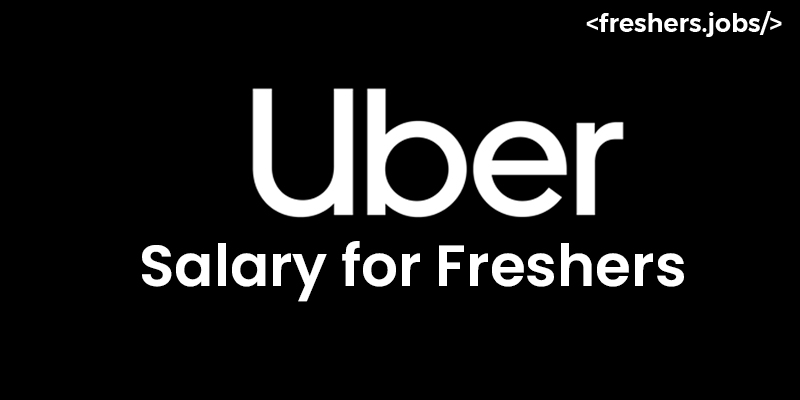 Regarding Uber salary prospects, it's important to note that Uber drivers are typically considered independent contractors rather than traditional employees. As independent contractors, drivers can set their own schedules and work as much or as little as they desire.
Uber employees earn money primarily through a combination of base fares, per-minute rates, per-mile rates, and surge pricing during periods of high demand. However, it's worth mentioning that Uber takes a percentage of the fare as a service fee, which can vary by location.
The specific freshers salary for Uber employees can vary widely depending on factors such as the city they operate in, the number of hours they choose to drive, and their ability to maximise their time and availability during peak demand. 
Why do Freshers choose Uber jobs?
Flexibility: Uber offers a high degree of flexibility regarding working hours and schedules. This can appeal to freshers who may have other commitments or are looking for part-time work with a good Uber salary for freshers while pursuing further education or exploring other career opportunities. Setting their own hours allows them to work when it suits them best.
Immediate income: For freshers who may not have extensive work experience or have yet to secure a full-time job, driving for Uber can provide an immediate source of income. It allows them to start earning money while they continue to search for other job opportunities or gain relevant work experience.
No formal qualifications required: Uber driver positions do not typically require specific educational qualifications or specialised skills beyond possessing a valid driver's license and meeting certain age requirements. This makes it accessible to freshers who may not have a degree or professional experience yet.
Potential for higher earnings: While Uber employee's earnings can be variable, depending on various factors, as mentioned earlier, there is potential to earn a high Uber fresher salary by strategically working during peak demand periods or in areas with higher ride volumes. This may attract freshers motivated to maximise their income potential through efficient driving practices.
Exposure to a tech-driven company: Uber is a prominent player in the tech industry, and working for the company can provide freshers with exposure to a technology-driven organisation. This experience can be valuable in gaining insights into innovative business models and understanding the workings of a tech company, which may align with their long-term career goals.
Job Opportunites in UBER
Uber, a leading global ridesharing and transportation platform, offers many exciting job opportunities for individuals seeking a dynamic and innovative work environment. With a commitment to revolutionising urban mobility, Uber provides openings in various domains, including engineering, product development, operations, marketing, and customer support. Whether you are passionate about designing the latest technology solutions, optimising operational efficiency, driving strategic marketing initiatives, or delivering exceptional customer experiences, Uber provides a platform where your skills and ambitions can thrive. Join the Uber team to get a high Uber employee salary and be part of a company that is redefining how people move and shaping the future of transportation.
Job domains and Job roles in UBER
Uber, a global ride-sharing and transportation industry leader, offers various job domains and roles to suit diverse skill sets and interests. The company's job domains include engineering and technology, operations and logistics, marketing and growth, customer support, legal and compliance, finance and accounting, and business development and partnerships. These domains encompass an array of job roles, such as software engineers, operations managers, marketing managers, customer support representatives, legal counsels, financial analysts, and business development managers. With its dynamic and innovative work environment, Uber provides opportunities for professionals from various backgrounds to contribute their expertise and be part of shaping the future of urban mobility.
Let us discuss a few of the job descriptions. 
Operations Manager
The Operations manager earns a high Uber salary and oversees the day-to-day operations of Uber's transportation network.

Manage a driver-partner team and ensure their compliance with Uber's policies and standards.

Optimise the supply-demand balance in your assigned region to meet rider needs effectively.

Collaborate with cross-functional teams to drive operational excellence and deliver exceptional customer experiences.

Monitor and analyse key performance indicators to identify areas for improvement and implement strategies to enhance efficiency.

Conduct data-driven analysis to identify trends, patterns, and opportunities for operational optimisation.

Ensure effective driver

onboarding

, training, and engagement to maintain a high-quality driver network.

Respond to and resolve operational issues and emergencies promptly to minimise disruptions.

Implement and enforce safety and security protocols to ensure the well-being of riders and driver-partners.
Financial Analysts
The Financial Analysts earn a good Uber salary for freshers and conduct financial analyses and provide insights to support strategic decision-making within Uber.

Analyse financial data, including revenue, expenses, and profitability, to identify trends, patterns, and areas for improvement.

Prepare financial reports, forecasts, and budgets to guide financial planning and performance evaluation.

Collaborate with cross-functional teams to develop and maintain financial models and metrics for evaluating business initiatives.

Provide financial support and guidance to business units, helping them understand the financial implications of their decisions.

Evaluate and analyse investment opportunities, conducting due diligence and financial modelling to assess potential returns.

Monitor and analyse key performance indicators (KPIs) to measure financial performance and identify areas for optimisation.

Conduct variance analysis to understand and explain deviations from budgeted or expected financial results.

Support financial planning and analysis processes, including forecasting, budgeting, and long-term financial planning.
For the latest job openings in the MNC in Delhi, You can tap into freshers jobs in Delhi to land your dream jobs.
Business Development Manager
The Business Development Manager earns a high Uber fresher salary and Identifies and evaluates potential strategic partnerships and business opportunities for Uber.

Build and maintain relationships with key stakeholders, including potential partners, industry organisations, and government entities.

Conduct market research and analysis to identify emerging trends, competitive landscape, and potential growth areas.

Collaborate with internal teams to develop business strategies and initiatives to drive growth and expansion.

Negotiate and structure partnership agreements, contracts, and deals to maximise value for Uber.

Drive the execution of business development initiatives, ensuring alignment with Uber's strategic goals.

Monitor and track the progress of partnership activities, measuring performance against targets and objectives.

Identify and pursue opportunities for cross-functional collaboration and synergies across different departments.
Training and Development in Uber
Training and development are crucial in Uber's commitment to fostering a skilled and empowered workforce. Recognising the importance of continuous learning, Uber invests in comprehensive training programs to equip its employees with the necessary knowledge and skills to excel in their roles. Whether onboarding new hires, upskilling existing employees, or providing leadership development opportunities, Uber focuses on delivering high-quality training experiences. These programs cover various topics, including technical skills, customer service, safety and compliance, leadership development, and diversity and inclusion. By promoting a culture of learning and growth, Uber ensures that its employees are equipped with the tools they need to thrive in a dynamic and evolving business environment, ultimately driving the company's success.
Uber Fresher Salary
The Uber salary for a fresher Financial Analyst is 4 LPA.

Uber's salary for an IT Business Development Manager is 3.5 LPA.

The Uber fresher salary for an Operations Manager is approximately 4.3 LPA.

The salary of a Customer support representative in Uber is around 3 LPA.

The fresher's salary for a

Marketing Manager

in Uber is about 3.5 LPA.

The Uber salary for a System Engineer is 3 LPA.
Uber salary offers competitive salary packages for freshers, ensuring they are fairly compensated for their skills and contributions. While salary ranges may vary depending on factors such as location, freshers jobs role, and experience level, Uber strives to provide attractive compensation packages that align with industry standards. In addition to competitive pay, Uber offers its employees various benefits and perks, including healthcare coverage, flexible work arrangements, stock options, and professional development opportunities. As a result, freshers joining Uber can expect a competitive salary and a supportive and rewarding work environment that promotes growth and success in their early career stages.