Employees in marketing raise awareness and promote their organisation. There are many ways that a business can promote its products or services, but a successful marketing team needs individuals with a variety of skills to work in a variety of jobs in marketing positions, including content creation, public relations, and brand management.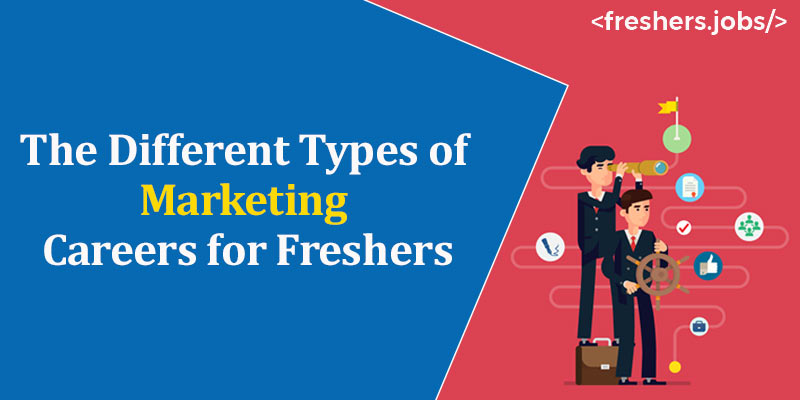 A marketing team has various freshers jobs, each contributing to creating a good or service. Continue reading to discover how marketing experts from various disciplines and backgrounds collaborate to produce eye-catching advertising and successful marketing campaigns.
The field of marketing is interesting and broad. It calls for various logical and creative people, and it accepts both Type A and Type B work styles. The first thing you should do if you want to pursue a career in marketing is to think about the jobs alert or vacancies that might be a suitable fit for you.
This blog outlines typical marketing jobs and their work descriptions.
Let us know what a marketing team is
A team of workers dedicated to promoting a business's goods or services to potential clients is known as the marketing department or marketing team, or marketing profession. Online marketing specialists, tech support staff, creative experts, market research analysts, and product technicians may all be found in a marketing department. Each marketing role focuses on a certain area to provide engaging content and commercials to attract and keep clients.
For more jobs in Marketing, tap freshers jobs in Hyderabad to start applying for recent openings.
Types of Careers in Marketing
Here is the overview of jobs in marketing for freshers.
A brand's personality is managed by brand managers, who

promote

interest in and admiration for the brand.

A brand is promoted by communications and public relations teams using various external communications strategies. They frequently collaborate closely with other departments (content,

social media

) to promote discussion about a firm.

Content marketers provide their clients with educational and useful content through blog posts, podcasts, and videos.

Digital marketers contact customers to advertise products through various digital platforms, such as social media and email.

Event marketers plan events and experiences that support a brand's character.

Product marketers launch new products or product lines using data-backed tactics.
Let us see a few of the types of marketing careers for freshers
Social Media Marketing Coordinator 
Social media marketing coordinator is one of the digital marketing career opportunities. Creating and managing social media campaigns for a company's brand is the main responsibility of social media coordinators. They produce content for social media platforms, oversee and monitor paid social media initiatives, and keep up with emerging trends. Strong verbal and written communication, creativity, and in-depth knowledge of social media platforms are all necessary skills for this position.
Marketing Assistant
Entry-level jobs in marketing assistant jobs often assist in administrating marketing initiatives and/or businesses. This is a useful approach for those just starting in the marketing industry to discover the kinds of senior marketing positions they might wish to pursue. This position manages a wide range of duties that vary depending on the firm but frequently include:
Aiding a marketing leader on clerical and administrative tasks regularly to ensure the marketing division is successful and runs smoothly.

Interacting with clients or consumers to address their inquiries, issues, and other communication needs.

Gathering and entering information on the marketing plan.

Creating and organizing the distribution of press releases.
Marketing Executive
Account executives, often known as marketing executives, are employed by advertising agencies and companies and are one of the marketing job roles. They deal with clients and customers and develop relationships with them by staying in close contact, creating marketing plans, and running campaigns. Employees with strong interpersonal skills and a desire to understand how marketing campaigns function would do well in this position.
SEO Specialist
Search engine optimization specialist's main responsibilities include analyzing and improving digital material to rank well in search engine results. SEO experts evaluate and analyze data to identify trends and determine how to generate traffic to the company's website best. They also provide data analysis during and after the execution of paid search campaigns. SEO professionals with great analytical, critical-thinking and technological skills will succeed.
Marketing Analyst
A marketing analyst's one of the jobs in marketing for freshers, and the main responsibilities include conducting customer satisfaction surveys, conducting competition analyses, and starting product testing. Marketing analysts track the effectiveness of marketing campaigns to find trends and traits that make them successful. They are also tasked with investigating potential marketing difficulties and figuring out solutions. These positions frequently require data-driven, meticulous, and technologically skilled workers.
Digital Marketing Coordinator
To ensure that marketing initiatives are implemented properly, digital marketing coordinators work closely with various other marketing jobs. They establish and maintain campaign deadlines, control the budget, and oversee campaign coordination from beginning to end. To succeed in this position, digital marketers need strong organizational, time-management and communication abilities.
Content Marketer
Content marketer's jobs in marketing, also known as copywriters, are primarily responsible for creating various content types, including whitepapers, blogs, eBooks, video scripts, and website copy. Content marketers are frequently industry specialists who are also familiar with SEO best practices to ensure their material ranks well in search engines. This profession requires creativity, research skills, and attention to detail.
Digital Strategist
Digital strategists are primarily responsible for identifying goals or obstacles within a company's marketing plan. They cooperate with various departments to develop digital marketing strategies to increase engagement and traffic. Digital strategists must possess exceptional problem-solving, analytic, and team-building skills.
Product Marketing Manager
Product marketing managers are responsible for a company's products or product lines. They determine how to sell each unique product using data and analytical skills. They strategise whole product campaigns with product designers and the marketing department. Product marketing managers are adept in critical thinking, strategy formulation, and team leadership.
Graphic Designer
Graphic designers are the type of marketing professionals and are one of the most significant types of artists in the marketing industry. Today, creating digital visual material is an in-demand skill in the workforce. Graphic designers create high-quality layouts incorporating copy and images from the marketing teams, design and draw logos, banners, and other marketing-related artwork, adapt to new design equipment as industry technology evolves and collaborate with coworkers to ensure their content fits the overall tone of a campaign.
As HP company offers many jobs under the marketing domain, you can look out for HP jobs for freshers for their recent openings.
Copywriter
Marketing copywriters are career opportunities in marketing and are primarily responsible for creating a marketing campaign's written content. This includes websites, printed materials, and promotional items. The specific duties of a marketing copywriter include generating convincing content that influences potential customers and examining and editing their work for grammatical errors, typographical errors, and factual inaccuracies. They also cooperate with designers, photographers, and videographers to ensure their copy contributes to the overall impact of a marketing campaign and meet with clients to determine what type of copy is required for a given project.
Conclusion
I Hope you are clear from the blog about the different types of marketing careers for freshers, and there are numerous types of marketing careers available for freshers, ranging from traditional marketing roles to digital marketing and social media marketing. The marketing industry constantly evolves and adapts to new technologies and trends, making it an exciting field for freshers to start their careers. Freshers must identify their strengths and interests and explore different marketing avenues to find the best fit for their skills and career goals. With dedication, hard work, and continuous learning, freshers can succeed in the dynamic marketing world and the jobs in marketing and grow professionally to earn high salaries.