Hiring managers want people with a lot of technical skills, but they also want people who can think critically and make better decisions. It is an important skill for the workplace because it helps people analyse, bring conclusions, and make decisions. To be able to think critically, you don't have to be born with it. It's an easy skill to learn. People who can solve problems like this are in high demand, and you can become one by following the steps below on how to improve your critical thinking skills.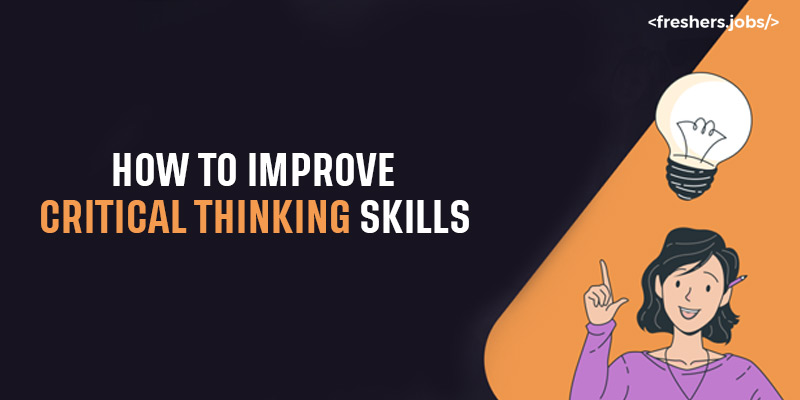 But first, let's look at critical thinking and why hiring managers say critical thinking is the most important skill for freshers jobs. Tell us what matters.
Critical Thinking
To reach a logical conclusion and make wise decisions, one needs to be able to examine and analyse a situation critically.

Critical thinkers at work make good decisions by using their reason and putting their cognitive biases to the side.

The soft skills of critical thinking and emotional intelligence go well together and will help you do well at work.

Critical thinking skills are valuable in both the workplace and daily life.

It is an important higher thinking ability that encourages active learning on your part.
Why critical thinking is important
Being able to take in new information actively is the best thing about how to develop critical thinking.
Also, you can talk to each other better, be more creative, and develop new ideas.

When employees look at a situation quickly, they can quantify the pros and cons and make a decision that makes sense.

In the workplace, being able to think critically means looking at a situation from different angles and points of view.

Critical thinkers can talk to their coworkers better, build lasting relationships, and keep things running smoothly where there are always new problems to solve, which is one of the

preparation tips

.

When you talk to someone using critical thinking, you consider their perspective, making the conversation more meaningful.
You need to be able to think critically if you want to be a leader. Here are some quick strategies to sharpen how to improve critical thinking skills and advance your career because they are so valuable at all levels of management.
How to Develop Critical Thinking: Know what your company needs
Knowing how a process or business works from start to finish is important.

With all of this in mind, we need to understand the goal and how critical thinking can be used to make the process work better.

If you only look at business policy from one angle, you might not always get the right result.

Instead, try to reach the same goal in different ways.

This shows that we need to change how we think and look at things to make new changes that will help the business run better.
Comparing Businesses
Right now, every company wants to grow two steps faster than its competitors.

It's important to move forward, whether it's with the marketing department, the promotion department, the working sector, the structure of the process, or something else.

To get to this skill level, it makes sense that a business development manager would pay attention to certain criteria.

Well, he or she will be able

improve critical thinking

in a new way if he or she knows who the business's potential customers are or what the business's needs and standards are.

The candidates who aspire to join the

government jobs

must also possess the critical thinking skills.
Analyse every choice and thought
Thinking is an internal mental process without relevance to the external world or outcomes.

This thinking becomes more powerful as more people intervene and give it hope.

This hope is brought to life a little at a time with each step of this method of thinking.

But before you apply, you can sit down and think about how likely this idea or thought will work out.

This is just to

improve critical thinking

in action.

This way of thinking will help us see ideas we might not have seen before.

Because of this, it is very important to think critically and creatively at all stages of work.
How to use
Taking risks or putting new ideas into a business without much thought is not easy.

Before making a decision, we need a plan, a workflow, results close to the estimated goal, etc.

So, any new idea, decision, thought, or way of doing things should be tried and used.

This makes it less likely that the business will fail and keeps us from wasting or losing money.
Size is not a matter
How big something is doesn't change how you think about it or analyse it.

We need to be smart and logical when making any kind of decision, big or small, about how to run a business or do our work.
Use set plans
Sometimes, it helps to use plans or ideas for the

jobs alert

that have already been shown to work.

Then you can add your own ideas and link them to make a solution to any problem that makes sense and

how to develop critical thinking.
Thinking deeply is one of the most important parts of critical thinking
You have to think hard to find the best solution for the company in the least amount of time and for the least amount of money.

We know that no money is involved in the whole situation, but time is still going by.

In general, I mean things that happen daily at work or situations that require you to think critically.

Therefore, decisions in this situation must be made fast but also logically.

Knowing how to handle situations requiring critical thinking is very important.
Conclusion
All of the above scripts are meant to help us how to improve critical thinking, make good decisions, and use these skills at work to make our ideas deep and useful. These can also be seen in our everyday lives and in the tasks we do every day that require us to think critically. Choose the best idea and build around it to achieve the best outcome.