Getting a promotion allows you to take on a more important job within your organisation, earn a more significant income, and feel more accomplished. You must perform well at work to get your supervisor's attention and improve your career inside your firm.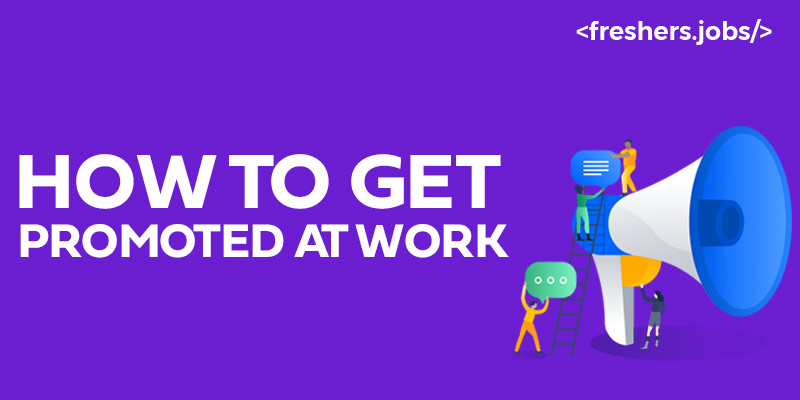 While performance, experience, and abilities are frequently needed for a job promotion in many industries, you can go above and beyond to improve your chances of getting the job you want with a higher freshers salary. This blog talks about ways to improve your chances of getting a promotion and how to get a promotion.
Related: Tap to freshers jobs in Ahmedabad to get into your dream IT jobs.
How to get promoted at work
Here are the ways to move up for promotions.
1. Make yourself worth more
Consider what your boss likes in employees to make yourself a desirable candidate for a promotion. Managers usually promote employees who add to the value of the company. One of the best ways to get promoted at work is to improve your skills and add more value to the business. Here we can see some ways to make yourself more valuable at work:
Get credentials in your field.

Get a second degree by going back for graduation.

You should work harder so the company can make more money.

Give your clients better service and know

how to get promoted

.
2. Pay attention to patterns in promotions
Pay attention to which of your colleagues have been promoted in the past few years to learn how they did it. Situational awareness can help you figure out what people in your organisation need to do well. Look for accomplishments and habits that people in your department who have moved up and been promoted have in common. These thoughts might help you figure out what to do to get a promotion.
3. Show that you are interested
Tell your boss you want to move up in the company. Some people are happy with their current job, so telling your boss about your goals and aspirations can help you get a promotion. Many bosses like it when someone who wants a promotion is brave enough to talk to them about it. Talk about what jobs you want to move into, what responsibilities you are interested in, and when you would like to get promoted.
4. Ask for feedback from your supervisor
Your manager can tell you more about what you need to do to get a promotion. Even if you are not ready for a leadership position right now, your boss can tell you what you can do to get prepared.
Related: Top Promotion Interview Questions
5. Make your chances for success
Think outside the box and look for ways to make your chances move up. If you have an idea for a programme or project, pitch it to a manager and tell them how you plan to carry it out with steps of promotion. Recruiters can see that you can handle more responsibility if you show ambition and creativity by making new opportunities for yourself.
If you are passionate about taking on more responsibilities, your manager may consider you for a promotion when one opens up. If you see that your department needs a new job, you can talk to your boss about making a new position for you instead of applying for an already open promotion.
6. Be noticeable
Put your hard work somewhere your boss and others can see it. If you want to show your boss why you should get a raise, other people need to notice what you do for the company. In addition to taking care of your responsibilities, use these strategies to show the world your passion, goals, and commitment.
7. Identify and solve problems
How to get a promotion? You can stand out as a good employee or show that you have the potential to lead by taking the initiative to fix problems and inefficiencies in your organisation. Look around the office for things that slow down work, additional costs that are not needed, and make the workplace less safe. Then, make a plan to fix those problems. If you take the initiative to improve how things work at your company, you might have the edge over other people who want to be promoted.
8. Keep getting bigger
To show that you are ready for a promotion, you should show that you have grown as an employee. Putting in the effort every day at work, learning something new, and trying to get better shows that you care about your job and want to stay at the company for a long time. By showing consistent growth over a long period, you can show your manager that they can trust you to be a responsible leader and that you will continue to do well when you have more responsibilities.
9. Summarise your impact
How to get promoted? Show that you deserve a raise by putting together data-driven reports that summarise the awesome things you have done for the company. Having proof and visuals can help show your boss that you deserve a raise and are a valuable team member. For example, you could make a graph that shows how your sales strategies have helped the company make more money since you started working there. This might make it easier for your manager to imagine what your skills could do if they hired you as a leader instead of just for a sales job.
10. Keep yourself going all the time
Staff promotions only happen some of the time. Some people may take a few years to reach this goal. You may always be motivated to keep putting in the work you need to keep moving in the right direction toward promotion.
When unsure, ask yourself why you want a promotion and why you should get one. Thinking about why you want a promotion can push you to work harder to get it. If you know why you want to get a promotion, it might be easier to work hard. Keep yourself motivated so you keep track of your promotion plan.
11. Be tenacious
How to get a promotion? You must know that it may take more than one try. If you still need to get the first promotion you apply for, keep trying for the next one. Tell your boss that this was not the right job for you, but you are excited to keep improving your skills and apply for the next one.
Being dedicated and committed even after being turned down shows that you care a lot about your field and are very passionate about it. Your boss may notice how hard you are working and give you a chance to do something even better in the future.
12. Find a Mentor
Having a mentor at your company can help you get a promotion in a big way as a reason for promotion. You can get a promotion that fits your skills and interests if you know the right people, connect with others at your company, and have someone to guide you. People can sometimes get promoted even if they have few skills or qualifications if they have a mentor who will vouch for them. If you are intelligent and willing to work hard, having a mentor recommend you for a freshers jobs can help you move quickly.
13. Make customers and clients happy
Getting good customer feedback can help you make a case for a promotion. When customers love working with you and give you good reviews based on their experiences, your manager may see this as proof that you are ready to move up to a position with more responsibility. Giving excellent customer service and being nice to your coworkers can make you a more attractive candidate for leadership positions where you work with business partners.
14. Do better than your goals
To get promoted, you need to show that you already know how to do your current job well and are ready to take on a more challenging role in the company. Look at your past performance reviews and ensure you meet and exceed your performance goals. Find ways to make more sales, get more bonuses, and give your work more benefits. Learn about what other people in your department have done well when you can, and try to be one of the best on your team.
Related: Look out for freshers jobs in Ahmedabad for high-paying jobs.
15. Uphold organisational values
To get a leadership position, you must show that you can help shape the company's culture and mission. You may be a good employee and a leader who upholds the business's values and beliefs. Learn how the company works and why executives make strategic decisions so that you can match your work habits to the company's values. This can help your boss see you as a long-term leader in the making.
Conclusion
I hope you are clear from the blog How to get promoted at work. You can think about why you want the promotion, jobs alert and what you could do to improve it. You may have felt down about some parts of the interview in the past. If you do this, you can improve your chances of getting what you want. If you think positively and are ready, you will seem like a good candidate for the promotion job who is enthusiastic and prepared to work.