The CDS examination is a highly competitive gateway that opens the door to a prestigious career in Defence Services. It is held twice a year to select candidates for various Defence Services, including the Indian Military Academy (IMA), Indian Naval Academy (INA), Air Force Academy (AFA), and Officers' Training Academy (OTA).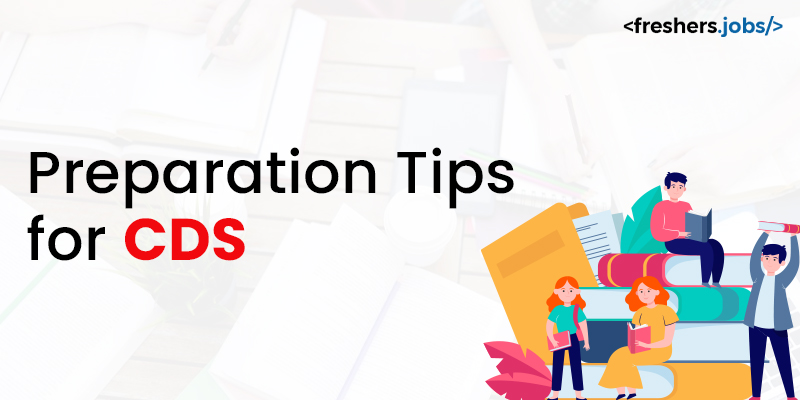 Upon clearing both the written exam and the SSB interview, successful candidates can join their desired branch of the Indian Defense Services. The CDS Exam is highly competitive and requires thorough preparation and dedication to qualify for these esteemed positions in the Indian Armed Forces. This blog will explore CDS preparation tips to guide freshers jobs seekers.
CDS Exam
CDS, also known as the Combined Defense Service exam, is a competitive examination conducted by UPSC (Union Public Service Commission) in India for choosing eligible candidates for Defense services. To prepare for this exam, the candidates should have a basic knowledge of English, Mathematics, and General Knowledge. Students should regularly read newspapers and magazines to stay up-to-date and improve their General Knowledge. Additionally, a strong understanding of Current Affairs, National and International Events, and topics related to Defense is essential. The exam also includes a Physical Efficiency Test, so the candidates need to work on their physical fitness through Regular exercise, proper diet, and physical training. 
Approximately 3 lakh candidates appear for the CDS Exam every year. However, only a few candidates will be selected for the final merit list. The selection is based on how well the candidates performed in the exam. Candidates with the best preparation can make it to the final round. Let's explore the upcoming topics' exam pattern, syllabus, and CDS preparation tips.
Job seekers can apply for the latest job vacancies through Oracle Jobs for freshers.
CDS Exam Pattern
The Central Defense Service has crafted the CDS Exam pattern to evaluate cognitive capabilities quickly. The CDS paper pattern for IMA, INA, & AFA comprises 3 core subjects: English, General Knowledge, and Elementary Mathematics. The duration of the IMA, INA, and AFA exams is 6 hours. The CDS Exam is conducted offline and has a total marking scheme 300. Types of questions will be in objective form. 
English – 2 hours – 120 questions – 100 marks.

General Knowledge – 2 hours – 120 questions – 100 marks.

Elementary Mathematics – 2 hours – 120 questions – 100 marks.
The Officers Training Academy (OTA) exam pattern includes questions from English and General Knowledge. The duration of the OTA is 2 hours with a total marking scheme of 200.
English – 2 hours – 120 questions- 100 marks.

General Knowledge – 2 hours – 120 questions- 100 marks.
A wide range of job vacancies are offered in Gurgaon. Click Freshers Jobs in Gurgaon to apply.
CDS Preparation Tips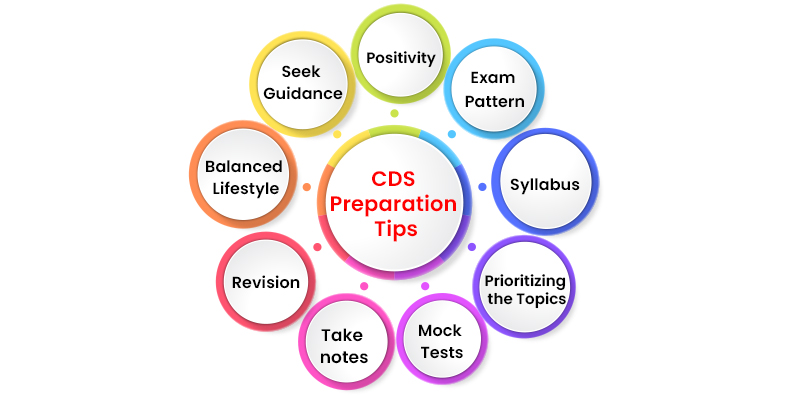 Given below are the general CDS preparation tips.
Exam Pattern: Make sure that you have a good understanding of the CDS Exam pattern. It will help you to understand the structure of the exam.
Syllabus: Familiarize yourself with the latest CDS syllabus. This process will give you an idea about the topics involved in this exam.
Prioritizing the Topics: Analyze your proficiency level and categorize the topics accordingly to give more attention to the complex topics. Allocate extra time to understand the basic concepts thoroughly.
Mock Tests: Attend mock tests to improve your time management skills and analyze your understanding level. It will help you identify the areas where you need to improve.
Take notes: Taking notes while studying will help you be more focused. It will be easy for you to revise at the last minute.
Revision:
Allocate specific time for consistent subject revision.

Go through your notes, engage in

problem solving

, and strengthen your comprehension.

Monitor your progress with self-evaluations through practice tests.
Balanced Lifestyle: Ensure an adequate sleep routine, maintain a nutritious diet, and do regular physical activity. Minimize stress and utilize relaxation or mindfulness practices to enhance focus and handle exam-related stress effectively.
Seek Guidance: When you are in a situation to face challenges or uncertainties during CDS preparation, reach out to mentors, subject specialists, or online communities for assistance. Promptly address your questions to ensure your exam preparation is precise.
Embrace Positivity:
Maintain a positive mindset during your preparation process.

Establish achievable objectives, acknowledge minor achievements, and continuously reinforce the advantages that come with

job opportunities

in the Defense services.

Create a supportive and encouraging environment around you.
Subject-wise Preparation
CDS Preparation for English
Studying all the fundamental concepts in English means you can score well in the CDS Exam. Here are some preparation tips for the CDS English language section.
Try to cover all the essential topics in the CDS English syllabus. The topics include Vocabulary, One Word Substitution, Sentence Improvement, Errors Spotting, Idioms, Phrases, and English Comprehension. 

One essential tip is revising all the grammar rules and concepts. Once you clearly understand the basic concepts, it will be easy for you to proceed further. 

Develop a regular reading habit of newspapers, magazines, or books. It will enhance your general comprehension and vocabulary.
CDS Preparation for General Knowledge
This exam will assess the student's general knowledge and current affairs. To score well in this section, you must prepare topics such as Ancient, Medieval, Modern History, Economics, General Science, Civics, and Geography. The CDS preparation tips for the General Knowledge section are as follows.
Ensure you keep track of recent developments in both domestic and international affairs by staying informed through the latest news. 

Study the syllabus and utilize resources like the internet, including Wikipedia articles, videos, and more, to enhance your knowledge.

Review previous year's CDS question papers to gain insight into the types of questions frequently posed.
CDS Preparation for Mathematics
The Mathematics paper involves questions such as Profit and loss, Percentage, Time Speed and distance, Ratios, Algebra, and Average. The primary objective of this section is to test the student's numerical ability. You can improve your CDS preparation for the Mathematics section by following the given tips:
Dedication to practice is the cornerstone of refining your Math preparation. Thus, it's essential to solve a sufficient number of daily questions. 

While attempting questions, it's important to solve them accurately. 

Effective

time management

is pivotal in this subject. Aspirants should allocate their time wisely to comprehend all questions thoroughly and answer them accurately. 

Enhance your CDS Math preparation by working through previous years' papers and CDS Mock Tests. 

Maintain a comprehensive record of all formulas and shortcuts and ensure daily revision.
Additional CDS Preparation Tips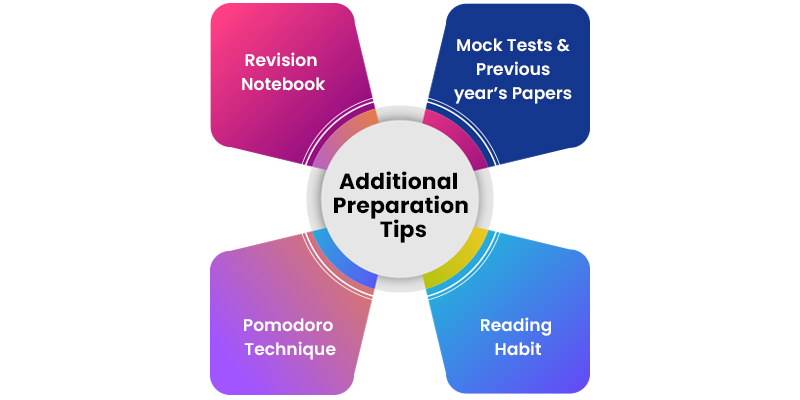 Some general tips for CDS preparation.
Maintain a Revision Notebook:

Create a notebook containing all the essential formulas and critical points for memorization and review it daily.

Embrace Mock Tests and Previous year's Papers:

Incorporate regular practice of mock tests and past year papers into your routine to become familiar with the exam format and commonly asked questions.

Utilize the Pomodoro Technique:

If you need help with study consistency, consider adopting the Pomodoro technique. Study for 25 minutes, take a 3-5 minute break and repeat this pattern.

Reading Habit:

An often overlooked strategy for CDS preparation is to cultivate a reading habit by delving into newspapers, e-news, magazines, and books extensively.
Books for CDS Preparation
Having the appropriate study material and books to prepare for the exam is essential. We have listed out some best books for CDS preparation.
Given below are the CDS English books.
Wren and Martin's English Grammar and Composition – by S. Chand.

Word Power Made Easy by Norman Lewis.

Objective General English – by S.P. Bakshi.
Given below are the CDS General Knowledge books.
General Knowledge by Manohar Pandey.

Manorama Yearbook by Malayala Manorama publishers.

Newspapers like The Hindu and Indian Express.
Below is the CDS math book.
Quantitative Aptitude for Competitive Exams – by R.S. Aggarwal.

Mathematics for CDS Examination by R.S. Aggarwal.
Tips for Time Management
Here are some time management tips for candidates:
Ensure efficient time management during the exam to finish the paper within the allocated time.

Stick to a consistent study schedule to cover the entire syllabus.

Dedicate six to eight hours daily for your preparation.

Allocate time for weekly revisions.
UPSC CDS Selection Process
UPSC CDS Exam consists of 2 stages – A Written exam and an SSB Interview.

Upon meeting the cutoff mark and successfully advancing through the written stage, candidates progress to the second phase of this examination process, which involves the SSB interview. All aspirants must understand the marking scheme to formulate a productive exam strategy.

The marking system for the CDS Exam is determined by the

UPSC

, with one mark awarded for each correct response and a deduction of 0.33 marks for every incorrect answer. Answer questions should be included in the scoring.
How to Prepare for CDS SSB Interviews?
Candidates for SSB Interviews will be selected based on their performance in the written exam. The evaluation process in the SSB Interview will depend on the candidate's intelligence and personality. Stage 1 of the SSB Interview involves Officer Intelligence Rating (OIR) tests and the Picture Perception Description Test (PP & DT). Stage 2 in SSB INterview consists of a Conference, an Interview, the Group Testing Officer Tasks, and the Psychology Tests. These tests will be conducted for 4 days.
Engaging in discussions and achieving a clear understanding of the subjects is advised.

Being well-informed about current affairs and the topics related to the Combined Defense Forces can be beneficial in successfully navigating the CDS Exam SSB Interview.
Physical and Medical Examinations
Candidates' height and weight must be assessed using a standardized scale.

Before facing the medical board, candidates undergo a comprehensive physical examination to ensure they are healthy and free from illnesses or diseases.

Candidates are required to maintain their fitness by engaging in regular training and workouts.
Personal Interview
Candidates should uphold their self-assurance and exhibit composure throughout personal interviews.

Candidates should work on enhancing their

communication

skills.

Candidates should be able to convey their thoughts to the interview panel effectively.

Candidates are expected to exhibit both conduct and speech that align with that of officers.
Preparation Tips for Personal Interview
Given below are the CDS preparation tips for Personal Interviews.
Research about the Armed Forces:

Study the roles and responsibilities of the Indian Armed Forces. Acquire an understanding of the organization, its traditions, values, and latest developments. This approach will showcase your interest in being part of Defense Services.

Application and Current Affairs:

Before your interview, it's essential to carefully review your application to recall the information you've supplied. Keep yourself informed about current affairs on national and international fronts, as

interview

inquiries frequently encompass a broad spectrum of subjects. Be ready to express your perspectives on significant matters and showcase your awareness of global developments.

Enhance your communication skills:

In the interview, proficient communication is essential. Improve your ability to speak and ensure your thoughts are logically conveyed confidently. Sustain eye contact, be mindful of your body language, and project a positive and assured attitude. Enhance your presentation skills by participating in mock interviews or practicing with the assistance of friends or family members.

Expect personal inquiries:

Be ready for questions concerning your background, educational history, hobbies, and interests. Craft well-considered responses that convey your strong points, accomplishments, and interest towards the Defense Services. Maintain honesty and authenticity in your replies.

Officer Like Qualities (OLQs):

The CDS Interview is designed to evaluate your OLQs, encompassing leadership,

teamwork

, initiative, social adaptability, and determination. Reflect on personal and professional life instances where you've showcased these attributes. Prepare examples demonstrating your ability to tackle challenges and collaborate effectively within a team.

Problem-solving and Decision-making:

The interviewer might also ask situational or hypothetical questions to assess your aptitude in these areas. Develop a structured approach for problem analysis, considering multiple viewpoints and arriving at logical solutions. Practice quick thinking and express your thought process effectively.

Maintain composure and confidence:

The interview panel may purposefully apply pressure to trigger your composure and resilience. Stay composed, confident, and cool-headed throughout the interview. Take a moment to gather your thoughts before responding. If you're unsure about an answer, be honest and express your eagerness to learn.

Grooming and Professional Attitude:

Pay attention to grooming, ensuring a tidy appearance. Dress in formal attire that conveys professionalism. Practice good etiquette, respectfully addressing the interview panel and expressing gratitude.

Guidance and Feedback:

Reach out to individuals with experience in the CDS Interview or substantial experience in Defense Services. They can provide valuable insights and constructive feedback on your preparation and performance. Integrate their recommendations to enhance your strategy.

Be positive and motivated:

The interview process can be demanding. Maintain a positive, motivated, and persevering attitude in your preparation. Believe in your capabilities. Preserve a balanced lifestyle, including sufficient rest, exercise, and leisure activities to stay energized and focused.
In conclusion, success in the CDS Exam combines hard work, dedication, and a well-structured study plan. Follow the preparation tips, stay focused, and believe in yourself. With determination and consistent effort, you can achieve your goal of joining the Defense forces through the CDS Exam. In this blog, we've covered a range of essential CDS preparation tips to help you ace the CDS (Combined Defence Services) exam effectively.