The UCEED, also known as the Undergraduate Common Entrance Examination for Design, is a competitive entrance exam conducted by the IIT Bombay for admission to the Bachelor of Design (B.Des) program at IITs and some other prestigious design institutes. UCEED assesses a candidate's aptitude for design, creativity, problem-solving skills, and visual perception.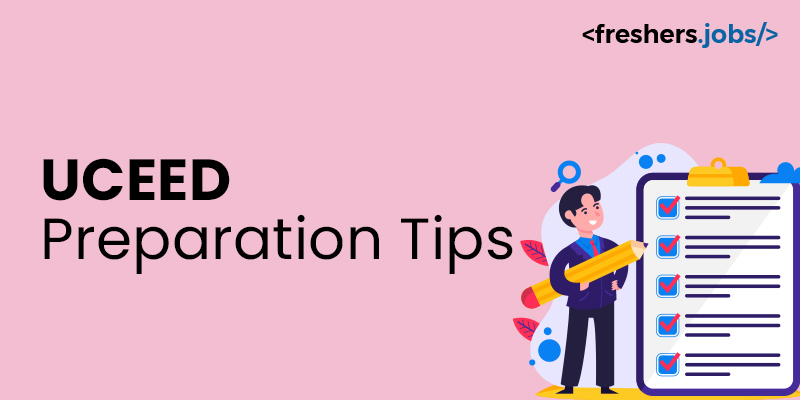 To secure a seat in this program, one needs creativity and a strategic approach to cracking the exam.  In this blog, we will delve into topics such as the importance of UCEED mock tests, syllabus, and patterns when preparing for the UCEED entrance exam for freshers jobs seekers.
UCEED Exam
UCEED is a design entrance exam conducted by IIT Bombay to select the candidates for B. Des to provide admission in (Indian Institute of Technology )IIT Bombay, Delhi, Guwahati, Hyderabad, and IIITDM Jabalpur. The UCEED Exam is a national-level computer-based exam conducted once a year in 27 cities across the country. To be eligible to attempt UCEED 2024, candidates must have either passed all subjects in their Class XII or equivalent qualifying examination in 2023 or be appearing for the qualifying examination for the first time in 2024. Let's delve into the UCEED exam pattern and preparation tips in the upcoming topics. 
Click freshers jobs in Pune to find the job roles relevant to your skill sets.
Exam Pattern
The UCEED entrance exam consists of 2 parts with 300 marks. Part 1 comprises 3 sections. The section in Past 1 consists of 18 Numeric Answer Type (NAT) questions. Section 2 in Part 1 consists of 18 Multiple Select Questions (MSQ). Section 3 in Part 1 consists of 32 Multiple Choice Questions (MCQ). 
Part 2 comprises 2 Designing-based sections. Section 1 in Part 2 consists of 1 Drawing Question, and section 2 consists of 1 Design Aptitude Question.
You can visit Paypal freshers jobs to look for recent job openings.
General Preparation Tips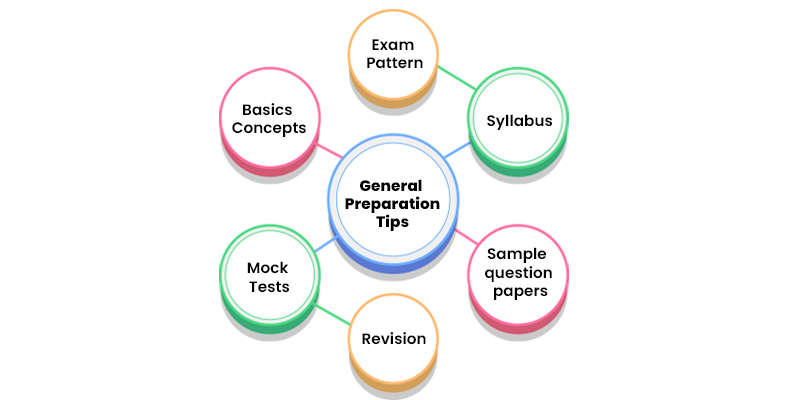 Know the Exam Pattern:

Candidates should thoroughly study the UCEED Exam pattern. It will help them to get an idea about the structure of the question paper, the marking scheme, and the number of questions that are asked in each section.

Syllabus:

Since the candidate must prepare for various topics for the UCEED Exam, they must be familiar with the syllabus. Familiarizing yourself with the

UCEED syllabus

is one of the significant aspects of cracking the entrance exam. It is important to note that the Indian Institute of Technology (IIT) Bombay has revised the syllabus of the UCEED 2024 exam. According to the previous syllabus, Part 2 has only one section that comprises 1 drawing-based question. But in the revised syllabus, Part 2 consists of 2 sections. Section 1 comprises 1 drawing-based question, and Section 2 comprises 1 Design Aptitude Question.

Basics Concepts:

It will be challenging to perform well in the exam if you need clarification about the fundamental concepts. So, ensure you prepare all the basic concepts in the syllabus to make your preparation effortless.

Sample question papers:

Aspirants should review the previous year's question papers during the preparation. Candidates should solve sample papers and attend mock tests to enhance their

UCEED preparation

level. This approach would help the students to understand the pattern and the types of questions and also help them to improve their

time management

skills. It will also help you to balance your speed and give answers accurately. IIT Bombay will release the question paper and answer keys in a few days after conducting the exam. So, the questions and answers for the conducted exam will be available soon. Candidates can get the previous year's question papers and solve them as a part of their preparation. They can also check the answers with the help of the answer key. 

Mock Tests:

The vital step in UCEED preparation is to attend UCEED mock tests. Candidates must attend the mock tests a few weeks before the exam day. The objective of the mock test is to give the exam experience for the candidates. The UCEED Exam is a computer-based exam that consists of 18 Numeric Answer Type (NAT) questions, 18 Multiple Select Questions (MSQ), and 32 Multiple Choice Questions (MCQ). Meanwhile, Part 2 will be conducted offline with 2 sections with 1 question each. Attending

UCEED mock tests

can also help the candidates identify where they are making mistakes and how to correct them.

Revision:

Revision is crucial during the last days of your preparation. Recalling the answers during the examination will be easier if you revise the topics. Allocate the last month of your preparation to revise all the topics.
Books for the UCEED Exam
UCEED Design Environment & Social Awareness In Design Perspective Combined With Mental & Verbal

Aptitude

– by Srijan Shilpa.

Cracking CEED & UCEED (with Previous Years' Papers and Mock Tests – by Ashok Goel and Arjun Kamal.

NID- NIFT- UCEED- CEED Workbook – by Ar Revati Shantanu Parkhi and Rhythm Singh Kachhawa.

Comprehensive English for NID, NIFT, UCEED, NATA, B.Arch & Other Design Entrance Exams – by Designologue.

Quantitative Aptitude – by RS Aggarwal.

Verbal and Non-Verbal Reasoning – by RS Aggarwal.

UCEED (BDes) Entrance Books and Test Series – by AFA India.

Analytical Reasoning, Mental Aptitude, Verbal Aptitude (UCEED Guide) – by Institute Of Creative Sciences.
Listed above are the books for UCEED preparation. 
Preparation Strategies for UCEED in a limited time.
The UCEED Exam is different from other Design entrance exams. It will analyze and evaluate your visualization and spatial Ability, Environmental and social awareness, design sensitivity & thinking, observation skills, Creativity skills, and problem-solving skills. Since UCEED is a computer-based exam comprising an offline drawing-based test, candidates must follow a distinctive preparation strategy.
Familiarize yourself with the

UCEED exam pattern

and syllabus to understand the exam.

Allocate at least 2 hours for each subject and prepare as many topics as possible for a day.

Texture-making materials, designs of logos and chronology, history of Indian art/design, musical maestros, and syllogism have to be given more priority.

Ensure you have gained a conceptual understanding of all the topics within 2 months.

Identify your weak areas in the syllabus and list them to give more importance to them.

At the end of each week, revise to retain all the information you have previously studied.

Attend UCEED mock tests and previous year's question papers to understand the level of difficulty and the question types asked in the exam.

After completing each sample paper, analyze your performance level.

Revise all the content you have prepared so far. 

Ensure you don't pick any new or unfamiliar topics in the final stage of your

UCEED preparation

. It will result in confusion and stress.

Practice solving enormous previous year's question papers during the last days of your preparation.

Attend many mock tests to analyze and assess your level of preparation.
Additional Preparation tips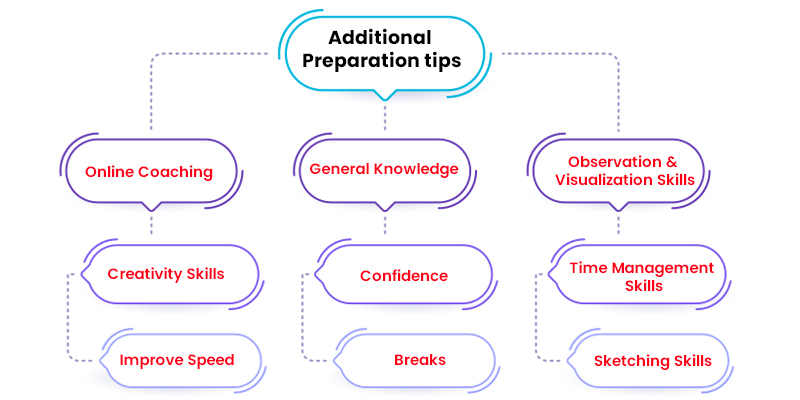 Join Online Coaching:

Enrolling in online coaching for UCEED preparation is one of the best ways to score well in the exam. With the guidance of online coaching, you can gain in-depth knowledge of the primary concepts of the syllabus. It will also help you to get a clear understanding of the concepts in all the subjects.

Improve General Knowledge:

Develop a regular habit of reading newspapers and magazines. It will help you to improve your general knowledge. Watch the news to stay up-to-date about all the happenings in the world. You have to focus on both national and international news. You can give solutions from anything that captivates you.

Work on your Observation & Visualization Skills:

Observe everything that happens around you. It can also be your regular day-to-day routine. It will help you to improve your observation skills. The next step is to express your observation through sketching. It will help you to enhance your visualization skills.

Improve your Creativity Skills:

The main objective of the UCEED Exam is to test your creativity and innovation skills. Creativity skills can be enhanced through an individual's inner thoughts, passion and experience to innovative ideas of other people. Try hard to develop your creativity skills during your

UCEED preparation

. This process can be done through small daily tasks. It will bring out your analytical and

critical thinking

skills.

Be Confident:

According to the expert's advice, it is imperative to have enough confidence to handle the stress of an exam. Solving enormous previous year's question papers will help you build confidence. With increased confidence, there are more possibilities to score well in the exam. 

Enhance your Time Management Skills:

Effective time management skills are vital in succeeding in the UCEED Exam. As we all know, the entrance test comprises 2 sections: Part A and Part B. Part A is a little time-consuming during the exam, so it's essential to skillfully allocate your time to check whether you can answer all the questions in the allotted time frame. Cultivate Creative and Innovative Aptitude. Students must know various 2D and 3D shapes, graphic elements, and practical mechanical and logical concepts. Observing and attentively noticing your surroundings is essential to excel in these areas. You can enhance these skills and stimulate your intellect by solving questions closely related to these subjects.

Improve Speed:

Apart from having excellent drawing and creativity skills, it is essential to improve your speed. The preparation period is a crucial period for all the candidates. They need to improve their speed to save time to revise. It will also help them express their

creativity skills

quickly and be more focused on practice and consistency.

Take Breaks:

There is a massive possibility of burnout during continuous preparation. Burnouts might lead to many health issues. To avoid this problem, taking small breaks during your

UCEED preparation

is advisable. It will help the candidates to avoid getting stressed.

Improve your Sketching Skills:

Sketching skills are critical for the Design exams. So, you must enhance your sketching skills since using equipment during sketching is not allowed in examinations sometimes. If instruments are allowed, study the sketching equipment and utilize the appropriate equipment during the preparation, like grades of pencil, H grade for rough work, light drawings, and B for rapid creation and shading.
In conclusion, the UCEED preparation strategy is all about focus and dedication. It is necessary to stay motivated, and regular practice is the key to success. Being organized, always be ready with a plan for each day. Candidates should know when to take breaks and how much time to spend on that. The candidates should ensure that they have enough rest. This blog delved into the UCEED preparation strategies for students to ace the exam.