CMAT (Common Management Admission Test) is a computer-based exam that is conducted to assess the aptitude and knowledge of candidates seeking admission to various management programs in India, including MBA (Master of Business Administration) and PGDM (Post Graduate Diploma in Management) courses.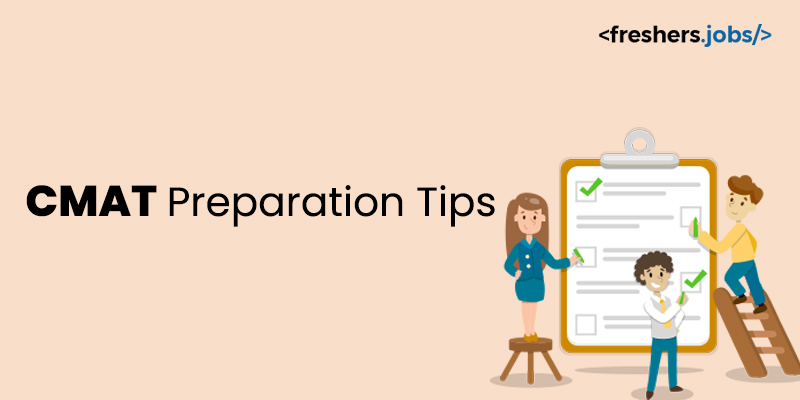 It is conducted to test a candidate's knowledge of Quantitative Techniques, Data Interpretation, Logical Reasoning, Language Comprehension, and General Awareness. Candidates who hold a bachelor's degree in any specialization from a recognized university are eligible to attend CMAT. In this blog, we will be discussing the preparation tips and what are the strategies to ace the cmat course. 
CMAT Exam
CMAT, also called the Common Management Admission Test, is a National level online-based entrance exam which is taken by several students to pursue Management Programs in India. The purpose of this test is to facilitate AICTE-affiliated participating Institutes to shortlist the eligible candidates for pursuing Management Courses. Candidates with a minimum of 3 years Bachelor's degree in any discipline are eligible to take this exam. CMAT scores are accepted by numerous AICTE (All India Council for Technical Education) approved management institutes across India. Many business schools use CMAT scores as one of the criteria for admission into their management programs. Now let's look into the career scope after attending CMAT for freshers jobs seeking candidates.
Career Scope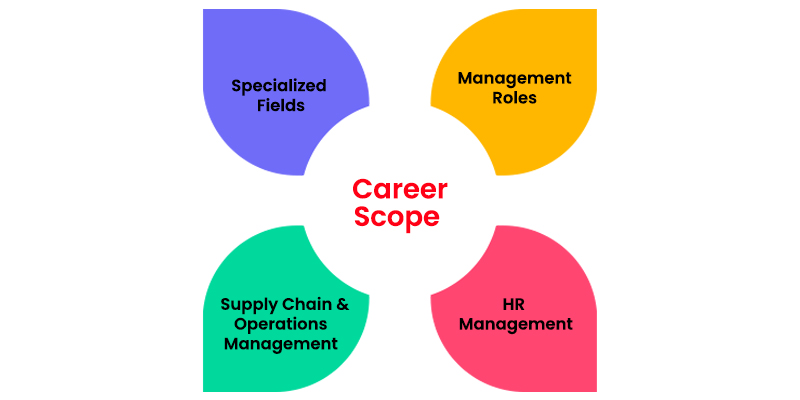 The scope after attending cmat course revolves around pursuing management education and eventually entering the field of business and management. Here are some career opportunities and options available to individuals who have cleared CMAT and obtained admission to MBA or PGDM programs:
Management Roles in Corporations:

After completing an MBA program, graduates often enter the corporate world, where they can take up various management roles in areas such as marketing, finance, human resources, operations, and more. These roles can be in diverse industries, including IT, finance, healthcare, manufacturing, retail, and more.

Human Resources Management:

HR professionals play a vital role in talent acquisition, employee development, and organizational culture. CMAT graduates can specialize in HR management and work in HR departments of companies or in HR consulting.

Supply Chain and Operations Management:

Those interested in logistics, supply chain management, and operations can find opportunities in roles that involve optimizing processes, reducing costs, and ensuring efficient product delivery.

Specialized Fields:

CMAT graduates can specialize in various areas like healthcare management, sports management, hospitality management, and more, depending on their interests, skill sets, and career goals.
It's essential to acknowledge that the specific career path and job opportunities after CMAT can vary depending on factors such as the individual's interests and the specialization chosen during their management program. Let's delve into the tips for cmat preparation.
CMAT Preparation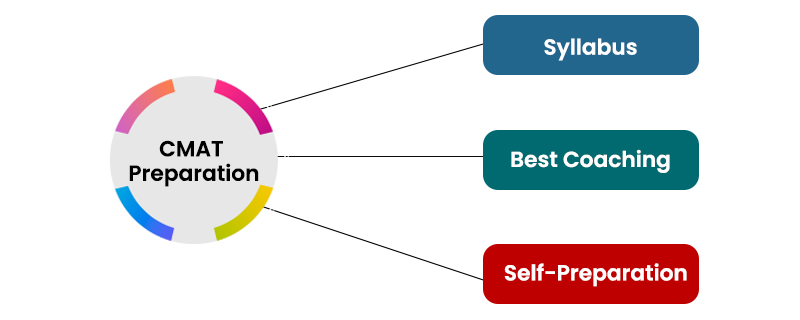 Given below are the preparation tips for CMAT.
Familiarize the Syllabus:

If you start familiarizing yourself with the CMAT syllabus, your preparation will become easier. CMAT syllabus is more vast than you expected. It includes English Language (Verbal Ability and Reading Comprehension), Qualitative Techniques ( Special Emphasis/Arithmetic and Data Interpretation), Logical Reasoning (Questions on Reasoning), Current Affairs (General Knowledge Questions), Innovative and Entrepreneurship (Innovative business practices, Government plans & policies, global entrepreneurs & personalities among others)

Select the Best Coaching:

If you want to prepare with coaching, it is advisable to carefully pick the best coaching. So, always make sure that you seek insights from an individual expert along with your CMAT coaching to cover the topic that needs extra attention. CMAT coaching will help you to understand topics in which you are weak.

Cmat online coaching

is a flexible option for working professionals who are struggling to maintain a balanced time between work and CMAT preparation. In recent years, the preference for CMAT online coaching has increased since it is the most cost-effective, consumes less time, and helps you to allocate more time to practice the previous year's question papers and exercises.

Self-Preparation:

If you want to prepare for the CMAT exam on your own without any coaching, you need to understand the preparation strategies that you have to follow at home. This strategy includes the best preparation methods, the right books, and other preparation materials. 
How to prepare for CMAT without Coaching?
Given below are the tips for preparing for CMAT without coaching.
Self Preparation is one of the best strategies to prepare for the CMAT exam. But

time management

is the main factor that affects it. If you are stuck on some question during your preparation due to some confusion or less clarity of its concept, it will lead to a huge time waste and result in anxiety and stress. This issue can be resolved by seeking knowledge from an expert. If you want to prepare for CMAT without any

cmat coaching

, it's better to seek guidance from an expert to make your preparation easier.

Since the allotted time to solve the questions in the CMAT exam is short, it is very important to improve your speed and accuracy during your preparation. You will be given only 180 minutes to solve 100 questions during the exam.

Find out your weak area in the CMAT syllabus. Candidates from Engineering and other technical backgrounds will have an easy phase with Quants, DI and L, but they will find difficulties in the Verbal Ability and Reading Comprehension areas. Analyzing your

strengths

and weaknesses and seeking guidance accordingly is very important.

You have to continuously sit for 3 hours in the exam hall without any break. So equip yourself for that during your preparation. To practice this, you have to attend more Mock Tests and solve more previous year's test papers during your

cmat exam preparation

.
CMAT Preparation at Home
Given below are the tips for starting to prepare for CMAT at home. 
Revise the CMAT exam pattern repeatedly.

Familiarize yourself with the CMAT syllabus. 

Identify your strong and weak areas in all the sections.

Find the best books and preparation material to prepare for CMAT.

Try to understand the concept and gain knowledge on your weak areas and continuously monitor your improvement regularly.

Attend numerous CMAT Mock tests during your CMAT preparation and it is very important to analyze each of them. 

If you have any trouble in understanding the VARC area, then you can read various articles and novels, speak in English with friends and even watch English TV series and movies to improve your understanding in it.

Note down all the new words you come across when you read newspaper articles every day.

Data Interpretation (DI) consumes more time. Initiate by practicing on Data Interpretation questions. Use approximation techniques to make calculations quicker and easier.
Best Books for CMAT Preparation
Listed below are the best books for cmat preparation.
How to Prepare for QUANTITATIVE APTITUDE for CAT – 10th Edition – by By Arun Sharma.

CMAT Entrance Exam Guide with 5 Online Practice Tests – by LearnX.

CMAT Solved Papers (Year wise) with 5 Online Practice Tests – by LearnX.

Guide for CMAT Entrance – by Management360.

The Complete Reference Manual CMAT 2024 – by Col. JS Rana, SK Sinha, S Satyanarayan.

Comprehensive Guide to CMAT (Common Management Admission Test) with Previous Year Questions (PYQs) & 3 Online Mock Tests 2nd Edition | Innovation & Entrepreneurship – by Disha Experts.

Word Power Made Easy – by Norman Lewis.

High School English Grammar & Composition – by Wren & Martin.

Quantitative Aptitude for the CAT – by Nishit K. Sinha, Published by Pearson.

Conventional GK – available in books.

Current GK – based on current reading of newspapers and periodicals.

Innovation and Entrepreneurship – by Peter F. Drucker.

Entrepreneurship & Innovation Management – by R. Gopal.
Preparation Tips given by Toppers
Given below are the tips given by Toppers for cmat preparation.
Read articles and editorials in the English newspaper regularly to develop your Reading Comprehension skills.

Focus on the areas where you find difficulties, practice solving more questions and attend more Mock tests.

Make sure that you are clear with the fundamental concepts.

Prepare questions from the latest preparation books for CMAT.

Ensure that your study materials and books are the latest edition.

Data Interpretation and Logical Reasoning areas require more concentration, so try to practice as many Data Interpretation and Logical Reasoning practice questions as possible during CMAT preparation.

If you are preparing with the help of a coaching class, it is more advisable to use the CMAT preparation material provided by them and refer to books that are suggested by them. 

If you are stuck on a specific topic, don't waste time on it. It is better to continue with the next topic.
You can click on Bosch Jobs for freshers to look for freshers jobs in Bosch for new job openings.
Additional Tips
Discussed below are the additional tips for cmat preparation.
As mentioned above, if you are familiar with the syllabus, your preparation journey will become easier.

Identify the areas where you are strong and where you are weak, and focus more on the weak areas. 

Start by learning all the basics and make sure that you are clear with the concepts of the topics which you find difficult. 

Instead of wasting time on learning theory, start attempting the CMAT sectional quiz.

It is advisable to practice once you completely understand a theory concept. Attempting the CMAT 2024 Quiz, the previous year's Mock test, and question papers will help in understanding the theory concepts clearly.

Make sure that you have the appropriate study material and books for the cmat preparation.

Start your preparation early so that you will have sufficient time to overcome your weakness.

Be confident throughout your preparation journey.
You can click on fresher jobs in Gurgaon to find jobs in Gurgaon.
In conclusion, preparing for the Common Management Admission Test (CMAT) requires dedication, preparation strategy, and consistent effort. With the right approach and dedication, it is possible to ace the CMAT exam. Follow the tips mentioned in this blog, stay focused, and remember that consistent effort will always lead to positive results. In this blog. We explored cmat preparation tips and strategies.