When the interviewer asks, "what is your strength?" They want to know if you have the right skills to do the job well. Because of this, you should be ready to explain how your skills match the company's needs. Also, the interviewer wants to know: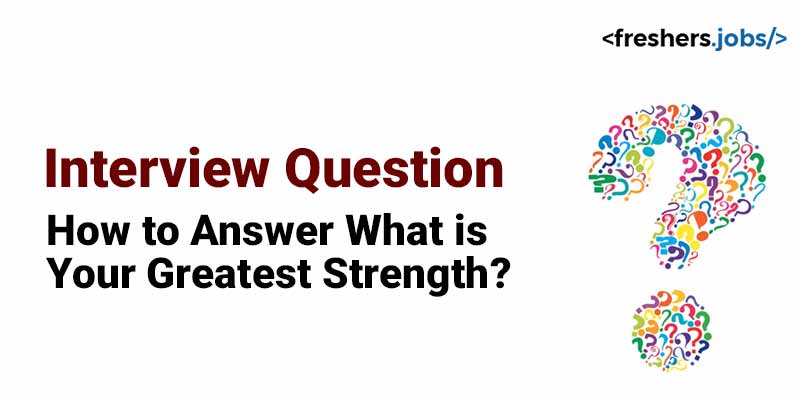 You think that your skills match what the company needs.

Your willingness to help the company in a certain way.

That you have a good grasp of what the role requires.
During an interview, you can show recruiters why you are the best person for the job. This article explains what interviewers exactly ask when asking about your greatest strength and how to prepare for this question. We also give preparation tips on how to answer to help you practise.
When recruiters ask, "What is your greatest strength?" interviewers are looking for a few things in a resume like strength in resume for freshers. So, in this blog, we will look at some answers to the question "What is your greatest strength?" and talk about how to make your answer stand out to the interviewer.
Let's get started,
When recruiters ask, "What is your greatest strength?" this is what they want to know. When interviewers ask this question, they try to figure out how well you know yourself and strengths in resume for freshers. They also use this question to see if your strength fits the job you are applying for and the company's needs. For example, if you are applying for a job as a customer service representative, you can say that your best quality is that you are good at customer service.
How to Talk About your strengths
Some people think this question is easy. This question asks you to say about yourself and explain why you are the best person for the job. Unfortunately, many job candidates dont know what their best skills are for the job. You can have the Best Skills To Include In Resume. Others, even those with a lot of experience, don't prepare well enough and get stuck themselves when asked, "What are your strengths?"
Remember that the point of this question is to show that you know your strengths and how you showcased them in the real world.
Take the time to figure out skills and strengths and practise talking about them ahead of time. So, when you go to the interview for your dream job, you will be ready. So you can have a look at what is your dream job.
Choosing your best quality
Everyone has different strengths, so your answer to the question "What is your strength?" must be unique. Strengths come in two forms:
Skill-based strength
These are skills that can be learned in college or through work experience. Most skills that make up skill-based strengths are technical skills. They show the interviewer that you know the job's most important part. Strengths in terms of skills include learning how to use technical tools and being familiar with relevant software. You can choose the Top Technologies To Learn.
Strength-based on character
These are called "soft skills" as well. They are to be good for more than one job, or they might be perfect for one job. Character-based strengths include the ability to plan and organise yourself and the ability to solve problems.
Character-based strengths can be things that come naturally to you or things that you worked on developing.
How can you answer this question, "What is your strength?"Prepare for this common interview question by taking these steps:
List your strengths
Write down what is your strength. Ask a friend, coworker, or career coach if you don't know your best personality characteristics, natural skills, or learned skills. Instead, think about things you have done well or tasks you did quickly. Your list could include hard and soft skills, which should match the requirements in the job description.
Choose between two and five of your strengths
Once you have a list of your skills, keep only the top two to five to convince an interviewer that you would be a good fit for an organisation.
Gather all of your strengths
Most of the time, it's better to show your strengths through your experience than to list them. Connecting strengths in resume for freshers to real-world events also help your interviewer remember them.
Pick one of your strengths
Lastly, choose a strength that fits the organisation's core values and makes you stand out from other candidates. You can talk about the interviewees who want to hear more. Choose the strength that is most important for the interview. You might be applying for similar jobs in the same field, so make sure your answer is suitable. Be a good problem solver by going through the How To Develop Problem Solving Skills.
Be honest
Make sure you mean what you say, as what is your strength. Even though you should talk confidently about your strengths, don't forget to be honest. For example, if you're applying for a job as a manager, you might say that your best quality is how well you solve problems. Then, talk about a problem you solved in a past job. It is not as effective to talk about a bunch of irrelevant things you think would impress the interviewer.
Don't make your answer too long
Your answer to "What is your greatest strength?" should get the interviewer's attention and make them want to know more about you and what you have done. There should be a link between what you are good at and how you think fits the role. For example, if you are applying for a freshers jobs in quality assurance, talking about how well you pay attention to details can help your interviewer see that you are a good candidate.
Carefully choose your words
When you talk about what makes you stand out, you only talk about your best quality for strength in resume for freshers. For instance, if you are applying for a job as a manager, your best quality could be that you are a great leader. Use language to show how you successfully used this skill and kept your team happy.
Be ready for people to ask you more questions
Depending on how you answer, the interviewer may ask follow-up questions like, "How would you rate your programming skills?" or "How did this strength help you do your job?" Getting ready for follow-up questions makes the interview feel more like a conversation and follows the Easy Ways To Get A Job As A Fresher.
Conclusion
I Hope you are clear from the blog what is your strength. Last, try to have a good attitude while talking to your interviewer. You can think about why you are applying for the jobs alert and how you could improve it. You can be confident enough to answer this interview question and get impressed by the recruiter. You can set yourself up for the best candidate if you do this. If you think positively and are ready, you will seem like an enthusiastic and valuable candidate for the job.