CarDekho is India's leading online platform for buying and selling cars. Founded in 2008, the company has grown exponentially and established itself as a trusted brand in the automotive industry. CarDekho careers offers a wide range of services, including car research, car comparison, car reviews, and assistance buying and selling new and used cars.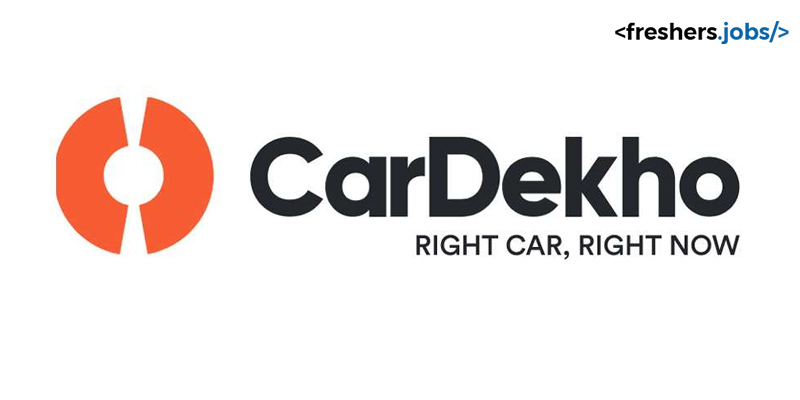 With a strong presence across multiple cities in India, CarDekho has revolutionised the way people buy and sell cars. The platform provides comprehensive information about various car models, specifications, prices, and user reviews, enabling customers to make informed decisions. Additionally, CarDekho offers value-added services such as car loans, insurance, and car accessories, making it a one-stop destination for car buyers.
From a career perspective, CarDekho provides exciting job opportunities for individuals passionate about the automotive industry and technology. The company fosters a dynamic work environment, encouraging innovation and creativity. Numerous professional growth and development prospects exist as CarDekho continues to expand and diversify its services.
Job roles at CarDekho span various domains, including technology, sales, marketing, operations, and customer support. Whether you have a background in engineering, business, marketing, or finance, CarDekho offers a range of positions to match your skills and interests. The company values talent and provides employees ample opportunities to learn, upskill, and take on challenging responsibilities.
Eligibility criteria in Cardehko
Educational Qualifications: CarDekho jobs typically look for candidates with a minimum educational qualification of a bachelor's degree. The preferred field of study may vary depending on the freshers jobs role. A degree in computer science or a related field may be required for technical positions, such as software development or data analysis. Business roles may require degrees in management, marketing, or finance.
Relevant Experience: CarDekho Jobs values relevant work experience in the respective field. The experience requirement may differ for entry-level positions versus mid-level or senior roles. Previous experience in the automotive industry, online marketplace platforms, technology, sales, marketing, or customer support can be advantageous.
As there are many job openings these days in most cities, you can start applying for jobs from freshers jobs in Pune.
Interview Process in Cardekho
CarDekho vacancies interview process for freshers typically involves multiple stages to assess candidates' skills, knowledge, and suitability for the role. It often begins with an online application, followed by a preliminary telephonic or video interview conducted by a recruiter to evaluate basic competency and background. Shortlisted candidates then proceed to a face-to-face or virtual interview with the hiring manager or a panel of interviewers, focusing on skills, experience, and role-specific requirements. Technical interviews or skill assessments may also be conducted. You can excel with the right preparation tips. CarDekho considers cultural fit and teamwork skills, and successful candidates receive an offer after negotiations and finalisation of employment terms. Adequate preparation, showcasing enthusiasm, and demonstrating relevant skills and experiences are key to succeeding in CarDekho's interview process for freshers.
The Cardekho fresher's salary for a Software Engineer is around 3.5 LPA, and the Cardekho salary for a System Engineer is 4 LPA.
To apply for a job at CarDekho careers, visit their website and navigate to the "Careers" or "Jobs" section. There, you can browse the available job openings and select the position you are interested in. Follow the instructions to submit your application, including uploading your resume and other required documents.
CarDekho offers a range of roles for freshers across various domains. These can include positions in technology, such as software development, data analysis, and quality assurance. There are also sales, marketing, business development, customer support, and operations opportunities. The specific roles available may vary over time, so it's recommended to regularly check the CarDekho website or other job portals for the latest openings.
CarDekho emphasises the growth and development of its employees. The company provides training and development programs to help freshers enhance their skills and knowledge. These programs can include on-the-job training, mentorship, workshops, and access to relevant resources. CarDekho careers is committed to supporting the professional growth of its employees and fostering a culture of continuous learning.