Microland is a global IT services company specialising in infrastructure management, cloud computing, and digital transformation solutions. Established in 1989, Microland has emerged as a trusted partner for organisations seeking to optimise their IT infrastructure and leverage the power of emerging technologies.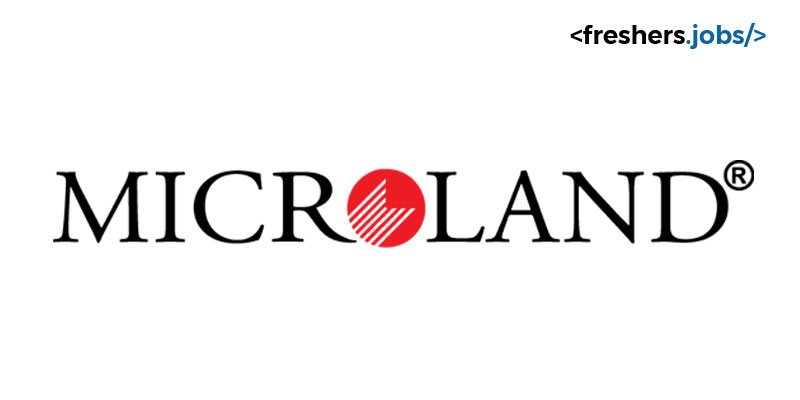 With its extensive expertise and innovative approach, Microland careers offers exciting career prospects for individuals in the IT industry. Working at Microland allows professionals to work on cutting-edge projects and collaborate with top-notch talent worldwide.
Microland's career prospects in various domains
Infrastructure Management Services: Microland offers a wide range of services related to data centres, network management, end-user computing, and IT service desk support. 
Cloud Computing: With the increasing demand for cloud-based solutions, Microland provides job opportunities in cloud architecture, cloud migration, cloud operations, and cloud support. 
Digital Transformation: Career prospects in this domain include roles such as digital consultants, data analysts, cybersecurity specialists, and automation experts.
Microland fosters a culture of innovation, continuous learning, and personal growth. Employees can access training programs, certifications, and professional development opportunities to enhance their skills and stay updated with industry trends.
Furthermore, Microland jobs promotes a collaborative work environment that encourages teamwork, knowledge sharing, and creativity. The company values diversity and inclusion, fostering an inclusive workplace where employees from diverse backgrounds can thrive and contribute.
Eligibility Criteria in Microland
Education requirements: Usually, you need at least a Bachelor's degree in a related field, like Computer Science, Information Technology, or Electronics, for a Microland job for freshers. But applicants with a diploma or the same experience may also be considered for some jobs alert.
Technical Skills: Depending on the job role, you may need to be an expert in a few of the technical skills, such as programming languages (like Java,.NET, and Python), databases (like SQL and Oracle), web technologies (like HTML, CSS, and JavaScript), testing tools or other relevant technologies.
Communication Skills: You need to speak and write in English well because Microland is a global company that works with clients and coworkers from many countries.
How to apply for Microland careers?
You can follow a simple process to apply for career opportunities at Microland. Firstly, visit the Microland website and navigate to the "Careers" or "Jobs" section. Here, you will find a list of current job openings. Review the available positions and select the one that aligns with your skills, fresher's salary experience, and interests. Click on the job title to access the detailed job description and requirements. If you meet the criteria, click the "Apply" button or link, which will direct you to an online application form. Fill out the required information, including your personal details. Then Apply. 
For the latest openings at Microland, you can tap freshers jobs in Bangalore to apply for IT-related jobs.
Interview Process in Microland
Microland careers follows a comprehensive interview process consisting of multiple rounds to evaluate candidates for various positions. The specific rounds may vary based on the freshers jobs role and level. Typically, the process begins with an initial screening conducted by a recruiter to assess qualifications and overall fit. This is followed by a technical assessment that tests the candidate's knowledge and skills in relevant areas. Subsequently, candidates may undergo a technical interview where they can showcase their expertise and problem-solving skills.
A behavioural or competency-based interview is also conducted to evaluate soft skills and how candidates handle different situations. There may be a managerial or leadership interview for senior-level positions to assess leadership capabilities. The final round usually involves an HR interview to evaluate cultural fit and discuss employment details. Throughout the process, candidates are encouraged to prepare thoroughly, demonstrate their skills and experiences, and ask pertinent questions to show their interest and suitability for the role at Microland jobs.
The Microland salary for freshers Java programmers is 3 LPA, and the salary of a Database administrator is 2 LPA.
The interview process at Microland is medium to difficult. With the right preparation tips, you can excel in the interview rounds of Microland.
Microland promotes a collaborative work environment that encourages teamwork, knowledge sharing, and creativity.
To stay updated with job openings at Microland recruitment, regularly visit the company's official website and navigate to the "Careers" or "Jobs" section.