Deloitte is a professional services firm that operates on a global scale. Deloitte provides auditing, assurance, consulting, advisory services, taxation, and other associated services. Energy, financial, government and public, life sciences, healthcare, technology, media, and telecommunications are all served by the company.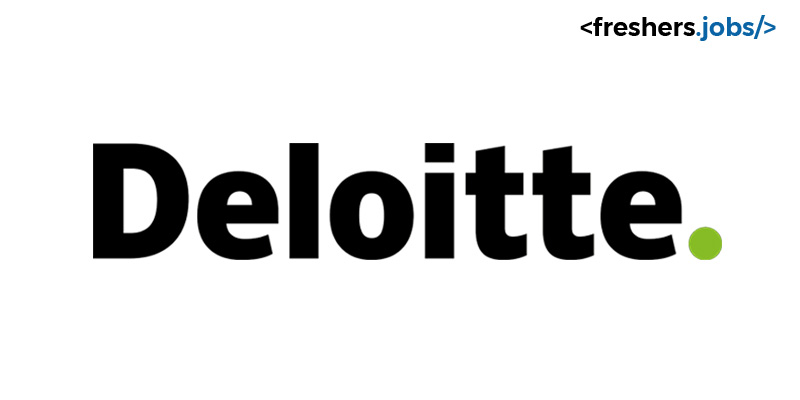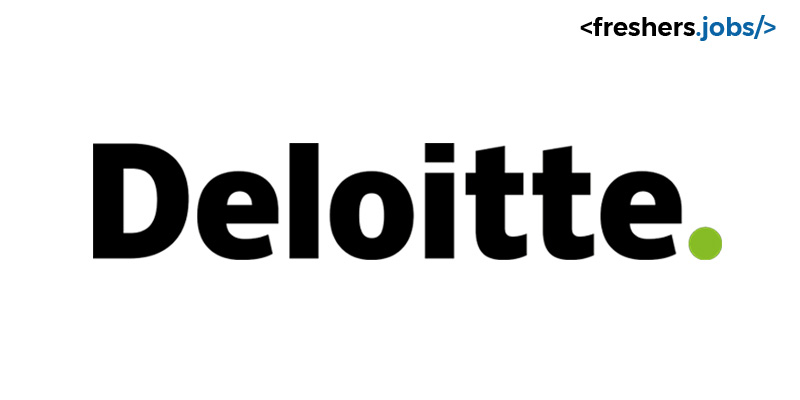 The freshers can always look for rewarding Deloitte careers on every level of their jobs to have challenging and meaningful work. You will also have a chance to give back to the community, positively impact the entire environment, and participate in the various diversity initiatives by getting excellent support, coaching, and training to elevate your careers.
Many job chances are open for recent graduates and experienced professionals to jump-start their career decision at Deloitte. The candidates can get great benefits, opportunities for growth and development and also go abroad with international opportunities and the chances to work on great projects with the best and most talented brains. Why wait? Make yourself move towards the Deloitte career.
Why do Freshers choose Deloitte careers?
The company is committed to making a workplace where inclusion, diversity, and doing good for the community are top priorities.

You can be a part of a network worldwide that gives you endless opportunities to grow personally and professionally in

IT jobs

.

Deloitte is very diverse. In the same department, you can meet people every day who come from very different places.

Deloitte jobs for freshers

looking for students who aren't afraid to try new things and are eager to learn.

You can work for the government as an investment banker.

Deloitte is a well-known name worldwide because it is a professional services company with a good reputation.

There is room for growth and development in the specific functions and the firm.

They know that new graduate opportunities can help students grow and add depth to the firm right after graduating.
Candidates can look for the best freshers jobs at Deloitte. To join Deloitte, students must satisfy some of the eligibility requirements released by the company. Here are the eligibility criteria for Deloitte recruitment, and candidates can start applying for these fresher jobs by meeting the following criteria.
Eligibility Criteria
The candidates must be graduates of Engineering, Post Graduation like Master of Technology, Masters of Engineering, Master of Computer Applications, Master of Business Administration and also candidates having three-year degrees such as Bachelor of Science, Bachelor of Computer Applications, Bachelor of Business Administration and so on are eligible to apply for the Deloitte jobs.

The candidates applying for the Deloitte jobs must have 60% and above academic criteria without any backlogs during the interview process.

Aspirants who once applied for Deloitte jobs cannot apply again if they have applied six months prior.

The aspirants who fail to attend the interview process held by Deloitte company cancel their application.

If you have applied and scheduled the interview and cannot join the interview process, you can have the right to reschedule the interview.
The basic skills required to join the Deloitte
Deloitte company looks for the best candidates with the right skills. Here is the list of skills you must possess before joining Deloitte jobs.
Candidates should understand the basics of both math and science.

A person's technical skills must be very advanced.

If you want to work for

Deloitte jobs

, you need to be able to communicate with people well.

People who want to work at Deloitte should have a wide range of skills, such as Java, C++, and other programming courses.

If you're going to work at Deloitte in any of the above positions, you should have the above skills. 
Documents to be carried for the Deloitte Interview
The candidates must carry their documents and mark sheets for the interview at

Deloitte careers.

A recent photograph.

A structured, updated resume.

Copies of mark sheets.

Course certificates or any other certifications (if any).
Deloitte Jobs!!! How to apply?
As a fresher, you can go through the eligibility criteria. If you are apt to the eligibility criteria, you can apply for the Jobs at Deloitte by the following steps.
First, go to www.deoitte.com, which is the website for Deloitte.

Find the tab that says "Career" and click on it.

The screen shows a drop-down menu. Click on the "Job Search" tab and look for the

jobs alert

.

On the page, the job positions at

Deloitte

are shown.

Choose the right category based on your qualification.

Refer to it only once and click the "Apply Online" tab.

Please fill out the form with the necessary information and send it in.

Last, make a copy to use later.
Software Analysts
The Software Analysts in Deloitte jobs

involve Planning and leading user design sessions.

They will keep track of a business owner's questions and answers.

Follow the company's data functional and user interface standards when designing the user interface of an application, including the layout, access, and navigation of the screen.

Help people learn by showing project teams the results of all analyses and deliverables.

Find project and design risks and tell the project manager about them.

Manage tasks based on the project's priorities and give reports on their progress.

Responsible for producing SQL/Database queries.

Run custom reports to meet the needs of the business.

In charge of fixing problems with software applications and writing up technical fixes for research tickets.
Business Analysts
The Business Analyst is hired through

Deloitte recruitment

and creates

complete E2E test cases at the application level and for multiple applications.

Set up direct lines of communication with software and app developers so they can do their jobs without interference from management.

Using accurate data, find business trends, prepare analysis reports sent to developers, and then follow up on all the results.

Set up a detailed management plan for each project and hold regular stakeholder meetings to keep everyone informed about the project's progress.

To look out for the needs of the business process, write them down, and stick to them for future projects. 
Associate Consultant
The Associate Consultant Collaborates with the top leadership team to look at how things are done now and find ways to improve them.

Set up ways to test business applications and make templates for reports that will be used to track how well applications work.

Observe how different departments talk to each other to ensure the customer service team has all the information it needs to make customers happier.

Work closely with your most important customers to inform them of changes to processes that will improve service.

Send the management team regular updates on the company's state of health and any new projects being worked on. 
Data Engineer
The Data Engineer in Deloitte careers for freshers

Working with coworkers and clients to explain what each task needs to be done.

Making plans for and building the infrastructure required to access and analyze big data.

Changing the way existing frameworks are written to make them work better.

Putting these structures through tests to make sure they are safe to use.

Getting raw data ready for data scientists to work with.

Find mistakes in your work and fix them.

Ensure that your work is backed up and easy for relevant coworkers to access.

Keeping up with industry standards and technological changes will help you make better products. 
Content Strategist
The Content strategist in

Deloitte careers Puts together content with the help of editors, writers, producers, project managers, and other team members.
Conducting Research and keeping up with the latest changes in search engine optimization, content trends, and how people act as customers.

Changing older content so that it meets the new standards for content.

Ensure all content, including websites, social media channels, and videos, is the same.

Keeping a calendar of when projects end and when new content comes out.

Seeing to it that new content channels are made and put online.
The interview rounds in Deloitte
Those who meet the academic requirements and want to work at Deloitte jobs must go through and pass multiple rounds of interviews. A company's Talent Acquisition team member usually does a face-to-face or phone screening as the first interview. After this, the applicants who passed the first screening will go through the following rounds:
Online Assessment Test
This round is an online test with three segments: Verbal Ability, Analytical and Logical Reasoning, and Quantitative Aptitude.
Group Discussion
Candidates who clear the aptitude round must participate in a group discussion (GD).

In this round, the company usually gives a case study about a technical problem that a business is having.

A candidate is given time to read the case study and 15 minutes to discuss it with the rest of the group.

Interviewers can also ask the participants questions that are based on the answers they give.
Technical Interview
The next step is a technical interview in person if a candidate gets through the GD round of

Deloitte jobs for freshers

.

The main goal of this round is to test someone's technical skills (depending on the job they're applying for) and their ability to solve problems and deal with a tough situations.

Questions can be about coding or something technical.

A candidate may also be asked to write a code or codes.

Applicants may also be asked about their past jobs and projects, how they used their technical skills in those projects, and their role in them, among other things.

It is essential to show that you know the basics of computers.

The candidate must know at least one programming language well.

There may be more than one technical interview round, depending on what the company needs, the job, and how well the person did in the previous rounds.
HR interview
If a candidate has made it to this round, they have a good chance of getting into

Deloitte careers

.

In this round, there are no technical questions.

The round aims to determine if someone fits well into the company's culture and structure.

Candidates will be asked questions about, among other things, Deloitte's history, organizational structure, and values.

So, it's essential to know a lot about the company.

Also, the information on your resume could be used to ask them questions.

So, it is essential for a candidate to know their resume and be ready for questions that may come up from it.
Training and Development at Deloitte
Deloitte value you and your unique talent. At Deloitte jobs for freshers, your learning and development journey is about getting the most out of yourself. Our world-class learning and development experience will help you become a top talent. Our innovative learning solutions will make you want to do better and motivate you.
We offer our candidates a Lifetime Learning and Development Curriculum based on a global competency framework that is the best in the world.

The curriculum is meant to help our best people grow and develop into future leaders through innovative talent development.

It includes competency-based learning and development programmes, career milestone programmes, high potential development programmes, future leader succession development programmes, personal career consultation, coaching, and mentoring.

You can make your learning and development path at

Deloitte jobs

based on who you are, what you need, and how you learn.

There are chances for you to interact with senior leaders inside and outside the Deloitte network worldwide, learn from Deloitte's life stories, and participate in talent development programmes to inspire the "next generation" of talent.

Our Career Milestone Programs help our best people become better leaders and give them the skills they need to lead and succeed today.

Through these programmes, our best people are inspired to learn new ways of "thinking" and "doing" and to lead teams and clients with empathy.

Our Coaching and Mentoring Programs are essential to your career growth.

Our coach and mentor are committed to being your partner and helping you make a career development plan that will help you become a leader at Deloitte in the future.
Benefits for Deloitte Freshers
Deloitte employees can use global and local benefits, such as 
The Package covers medical and prescription drugs.

Reimbursements are petrol, travel, lodging, etc.

The company also gives employees paternity and maternity leave at the time of their new births.

Medical Insurances

Life insurance.

Dental Insurance
Salary for freshers in Deloitte
The Deloitte Salary for Freshers is extremely good for the new joinees. The initial salaries are so attractive that freshers can get more salaries as they get experience. A software engineering analyst's salary is 3 LPA, and the salary of an Associate Consultant is 3.2 LPA.