An updated resume is very essential to communicate your qualifications and skills to potential employers especially for freshers jobs. By reviewing your resume, the person willing to hire you will recognize your potentiality.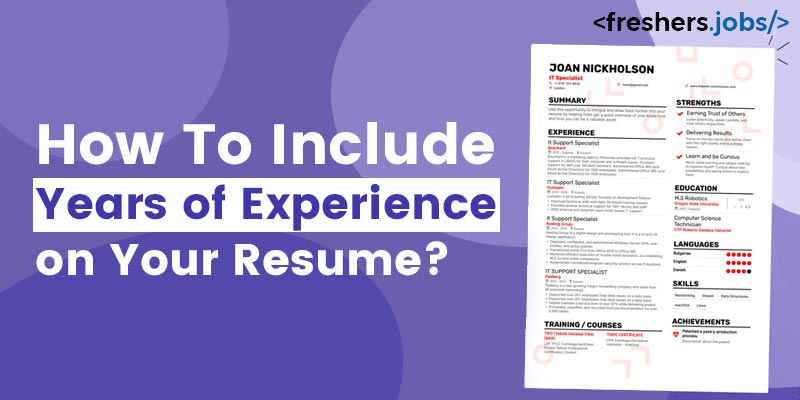 A clear and detailed resume showcases your potential skills to become an asset to the company. You have to include your necessary skills for resume to look apt for that desired designation. But when it comes to an experienced candidate, including your work experience is one main aspect that shows the hiring manager you are potential enough to be hired in their company. This blog is designed to equip you to provide valuable tips for how to include Years of Experience on your Resume.
How To Include Years of Experience on Your Resume?
The work experience section in your resume should include all the information about your job history. The following steps will guide you with tips for how to build the work experience in your resume.
Include the previous employers
Always begin the work experience section by mentioning the full names of all your previous companies. It is always advisable to list your previously worked companies in Reverse Chronological order, from a recently worked company followed by the next recently worked company. Write about only your last 3 work experiences to make sure that your work experience section is not too long. Describing all the jobs will extend the work experience section, and it might look unprofessional. Refrain yourself from mentioning irrelevant work experience since it has nothing in common with your applied job position.
Make sure that section is short and simple
It is better to include only the last three companies you worked with and refrain from mentioning work experience older than 10 years. Always ensure that the work experience section in the Resume format for experienced people should be short and precise.
Mentioning your job location
You should mention your job location in your resume. It is necessary to mention the city and state of the company. If you work from home, you can simply label it as " Remote work" in the job location part.
Specify the dates of employment
It is necessary to clearly mention the starting and ending dates of your employment in a month-year format. If you worked as a freelancer, mention the project title to showcase your self-employment accomplishment in the work experience section.
Mention your Job title
In a work experience resume, you should mention your designation. Be more descriptive while mentioning your designation. For instance, Instead of using generic titles like "Developer", you should specify the full designation's name such as "PHP Developer". 
List out your Job responsibilities
Make sure that you present this information in a professional and precise manner to make a strong first impression, making the candidate stand out while applying for the company jobs alert and applications. There is no need to write down the whole description of your job role. Instead, you have to briefly explain the responsibilities and skills you contributed to complete the task in that job. Instead of providing an exhaustive Job responsibilities, present it with bullet points to highlight this part. For instance, here is the Job Responsibilities of a Web Developer:
Designing user interface and navigating menus.

Writing and reviewing codes for sites like HTML. XML, and Javascript.

Integrates multimedia contents onto a site.

Web Application Testing.

Troubleshooting problems with performance or user experience.
Showcase your Key Achievements
This part can be integrated with the work experience section or can be described in a separate section. This particular part can show the hiring manager that your performance is exceptionally good at your previous job. You can also mention your unique and relevant abilities/skills to put on resume or  leadership position you held in your previous job to demonstrate your leadership capabilities. Write how your job responsibilities have increased over the years. That shows that your performance in your previous company is exceptionally good. 
Mention your promotions
Make sure you mention the promotions you received in your previous job will add a star to your Resume. It indicates your potentiality and that you performed very well in your previous company to earn a Promotion, making you a more desired candidate for the applied designation.
Choose the appropriate work experience format
When it comes to work experience in cv, it is very critical to choose the proper format to present it in a presentable way. There are three main options to choose from.
Reverse Chronological Format
This format is commonly used by candidates with a few years of work experience to show their career progress. In this format, the most recent job will come at the top, followed by the next recent job.
Functional Format
In this Functional format, the candidate should only mention previous employers and the duration of the employment. You need not mention each job you performed. You can write about your skills and achievements and how they relate to the position you applied for. The format highlights your skills and achievements in your job position. This format can be used by candidates with significant gaps in their previous job.
Combination Format
The Combination format is very flexible and allows you to showcase your strengths effectively. For instance, let's say that you are currently working as an entry-level software developer. In that case, your soft skills to put on resume include problem-solving, critical thinking, etc. Your hard skills include SQL and Java. Using a Combination Format, you can elaborate on how these skills guided you to excel in your previous jobs.
How to describe a work experience in a Resume?
Make the Title font large, so that the section stands out from other sections in the resume. Use any one of the following words to describe the section's heading:
Place the section below your Educational Qualifications or Skills.
It is advisable to describe the information in bullet points.
Make the Title font large, so that the section stands out from other sections in the resume. Use words like Employment history, work history, work experience, or experience to describe the section's heading.
If you are looking for fresher jobs in Chennai, you can explore the latest job vacancies, to look for several opportunities in the city.
Work Experience example for a resume
Here is a work experience sample for your better understanding.
Web Designer, Infotech Pvt. Ltd., Chennai
Duration: June 2020 – Present

Collaborated with the design and development teams to create visually appealing and user-friendly websites for clients across various industries.

Conducted client meetings to gather requirements, understand their design preferences, and provide design solutions that align with their branding.

Utilized HTML, CSS, JavaScript, and responsive design techniques to ensure seamless user experiences on different devices.

Implemented and maintained content management systems (CMS) to enable clients to update website content easily.
Senior Web Designer, Truetech Solutions, Chennai
Duration: January 2019 – May 2020

Led a collaborative team of designers and developers to deliver high-quality website projects within strict deadlines.

Collaborated with clients and project managers to define project scopes, create wireframes, and develop design concepts that met business objectives.

Implemented UI/UX best practices to enhance website usability and conversion rates.

Conducted regular quality checks and testing to ensure websites were error-free and met cross-browser compatibility requirements.
Web Designer, DEF Web Services, Chennai
Duration: August 2017 – December 2019

Designed and developed custom WordPress themes based on client requirements, ensuring seamless integration of design elements and functionality.

Worked with the marketing team to create engaging landing pages and optimize them for lead generation and conversion.

Conducted thorough website audits and recommended design improvements to enhance user experience and site performance.

Implemented animations and interactive elements using CSS and JavaScript to create engaging user interfaces.
Junior Web Designer, GHI Tech Solutions, Chennai
Duration: March 2016 – July 2017

Assisted senior designers in creating mockups and wireframes for website projects.

Collaborated with developers to ensure accurate implementation of designs and troubleshooted layout and design issues.

Gained proficiency in Adobe Creative Suite (Photoshop, Illustrator) and honed skills in responsive web design.

Contributed to brainstorming sessions to generate creative design ideas and concepts for client pitches.
Wipro offers a wide range of job opportunities for experienced as well as freshers. Experienced candidates can apply for job roles that match their career level and expertise, while freshers can explore Wipro Jobs For Freshers for entry-level positions to begin their professional journey. 
The work experience part is vital in a work experience resume to recognize your potential skills and abilities. So it is essential to present it in a professional and informative way in an appropriate format to make a solid impression on the applicant's potentiality. Following the tips as mentioned above can help you build a professional work experience section in your resume.