JP Morgan is a leader in financial services globally, providing solutions to the most significant governments, corporations, and organisations in more than 100 nations. JP Morgan careers is a magnificent place for freshers to start their careers. Candidates will always have a good line of work culture at JP Morgan. Good teams support you in every track of the profession, and the team of Software Engineers, Data Scientists and Cybersecurity experts expands the organisation into top-notch. People at JP Morgan excel in innovating new ideas and believe in people-led and tech-empowered idealogy.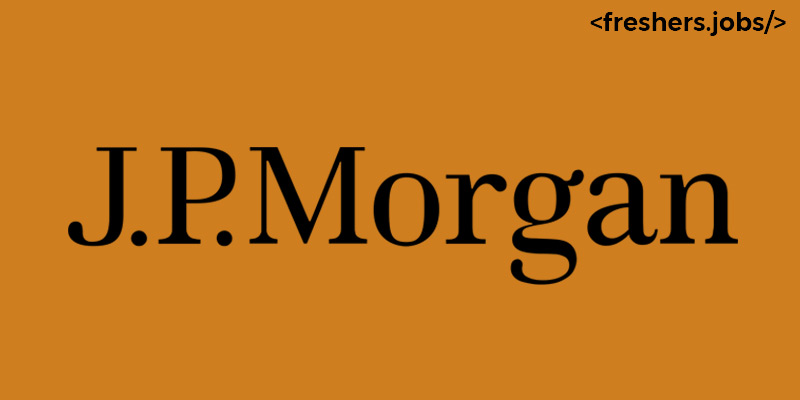 This page details the career and job opportunities at JP Morgan, the interview process, the academic eligibilities required by JP Morgan, and all details for any freshers to delve into the JP Morgan company. So you can sit back and read it for the aspiring information about JP Morgan.
Why do freshers choose JP Morgan Careers?
Freshers can design their own ideas for the greatest solutions for the world's largest store by incorporating the latest technicalities.
Takes advantage of a variety of flexible job alternatives, and then pursue your passions.
We value total career development by providing chances for skill development such as coaching and training at JP Morgan jobs.
JP Morgan believes in a great open workplace with trust, equity, and diversity.
JP Morgan is also committed to doing everything with honesty and fairness.
They help employees do well and grow by providing the tools they need to make their careers at JP Morgan.
JP Morgan's benefits, rewards, and growth programmes cover many options.
Acquiring a freshers jobs at JP Morgan is not an easy task for any fresher. Lakhs of candidates pass out of graduation every year and thus increase the competition for the job roles of freshers. The JP Morgan recruitment is meant for freshers who meet the educational eligibility released by the JP Morgan company. So freshers, go through the eligibility criteria detailed below and then start applying for JP Morgan company jobs.
Academic requirements
Graduates are those who have completed B.E/B.Tech, MBA, MCA, M.Sc, BCA, BS, MS, and other relevant graduates can apply for the jobs at JP Morgan.
Freshers must have acquired 60% aggregate marks throughout their academics.
If you're applying for a job at JP Morgan, you shouldn't have any pending backlogs.
Let us know how to apply for the jobs at JP Morgan
Create an account at http://careers.jpmorgan.com and look out for jobs alert and complete the job application by filling out the forms, including your personal information and other details for JP Morgan careers for freshers.
You can also download the PDF job application form, fill it out, and submit it to the HR manager if you don't wish to apply online.
They will examine your application after you have completed the application procedure, and if it fulfils their requirements, you will be asked for an onsite interview.
If your interview goes well, you will be given a position and asked to complete the following steps, which include a pre-employment background check.
You'll be given an orientation and begin working for the company after completing all the requirements. Freshers can start looking for freshers jobs in Bangalore for higher salary jobs.
Required documents to be carried for the JP Morgan interview
Carry all the interview-related documents along with you.
Have copies of the mark sheets, certificates, and interview call letter.
A recently updated resume.
The most recent picture of yours.
Identification proofs like Aadhar card, Passport, etc for JP Morgan jobs.
Basic skills required for the jobs at JP Morgan
The candidate must be good at strong problem-solving and analytics.
Decision-making skills, excellent communication skills, and interpersonal skills are required.
You should be detail-oriented and capable of delivering data and patterns, identifying problems, and devising effective solutions to problems.
You must be self-motivated and confident, with an entrepreneurial spirit and a desire to work in a fast-paced, results-oriented environment with a variety of tasks.
Designation Offered in JP Morgan
Automation Tester
The Automation Tester conducts Existing test case documentation that can be used to choose or find test cases to automate.
Using the Document for Designing and Test Automation Strategy.
Making a test plan for automation and getting approval for it.
Configure Selenium Test Environment for setup (ex: Java, Selenium WebDriver and TestNG etc.) in JP Morgan careers.
Take part in setting up the Selenium environment with IDE.
Design and implementation of an automation framework based on the project structure.
Test cases: making, improving, debugging and running them.
Setting up and keeping track of the defect management process Taking care of changes and doing regression tests.
Find answers to questions about object identity and how to handle errors.
Coordination between the Test team and the development team to figure out how to fix the problems.
Interacting with people on the client side to solve problems and keep them up to date on what's going on.
Make a software defect tracking system and let stakeholders know the status of the whole project's release.
Infrastructure Engineer
The Infrastructure Engineer is hired through JP Morgan recruitment and Puts together and keeps up operating environments.
Keep an eye on these working environments.
Problems are dealt with quickly and effectively.
Having a professional attitude around clients and coworkers.
offering help and training.
Making sure that workplaces stay safe and secure.
Keeping any software and hardware that needs it up to date.
Keeping a record of all problems that were reported and what was done to fix them.
Full Stack Engineer
The Full Stack Engineer conducts meetings with the team that makes software to talk about the size and scope of projects.
Creating the architecture of a software system.
Data structures and design patterns need to be finished.
Designing and building web services, applications, and APIs that can be scaled up.
Creating and maintaining software tools for use inside the company in JP Morgan jobs.
Writing both simple and complex code.
Trying to solve problems and fix bugs.
Finding slow spots and making software work better.
Developing micro-services together with the design team.
Putting together technical papers.
SRE Enablement Engineer
Understanding and experience with SRE practice and adoption (SLOs, TOIL Reduction, BPM/RCA, Observability/Telemetry, Chaos Engineering).
DevOps Methodologies (CI/CD, Configuration Management, Automated Testing, DevSecOps and FinOps).
Teach SRE teams about JPMC and the best practices in the industry.
Define, write down, and work together to make SRE Playbooks (Implementation Plans by platform/SRE Use Case).
Teach application developers how to use telemetry to best understand the state of a product while it is running.
Experience setting up telemetry tools, such as APM (AppDynamics, DynaTrace, Datadog), Tracing (Jaeger, Tempo, Zipkin), Logging (Splunk, Fluentd), Prometheus and infrastructure components (Network, OS, Database, MQ, etc.).
AWS Developer
The AWS Developer in JP Morgan jobs for freshers Understands an organization's current application infrastructure and makes suggestions or recommendations to change or improve it.
figuring out and writing down the best practices and strategies for application deployment and infrastructure maintenance.
Working together with the IT department or team to move web apps to AWS.
Creating, designing, and putting into action migration plans that save money.
Making programmes that can be used again, work well and grow.
Analyzing, testing, debugging, and updating software to make sure that applications work on all web browsers.
Using different AWS services, like API, RDS instance, and Lambda, to make a serverless app.
Examining and inspecting programmes to keep track of technical problems and come up with solutions or suggestions.
Interview Process in JP Morgan
JP Morgan Recruitment process conducts three rounds of interviews for its freshers jobs and the sections are divided as follows.
Aptitude test
Technical Round test
HR round test
Aptitude Round
The first round is online-based and it mainly consists of multiple-choice questions and there is a time limit for the aptitude test. 
The test syllabus mainly includes questions on English, General English, Science, system languages, coding, and some vocabulary-related questions.
Technical Interview
After clearing the online round of JP Morgan careers, next is the technical round which mainly is a face-to-face interview process round. 
The round will have a panel of recruiters or a single person. 
He may ask the candidate about the technical subjects they have learned during their college academics or any coding-related questions and questions on the latest technologies and the recruiter may even ask them to write programs and codes. 
This particular round may last 15-20 minutes.
HR Interview
The HR Round is mainly for your confidence level, communication abilities, how good you are at presenting yourself and how genuine you are. 
The questions may even arise from the resume in JP Morgan recruitment.
The HR manager may even ask you about the company. So you can be prepared for some information about the organization. 
Your interests and passions are also questioned in this round so hence you can prepare for Types of Job-Hunting Strategies.
Points to be remembered before attending the interview
Be prepared for the Interview with the right preparation tips.
Have all, the documents with you.
Prepare well for the programming languages and other technical languages.
Perform well with any questions asked.
Be sure and confident about what you convey to the recruiter.
Training and Development in JP Morgan
You can get good advice about your career from JP Morgan Online Academy. Joining in is easy just use your laptop, phone, or tablet to connect to our virtual events. During our webinars, you can talk directly to the employees and get answers to your questions through our live Q&A. They will talk about everything from career advice and business overviews to the most talked-about news stories at JP Morgan careers. You will learn about how we hire people, what we do, what kinds of programmes we offer and how to get started on your career path.
JP Morgan employment worker training and preparation and execution, as well as the executive's capacity to support global expansion, is the aim of the company's human assets. 
As the company grows, so do its HR requirements for explicit information, skills, and competencies for a truly global workforce. 
JP Morgan's training programs are designed to ensure viability in dealing with day-to-day job errands as well as the ability to adapt to changing retail conditions. 
The leaders' goals for the company's human resources include realistic superior execution planning to increase representative efficiency. 
These preparation projects and executive efforts address JP Morgan's presentation concerns and difficulties in human asset management. You can have a clear idea of the On-the-job training advantages when starting a new role.
Benefits offered in JP Morgan
Benefits for JP Morgan Chase Employees Sent in by Company Employee Programs for eligible employees include parental leave, backup child care services, flexible work options, matching gifts, discounts on banking services, electronics, arts and entertainment, fitness programmes, travel and more at JP Morgan jobs.
Thinks about your financial status and stability.
JP Morgan pays for the cost of education and reading materials for college courses.
People are given promotions based on what they have done, not on their social status.
The benefits of working at JP Morgan include medical care, security and time off.
By giving them maternity and paternity leaves, we want to give parents a sense of internal consistency when it comes to maternity and paternity.
Work Environment in JP Morgan
Every part of JP Morgan's business is impressed by the way it runs.
Employees and the company as a whole should always try to live up to the qualities and goals of the organisation.
A survey of the organization's hierarchical culture found that JP Morgan careers are dominated by a trained work culture with an upward order and ideal construction.
Trainers and coaches provide dynamic training and keep an eye on how well employees do their jobs.
They are proud of the kind of society they have made. And they are always putting money into new ways to help all of our employees learn and grow so they can be successful throughout their careers.