JP Morgan is a pioneer in asset management, commercial banking, investment banking, and the processing of financial transactions. They provide services to millions of customers, mainly in the United States, as well as several of the most illustrious corporate, institutional, and governmental clients worldwide. JP Morgan supports the growth and success of our staff, clients, consumers, and communities through ongoing investments, commercial endeavors, and philanthropic efforts and offers them a high JP Morgan salary.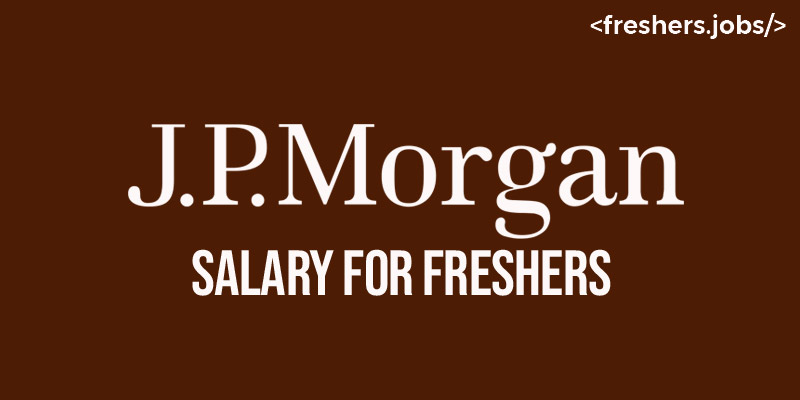 JP Morgan has a set of unique and motivating business principles. The principles will guarantee that you consistently perform at a high level, allowing you to keep developing an exceptional combination of characteristics and skills. Finally, JP Morgan has a very positive reputation in the market and among its customers. JP Morgan takes great satisfaction in its distinctive strategy for corporate responsibility. It works to make a difference that will last in our neighborhood's and allow everyone to climb the economic ladder.
Why do freshers prefer to join the JP Morgan company?
JP Morgan is interested in its employees and their lives. 

They ensure workplaces are safe, fair, and inclusive so everyone can succeed and grow.

Diverse teams make them stronger in JP Morgan.

JP Morgan is also committed to doing everything with honesty and fairness.

They help employees do well and grow by providing the tools they need to make their careers at JP Morgan and offer them a high

JP Morgan salary for freshers

.

JP Morgan's benefits, rewards, and growth programmes cover many options.
Job opportunities at JP Morgan Chase
JP Morgan is headquartered in New York and has offices in practically all of India's major cities. Bangalore, Mumbai, and Delhi are the locations of the offices, and J P Morgan Company frequently posts job openings for young graduates. Graduates can choose their ideal job at JP Morgan with ease if they want to work for a company where they can learn about the newest technologies. Candidates can gain sufficient on-the-job training and exposure at this organization in practically every department. As JP Morgan is located in top cities, one can look out for freshers jobs in Bangalore for the latest openings.
Aspirants can always move forward to join the J P Morgan group to earn nice pay if they have graduated from the Engineering stream, Postgraduate, Computer Applications, or any science-related profession.
Every year, JP Morgan posts a large number of job openings for individuals in their service lines with high JP Morgan freshers salary. We will discuss the services offered by the J P Morgan corporation in the sections below.
Services and Domains of JP Morgan
Here are a few services offered by JP Morgan such as Asset & Wealth, 
Management, Commercial Banking, Consumer& Community Banking, Corporate & Investment Bank, Corporate Functions, Technology, Administration and Support, Human Resources, Project Management, Sales Marketing and communication, Quality and Operational Excellence, Infrastructure, and Industrial Analytics.
The recently graduated candidates can find ample job opportunities and chances to get into J P Morgan company. All the services mentioned above have a wide range of job openings with a high JP Morgan jobs salary, and the candidates can always apply for jobs alert released by JP Morgan company.
Job Domains in JP Morgan
Asset Management, Business Banking, Chase Merchant Services, Community Development Banking, Corporate Banking, Corporate Responsibility, Global Finance & Business Management, Human Resources,  Securities Services, Middle Market Banking, Real Estate Banking, Capital Management,  Legal, Operations,  Auto Finance,  Consumer Banking,  Data & Analytics, Mortgage Banking, Marketing & Communications, Quantitative Research are the job domains available in JP Morgan.
Job roles in JP Morgan Chase
Application Support – Associate, Software Engineer, Java Developer, Automation Tester, Transaction Analyst, Business Analyst, Trade Finance Processing Operations – Associate, Data Engineer, Infrastructure Engineer, Site Reliability Engineer, Python Developer, AWS Developer, SRE Enablement Engineer, Full Stack Engineer, RPA Developer, Back End Developer are few of the fresher roles in JP Morgan with high JP Morgan package for freshers.
Let us discuss a few of the job roles at JP Morgan.
Java Developer
The

Java Developer

participates in every phase of the software development lifecycle.

Java-based applications that can be high-volume and low-latency should be designed, implemented, and maintained.

Analyze user needs to establish company goals.

Imagining the capabilities and features of the system.

Define the goals and features of the application.

Make sure application designs adhere to corporate objectives.

Create and evaluate the software.

Find and fix any arising technical problems.

Make comprehensive design documentation.

Change the infrastructure of Java as it is currently.

Create technical blueprints for the creation of applications.

Create multimedia programmes.

Write testable, well-designed code.
Data Engineer
The

Data Engineer

earns a high

JP morgan salary

and Analyzes and arranges unprocessed data.

Create data pipelines and systems.

Analyze the demands and goals of the business.

Analyze patterns and trends.

Analyze complicated data, then present the findings.

Gather information for predictive and prescriptive modelling.

Create prototypes and algorithms.

Combine unprocessed data from many sources.

Look into improving the accuracy and reliability of your data.

Identify potential data-acquisition opportunities.

Create analytical software and tools.

Work on a number of projects with data scientists and architects.
Back End Developer
The Backend Developer gets a good

JP Morgan salary for freshers

Creating the systems and processes that meet the needs of the application.

Data storage and retrieval, organization, backups, and security are all part of maintaining databases.

Bugs in the back-end code need to be found and fixed.

Taking care of any APIs that the company uses to connect applications, both inside and outside the company.

Performance optimization is done to improve things and improve the user experience.

Creating and taking care of code libraries that developers from all over the company can use.

Developing the back-end architecture of the application as a whole
Interview Process at JP Morgan
The interview process for each programme is different, but there is usually more than one round.
JP Morgan will ask you to take part in a HireVue-powered video interview. The recruiting team and recruiters would meet the person behind the resume, so use this as a chance to talk about your experiences, skills, and interest in the role, and the JP Morgan freshers salary. If you are applying for a technical job, you might also be asked to do a set of coding challenges.
You have as much time as you need to get used to the technology before you have to record your video responses. Once you begin to record your video response, you will have one chance to re-record each answer if you want to. Your video answers will be valid for 6 months, and to save you time, you can use them for other similar jobs you apply to.
If you make it to the final round, we will invite you to a face-to-face or virtual interview so you can meet more of our team. They will ask a mix of behavioral, technical, and situational questions to learn more about your education and work history. And don't forget interviews are a great way for them to get to know you, but you should also get to know about JP Morgan by asking questions.
Training in JP Morgan
You can get good advice about your career from JP Morgan Online Academy. Joining in is easy just use your laptop, phone, or tablet to connect to our virtual events. During our webinars, you can talk directly to the employees and get answers to your questions through our live Q&A. They will talk about everything from career advice and business overviews to the most talked-about news stories. You will learn about how we hire people, what we do, what kinds of programmes we offer, and how to get started on your career path. As freshers, you can check out the Careers that Make You Rich with High-Paying Jobs & How to Get Them in India to avail the best benefits.
JP Morgan Salary
The

JP Morgan salary for a freshers

Java Developer is 3.5 LPA.

JP Morgan's salary for Back End developer is 4 LPA.

The JP Morgan fresher salary for a Data Engineer is approximately 5 LPA.

The salary of an Automation Tester at JP Morgan is around 5 LPA.

The

freshers salary

of an Infrastructure Engineer in JP Morgan is about 4 LPA.

The JP Morgan salary for a

Full Stack Engineer

is 5 LPA.

The salary of an AWS Developer in JP Morgan is 7 LPA

The JP Morgan

fresher salary

for a Reliability Engineer is 5 LPA.
Conclusion
To Wrap up, after reading this article, you have a better idea of the different perspectives you need before entering the JP Morgan organisation. Start your career with JP Morgan, which has the best JP Morgan salary for freshers packages, value-added bonuses, and fresher job opportunities. You can look at freshers.jobs and move forward to apply and join a tremendous company.