Most professionals consider their potential earnings while looking for their career path. There are many roles in various industries where you can earn an ample salary to make you rich in the future and the bonuses and benefits that increase your earning potential.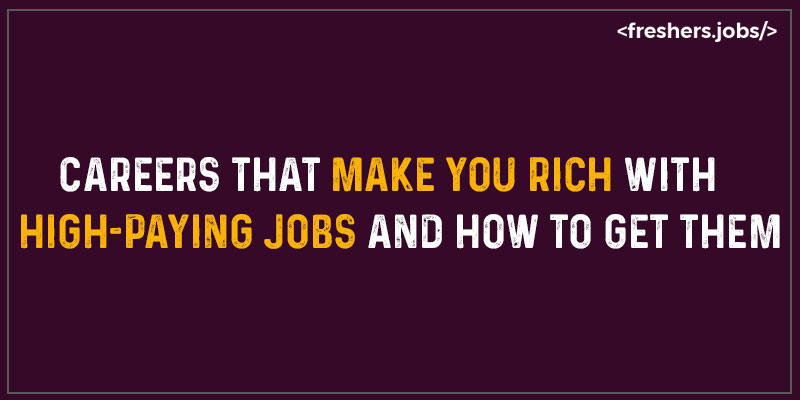 In this article. We will detail the careers that make you rich and the highest paying jobs.
It is the one thing that all people think about while attaining a bachelor's degree or master's degree and building the future, and it mainly depends on making the most money. Career paths for freshers and experienced in various domains like private and government jobs pay extremely high. Getting into these jobs is a dream come true for most of them. Suppose you aim to bring in splendid high annual salaries. You must ensure you get into a field that pays higher salaries.
Here are the top careers that will give you higher salaries to become rich.
Data Scientists
Data is considered the most vital and abundant in today's tech world. 

Data Scientists are involved in creating the frameworks that companies use to analyse larger data that, in turn, becomes a most useful perception and the accurate finishing to help the business succeed and grow to greater heights.

Therefore, to get hired as a fresher data scientist, there is a requirement for a bachelor's degree in IT or any equivalent stream. 

Working as a Data scientist is considered the richest

high salary jobs for freshers and experienced.
Management Consultant
Most companies hire management consultants and are considered the most

high paying careers

for the freshers and the experienced. 

Management consultants help companies improve their business by identifying problems, developing solutions for every problem, and checking to resolve those problems.

Management consulting is a field with high competition. 

To get into management consulting, You should have a bachelor's degree in a relevant field, and some organisations will require a higher advanced degree too.
Software Developer
Software Developers are considered to be the top-paying jobs and also implies to develop different types of software. 

Most companies want software developers to have a bachelor's degree in computer science, and some even want a master's degree. 

You can even take a course on how to make and test software. Also, it will help graduates find high-paying jobs as software developers. 
Business Analyst 
Business Analysts look at how a company uses IT now and make suggestions to improve efficiency, cut costs, and set up IT systems and protocols that help employees be more productive.
IT business analysts just starting will need a bachelor's degree in business administration, IT, or a related field. 

Depending on the person, they may also need a deep understanding of IT systems. 

This could be gained through undergraduate courses, internships, or self-study and is considered

high-paying jobs

.
Investment Associate
Investment Associates can work at financial institutions, economic services firms, or other financial organisations.

They help portfolio managers find information about investments and develop investment plans for private and business clients. 

Most of the time, they have to analyse financial data, research, make presentations and other materials for clients, handle client transactions and do other administrative tasks. 

Most jobs as an Investment associate involve both researches and working with clients, so candidates should be comfortable with both.

Most jobs as an investment associate require a bachelor's degree in finance, economics, or a related field. 
HR Associate
An HR Associate works on different projects in charge of the people or human resources department. 
They might collaborate with hiring managers and HR managers to establish interviews or interaction references, procedure payroll and benefits documentation, onboarding meetings and training or do other general administrative work. 

As part of their jobs, HR employees often have to deal with personal information about employees. 

They must be able to keep this information secret and build and keep trust with their team.

While most companies prefer to hire HR associates with a bachelor's degree, it is considered one of the

high salary jobs

.

Many companies are more interested in hiring HR associates with the right attitude and personality than with a specific background.
Executive Assistant
An Executive's right-hand person is an executive assistant. 

This person is in charge of helping the CEO or another executive with their day-to-day tasks. 

Sometimes this person helps more than one executive. 

The job can include tasks like booking tickets, managing calendars, scheduling appointments, incorporating, managing projects, or doing administrative work (such as answering phones). 

Executive Assistants keep the executive's life in order, so they must be very organised and able to handle many projects, deadlines, and preferences simultaneously.

Some top management wants their EAs to have the experience and a four-year degree, but many businesses are more open to people merely starting their careers and are willing to train promising candidates on the job. 
I hope you got an idea now about what kinds of high paying careers can make you rich. In the next part, we'll discuss how to get these jobs. Here are some ideas: 
Plan out the path you want to take
Some jobs, positions, and fields pay more than others. So, the first step to getting an entry-level job that pays well is to know where and how to look for one.  

Jobs in IT, big data, financial services, and consultancy services all have higher-paying entry-level

freshers jobs

. 

Starting with a high salary doesn't just help you now. It also prepares you for a rewarding job in the long run.

If high pay is important to you now and in the future, look for jobs in industries and fields that pay well.
You shouldn't get Wrapped Up in Your Degree
Many recent college graduates think the jobs they can get depend on their studies. For example, if they studied finance, they think they should look for work in the financial sector. If you have gone to school for business, you need to get a job at a big company.

However, if your course of study doesn't lead to high-paying jobs in the same way, don't let your degree stop you from getting the

highest paying jobs

you want.

Don't focus on the degree you have, but focus on the skills you have.

The point is that when you're applying for an entry-level job, what you majored in isn't the only thing that matters. You can look at your other skills and experiences.
Connect with people
Your connection with people plays a role in landing entry-level jobs, which typically helps get you high paying jobs.

Building your network is one of the greatest things you can do when beginning your career.

Some studies have found almost 85% of jobs are through personal connections. 

The best way I can give is to be intentional about building and maintaining real relationships with family, friends, neighbours, coworkers, classmates, professors, advisors, internship supervisors, and others.

When you are aiming to look for a job seriously, you should reach out to your network and ask for help. 

You can ask the people in your network for

preparation tips

on how to get hired for a certain type of job, at a certain company, or in a certain field or industry.
Conclusion
At the beginning of your career, getting the highest paying jobs can be hard. But now you know some of the best entry-level jobs that pay well and how to find and get them. So, why don't you just do it? Get out there and look for the jobs alert and the pay you want!