Juniper Networks, Inc. is an American company having offices all over the world and the main office in Sunnyvale, California. The company involves in making and sells networking products like routers, switches, network management software, network security products, and software-defined networking technology. Pradeep Sindhu started the company in 1996, and Scott Kriensas was its first CEO.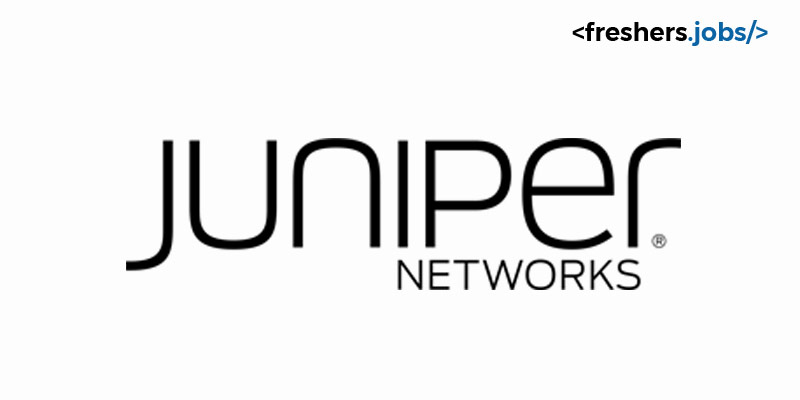 At Juniper networks careers, we work hard to provide network experiences that alter how people connect, work, and live. The company fuel the connections that matter most, from safe banking to healthcare and education, by confronting the inherent complexity of the 5G and cloud era. Juniper Network's goal is to help network teams and the person they serve achieve genuine results.
Why do freshers prefer to join Juniper Networks?
Our team of Junivators sets the bar high when it comes to creativity, innovation, and devotion. They live out our mission every day by upholding the following principles:
Being bold
The goal is simplicity. We challenge the norm, which includes pushing ourselves.
We welcome different viewpoints and the change they offer. Being courageous is all about doing that.
Fostering trust
The success of our clients determines our success at Juniper networks jobs. You can rely on us to complete tasks since we speak our minds and take the initiative.
Providing superior service
Exceptional quality and a fantastic customer experience are our obsessions.
Even when we succeeded in achieving that goal, we continued exploring methods to improve.
We must take action to assist our people, safeguard the environment, and uphold the highest ethical standards as a global corporation.
For both those who operate networks and those who rely on them, we work hard to provide a streamlined experience.
Juniper Networks Recruitment
The applicant must meet the following criteria before applying for Juniper Networks careers for freshers.
Graduated in B.E/B.Tech from a recognised university.
Graduation in IT branches like Computer Science Engineering, Information Technology, Electronics and Communication, Electronics and Electrical Engineering, Telecommunication etc.
Candidates with no backlogs are allowed.
Candidates must possess problem-solving skills and internet knowledge.
Good at communication and cognitive skills.
Excellent worker in teams.
 Academic requirements for Juniper Networks jobs
A candidate must have a degree graduated with 60% and above and a 6 CGPA in graduation for Juniper Networks vacancies.
The applicant must have 60% above and CGPA in 12th, 10th and diploma.
The candidates must have a gap of less than one year between graduation.
Great knowledge of all programming languages.
Good analytical skills.
Policies for Juniper Networks recruitment
The Candidates cannot reapply for the interview process once they are not considered.
The candidates who have missed the interview process can make a decision to re-apply again and attend the process.
The aspirants who have attended the interview for the past six months are not eligible to apply again.
If the applicant is not selected for the interview, he or she cannot apply for the interview process for six months. 
Applicants who have been present for the interview within six months from the date of their last application to the date of the new application are not allowed to apply again. 
Documents necessary for the interview
At Juniper Networks jobs for freshers, It is compulsory to have and produce the necessary documents for the interview process.
The mark sheets for 10th, 12th and graduation are necessary for the interview process.
Keep handy all the copies of the mark sheets as mentioned.
A structured latest updated resume.
Photographs which are of passport size and the latest one.
Identification cards like voter ID, Aadhar Card, Passport etc.
Carry other necessary documents like certificates, participation certificates, relevant projects completed etc.
How to apply?
The Applicant can visit the Juniper Networks careers page and look for the jobs alert that is posted on the page. You can start applying for the desired profile of jobs. How to start searching? The candidates can check the website www.junipernetworks.com and register for the jobs.
You can search by using some of the keywords like place and location. If you are a fresher, you can search for freshers jobs. Once the application has been popped can fill in the required details by uploading your resume. Kindly fill up all the details and click apply or submit.
Once your application has been found apt for the recruiter, they may call you in a couple of days or a week to convey the interview schedule and process.
Designations offered in Juniper Networks
Operations Analysts
The Operations Analysts in Juniper networks careers for freshers Reviewing business processes and company policies can help improve the flow of work and make the company stronger.
Work with top management to review job duties and change employee and department tasks based on what the business needs.
Work with the sales and operations teams to find ways to make business processes that are cost-effective and will bring in new customers.
Give management a monthly report on industry trends and how to change company procedures to make the most of those trends.
Train and run a team of Junior Analysts.
Category Specialist
The Category Specialist Analyse data or insights to determine what the market and customers are doing.
Plan for the long-term development of product categories.
Develop exit strategies for unsuccessful products.
Build relationships of trust with vendors to get better prices and services.
Place the right orders to make sure there are enough products to meet consumer needs.
Figure out how to position a product category so that it gets the most attention at Juniper Networks jobs.
Communicate with marketing teams to figure out how to price a product category competitively and how to promote it.
Work with buyers and merchandisers to add more types of products.
Make predictions about how much of a product will be sold to ensure the inventory will last.
Take charge of making the budget and bringing in money for the category.
Thermal Design Engineer
The Thermal Design Engineer Analyses how heat is transferred now to find ways to improve it and save money.
Choose the right materials and parts, keeping in mind how heat, sound, and corrosion will affect them.
Work with other engineers and interested parties to complete tasks and reach goals.
Create accurate 3D models, evaluate designs, test them in the real world, and iterate to make designs that work well and give the best product performance.
Do tooling trials and participate in them to ensure that new tools work as expected and are reliable.
Figure out how heat moves in different situations and media.
ASIC Engineer
The ASIC Engineer in Juniper Networks jobs for freshers Analyses circuit designs and makes new ones based on certain parameters to improve efficiency or performance.
Doing research and development to improve existing technology or create new technology.
Creating computer models of circuit designs to test for stability, efficiency, and other factors.
Debugging is the process of looking for and fixing errors in computer hardware or software.
Figuring out the details of new products and designing their parts based on customer's wants.
Checking existing products for design flaws or things that could go wrong.
Following established guidelines for design and procedure to finish work orders.
Putting in and taking care of computer hardware and software.
Investigating computer problems and making suggestions for fixing them.
Test Engineers
The Test Engineers in Juniper networks careers meets with the team that made the product to figure out how to test it.
Writing test plans for the product and making test cases for it.
Using the new testing procedures to do quality checks and design performance tests.
Fixing any problems and making the testing process more efficient.
Writing up the final quality assurance and testing procedures for the quality technicians.
Training the people working on quality assurance and giving them technical help when needed.
Making sure that all tests and procedures meet the standards of the company and the industry.
Putting together test reports for the bosses.
Juniper Networks Recruitment process
To begin with, let's see the rounds that happen at the Juniper Networks recruitment.
Before heading to the interview rounds, there are two types of exams the candidates must face during the interview process. Know how to get a job as a fresher.
Round 1 is the aptitude round that is conducted online.
Round 2 is the communicative English or the English grammar round.
Round 3 is the Technical round.
Round 4 is the HR round.
Round 1
The aptitude round, the first round for the freshers, involves quantitative aptitude questions, verbal ability tests, coding tests and logical reasoning rounds.
The number of questions will be 15 questions, 10 questions,15 questions and 6-8 questions, respectively.
In Juniper Networks, the time allotted for the aptitude round, verbal ability, logical reasoning, and coding is 15 minutes, 10 minutes, 15 minutes and 120 minutes.
Round 2
This particular round involves communicative English and English grammar in Juniper Networks jobs.
The round comprises spoken English, speaking for a minute, Basics of grammar and audio comprehension.
Spoken English has 10 questions for reading and 8 questions for listening and speaking.
The time span for this round is 45 minutes.
The next section is the peak for a minute with 3 questions for 3 minutes.
English Grammar is the next section, and wherein there will be 34 questions or 45 mins.
The last section is the audio comprehension round which has 16 questions and the time allotted for this is 45 minutes.
Round 3
Once you have cleared both rounds at Juniper networks recruitment, you will be intimated about the selection and the further rounds, that is, the technical round.
In the technical round, the interviewer wants to check for the technical skills and knowledge of the candidate that the applicants have grasped during their graduation.
The questions will be based on the skills the candidates have updated in their resumes.
Some examples of technical round questions are about networks, DBMS, operating systems and also analytical thinking capacity.
Round 4
This round mainly deals with the behaviour and personality of the candidate. The HR questions the candidate regarding hobbies, strengths, weaknesses, family, plans on higher studies, relocation, and areas of interest. Some questions from the resume, too, will be asked at Juniper networks careers.
Basic skills required
Ability to solve problems.
Think creatively.
To work in a group.
To evaluate tough problems.
To have strong principles of work.
Good communicative language and skills.
To be a great initiator and have leadership qualities.
Training and development in Juniper Networks
Learn the skills and knowledge required to unleash the potential of your network.
We provide a wide range of training programmes that may be taken in instructor-led or self-paced, on-demand forms at Juniper networks careers for freshers. The All-Access Training Pass is one of several purchase choices that give you the freedom to advance your knowledge. To assist you in getting started with Juniper Networks solutions, Juniper Education Services provides a multitude of learning opportunities.
Course Timetable
Acquire your abilities to boost your profession and prepare for your upcoming certification. Participate in person or online.
On-Demand Training
Learn online at your own speed. The same thorough laboratories that are taught in our instructor-led courses.
Free Instruction
Receive free technical training and the chance to qualify for a 75% off voucher for a certification exam.
The work environment in Juniper Networks
Employees at Juniper Networks jobs operate in a dynamic, fast-paced environment. They must be able to collaborate both individually and with other engineers and teams. They must possess the capacity for critical thought and problem-solving. 
Career and development: Juniper Networks implements outstanding leadership at all levels since they feel it raises the level. They work to advance some of the strategies and technical abilities.
Work-life support and balance: The company values and supports exceptional work to advance the organisation to the highest commercial and technical outcomes. Additionally, the organisation promotes a healthy work-life balance for its employees.
Rewards & Recognition: At Juniper Networks, employees have always received recognition for their efforts and creative ideas. This has always been a cornerstone of the company's culture. This will be a regular occurrence at work.
Values and Leadership: The Juniper Networks jobs for freshers offer a worldwide team that consistently oversees overall progress and takes the initiative.
Salary in Juniper Networks
The Juniper Salary for freshers is exceptionally good for recent graduates. The salary of a Category Specialist at Juniper Networks is about 3.6 LPA to the salary of a Network Engineer at Juniper Networks is around 5 LPA.