An MBA degree holds significant value among companies and organizations primarily because it equips students with essential business management and administration skills. These skills include strategic thinking, leadership, financial acumen, and problem-solving abilities. MBA graduates are often in high demand by employers due to their well-rounded knowledge and capabilities. Chennai is recognized as a center for quality education with more than 150 MBA colleges. This makes it a most demanded destination for management education. A notable advantage of pursuing MBA Courses in Chennai is the presence of top-tier colleges with reasonable fees.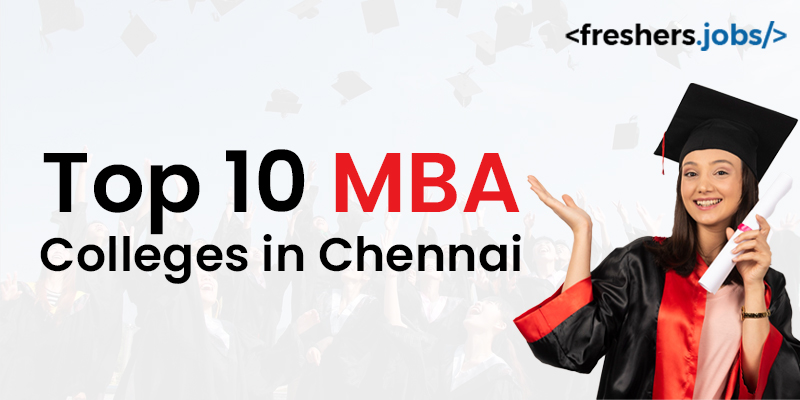 This combination of affordability and quality education makes MBA Colleges in Chennai an attractive choice for MBA aspirants. The admission process often involves group discussions and personal interviews, ensuring that selected candidates demonstrate academic prowess and possess the communication and interpersonal skills essential for successful management roles. This comprehensive approach ensures that those pursuing an MBA in Chennai are well-prepared for the dynamic and demanding business world.
Following is the list of the top 10 Best Business Schools in Chennai for MBA.
ZEFT Business School
Indian Institute of Technology Madras
VIT Business School
Loyola Institute of Business Administration
Indian School of Science and Management
Great Lakes Institute of Management
Avidus Academy of Management
AMET
IIKM Business School
ITM Business School
1. ZEFT Business School
ZEFT Business School is a reputed institution located in the center of Chennai. It is known for its excellence in MBA programs. The institution has gained widespread recognition for its dedication to providing high-quality education, supported by a thoughtfully designed curriculum and a team of exceptionally skilled educators. With a meticulously crafted curriculum and a highly skilled team of educators, the school has established a solid reputation for delivering extensive education.
ZEFT Business School allows students to undergo a comprehensive and holistic educational experience. The institution presents a diverse array of courses, each thoughtfully designed to address the evolving requirements of the business realm. It is worth noting that they specialize in MBA in Business Analytics & Digital and E-Commerce. ZEFT Business School prioritizes hands-on learning and a well-rounded educational methodology, ensuring its graduates excel in academics and their preparedness to navigate the challenges and successes inherent in the dynamic business environment. Exploring the realm of entrepreneurship and fostering strategic innovation, their curriculum equips learners with the skills to establish and manage ventures, using market insights and expert mentorship.
ZEFT Business School delivers a comprehensive curriculum designed to guide the students with the skills, knowledge, and confidence needed for success in the field. Recognized as one of the top institutions for MBA, ZEFT Business School guarantees that students receive excellent preparation to navigate the intricacies of business innovation driven by data.
MBA Business Analytics: The MBA Business Analytics in Chennai delivers a comprehensive education on the intricacies of making data-driven decisions, encompassing predictive modeling, advanced statistical analysis, and more. It empowers students with the skills and perspectives to leverage data effectively, transforming it into actionable insights in areas like Financial Accounting, Marketing Management, and Organizational Behavior. Expert professionals mentor students, providing valuable insights into Financial Analytics, Optimization Analytics, Stochastic Modeling, and Business Intelligence through hands-on experience in real-world data scenarios. This guidance prepares learners to steer organizations towards success by employing data-driven strategies, offering a distinct advantage in the continuously evolving data landscape.
MBA Digital and E-commerce: The MBA program in Digital and E-Commerce equips learners with vital tools and insights to excel in the dynamic digital business environment. Going beyond traditional business education, the curriculum focuses on tactics and strategies crucial for success in the competitive domain of MBA E Commerce and Digital Marketing. It imparts insights into mobile, social, and e-commerce frameworks, covering aspects of marketing management, communication elements, and more. Essential financial management concepts such as capital structure, working capital, and financial statement analysis are also addressed. The program provides comprehensive insights into basic business principles, offering learners a well-rounded understanding of e-commerce with guidance on both theoretical concepts and practical applications.
Why choose MBA Courses in Chennai at ZEFT Business School? 
At ZEFT Business School, the cornerstone of their educational approach lies in their esteemed Professional Mentors, who play a pivotal role in shaping their students' academic journey. Complementing this mentorship is their commitment to hands-on projects and active collaboration with industry leaders, ensuring their students are well-prepared for the dynamic challenges of the real world. Moreover, we facilitate extensive networking opportunities, fostering connections among their students with diverse peers, mentors, and collaborators globally. This interconnected community enhances the learning experience, giving students a rich and varied perspective beyond traditional classroom boundaries. As part of their holistic educational model, we continually strive to create an environment where knowledge is imparted and applied in practical scenarios, empowering their students to excel in their chosen fields.
2. Indian Institute of Technology Madras
Through its Department of Management Studies (DoMS IIT Madras), the IIT Madras offers a range of postgraduate, doctoral, and specialized courses. These programs cover Management and Quantitative Finance, offering a comprehensive educational experience.
3. VIT Business School 
The Vellore Institute of Technology Business School (VITBS) has firmly established itself as one of the premier MBA colleges in the region. VITBS is dedicated to providing a spectrum of educational programs, ranging from bachelor's degrees to PhD. The institution combines cutting-edge facilities with a highly qualified teaching staff, creating an excellent educational environment.
4. Loyola Institute of Business Administration
The Loyola Institute of Business Administration (LIBA) provides various MBA programs, including a full-time two-year MBA (PGDM), a three-year part-time MBA (PGBM), and an Executive MBA. The college is located in Nungambakkam and collaborates with international universities, promoting a global perspective and enhancing student experiences.
5. Indian School of Science and Management
The Indian School of Science and Management (ISSM) is a private institution founded in 2008 and affiliated with Malaysia University. Over the years, the institute's steadfast dedication to quality and student-focused approach has strengthened its reputation.
6. Great Lakes Institute of Management
The Great Lakes Institute of Management operates campuses in Chennai and Gurgaon. It stands out in transforming high-potential professionals into competitive business managers and decision-makers. Key components of the educational journey include real-life case studies, interactions with industry professionals, and opportunities for internships.
7. Avidus Academy of Management
Avidus Academy of Management, also known as AAM Business School, provides various management degree programs, offering two postgraduate courses in both full-time and part-time formats.
8. AMET
AMET Business School offers an MBA program specializing in Shipping and Logistics Management. The MBA program in Shipping and Logistics Management is meticulously designed to provide students with the skills and a broad understanding necessary for success in Maritime Management.
9. IIKM Business School
IIKM is one of Chennai's rapidly advancing Business Schools, offering industry-centric programs across various management education disciplines. The school's distinctive education approach, characterized by a curriculum tailored to industry needs, has attracted the interest of many aspiring MBA students.
10. ITM Business School
ITM Chennai has established a reputation for its remarkable achievements in effectively conducting Management Development Programs. Students at ITM Business School Chennai receive a range of facilities, ensuring an environment conducive to learning. These facilities are meticulously designed to provide students with everything they need to excel academically.
What is an MBA Course?
MBA stands for Master of Business Administration. It is a graduate-level academic degree that lasts for 2 years and is designed to provide individuals with a broad set of skills in business and management. The MBA program typically covers various aspects of business, including finance, marketing, operations, human resources, strategy, entrepreneurship, and organizational behavior. MBA graduates are sought after in various industries and are often positioned for company leadership roles. The degree is valuable for individuals aspiring to advance careers, start businesses, or transition into managerial and executive positions. Universities and business schools offer MBA programs which are recognized globally.
Significance of Pursuing MBA Courses
Enhanced Business Knowledge: MBA programs provide a comprehensive understanding of various business disciplines, including finance, marketing, operations, human resources, and strategy, making graduates well-rounded professionals.
Leadership Skills Development: MBA programs emphasize leadership development, helping individuals cultivate skills in decision-making, problem-solving, and strategic thinking, preparing them for managerial and executive roles.
Networking Opportunities: MBA programs often facilitate networking with peers, alumni, and industry professionals. Building a strong professional network can result in valuable connections, mentorships, and career opportunities.
Career Advancement: An MBA is often considered a pathway to career advancement.It can open doors to higher-level positions, increased responsibilities, and better opportunities for professional growth.
Global Perspective: Many MBA programs offer an international focus, providing insights into global business practices and preparing graduates for roles in the global marketplace.
Specialization Options: MBA programs often allow individuals to specialize in specific business areas, such as finance, marketing, or supply chain management, enabling them to tailor their education to their career goals.
Problem-Solving Skills: MBA programs emphasize analytical thinking and problem-solving, equipping graduates with the skills to address complex business challenges effectively.
Adaptability: MBA graduates are trained to adapt to changing business environments. The ability to navigate and lead in dynamic and uncertain situations is a valuable skill in today's fast-paced world.
Increased Earning Potential: On average, individuals with an MBA tend to command higher salaries than those with only a bachelor's degree. The investment in an MBA often translates into a substantial return in terms of earning potential.
Diverse Perspectives: MBA programs often attract individuals from diverse professional backgrounds and cultures, providing a rich learning environment that exposes learners to different perspectives and approaches to problem-solving.
Soft Skills Development: MBA programs focus on developing soft skills like communication, teamwork, and interpersonal skills, which are crucial for success in managerial roles.
Components of MBA Courses
Core Courses: These fundamental courses cover essential business disciplines such as finance, marketing, operations, human resources, strategy, and organizational behavior. Core courses lay the foundation for a broad understanding of business concepts.
Elective Courses: MBA programs often offer a range of elective courses that enable students to specialize in specific areas of interest. Electives allow in-depth exploration of topics relevant to the individual's career goals.
Case Studies: The use of case studies is prevalent in MBA programs. These real-world business scenarios help students apply theoretical knowledge to practical situations, enhancing their problem-solving and decision-making skills.
Internships and Experiential Learning: Many MBA programs incorporate internships or experiential learning opportunities, providing students with hands-on experience in a professional setting. This practical exposure is valuable for applying theoretical concepts to real-world situations.
Leadership Development: Leadership enhancement is an essential component of MBA programs. Courses and activities focusing on leadership skills, team dynamics, and communication prepare students for managerial and executive roles.
Networking Opportunities: MBA programs facilitate networking through interactions with classmates, alumni, and industry professionals. Networking events, workshops, and guest lectures build a strong professional network.
Soft Skills Training: Besides technical skills, MBA programs often emphasize developing soft skills such as communication, negotiation, and interpersonal skills. These skills are necessary for effective leadership and collaboration.
Research Projects: Some MBA programs include research components where students engage in independent or group research projects, allowing them to delve into specific business topics in greater detail.
Professional Development Workshops: Workshops on resume building, interview skills, and career development are common in MBA programs to prepare students for the job market.
Business Simulations: Some programs use business simulations to provide a business environment where students can make strategic decisions and observe the outcomes, enhancing their strategic thinking and problem-solving skills.
Job Opportunities After MBA
Given below are the Job opportunities after completing MBA courses in Chennai.
Management Trainee: Typically involves rotational training in various departments to acquire a broad understanding of the organization.
Business Analyst: Analyzing data, trends, and market conditions to provide insights and recommendations.
Associate: Working in a specific department under the guidance of experienced professionals.
Project Coordinator: Assisting in the planning, executing, and monitoring of projects.
Assistant Manager: Supporting senior managers and overseeing day-to-day operations.
Manager: Managing a team or department and responsible for achieving specific targets.
Senior Consultant: Providing expert advice and solutions in a consulting role.
Product Manager: Overseeing the development and management of a product or product line.
Marketing Manager: Developing and executing marketing strategies.
Operations Manager: Managing the day-to-day operations of a business.
Director: Leading a department or business unit, often involved in strategic decision-making.
General Manager: Overseeing multiple departments or an entire business unit.
Head of Department: Heading a specific functional area such as finance, marketing, or HR.
Chief Operating Officer (COO): Overseeing the overall operations and administration of the company.
Chief Financial Officer (CFO): Managing financial aspects, including budgeting, forecasting, and financial reporting.
Chief Executive Officer (CEO): Leading the organization, setting strategic goals, and making high-level decisions.
Chief Marketing Officer (CMO'): Overseeing all marketing activities and strategies.
Chief Information Officer (CIO): Managing the organization's technology infrastructure and strategy.
Chief Human Resources Officer (CHRO): Overseeing the human resources function and ensuring workforce effectiveness.
We have delved into the Top 10 MBA Colleges in Chennai, the significance, components, and job opportunities in the job market for MBA graduates. Individual preferences and goals will ultimately play a pivotal role in determining the ideal choice for each aspiring MBA professional.