Management training is an important aspect of professional development that equips individuals with the skills, knowledge, and strategies necessary to excel in leadership roles. This specialised training program develops decision-making, communication, problem-solving, team management, and strategic planning competencies.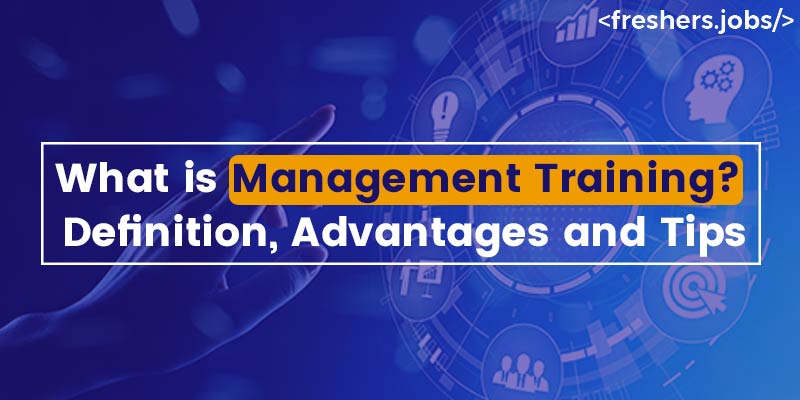 Whether for new managers stepping into their first leadership position or experienced professionals looking to enhance their managerial capabilities, management training provides invaluable insights and tools to navigate the complexities of modern business environments. With a focus on practical application and fostering effective leadership skills, management training empowers individuals to lead teams, drive organizational success, and make informed decisions that contribute to sustainable growth.
In this blog, we define management training, discuss its advantages, list a few skills you may master through these training courses, and offer advice for enrolling in management training programmes for job opportunities.
Initially, let us know what Management Training is
What is management training? The initial step is understanding what it is before determining the career stages in which you require management training. Professionals can enrol in management training to acquire the skills and information required for a manager position. These programs include general knowledge of management techniques, leadership styles, and general abilities, as well as information that may be industry-specific. Although businesses can develop training and development programs, academic institutions and professional organisations frequently offer management training courses.
The following professional phases may necessitate management training for you
Getting Promoted: You can prepare for your managerial position's responsibilities by taking training management courses. You may feel more assured when you take on greater responsibility at work.
Gaining Experience: Completing management training can be a beneficial certification to add to your CV, even if you have already held a management role. Additionally, you can use this training to brush up on current managerial techniques.
To improve your skills and discover a solution to your problem, explore manager training courses if you're a manager who needs help fulfilling corporate goals or growing your team.
Advantages of Management Training
The following advantages can be obtained through finishing management training programs:
Permit you to assist your team by doing so
You can learn to respond to the wants and concerns of your team members by taking management training classes and knowing what is training in management. It also gives you the means to assist them and carry out your professional duties. Supporting your employees can create a stronger department and a more productive workplace.
Get the best management training, tap into freshers jobs in Mumbai, and get hired by top companies. 
Teach you to offer criticism
The most essential aspect of your managing responsibilities is giving feedback. Employees can do better and learn from their errors as a result. Giving constructive criticism can also help you compliment your team members, motivating them to keep delivering high-calibre work.
Give Decision-Making Resources
Leaders weigh the benefits and drawbacks of a circumstance to get to a decision that is in the organization's best interests. By assisting you in developing decision-making abilities and boosting your confidence, management training can help you get ready for this responsibility. Making decisions that support the company's objectives can help you and your team members achieve your professional objectives and maintain a productive workplace.
Help you develop conflict-resolution skills
Understanding how to handle conflicts successfully is important for managers. Management training equips you to conduct dialogues to acknowledge the many points of view when team members dispute. After that, look for a solution that benefits everyone. These skills enable you to promote a positive workplace culture.
Permit you to impose rules
You can better comprehend workplace norms through management training, which equips you to uphold them. As a manager, you can clarify a rule to a team member or even penalize an employee who disobeys corporate policy. By preserving boundaries and upholding regulations, training aids in promoting justice and fairness in the workplace.
To help you handle change
Leaders adapt the work environment to the organization's changing needs while assisting employees in doing the same. From training management training, your team members will benefit from your support as you navigate workplace transformation. This enables you and your team to continue being productive even when workplace policies and routine procedures change.
Get you ready for the hiring process
What is management training? Management training prepares professionals for hiring because managers are frequently in charge of choosing their team members. This can involve showing you how to conduct interviews and resume reviews to discover the most qualified candidates for any open positions your business provides. You can continue to run a productive department by hiring experts who can contribute to your team's success.
Aid in setting goals
Setting goals is important because it enables managers to inspire their teams to achieve specific objectives for both the team and the organisation. As a manager, it is crucial to remind your staff of their goals and outline the strategy for success. Your behaviour at work can be an example for others thanks to management training.
Taking management training classes can help you hone the following abilities
Communication
Make their expectations clear and communicate information in a way your staff can grasp with effective communication skills. As a manager, you may actively listen to fresh perspectives and change how you present your thoughts depending on the audience or subject. For example, you communicate differently in a one-on-one conversation than when facilitating a topic at a group gathering in training in management. These skills are also necessary for communicating with your supervisors.
Management of Time
Since managerial positions entail more duties, you must learn how to organise your time, set priorities, and schedule time to supervise and consult with your team members for management training. Possessing efficient time management techniques will boost your self-assurance and lessen the tension associated with your job. Your time management skills will also enable you to keep your workdays productive and give others the essential tools they need to do the same.
Delegation
You may promote teamwork at work and allow your staff members to try new things by delegating assignments. This could improve employee morale and ensure everyone on your team contributes equally to achieving organisational objectives. You can learn how to master this skill and determine when to delegate responsibilities by taking management training courses. This can aid in workload management for both you and your team.
Technological Aptitude
Being tech-savvy can allow you to communicate with the organisation more widely via emails or electronic newsletters. These skills will help you as a manager keep track of things, display data using spreadsheets, and develop more inventive training session presentations. More excellent technical expertise may enable you to create and share more creative working methods with your team.
Leadership
Your leadership qualities might be highly emphasized in training in management. Supporting you as you develop your leadership style and learn how to modify your work processes to meet the demands of your team members might be a part of this. As a manager, having leadership abilities is frequently necessary since they enable you to guide staff toward organizational goals and maintain the morale and satisfaction of your team.
Training Skills
You must guide your team members in coming up with their answers because, as a manager, you may only sometimes have the solution. This can assist in your staff's professional development and help them become more independent. Gaining these skills through training on management may also enable you to influence others as a mentor in your area of employment.
Four Recommendations for management training programs
Here are four ideas or tips to think about when enrolling in management education courses:
Be aware of what your organisation expects
Knowing what your employer expects of you while you undergo management training. This gives you a chance to acquire the abilities necessary to meet these demands and gives you more knowledge about how to be a successful manager. Before enrolling in management training programs, discuss with your manager the objectives to strive for and the key competencies to emphasize.
Arrange shorter class periods
Consider organizing more compact management training sessions if they are available for freshers jobs. This gives you more time to comprehend the material you learn from these courses and reduces the chance that the course's content will overwhelm you. To ensure you can master each talent and obtain a deeper understanding of leadership principles, attempt to set a realistic pace for your management training. This is because many managerial skills grow over time.
Define your style
Consider your leadership style before beginning management training for higher salaries. This is because some methods may suit your leadership style better than others. Therefore, knowing how you intend to manage your team is crucial. Which management abilities you should focus on honing will depend on your leadership style.
Request guidance from your manager
It's important to consider the managers who inspire you when preparing to be a manager. You can create your leadership style as a result. As they will likely have knowledge that can help you adjust to your promotion to manager, ask your supervisor for guidance on becoming a manager and enrolling in management training programs.
Most Companies encourage their freshers as well as experience in the learning process. If you wish so, tap to Oracle jobs for freshers for excellent learning.
Conclusion
In conclusion, management training equips individuals with the skills, knowledge, and strategies necessary to excel in leadership roles. It provides a structured framework for professionals to develop and enhance managerial competencies. The benefits of management training are numerous, ranging from improved decision-making and communication skills to enhanced problem-solving and strategic planning abilities. Choosing reputable programs, actively engaging in the learning process, and applying the acquired skills in real-world scenarios is essential for those considering management training courses.