Birlasoft is a global provider of Information Technology services. It has a large worldwide presence and top-notch delivery hubs in China and India. It primarily works in the banking, manufacturing, financial services, and media, healthcare, and insurance sectors. Birlasoft careers give you plenty of job opportunities to develop your portfolio how you choose, whether in Technology, Engineering, Research and Development, Software development,Sales or any other enabling function.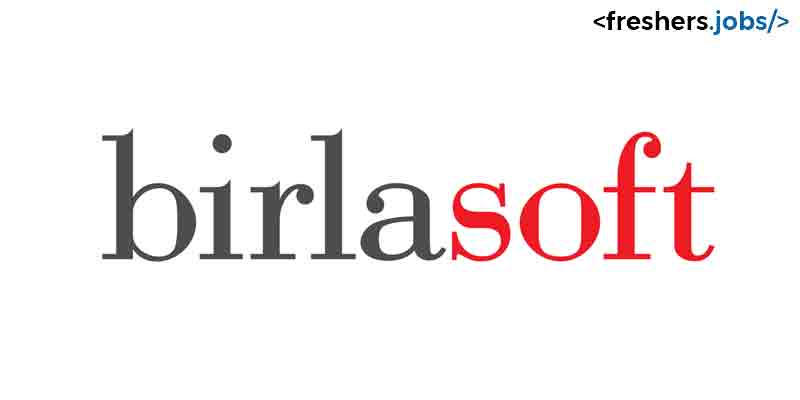 At Birlasoft, they are dedicated to giving each employee an equal opportunity to succeed, fostering a culture that values diversity, equity, and inclusion, and engaging in difficult conversations that advance society's understanding. The power of the female workforce, including allowing them to balance work, family, and other responsibilities, is a crucial addition to diversity initiatives. They also recognize that juggling a family and a career may be challenging, so they work hard to help every member of our staff so that they can all achieve their professional goals while maintaining a healthy work-life balance. To do so, you can learn the tips of work life balance.
Join Birlasoft jobs immediately if you are prepared for a demanding yet rewarding career. They are rapidly expanding and need to hire individuals who appreciate relationships and are capable of managing their careers.
Why do freshers choose Birlasoft Careers?
Birlasoft considers its employees as the most valuable resource, and we go above and beyond to ensure their well-being at work and at home. 
Their normative culture and procedures for giving prompt and frequent feedback are created to guarantee that our employees operate in a friendly and encouraging environment. 
They aggressively encourage our employees to volunteer for community service projects, celebrations, and enjoyable work-related events. 
This enables them to develop into better workers, teammates, and people.
Academic Criteria
Graduates in the circuit branch of the Bachelor of Engineering or Bachelor of Technology program may apply for important jobs at Birlasoft recruitment.
Graduates of B.Sc, BCA, B.com, and B.BA. Programs may also apply for a job position.
Postgraduates who are proficient in CS/IT and have a level of M.E/MCA and M.Sc can apply.
The candidates should be proficient in written and oral communication and possess a strong technical understanding.
English excellence in written and vocal communication. Know the effective ways to enhance your verbal communication skills.
Requirements for freshers in Birlasoft
In the tenth and twelfth, a candidate needs to have a percentage level of 60%.
The candidate should have a 60% in graduation.
At the time of the interview, a cumulative GPA of at least 6.5 in BE, B.Tech, or MCA is required.
After the higher additional course or tenth or in the middle of the graduation or semester, a maximum break of one year is permitted for Birlasoft openings.
Rules and Regulations for Birlasoft Jobs
The candidate has the option to reapply for the interview and still be eligible to attend it in the unlikely event that they are unable to participate for any reason.
If you are an Indian resident and have a passport from another country, you must also present a Proof of Character or OCI card.
A candidate's current and previous applications must be of 6 months.
Should possess a full-time degree from a reputed institution reputed by the Central/State governments of India.
The candidate will not be able to apply for a meeting in the unlikely event that Birlasoft rejects any application.
Required Documents for the Interview
During the screening at Birlasoft jobs for freshers, all major mark sheets from the past should be shown, including those from the 10th, 12th, degree, graduation and post-graduate levels.
A xerox of each mark sheet for the degree, graduation and post-graduation as well as the tenth and twelfth.
An updated resume
A proof of Identity that has the endorsement of India's government (Aadhar Card, PAN card, Voter ID, Passport, and so forth).
Recent Photographs.
To Search and Apply
Search for Birlasoft for freshers via the company's career website.
Choose the fields that must be checked for jobs alert.
When you get the job profile, read the expected list of duties.
If you are qualified, you can apply for any related positions.
You should enroll initially after clicking the go these jobs notice.
In the event that your profile is well-suited for the job you have chosen, a Birlasoft Recruiter will call you. Freshers can start looking for freshers jobs in Bangalore for higher salary jobs.
Designation Offered in Birlasoft
Technical Specialist
The Technical Specialist in Birlasoft careers Installing and configuring computer programs and systems for the business.
Respond to consumer questions and help troubleshoot and solve problems.
Actively manage, upgrade, and watch over all facets of computer networks.
Fix the technical problems causing network disruptions.
Attend meetings in person to evaluate, troubleshoot, and identify hardware issues with clients.
Keep a functional log that includes all necessary system upgrades and the date they were finished.
Organize and file any documentation related to computer hardware warranties and user manuals.
Help the management create training materials for computer usage and troubleshooting.
Program Manager
The Program Manager arranges events and programs in conformity with the organization's mission and objectives.
Creating new programs to aid the organization's strategic goal.
Establishing and managing long-term objectives.
Creating the program's operating budget and plan.
Creating an evaluation strategy to evaluate program strengths and pinpoint opportunities for development.
Creating funding requests for programs to ensure continuous service delivery.
Managing a group of people with a variety of skills and duties.
Ensuring that objectives are reached in regard to team member performance, customer satisfaction, safety, and quality.
Putting changes into action and managing interventions to ensure project objectives are met.
Meeting with stakeholders to facilitate open and transparent dialogue about project concerns and service decision-making.
The timely and accurate production of program status reports throughout the entire life cycle.
Risk analysis for programs.
Collaborating with the marketing team on strategy.
Software Developer
The Software Developer is hired through Birlasoft job openings and works together with team members to identify software client requirements and best practices.
Create user-friendly software that goes above and beyond what the business needs.
Maintain all software with care, and provide upgrades often to meet consumer and business problems.
Before a formal launch, analyse and test programs and products.
To ensure a productive workplace, swiftly and effectively troubleshoot coding issues.
By creating software that actively tracks the sharing of sensitive data, you can ensure software security.
Actively look for methods to enhance corporate software interfaces and processes.
To ensure that all team members are competent in the use of software applications, assist and support the mentoring and training of other team members.
Test Engineer
The Test Engineer in Birlasoft Careers determines the parameters for product testing during a meeting with the product design team.
Creating test cases and test plans for the product.
Creating performance tests and performing quality assurance utilizing the new testing methods.
Simplifying the testing processes and troubleshooting any issues.
Drafting the quality technician's final QA and test procedures.
Providing technical support as needed and educating the quality assurance team.
Ensuring that all evaluations and processes adhere to company and sector standards.
Making test report preparations for management.
Analyst
The Analyst in Birlasoft jobs for freshers Conduct market research using readily accessible data sources.
Private data sources for study and analysis should be requested and purchased.
Utilize data mining technologies to gather information for additional study and analysis.
Collaborate with programmers to develop tools for data collection and analysis.
Utilize tools for data analysis to manipulate data and find insights
Create and provide reports based on data analysis.
Provide advice and guidance based on the analysis to assist in guiding decision-makers in the organization.
Work together with various teams and departments to share your knowledge and insight.
Interview Process in Birlasoft
Interview Rounds in Birlasoft
Multiple rounds are conducted in the selection process for hiring at Birlasoft recruitment. Most importantly, applicants must pass a written test, like an aptitude test, which is an online test. Then, people have to pass a Technical Interview based on what they know about technical subjects. The candidates who have cleared will be sent to HR interviews.
Written Test
There are many parts in the first round, like aptitude, flowchart, etc. To pass this round, you must be exceptionally skilled.
Good in-loop technology and recursions. For the most part, the aptitude segment has just about 25 questions.
The time given is 1.5 hours for Birlasoft recruitment process.
 There are tests conducted for numerical abilities, English abilities, and logical thinking.
Technical Interview
In the specialized Technical round, you will be tried on the C, C++, JAVA, and SQL languages.
Prepare for a few different subjects voluntarily.
The recruiting board might request your preferred subjects, and questions will be asked on those topics.
You might get questions about the projects you finished during your last year.
HR Interview
In the HR round, the interviewer might ask questions about your character, training, family, leisure activities, interests, and general information. You can prepare for the Common Hr Interview questions.
Training and Development in Birlasoft
Birlasoft tries to be at the top of the field by continuously learning and changing to meet new challenges so that, as a group, you can make a positive difference. At Birlasoft, everyone can take charge of their learning journey and drive it themselves. Birlasoft depends on each person's passion for doing this, but they help them through training workshops, leadership programs, self-learning courses, community groups, and other things.
The Training program at Birlasoft careers for getting you started at Birlasoft helps you get used to the company. During your first week at Birlasoft, you learn about the company's history and the company culture. Hires for our professional services team will also go through our core engineering and delivery practices workshop. This way, you can get to know our unique ways of working and be ready to be an excellent partner for our clients. You can know the benefits of on the job training.
Every employee is deeply committed to learning new things and using technology best. You will be matched with a mentor based on your goals and where you are in your career. This person will help you grow and develop as you work at Birlasoft.
Work Environment in Birlasoft
Birlasoft careers are committed to a diverse and welcoming workplace because they believe that people with different experiences and backgrounds improve their work. The way a company shows its appreciation is to reward high-performing teams, not just one person.
At the heart of Birlasoft is a culture of learning. Every time you visit a client, work with other employees or attend a community event, you learn something new. What drives us as individuals and makes us stand out as an organization is our desire to keep getting better and helping others do the same.
Benefits offered in Birlasoft
At Birlasoft fresher jobs, you will work in a fast-paced environment with a group of passionate, diverse technologists who make a big difference.
We provide thoughtful, well-rounded benefits to help you reach your personal and professional goals and take care of your health and well-being.
Insurance, Health, and Wellness.
Medical care and Insurance.
Family and Parenting.
Maternity and Paternity Leave.
Excursion and Time Off. Debilitated Leave.
Worker Discount.
Some of the steps to be remembered for the Birlasoft job openings
Here are the Interview Tips for Freshers
Plan well for the screening at Birlasoft hiring process.
 Keep every one of the records before joining.
Plan well on the technical aspects and system programming.
Keep your mind strong so you can get through the hard parts of the screening.
Be sure and be brilliant.
The Birlasoft freshers salary is excellent for freshers and experienced. The salary of a System Analyst in Birlasoft is 4 LPA to that of a Quality Analyst is 3.9 LPA.