HR managers are often in charge of creating and keeping a safe and helpful place to work. During an interview for this job, hiring managers usually ask candidates a mix of behavioural and situational questions to test their interpersonal and leadership skills. Before you go for an interview for a job, you should look up common hr interview questions and figure out how to answer them. In this blog, we list some common interview questions, explain why interviewers ask those questions and give answers to help you prepare for your interview.
Related: Look out for freshers jobs in Gurgaon to get into your dream jobs.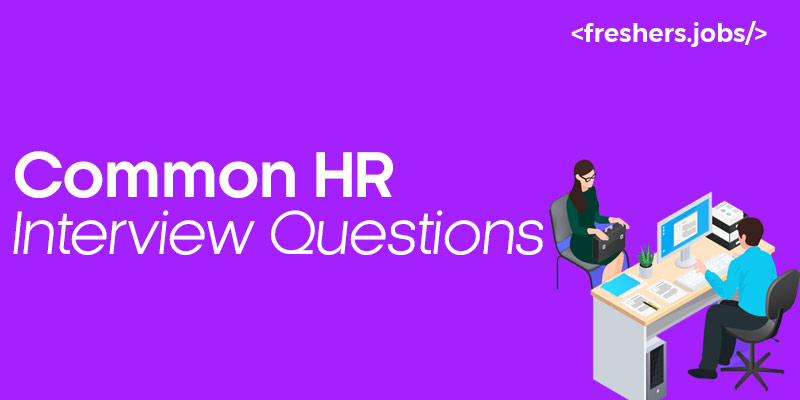 What are HR interview questions?
HR  interview questions are the questions a hiring manager asks a  candidate to determine if they have the right skills. These interview questions show the candidate's leadership, communication, management, and conflict-resolution skills.
We shall see a few examples of common interview questions that recruiters may ask when selecting candidates for freshers jobs as hr round interview questions.
Tell me something about you.

What makes you worth hiring?

What are your good strengths and weaknesses?

Why are you interested in working with us?

Who is a person you look up to, and why?

Would you be willing to move?

Can you travel for job purposes?

What makes you want to work hard?

What distinguishes self-assurance from being too sure of oneself?
Here are the questions and answers to HR questions. 
You can prepare for your upcoming interview by using the following example and preparation tips for interview questions with answers.
Tell me About Yourself
This is typically the first question most interviewers ask, intended to establish a rapport. The tone of the interview may be different by how you respond to this question. This question can be challenging if you are not ready ahead of time. If you are starting, your answer should be simple but include any tasks or achievements that fit the role. 
Related: How to introduce yourself in a job interview?
Why should we hire you? 
This is one of the questions that interviewers ask the most often. So, you should get ready and learn how to answer these kinds of questions. Candidates get to the personal interview round if they do well in the rounds that are before. The interviewer needs to know more about you and how you can benefit the business and fit into the role because reading through your resume alone won't always be enough to determine whether you should be hired.
You can talk about your strengths and accomplishments when asked questions like this as HR interview questions for freshers. This can show the interviewer how you can be a good fit for the company.
What are your strengths and weakness?
When asked this question, the interviewer wants to know if your strengths can help the company. The question is also meant to find out if you know yourself well and can describe your strengths and weaknesses. Your answer also shows the interviewer how well you can communicate and how you think. This is why you should always be ready for this question and answer it confidently.
Read: How to answer about your Greatest Strength?
Why did you want to try out for this job?
This question is meant to determine the candidate's interest in the job. Are they interested in getting this job, or do they send applications for every position? Candidates should show that they chose to complete this application independently.
What are the kinds of experiences you have which will help you in this job?
With this question, recruiters can determine if a candidate understands what the job requires and thinks they can do it. The best candidates will be happy to discuss how their experience fits the job description.
Tell me what about your experience.
Even though this question is similar to the last one, it asks about the essential parts of the job as hr interview questions. For example, if an organisation company is looking for a copywriter, they will ask about the candidate's experience with different types of writing or editing.
Which part of the job description did you like best?
These are supposed to be the best questions to ask in an HR interview to start a conversation about needs and responsibilities. And it's essential to see how well the candidate understands the job.
Related: Freshers jobs in Noida has recent job openings for recent graduates.
Why did you quit the job you had before?
The best candidates will explain why they leave their old job in hr round interview questions. Honest candidates will often give simple answers, and sometimes their previous recruiter was to blame for ending their job. In these questions about HR, it's your attitude that matters. It would make sense for a candidate to say they left their last job because they were not getting paid the fair market rate. But it would be a red flag if they went on and on about how bad their last job was.
What do you know about the products and services of our company?
The purpose of these HR questions is crystal clear, and the HR manager wants to ensure that the applicant has done their research on the company and is aware of the position they are seeking. Candidates need only be familiar with the information that can be accessed with a quick online search, but they should be knowledgeable about the company and its goods nonetheless. It's advantageous if they have already used the company's goods or services or know someone who works there.
Tell me about the gap in your resume.
This is one of a few very common hr interview questions for freshers that may refer to something "out of the ordinary" on a candidate's resume, like a job that only lasted a few months or seemed unrelated to the candidate's background or a gap in the candidate's job history. These HR interview questions aim to ensure that there are no red flags and that these points are clear.
Describe the place of work where you will be happiest and most productive.
What can we do to make you happy if we hire you? is another way to phrase this. These are a few illustrations of culture-fit interview questions used to assess a candidate's suitability for the job. There isn't typically a right or wrong response. It all comes down to how well each candidate fits each firm, ultimately.
How much salary are you expecting?
Similar HR questions have to do with "technical" parts of the job, like if the person is willing to move or travel or can work a shift schedule. HR professionals ask this question to ensure they aren't talking to a candidate who wants too much freshers salaries. Candidates should be asked about something other than their past or current salaries in hr interview questions. In some places, it's illegal to do so, but setting expectations is an excellent way.
Do you have any questions?
No matter where they are in the hiring process, candidates should always be able to ask questions to figure out if the job is right for them. HR also asks this question to see if the candidate is interested in learning more. They should ask good questions about the company and, if possible, about the job.
Related: Tap to freshers jobs in Chennai to look for To IT companies jobs.
Conclusion
I hope you are clear about the blog and sincerely enjoyed these HR interview questions and answers. You may find more frequent or difficult questions in our comprehensive list of interview questions in addition to these usual HR interview questions. There are numerous questions about the HR interview and the following steps in the hiring process. The candidates can prepare well for all the HR-based questions with effective communication to get the right jobs alert for an established organisation.