An interview is a very crucial moment for every job seeker and freshers. Knowing how to introduce yourself in a interview with the right tone is an even more vital part of the Interview. Your self-introduction and the way you impress the recruiter is a high aspect of the interview process.
Freshers, you have come to the right place as we will discuss how to introduce yourself in an interview and a few interview preparation tips you must follow to impress your recruiter.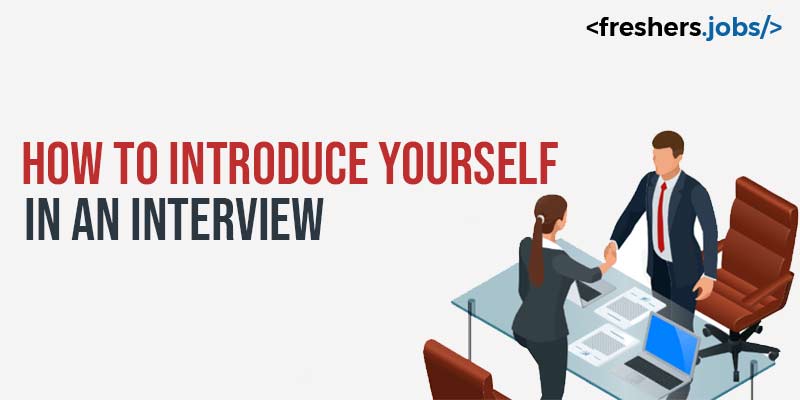 Let's Startup
In this blog, we will read about how to introduce yourself in an interview and the preparation before and during the Interview.
Before the Interview begins
When you get to the Interview, you will have to give a self-introduction to whomever you are meeting initially at the company, which is an essential step you must follow before you go to the interviewer.

Always remember that you are attending an interview and must maintain the interview policies at any interview place.
Here are a few things to remember on how to present yourself in an interview.
Address Everyone in a Polite manner
You will usually be asked to introduce yourself at different places when attending an interview within the company.

You can always greet the people with a smile, whomever you are speaking to.

Always address your full name, why you have visited the place and also the person name whom you are going to meet.

You can show the documents like an interview call letter or mail if asked for proof.
Be Patient
When you appear for a job interview, you will have to go through numerous security procedures, and you might have to

introduce yourself in interview

there will be an instance where you will have to wait for the call from the interviewer.

Sometimes, it might take half an hour to one hour for your interview process to begin.

You will have to wait patiently. Understandably, any fresher attending their first Interview will be nervous and anxious. You can go through the

Interview Tips For Freshers.

So make sure you do not lose your coolness and prepare yourself to wait for some time.

Making yourself complicated with urgency will lead to more nervousness and a bad impression to the interviewer.
At the moment of the Interview
After all, the initial introduction is done.

Now you are entering the interview process. Remember the interview tips to note before going for an interview.

You can take time to settle down and have your resume handy while waiting for your interviewer. Have a look at the

Best Skills To Include In Resume

.

Most of the time, you'll sit in a room and wait for your interviewer to come to you. You may wish to utilize this time to take some notes, get a drink of water, and take a few deep breaths to calm down.
Prepare a short statement to greet
As soon as the interviewers walk into the room, you should stand up, shake their hands, say your name, and smile.

Your interviewer probably knows about the job you want and has reviewed your resume before.

You could start your Interview with this

introduction about yourself

for Interview.

Even though your interviewer knows who you are and why you're there, introducing yourself can help you feel more confident and make sure they know your name and why you're there.
Make a great elevator pitch
Once you're comfortable, give the interviewer your resume and let them look through it. Once he's ready, he'll ask you to say who you are.

In an interview, this is where an elevator pitch can help you best introduce yourself.

An elevator pitch is a detailed explanation of what you do that can help you get an interview.
Maintain body language
Using proper interview values with everyone is essential to a job interview and

how to introduce yourself in a interview

.

How you talk about yourself without words is very important in an interview.

So, don't underestimate how much your body language can tell the interviewer about you.

Here are some things you can do to keep a straight back and folded hands on your lap.

You can put your feet flat on the floor or fold them at the ankles.

When you talk about yourself in an interview, for example, you should always smile and stand up to greet the person coming up to you.
Slowly Answer for Queries
Everyone reacts to anxiety in their way. Some people speak very quickly, and some start to shiver, some get sweaty palms, and so on.

Here are some things you can do to calm down after an interview.

Take a few deep breaths and then reply. This will help you get your heart rate back to normal and give you time to think.

So, when the interviewer asks you

how to present yourself in an interview

. You can think for a moment before you answer.
After the Interview
Here's something to keep in mind. Just because you answered all the interview questions well doesn't mean you can forget how to act in an interview.

How you act until you leave the company is very important.

Here's what you can do after the Interview to make a good impression.

Follow what they do.

You should stand up when the Interview ends, and your interviewer gets up. Smile, shake their hands, and thank them for their time as a courtesy.

What you can say is, "It was great meeting you. We appreciate the chance and hope to hear from you soon."
Send an email to follow up
A follow-up email is a formal email you send to your interviewer or the person you talked to about the job to thank them for considering you for the job.
Getting to Know You at a Video Interview
When you have a video interview, ensure you get to the meeting a little early to ensure all your system works.

Try to keep your attention on the camera the whole time you are being interviewed and take some moment on

how to introduce yourself in a interview

.

That's how you will look your interviewer in the eyes.

The person doing the Interview will start the meeting by saying who they are and what they are at the organisation.

After the interviewer says something about himself or herself, you can say something simple about yourself.
Pay attention to your qualifications
Your introduction should be short enough to get and keep the interviewer's attention.

Most of the time, a quick summary of your best qualifications will be enough.

You could also talk about a few things about yourself that aren't necessary for the job but show who you are, like having done stand-up comedy.
Include information about your education
After you tell the interviewer your name and a few other basic facts about yourself, tell them about your education and

introduce yourself in interview

.

Even though you probably already put it on your resume, you need to give more information about what you studied.

Be honest about your education, and ensure you don't speak over smartly and overconfidently to the interviewer.
Talk about your work experience (if any)
All candidates with work experience must list all the details of their past jobs and what you learned and did during that time.

Talk about the workshops and internships you've done.

During an interview, the person judging you pays close attention to what you say about your education and work experience.

On the other hand, if you are a new hire, your education is beneficial.
Talk about your interests and hobbies
Don't be afraid to change the tone of the conversation to one that is more like a casual conversation. After you talk about your experiences, you should talk about your hobbies and what interests you most, professionally and personally. Be careful not to get too casual and keep the Interview's purpose in mind.
All these tips on how to introduce yourself in an Interview can benefit you in every interview you attend and help you excel in your job interviews having looked at Jobs alert. Creating a great impression on the interviewer through your Outstanding performance during the interview can land you in your dream career and make a good impression in your future working days in that organisation.
Conclusion
As discussed, I hope you know how to introduce yourself in a interview. As interview process is vital for job lookers, and creating the first impression for recruiters is essential for freshers jobs. If you are a fresher, it is crucial to know how to prepare for an interview and how to execute your performance well in an interview by following all of the tips mentioned in this blog.