Ernst and Young (EY) is a multinational company that offers a range of services, including audit, tax, transaction advisory, and consulting services to businesses worldwide. EY is known for its commitment to its employee's growth and development and offers a range of job benefits and high EY company salary to support this commitment.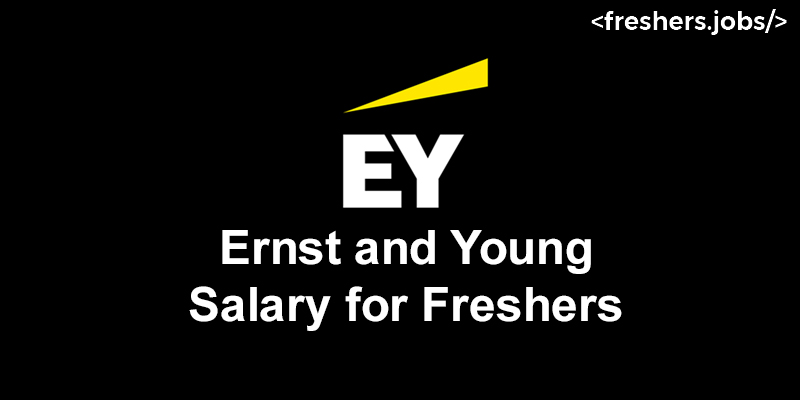 In addition to these service lines, EY offers job prospects in risk management, human resources, and IT consulting. EY is known for providing its employees with career growth and development opportunities, so employees can expect access to training and development programs to help them advance in their careers.
Overall, job prospects at EY can provide employees with various job opportunities to work with multiple clients and industries, develop their skills, and advance in their careers.
Why do freshers choose the Ernst and Young company?
There are several reasons why freshers may choose to join Ernst and Young (EY) company:
Career Growth and Development: EY is known for offering its employees a range of career growth and development opportunities, such as training and mentorship programs, that can help freshers develop their skills and advance in their careers.
Reputation and Prestige: EY is one of the "Big Four" accounting firms and is well-known for its reputation and prestige in the industry. 
Expose to many Clients and Industries: EY works with various clients across various industries, providing freshers with a high Ernst and Young salary with exposure to different businesses and sectors. This exposure can help them develop a broader perspective and understanding of the business world.
Strong Company Culture: EY is known for its strong company culture emphasizing diversity, inclusion, collaboration and teamwork. Freshers who value a positive and supportive work environment may be drawn to EY's culture.
Competitive Compensation and Benefits: EY offers its employees competitive compensation, EY salary and benefits packages, which can be attractive to freshers starting their careers.
Job opportunities in Ernst and Young Company
Ernst and Young (EY) offer job opportunities across various service lines and sectors. Some of the most common job opportunities available at EY include the following:
Audit: EY's audit practice helps clients improve their financial reporting processes, mitigate risks, and enhance business performance. Job opportunities include audit associates, senior auditors, and managers.
Tax: EY's tax practice provides clients various tax-related services, such as compliance, consulting, and planning. Job opportunities in this area include tax associates, consultants and managers.
Advisory: EY's advisory practice helps clients solve complex business problems and improve performance. Job opportunities in this area may include consultants, senior consultants, and managers.
Transaction Advisory Services (TAS): EY's TAS practice provides clients with strategic advice and assistance throughout mergers and acquisitions. Job opportunities include transaction support associates, due diligence analysts, and TAS managers with a high Ernst and Young salary for freshers.
Risk Management: EY's risk management practice helps clients identify, assess, and mitigate risks. Job opportunities in this area include risk associates, risk consultants, and risk managers.
Human Resources: EY's human resources practice helps clients with HR strategy, talent management, and other issues. Job opportunities in this area include HR associates, HR consultants, and HR managers.
IT Consulting: EY's IT consulting practice helps clients with technology strategy, implementation, and transformation. Job opportunities in this area include IT associates, IT consultants, and IT managers with good  EY salary structure.
Job Roles offered in EY company
HR Associate, HR Consultant, HR Manager, HR Partner, IT Associate, IT Consultant, IT Manager, IT Partner, Cybersecurity Associate, Cybersecurity Consultant, Cybersecurity Manager, Cybersecurity Partner, Financial Services Partner, Technology Consultant, Data Analyst, Data Scientist, Data Engineer, Analytics Manager, Digital Transformation Consultant, Digital Transformation Manager, Digital Transformation Partner, Cloud Engineer, Cloud Consultant, Cloud Manager, Software Developer, Software Engineer, Frontend Developer, and Backend Developer are a few job roles in EY with high salaries.
Let us discuss the few job roles and responsibilities.
HR Consultant
The HR Consultant earns a splendid

EY company salary for freshers

and Starts and oversees initiatives and programs in human resources.

Conduct research using various techniques (data collection, surveys, etc.) to pinpoint an issue or determine the cause.

Give HR staff guidance and suggestions for resolving everyday problems.

Create practical and strategic plans to deal with issues related to human resources.

.Aid in personnel management, training, and recruitment

Create strategies and tactics to promote culture change.

Aid in the creation and enactment of policies.

Help establish control systems for compliance with business methods and HR practices by choosing and implementing appropriate HR technology.
You can tap for freshers jobs in Delhi for more jobs and exposure, as there are many career opportunities.
Cloud Engineer
The Cloud Engineer gets a high

Ernst Young salary

and Creates and maintains cloud solutions using best practices.

Ensure that data storage and processing functions are carried out effectively and in accordance with the company's security policies and industry best practices for cloud security.

Determine, examine, and fix infrastructure weaknesses and application deployment problems.

Review current systems frequently, then suggest improvements.

Interact with customers, offer cloud support, and provide advice based on their needs.
Back End Developer
The Back end Developer takes part in almost all of the phases of the application lifecycle with a focus on coding and debugging.

Create new code to create useful web applications.

Debug and troubleshoot apps.

Test the user interface to improve efficiency.

Utilize innovative techniques to enhance legacy applications.

Integrate user-facing elements with server-side logic by working with front-end developers.

Compile and deal with the technical and design requirements.

Provide internal teams with training and support.

Create reusable programs and libraries now for later use.

Communicate with developers, designers, and system administrators to find new features and earn a good

EY company salary

.

Observe new technologies.
Skills required in Ernst and Young Company
Industry Knowledge: EY provides services in a wide range of industries, so it's essential to have a good understanding of the industry you are applying for. Research the latest industry trends and the top technologies, challenges and opportunities, and be prepared to discuss them in your interview.
Technical Skills: Make sure you are familiar with relevant accounting and tax regulations and be prepared to discuss your experience in implementing technical solutions.
Teamwork and Collaboration: EY values teamwork and collaboration, so be prepared to discuss your experience working in teams and your ability to collaborate to earn a high Ernst and Young salary.
Communication Skills: EY professionals must communicate complex information to clients and colleagues, so strong communication skills are essential. Be prepared to give examples of situations where you effectively communicated information to a diverse audience.
Problem-Solving: EY clients often face complex business problems, so problem-solving skills are highly valued. Be prepared to discuss how you approach complex problems and give examples of how you have previously solved challenging business problems.
Interview Rounds in EY Company
The interview rounds in EY Company typically involve the following, You can excel with the right preparation tips in the interview. 
Phone Screen: This initial interview evaluates your qualifications, experience, and interest in the role.
Technical Skills Assessment: Depending on the role, you may be asked to complete a technical skills assessment, such as an accounting or tax test. Your capability in this round will decide your EY salary.
Group Discussion: Depending on the role, you may be asked to participate in a case study or group discussion to evaluate your skill to work in a team and solve complex business problems.
Final Interview: This interview typically involves meeting with senior managers in the company to assess your overall fit and potential for the role.
Throughout the interview process, it's essential to demonstrate your knowledge of EY and the industry you're applying for. Be prepared to discuss your technical skills, leadership potential, and how your personal values align with EY's culture and get a a lucrative Ernst and Young salary for freshers.
The Ernst and Young Fresher's Salary
The Ernst and Young salary for a fresher's HR Associate is 3.6 LPA.

Ernst and Young's salary for Cybersecurity Consultant is 5 LPA.

The Ernst and Young fresher salary for a Digital Transformation Manager is approximately 5 LPA.

The salary of the Data Analyst in Ernst and Young freshers is around 3.5 LPA.

The fresher salary of a Cloud Engineer at Ernst and Young is about 4.2 LPA.

The Ernst and Young salary for a Frontend Developer is 3.5 LPA.

The salary of an IT Consultant at Ernst and Young is 4.2 LPA.

The Ernst and Young

fresher salary

for a Software Engineer is 5 LPA.
Conclusion
I hope you are clear from the blog about the Ernst and Young salary for freshers. This blog briefly describes the fresher job roles and the EY company salary for freshers. The organisation has an excellent reputation and remains a valuable resource from the perspective of IT professionals. There is an assurance of the development of the fresher from the Ernst and Young work culture and salaries. The freshers can always get a positive approach to apply for large openings at Ernst and Young. Tap into freshers jobs and take the first step to applying for jobs at Ernst and Young.