As businesses adapt to rapidly changing consumer demands, evolving technologies, and digital transformation, the requirement for versatile and multifaceted professionals is in high demand. In the current business world, it is all about proficiency in multiple aspects of your field, from software development to data analysis. The requirement of Full Stack development is extended across several industries.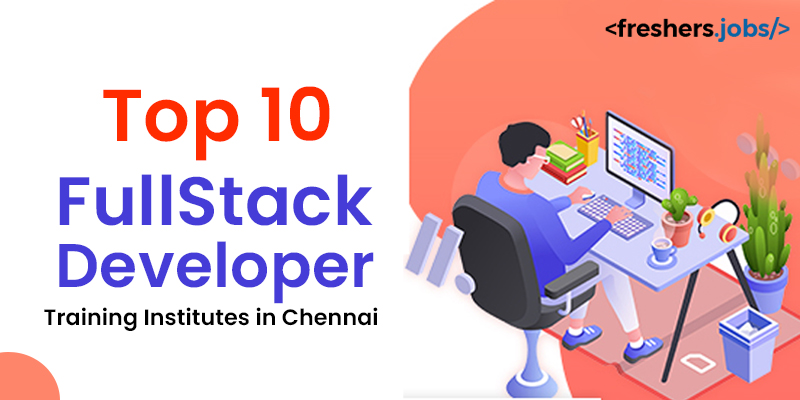 Several opportunities are available for Full Stack developer roles due to their significant advantages, like adaptability, collaboration skills, ability to work on both front-end and back-end software, and perspective on the interaction of several components of an application or a system. Full Stack development benefits many organizations and offers a fulfilled career path, job security, and several opportunities for aspirants. Following is the list of the Top 10 Full Stack training institutes in Chennai.
FITA Academy
Edureka
Simplilearn
Intellipaat
Infycle Technologies
Besant Technologies
Greens Technologys
ACTE
KaaShiv Infotech
Softlogic Systems
1. FITA Academy
FITA Academy is a reputed Training Institute that offers certification training for software courses. They offer 120+ courses in both online and offline modes. The institute has established a strong reputation for its proficiency in providing essential technical and professional certifications. Boasting a team of 1,000+ expert mentors having a decade of experience, the training institute has positively impacted more than 75,000 students. They have branches in various locations, including Bangalore, Pondicherry, Coimbatore, and Madurai, guaranteeing that students from different regions benefit from their high-quality training opportunities.

Why Full Stack Training in Chennai at FITA Academy?
FITA Academy offers Full Stack training in Chennai and provides insights on constructing dynamic and responsive web applications using front-end and back-end software. They provide insights into the 3 primary concepts of Full Stack Development, which encompass Front-end development, back-end development, and Database. They offer flexible training choices, including both weekday and weekend classes, with an affordable fee structure. Full Stack training in Chennai includes review sessions to ensure that prior topics are well understood, enabling students to acquire a thorough grasp of the foundational principles of Full Stack development and industry-specific knowledge of the recent industry trends and practices.
Customized Curriculum
FITA Academy Full Stack Course In Chennai centers on providing in-depth knowledge in topics including Core Java programming, Java Enterprise Edition, Spring and Spring Boot Framework, TypeScript Framework, and OOPs in Type Full Stack Developer Course in Chennai Script. The course extends to deliver valuable insights on Angular programming, Python programming, and Django Framework. They also focus on MongoDB, Node.js, and ExpressJS Framework. They also cover diverse topics in Full Stack Dot Net and PHP Full Stack.
Expert Trainers
FITA Academy's trainers are experts in the industry and possess substantial practical experience in Full Stack development. These instructors not only provide valuable real-world insights and expertise in the classroom but also play a vital role in keeping students abreast of the most current industry trends and best practices of the specific field.
Project Presentation Sessions
An outstanding feature of FITA Academy's Full Stack course in Chennai is the inclusion of project presentation sessions. Acknowledging the importance of practical experience in becoming proficient in Full Stack Development and gearing up for a prosperous career, these sessions empower students to put Full Stack Development programming principles into practice in real-life situations, offering them valuable hands-on experience.
Free Placement Sessions
At FITA Academy, Full Stack Training in Chennai is dedicated to equipping students for the competitive job market. Their commitment to students extends to providing complimentary placement sessions that cover multiple aspects, including resume building, interview preparation, job placement support, and career guidance. These sessions are designed to assist students in achieving their career goals. With a network of 1,500+ partnering companies, FITA Academy facilitates job placements for graduates, offering a wide range of opportunities in the software industry. This comprehensive network ensures that students have access to many career prospects.
2. Edureka
Edureka is a leading training institute that offers Full Stack Web Developer training. They cover all the basic topics required for the aspirants to get proficient in the concept. However, they primarily focus on offering online classes which may be a factor that affects the interaction between the students and the mentor.
3. Simplilearn
Simplilearn is a prominent training institute that focuses on providing beginners to advanced-level Full Stack Developer training. But, they only provide online mode classes and their course might not be cost-efficient compared to other institutes.
4. Intellipaat
Intellipaat focuses on providing the necessary insight of Full Stack Developer to the learners with real-world experience. They cover a wide range of topics. However, they primarily focus on providing online classes and might be less interactive, like in a classroom.
5. Infycle Technologies
Infycle Technologies offers Full Stack Developer training and assists students with all the fundamental insights of Full Stack development. While they provide all the necessary facilities, their placement support might not be satisfying for aspiring learners.
6. Besant Technologies
Besant Technologies provides Full Stack Developer training. Their curriculum is carefully crafted with all the basic to advanced level Full Stack development topics. But, their placement support might not be satisfying for aspiring students.
7. Greens Technologys
Greens Technologys is a leading training Institute that offers Full Stack Developer training. They assist students with basic to advanced level training with hands-on experience. But, their large batch size might affect the direct interaction between the trainer and aspirants.
8. ACTE
ACTE centers on offering Full Stack Developer training. They focus on covering a wide range of topics in Full Stack Development and also provide practical experience. However, their curriculum might not cover all the topics.
9. KaaShiv Infotech
KaaShiv Infotech focuses on providing Full Stack Developer training. Their curriculum is carefully designed with all the essential and advanced-level topics in Full Stack Development. But, their large batch size might influence the direct interaction between the trainers and students.
10. Softlogic Systems 
Softlogic Systems offers certification courses for Full Stack Development. They provide fundamental insights into Full Stack development with real-time experience. But, their placement support might not be satisfying for aspiring students.
The institutes mentioned above have been chosen by following comprehensive research by Freshers Jobs, considering aspects such as brand reputation, student reviews, and a demonstrated history of student success.
Full Stack Development in the Current Professional Environment
Full Stack development is a highly demanded skill set in today's business world, characterized by rapid technological advancements and the increasing importance of digital presence. Full Stack development continues to lead the way in driving digital transformation and fostering innovation as technology continues to shape the business landscape. The Full Stack approach has evolved from its origins in Software Development to become a fundamental mindset for success in the current business world. It empowers people with the abilities and mindset required to excel in a constantly evolving environment while fostering innovation, productivity, and cooperation across various sectors.
What is Full Stack Development?
Full Stack development is an extensive approach to web development that involves working on both the front-end (client-side) and back-end (server-side) of an application or website. A Full Stack developer is a proficient expert capable of handling various aspects of a web application, from crafting the user interface and optimizing the user experience to managing servers, developing databases, and scripting for the server side. They can handle diverse tasks and take a project from concept to completion.
Full Stack developers have a comprehensive view of web development, which allows them to work on all aspects of a project and bridge the gap between front-end and back-end development. Their versatility and ability to understand the entire development process make them valuable assets in software development teams, startups, and companies looking for well-rounded professionals who can take a project from conception to launch.
Benefits of Full Stack Development
Adaptability: Business environments are marked by constant change, and adapting to the evolving demands is essential. Full Stack professionals are well-known for their adaptability, as they can proficiently handle diverse responsibilities and stay up-to-date in a rapidly shifting landscape.
Integration: Full Stack thinking emphasizes the importance of comprehending how different elements within a business or project integrate. This holistic perspective fosters seamless operations and enriched customer experiences.
Problem-Solving: Full Stack experts are natural problem solvers. They possess the skills to identify issues, devise solutions, and optimize processes across a wide range of domains, ultimately leading to more efficient and effective operations.
Cross-Functional Collaboration: Full Stack professionals excel in facilitating collaboration across various departments. Their ability to bridge gaps promotes effective communication and cooperation among specialists from different fields.
Innovation: Full Stack thinking often comes with innovative solutions. By grasping the entire ecosystem, Full Stack professionals can recognize opportunities and connections that specialists with a narrower focus may need to look into.
Efficiency: Full Stack experts can streamline operations by handling many tasks, reducing the need for multiple specialists. This results in cost savings, expedited decision-making, and swifter execution.
Customer-Centric Approach: With their extensive skill set, Full Stack professionals can align their strategy with the complete customer journey, from the first point of contact to after-sales support. This ensures a customer-centric strategy that drives satisfaction and loyalty.
Data-Driven Decision-Making: Proficiency in multiple domains equips Full Stack professionals to gather, analyze, and interpret data across various aspects of business, leading to well-informed decision-making.
Reduced Risk: Since a Full Stack developer has various skills, there will be fewer risks. In the face of disruption in one area of a project or business, Full Stack professionals can rely on their backup skills, providing a safety net in times of uncertainty.
Career Opportunities: The Full Stack mindset opens up a multitude of career prospects. It allows professionals to transition between roles and industries more smoothly and makes them highly adaptable in the job market.
Key Components of Full Stack Development
Front-End Development: Full Stack developers are proficient in front-end technologies, including HTML, CSS, and JavaScript. They use these languages and frameworks (e.g., React, Angular, or Vue.js) to create the user interface and ensure the application has an attractive and user-friendly design.
Back-End Development: Full Stack developers work with back-end technologies such as server-side programming languages (e.g., Node.js, Python, Ruby, Java, PHP, or .NET) to build the logic and functionality of the application. They handle tasks like server configuration, database management, and server-side scripting.
Database Management: Full Stack developers are skilled in working with relational databases (e.g., MySQL, PostgreSQL, or SQL Server) and NoSQL (e.g., MongoDB, Cassandra, or Redis). They design, create, and manage the database storing the application's data.
Server Management: Full Stack developers are responsible for server setup, configuration, and maintenance. They ensure that the application runs smoothly and securely on the server.
Version Control: They use version control systems (e.g., Git) to manage the codebase, collaborate with other developers, and track changes to the application's code.
API Integration: Full Stack developers integrate third-party APIs (Application Programming Interfaces) to add additional functionality or services to the application.
Deployment and Hosting: They are knowledgeable about deploying applications to web servers and hosting platforms, ensuring the application is accessible to users.
Security: Full Stack developers are mindful of security considerations implementing measures to protect the application from potential vulnerabilities and attacks.
Testing and Quality Assurance: They conduct testing to identify and rectify issues, ensuring the application functions correctly and meets quality standards.
Job Opportunities in Full Stack Development
Web Developer: Full Stack Developers often work as web developers, responsible for building and maintaining websites and web applications. They collaborate with designers, back-end developers, and other team members to create seamless and functional online platforms.
Full Stack Developer: Full Stack Developers are responsible for designing, developing, and maintaining web applications. They work on both the client side (user interface) and server side (back end) to create fully functional and user-friendly websites or web applications.
Front-End Developer: Full Stack Developers can specialize in front-end development, focusing on user interface design, user experience, and the visual aspects of web applications. They create responsive and visually appealing websites using HTML, CSS, and JavaScript.
Back-End Developer: Full Stack Developers can also specialize in back-end development, working on server-side logic, databases, and server management. They are responsible for the functionality and data storage of web applications.
Software Engineer: Full Stack developers with a strong foundation in programming and problem-solving can pursue roles as software engineers. They design, develop, and maintain software applications, not limited to web development.
Application Developer: Full Stack developers can also develop applications for various platforms, including mobile applications. They may work on mobile app development using technologies like React Native or Flutter.
UI/UX Developer: Professionals with a strong front-end focus can become UI/UX Developers, specializing in creating user interfaces that provide exceptional user experiences. They work on the design and usability of websites and applications.
DevOps Engineer: Full Stack Developers with skills in server management and deployment can transition into DevOps roles, focusing on automating and streamlining the software development and deployment process.
We explored the role of Full Stack development in the current business world, its merits, components, job opportunities, and top 10 Full Stack Training institutes in Chennai. Full Stack development has emerged as a universal requirement, extending its influence across many industries. The skill set and mindset of a Full Stack developer are indispensable in this rapidly changing business environment. In this blog, we delved into choosing the right Full Stack Developer training in Chennai.