IBM began as a corporation that provided computer, tabulating, and storing services. As a fresher or an experienced candidate, IBM employment now gives you a fantastic opportunity to discover the new world of all innovations. IBM is a fantastic place to work, with plenty of possibilities to learn new skills, maintain a healthy work-life balance, and form strong bonds with clients while addressing their needs. IBM is the ideal platform for freshers who want to dedicate themselves to their profession and get an attractive IBM salary for freshers. Freshers can always improve and strengthen their technical abilities. Freshers can make use of this right choice to get hired at an established firm.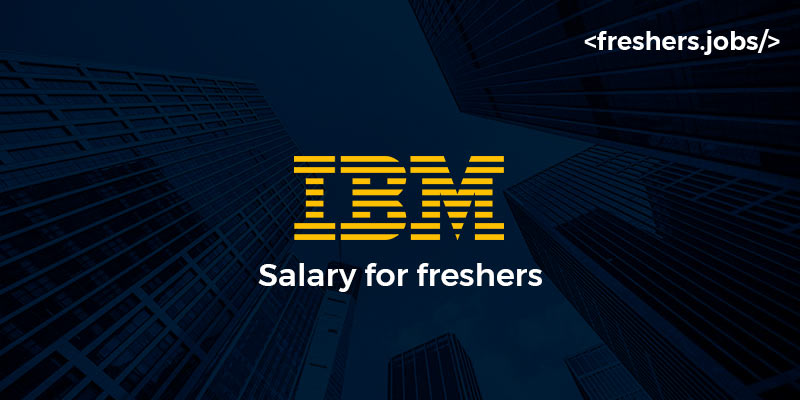 Freshers in IBM
Most of the freshers would be having a confusion how to start a career and which company to start with. Many fresher candidates will wish to get into a well-established firm. IBM  is the apt one for every fresher looking for a job in the IT firm and keen on learning the latest technologies that have a satisfactory fresher salary. For an extraordinary job at IBM, every fresher can update themselves on the present markets of IT and technologies and learn programming courses to get a remarkable position in the firm you are working for.
Application procedure in IBM fresher roles
Working as a  fresher in IBM with a good salary is always an outstanding level. Every fresher will need a strong foundation in the basics of the latest system software. If not, you can pursue the courses from the best institutes that offer training on courses like JAVA, PYTHON, etc. Aspirants certified in these courses application is always welcomed by IBM for fresher level posts and can take home a good IBM fresher salary. Take a look at IBM's website, www.ibm.com, and start applying for the IBM fresher jobs that match your qualifications and programming skills.
Qualifications needed for fresher job roles
IBM employment opportunities have sparked the concept of hiring more students with a bachelor's degree in a suitable engineering field. The applicants must qualify for some of the educational qualifications put forth by the IBM company.
Fresher!! if you are an engineering graduate in the IT stream from an approved university, then yes you are eligible.

If the overall mark scored is 60%, then you can be a part of IBM fresher jobs.

Applicants with knowledge of presentation software, it's testing, processing, and computing skills can be a part of IBM.
Getting trained from the best software coaching institutes and implementing these can always enhance your career as a fresher and get a splendid IBM salary for freshers in the present IT market and you will be elevated into higher positions too.
Briefed about the application process, academics required of IBM wherein the freshers can easily access this page to know the latest happenings in IBM for freshers. Let's now know how the salaries are offered for IBM freshers.
Salary and package in IBM fresher job roles
Freshers at IBM have one of the top salary packages in the market. The salary pay package will also increase as a result of the experience. The scale varies from freshers to experienced. This blog explains the job roles for freshers and their salary packages right from the beginning level. Here is a list of IBM company salary for freshers that are offered.
Associate Engineer: 3.6 lakhs per year
Advisory Engineer: 3 lakhs per year
Technical Consultant: 2.4 lakhs 
Application Developer: 2.9 lakhs
Software Developer: 3.2 LPA
Update yourself for the software that has been implemented at IBM and elevate to these freshers roles having a very good salary pay structure. If you are highly skilled in programming languages there is a great chance for you to earn more as well as explore various domains and prove your versatility.
Above discussed are the job roles and salaries for these job roles. Now let's have a look on to acquire these fresher roles the skills needed for every fresher to develop in their work and as well as they get splendid pay for their talents. 
Associate Engineer
This is an entry-level designation for every fresher in the engineering domain.
The fresher with knowledge of the testing, debugging and many software applications of different technologies can easily join as a fresher. 

The fresher can enroll in the JAVA training, and PYTHON coaching to get hired and posted as an Associate Engineer. 

Develop the writing and communication to join IBM and get a good

IBM package for freshers.
Advisory Engineer
If you are keen on this fresher level job to know about the dealing of the project management, then yes you can get updated on the basic fresher courses like designing software applications and so on.
Technical consultant
Applicants looking for technical consultant posts need to have engineering graduation in the Circuit branch and get trained in the system hardware and software solutions and the maintenance of the networks. 

By pursuing these courses the freshers can develop their working capabilities offering them a high

IBM starting salary for freshers

and handling any complex projects in the latest scenario.
Software developer 
To work as a Software Developer at IBM, a fresher must have completed courses in Data Structures and Algorithms, coding, JAVA, and other related subjects, as these are the talents that most recruiters look for when evaluating problem-solving and coding abilities.

If you are not aware of Data structures you can go through enough resources and data from the relevant sites and prepare for it. 

If you understand how data can be organized and used to solve a real-world problem, you can become an excellent software engineer with high pay. 

Algorithms and data structures are at the heart of programming. Most developers are unaware of its significance at first, but as you begin your career in software development as a fresher and you can earn a good

IBM salary for freshers

posts

. 

You can find yourself quite confident in coding, javascript, HTML, and other languages.
Application Developer
To successfully plan, construct, build, troubleshoot, and improve mobile applications, application developers should have the correct blend of specific hard and soft talents.
To be successful, application developers a fresher should have a number of soft skills,
To succeed in their professions with a great

IBM fresher salary

, application developers must have high-level programming abilities and knowledge of several types of coding languages.

Training and expertise in essential programming languages are required for a highly technical role such as a fresher application developer. The following are the most in-demand hard talents for an app developer like Agile methodologies, Android platforms, language and requirements, App store functionality, C C++, SQL, UI/UX Graphical user interface design, UI/UX requirements, mockups, Website design, and development.
Employees with IBM get more salaries. The fresher's starting salary package is very attractive. The IBM salary for freshers increase is processed by your performance and efforts at work and your capacity to bring out the best in the organization.
Benefits for Fresher 
Environmentally friendly
IBM delivers a pleasant working environment for its freshers. Every IBM fresher will find the atmosphere, the teams, and the job exposure to be pleasant. Seniors are extremely helpful and cooperative. Because there are so many employees of various ages, one may always learn a lot from their colleagues.
Onsite for freshers
IBM offers its freshers the opportunity to go onsite with a good IBM company salary for freshers where they can learn more about the work they are performing. This onsite opportunity is critical for the employee to become familiar with the base. IBM offers the opportunity to work onsite, which appears to be quite vital when dealing with the outside world.
Training for freshers
Training and development efforts are instructional activities within an organization aimed at improving a fresher or a group's job performance. These programs usually entail improving a worker's knowledge and skill sets as well as increasing motivation to improve job performance.
With the purpose of fresher long-term development, training programs can be produced independently or with the help of a learning administration system. Training methods include orientations, classroom lectures, case studies, role-playing, simulations, and computer-based training, including e-learning. 
Most staff training and development initiatives are driven by an organization's HRD department, which is also known as Human Resource Development (HRD). 
How training helps the freshers in IBM
The training provided by the company to freshers can boost their knowledge level and salary packages. Here is the justification for how the freshers are developed.
Staying current with new approaches and technologies can help freshers increase their total output and gain best

IBM fresher salary.

Freshers with good training build confidence in their abilities, which leads to higher job satisfaction, lower absenteeism, and more employee retention.

Top recruits are drawn to companies that offer a clear career path focused on ongoing training and development.

Freshers who receive ongoing training and development are more likely to have the information and abilities they need to do a task properly.
This training benefits can make every fresher a long way forward in the overall development and make yourself a successful professional.
Hope to make sure that you are well clear about the job domains and the salaries offered for freshers in one of the most reputed companies, IBM. Every fresher can make themselves confident working in one of the most reputed organizations. Candidates can approach the latest openings and the IBM salary for freshers with benefits from the great work culture and opportunities. Just sign in to freshers.jobs for upcoming openings in IBM and get excited about the attractive salaries they offer.