The very first step after we develop a software component or product is to check and inspect the features and also evaluate the components for errors and bugs so that it is delivered in a perfect way to the market without any issues. This is when a lot of testing needs to be done on the software.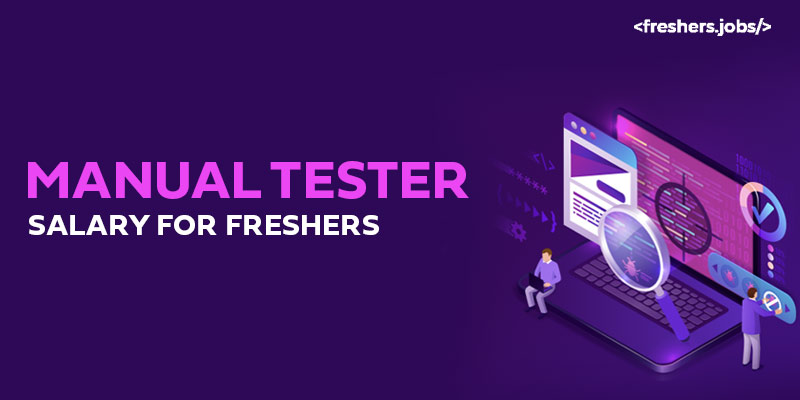 Software testing comprises two types namely manual testing and Automated testing of Software. In this blog, we'll talk about Manual Testing, how it can lead to a career, what the job entails, and the Manual tester salary for freshers. First of all, let's talk about what Manual Testing means.
Manual Testing
Manual Testing is a type of testing in which the application is tested by a manual process that is without the usage of tools, as the name suggests.
The test cases are done one by one by the testers who are involved in testing and done manually without using any of the tools and are also verified.

So hence, manual testing is a process in which the components of the software are compared on basis of behavior having the pre-set expected behavior which is set at the initial stage of the SDLC.

Manual Testing is the oldest way to do it.

A fresher can easily handle manual testing without having any prior knowledge of any specific tool.

Even a student who has a basic knowledge of the Software Applications and testing of a system can easily perform manual testing by getting a good

manual testing salary in India for freshers.

Even so, it is a very important part of the software testing cycle.

Any new system or app needs to be tested physically first, and then it can be tested automatically.
Who is a Manual Tester?
A person who tests software in a manual way is an important part of making software.

You will very often interact with the development team to fix the issues and also to prevent software bugs. 

As a Software tester, you should be able to defect the tracking, analyze and execute the test cases and carry out manual tests to make the software. 
How does a new person get a job in testing?
To get a job as a tester, you need to have a lot of specific skills and knowledge and earn a good manual tester fresher salary in India. You can start doing manual testing by working on a few of the steps.
Education Required
Recruiters always look for people who have a bachelor's degree or higher in a certain field.

The specific field includes Computer science,

engineering

,

and maths.  

The undergraduate program may include the steam of Software Testing its technical knowledge and other skills needed to join as a Manual Tester. 

For example, Computer science programs will let you know how computers work, how to write the programs and how to implement the

programming

languages, to identify and also solve system and software issues.
To Gain Experience
During the College curriculum, you can gain or acquire software knowledge or experiences through various workshops, seminars, and presentations that are conducted on software testing and applications. 

These opportunities can build and develop your knowledge of software testing and have high potential in earning a good

manual tester salary for freshers.
To enhance your Technical Skills
Manual Testers must have technical skills and the knowledge required to conduct their profession effectively.

You can learn many technical skills by learning programming languages, and testing tools, during your college curriculum. 

You can find it best to participate in online courses. 

When you include additional certifications on your resume you can impress your recruiter as a software testing freshers and earn a good

manual tester fresher salary in India.
To Purse Certifications
While looking for a software testing career, You can see the certifications that showcase your knowledge and skills. 

Having a software testing certification will be an added advantage and hence getting a job as a manual tester will be very easy and also earn a high manual tester salary.

These certifications can help you in the areas of experience and familiarity as a software tester.
Opt for a  specialization
You can always opt for choosing a specialization when you want to pursue a career in software testing. 

Your specialization can help when you stand top in front of other candidates by earning

manual testing fresher salary

and also demonstrate your experience in a specific testing methodology. 

However, you should still have a good knowledge of many testing aspects to develop your skill set.
Manual Testing
In this type of testing, the software tester plays the role of the end user.

The tester looks for problems, like bugs, by using the product and its features.
Automation Testing
For this type of testing, the software tester makes scripts that automate tasks that would normally be done in a manual way.
Performance Testing
Through this testing procedure, the program is looked at under various conditions. 

By employing this method, the tester can evaluate the user experience and ensure that the software functions as intended.
Building  your  own network
Getting to know people in your industry and building relationships with them will advance your career. 

You might meet other

IT

professionals while in college or during internships, as well as in any other training programs you take part in during the course of your career. 

When you first start looking for a job, it might help to have a strong professional network.

These people might be able to help you get a job or give you references. 
Salary of a Manual Tester
Let us now discuss the Manual Tester Salary for freshers, the factors influencing them, and the varying salaries as per the factors.
The salary of a Manual Tester depends on four factors Experience, Location Organisation, job role, and skill set.
Salary of a Manual tester as per the Experience
It is always a known fact that salary varies as per the experience of the manual tester. The fresher manual tester is paid a satisfying pay in India as per the reports. Let us see how much are the manual testers earning.
The fresher manual tester gets a salary of about 1.5 LPA

The mid-level manual tester gets a salary of about 3.5 LPA

The experienced manual tester's salary is around 6.4 LPA
Salary of a Manual Tester as per the Location
The manual testing salary in India for freshers varies as per the location. Almost 90% of the IT companies will have software testing jobs and hence the demand for software testers increases across different locations.
Bangalore: 2 LPA

Hyderabad: 1.75 LPA

Chennai: 1.5 LPA

Mumbai: 1.92 LPA

Delhi:1.7 LPA

Kolkata: 1.5 LPA
Salary of a Manual Tester as per Organisation
As cited above, having the right skills and knowledge can make you land as a software tester in big companies offering high salaries. Getting into a huge IT company and getting a high manual tester fresher salary in India is also great fame for every fresher.
Salary of a Manual Tester as per job role
As we all know Manual Tester works under the Software testing team and as mentioned above there are various testers working under them. Let us see these job roles and the salaries they are getting.
Manual Tester: 2.5 LPA

Software Tester: 2.75 LPA

Automation Tester: 3.2 LPA

Test Analyst:  3.2 LPA

Selenium

Tester: 3 LPA
Hope you have got an idea about the manual tester salary and their influencing factors. You can feel excited as the manual testing jobs are highly trending and most sought-after jobs in India with a high-paying salary.
Thus to develop and become a proficient manual tester you can possess some of the skills to earn a high manual testing salary in India for freshers.
Skills required
Agile methodology and DevOps

Planning and documentation of tests

STLC and SDLC

Tools and methods for testing

Methods for Designing Test Cases

Automation

Project administration

levels of examination

Mobile and Web Technologies

Using social networks

Logical Thought

Rational Evaluation

Testing assistance

Written and verbal communication abilities
Responsibilities of a Manual Tester
Analyzing the system's and equipment's technical specifications.

Checking that written code meets project requirements.

Establishing quality assurance procedures and organizing phased testing with QA engineers.

Bugs can be found and fixed by keeping a look out for system problems and discussing them with your coworkers.

Testing the item after its introduction.

Testing and evaluating the results.

Cooperation within a team for quality assurance.
Conclusion
I hope you have got a better understanding of the manual testing concept and the manual tester salary for freshers. This blog describes the scope of manual testers and how can every fresher boom in the IT industry as a Manual Tester. This field is a fantastic career choice for any engineering graduates and Computer Science graduates. Get certification in Software testing and its intricacies in manual testing and apply for Manual testing jobs at Freshers jobs and become an efficient Manual Tester.