Are you looking for a first job or just done graduating from college or looking for a job change, or aspiring to progress your career. Knowing how to search for or look for a job is very important. Even though looking for a new job will be quite difficult, there are many ways to find an apt or effective one. This blog gives you the details on how to search for jobs and carry over a great profession in future.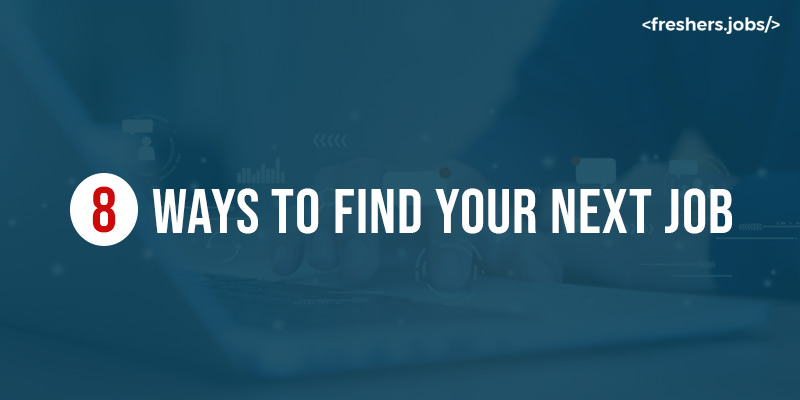 There are many ways to look for a job, including searching publications, browsing the internet, and subscribing to job emails. Below is the description that can approach and boost your job search and land a good job.
1. Ask people for recommendations
If you are looking for a job change, You can always ask for help from people you know or any referrals to find a mutual contact in careers.

Building a network among people can do a lot in your job search.

This helps you to search for new

jobs alert

,

and recruiters will always look out for a referral from staff working in the organisation.

Many jobs are filled internally by recommendations, and those vacancies are filled before even they are advertised.

So it is thus important to speak to the right person to get as many references within your network of contacts.

You can start by making a list of people in your network circle and know which person will know about the

job opportunities

, recent job openings, and vacancies in your industry.

Once you have listed out, you can reach out to them and discuss your job search, expectations, goals, and details.

Always aim to build a close relationship with the person in your circle, so that they think of you when they hear about any job vacancies or openings.

Some jobs are filled very soon, so you can ensure you are effectively networked with influential people whenever wanted to discuss

how to find a job

.
2. Networking Events
You should try to join events for networking in your field whenever possible.

Conferences, expos, and forums for continuing education are great places to meet people who can help you find a job. You can take this as

preparation tips

to find a job.

Get business cards and copies of your CV before these events to hand to hiring managers when you meet them.

If you attended college, get in touch with the alumni or career network to learn about the activities they host for recent graduates.

Even if these networking events aren't directly related to your field, you might meet someone who knows someone in your field and can introduce you to them.
3. Search intelligently
When looking for a job, pay attention to keywords that help you narrow down

how to search job.

For instance, you might look up

bank jobs

to become a bank officer.

Try to look for a job based on what you want from it.

You can start with a general list of jobs and move down your search by industries or job titles that interest you.

If it's hard to find jobs in the field you want to enter, you can look at other fields to meet the job market's needs.
4. Talk to the company directly
Now that most companies have websites you can go to, it's much easier to look at

how to search jobs

.

You can simply apply for available positions on their website.

You can email or call a company you're interested in to find out if they're searching for someone with your qualifications and experience.

If a company isn't actively looking for someone to fill your role, you will not hear back from them, but they might keep your information on file in case a job opens up.

Also, if a business grows quickly, the company may be especially interested in hiring qualified, experienced people, even if they haven't posted a job opening.

List the businesses you want to work with, along with contact information.

On your list, make a note of the positions they have open.
5. Search for jobs on job sites
If you want to apply for many jobs like private jobs

and

government jobs

quickly and effectively, use job search platforms to power your search.

This is the best way

how to search for jobs.

You may search for jobs using location, income, and keywords on most top job search engines.

Upload a cover letter and resume that you can modify for each application if you can.

The best part about job search sites is that you can filter out results that don't apply to you and create personalised notifications to notify you when a job matching your criteria is listed.
6. Visit job fairs
A job or career fair is a unique event when businesses and job seekers may connect and exchange information.

These events are frequently attended by large corporations wishing to train fresh college graduates or hire new staff.

At these events, you'll see groups of various recruiters and perhaps even colleges and universities.

Job fairs are a fantastic opportunity to make new friends and present your resume to potential companies.
7. Social media usage
You can use various social networking platforms on

how to find a job

and connect with employers.

You can find company pages on sites like Facebook and Instagram and follow them no matter where they are in the world.

By keeping up with a company's social media pages, you can learn a lot about how they talk, what they like, and how they work.

You can also leave comments on their posts to get to know them.

You might even find out about job openings through these ways.

If you use social media for work, it's important to make sure your own profiles are appropriate.

Use your true name, and only post and distribute appropriate content.

If you adopt this strategy, it's a good idea to review the details you've already posted to make sure it is suitable for a prospective employer to see and the best way on

how to find jobs.

Examine your social media profiles to see if they accurately portray you and your life.
8. Consult staffing/recruitment firms
You may consider joining a staffing or recruitment agency to get a job more rapidly.

A resume and documentation of your education and certifications will likely be required.

You may also have to take tests, such as ones that check on how much you know about certain industries.

At first, some agencies may only make short-term and temporary contracts.

Getting temporary work with a company and impressing them with your performance may not be precisely what you were looking for, but it may result in a permanent position.

Additionally, it enables you to network or receives referrals by introducing you to professionals in your sector.

A short-term contract can also give you more experience to help you figure out if you are the right person for the job.

This is helpful if you aren't sure exactly what job you want.

An agency's reputation is important, so if you do a good job for them, you will have a good experience that could lead to more and better opportunities.
Conclusion
I hope to know that you are very clear on

how to find a job.

As part of your job search, it might help first to figure out what you want to do with your career or make a plan for how to get there.

Defining what you're looking for and what you want from your next employment can assist you in focusing your job search.

By doing this, you can ensure that your resume and cover letter adequately convey your main objectives.

Before you start looking for jobs at

freshers jobs

,

taking time to work on your application materials can be beneficial if you have a clearer understanding of what you want.

If you're looking for your first job, you might want to spend some time putting together your first resume and making a list of the skills you have that can be used in different jobs and also helps

how to search for jobs.

Lastly, if you're interested in changing careers, you may want to concentrate on your resume objective or begin preparing your cover letter for a career shift.