Tata Elxsi is one of the best companies in the world for design and technology services in industries like transportation, broadcasting, healthcare, and the auto industry. Using design thinking and digital technologies like IoT (Internet of Things), Cloud, Mobility, Virtual Reality, and Artificial Intelligence, they assist clients in obtaining goods and services.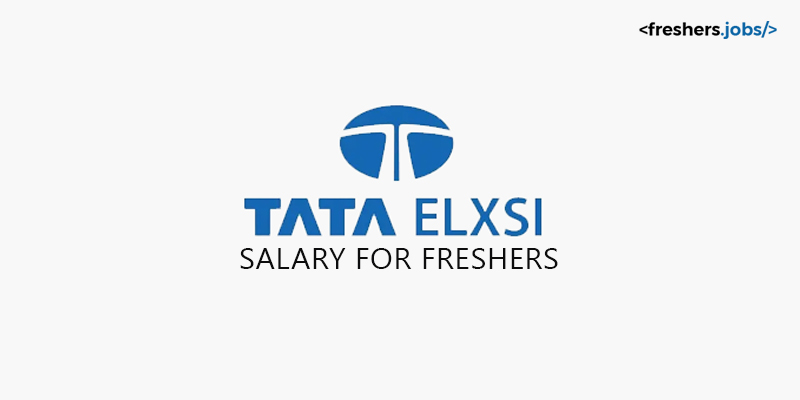 Tata Elxsi is an award-winning, technology-driven design powerhouse. It blends engineering, creativity, and technology to assist users in digitally transforming their concepts into top-quality goods. Freshers can always discover opportunities to work on difficult projects with knowledgeable, driven teams, learn and master the newest technology, and develop with Tata Elxsi to earn a high tata elxsi salary for freshers.
Tata Elxsi Recruitments
Tata Elxsi conducts campus placements, Off-campus placements, and Walk-in interviews to hire maximum freshers and offers every fresher hired the best training in the latest technologies and explore to the latest products and services of Tata Elxsi. 

At Tata Elxsi, the freshers can live and make the future a part of the present. 

You can even put forward your intelligence and reach your full potential. 

You can feel creative and let others know who you are by implementing. 
Tata Elxsi is based in Bangalore and has branches across India in all major metro cities like Chennai, Mumbai, etc.
There are many job opportunities for freshers and people with experience to start their careers at well-known companies like Tata Elxsi. Tata Elxsi hires many people through campus recruitment, pool, and off-campus recruitment. Tata Elxsi is hiring many more people than other IT giants like Cognizant, Mindtree, etc., which is happening in every way possible and also offering tata elxsi fresher salary.
Services of Tata Elxsi
If you don't know who the Tata Elxsi company's servicers and domains are.
Tata Elxsi is an organisation that brings together jobs in AI

,

Broadcast, Automotive, Healthcare Administration, and many more.

As one of the most well-known companies with the best

tata elxsi package for freshers

, there are a lot of job opportunities for people just starting out.
Openings in Tata Elxsi
Tata Elxsi has many job openings in Engineering, Automotive, Broadcast, Communications, Healthcare, Business Management, General Management, Human Resources, Customer Experience, Finance, and Information Technology.

Big Data

Engineering, Extended Reality, AI, Cloud,

Cybersecurity,

Robotics.

As you can see, new people have no reason to worry about Tata Elxsi. 

These fields are open to fresh graduates, depending on their qualifications and skills.
Now is the right time to talk about the different technical and non-technical job roles for Tata Elxsi, the skills needed, the tata elxsi salary for freshers, and the interview process. 
Various job roles in Tata Elxsi
Software Designer, Sr Executive, Associate Manager, Manager Business Operations, Design Engineer, V&V Designer, Android Platform Developer, DSP Audio Developer, Business Development

Manager

, Embedded Engineers, Design And Packaging Engineers, ReactJS Developer, Junior And Senior Cyber Security Developers,

DevOps

Engineer, Digital Marketing Specialist, UI/Visual Designer, User Experience Designer, UI Developer,

Python

Developer and so on are the job roles available for both freshers and experienced.

Let's talk about some of the roles and responsibilities of new jobs.
Software Designer
Software Designer is getting a high

tata elxsi salary for freshers.

Analyze what customers want, come up with answers, and talk with customers to reach a deal.

Tell a team of programmers about the overall design and approach. 

Make flowcharts, diagrams, and other models, as well as programming instructions, to help the team.

Review changes to requirements and designs, determine which software parts are affected, and direct programming to meet requirements.

Create test scenarios and test cases, then look at the results of the test cases and make any necessary changes to meet the requirements.

Document every part of the software so it can be updated and fixed over time.

Work with other

IT

professionals, technicians, etc., to deliver software solutions.

Perform other job-related duties as needed
Design Engineer
Design Engineer in Tata Elxi is earning a high

tata elxsi fresher salary

and researching and making sketches,

engineering

plans, and blueprints.

Develop test prototypes.

Find ways to make production more efficient.

Make models and drawings of new products with design software.

Keep track of engineering records and designs that already exist.

Check out the design prototypes and see if there are any issues or dangers. 

Set budgets and cost limits for new designs.

Watch over how all of your designs are made.

Collaboration with other designers, management staff, and the inventive department.
Android Developer
Android

Developers develop ideas for and make apps that can be used on all Android devices.

Taking steps to keep users' data safe.

Make sure that the way your apps are built and presented matches the company's standards.

Before you release each app, you should check your code for mistakes and fix them.

Working with UI UX Designers

 and

Software Testers

to ensure each app looks good and works well in Tata Elxsi, earning a splendid

tata elxsi package for freshers

Monitoring app reviews to find places where the app could be better.

Adding new features and fixing bugs in-app updates ready to be released. 
DevOps Engineer
The

DevOps

Engineer is involved in knowing what the customer wants and the project's KPIs.

Putting in place different tools for development, testing, and automation, as well as IT infrastructure

Planning how the team will work, what it will do, and who will be involved in project management tasks.

Taking care of stakeholders and outside connections

Creating and setting up processes for development, testing, release, updates, and support for DevOps operations.

Have the technical skills to look over, check, and confirm the software code made for the project.

Techniques for troubleshooting and fixing the bugs in the code.
Digital Marketing Specialist
Digital Marketing

Specialist Gathers and analyses information about customers, marketing, and online activity.

Test your campaigns, look at the data, and find ways to improve them.

Based on your research, come up with useful conclusions and suggestions that you can share.

Based on the analysis, make a plan for a digital campaign.

Make dashboards, visual representations of data, and performance reports for websites and marketing.

Keep up with and think about marketing and digital media changes to earn more

tata elxsi fresher salary.

Be easy to reach and talk to your employees, upper management, and clients. 
Basic Skills Required to join Tata Elxsi
The candidates must be good at communication skills, Analytical skills.

You must be well versed in most programming languages such as

C C++

, DSP, MATLAB and other technical languages. 

Must have good interaction skills.

These skills are necessary, and skilled workers are given a higher salary package.

Associations seek out individuals that are adaptable, self-driven, compassionate, adaptable, inventive, and capable of correspondence.

Since they have been promised a higher Tata Elxsi salary, they know that joining the Tata Elxsi organisation will offer them an advantage.
Interview Rounds in Tata Elxsi
Tata Elxsi conducts three rounds of interviews for the candidates, such as,
Aptitude Round

Techncial Round

HR Round 
Aptitude Round
This round mainly includes multiple choice questions, and the questions will include problem-solving Verbal communication questions and Programming languages. The candidates can always prepare for the mathematics and science subjects to clear off the Aptitude Round. Performing well can get u a high tata elxsi salary for freshers.
Technical Round
In the Techncial round, the candidates can be asked questions about the subjects they learned during college academics. You can be prepared for the basic programming languages to clear off this round.
HR Round
The HR round is the final round, and they ask questions related to your personality. Your hobbies, interests, passions, salary expectations, etc., will be asked in this round.
Let us now discuss the salaries of the freshers jobs in Tata Elxsi.
Fresher Salary in Tata Elxsi
The

tata elxsi fresher salary

for Software Designer is 3.2 LPA.

Tata Elxsi salary for a Design Engineer is 3.5 LPA.

The DevOps Engineer in Tata Elxsi gets a salary of  2.98 LPA.

A digital marketing specialist earns 3.25 LPA as a salary.

The salary of a

UX Designer

in Tata Elxsi is 3.2 LPA.

The UI developer in Tata Elxsi gets a salary of 3 LPA.

The salary of a

Python

developer in Tata Elxsi is 2.75 LPA.
Conclusion
After reading this post, I think you have a better idea of the different skills you should have before entering the IT industry.TataElxsi is a great place to start your career because it has the best tata elxsi salary for freshers packages, the best value-added benefits, and the best jobs for freshers. Candidates can keep moving forward by applying to and joining a great IT company.