Companies across all industries must offer extensive employee benefits to keep workers satisfied and retain top talent. Therefore, why are employee benefits importance and what benefits should job applicants look for?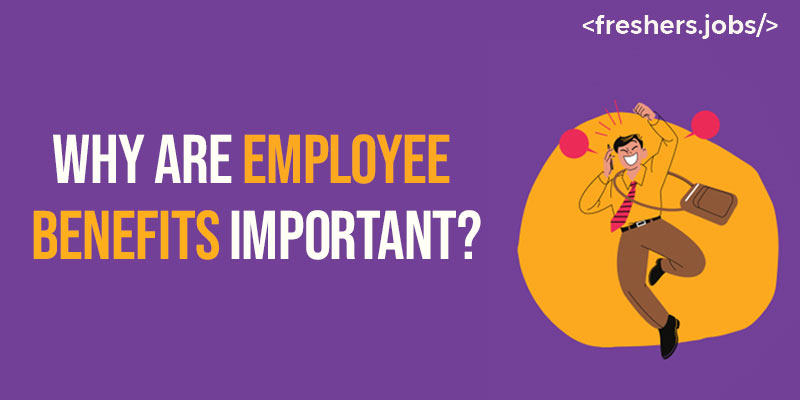 Many companies provide benefits to their employees and many employees take them for granted. However, if your company is small and your budget needs to be higher, you might question whether employee benefits are actually worth the expense.
The quick response? Benefits matters. The most excellent employees are easier to find and maintain and happier and more productive employees are ultimately better for the company's growth.
Let's look at the top reasons why you should provide employee benefits.
When looking for freshers jobs, the benefits provided by a company as part of its compensation package might be important. Benefits enable workers to cover medical expenses, save money for retirement and take time off when necessary. Understanding the value of benefits packages can help managers offer more complete benefits to attract and retain outstanding employees as well as assist staff members and job seekers in identifying their priorities in a position. In this post, we discuss various types of employee benefits and why are employee benefits important.
What are the Benefits for Employees?
Employee benefits are types of pay that companies offer their employees in addition to a salary. Employers may be required by certain state and federal laws to provide benefits like:
Medical and Family Leave

Tax contributions for Medicare and Social Security

Insurance for the unemployed

Disability protection

Compensation for workers

Time off for civic obligations including jury duty and voting
Other common benefits like paid time off, health insurance, life insurance and retirement plans are optional for recruiters to provide. In order to remain competitive in the hiring process and to maintain their employee's happiness, health and productivity, businesses generally offer additional benefits. To know how to hire candidates you can know how to improve your hiring process.
Why are Benefits for Employees Important?
Employee benefits increase the value of working for a specific firm and can enhance the health and quality of life of you or your coworkers. This is why the importance of employee benefits is considered. Candidates may analyze the advantages that each company provides when applying for jobs alerts and consider those in addition to salary when determining where they wish to work. Employee advantages have several benefits, such as
Satisfaction at Work
A strong benefits package shows how much an employer values its staff. Benefits like paid time off, office perks, wellness initiatives and tuition assistance can help workers feel appreciated. Employees who are satisfied in their positions, devoted to the business and driven to produce quality work may result from this.
Employee advantage are essential for maintaining a positive work environment since a motivated team is more likely to be successful and function well as a unit. Additionally, a department's characteristics become stronger and more stable when job satisfaction is increased by decent benefits, which lowers turnover rates.
Work-Life Balance
The balance between your professional and personal lives, often known as work-life balance, has gained importance among employees. Vacation time, unlimited or generous paid time off, flexible work schedules and the option to work from home are all benefits that enhance work-life balance. Benefits of this nature can lessen workplace stress and weariness while preventing burnout. As a result, workers are likely to be more effective both at work and at home. You can know the Smarter ways to work from home: The Challenges and how to overcome them.
Employees can spend more time with their families and friends thanks to employee benefits services like flexible work schedules and vacation time, which enables them to lead more fulfilling personal lives. Parents who must juggle their careers with child care or other family obligations should pay special attention to them.
Health Insurance
The majority of benefits include some type of health insurance, which is essential for maintaining employee's and frequently their family's health and assisting with medical costs. According to the Affordable Care Act, businesses with more than 50 workers must offer health insurance to 95% of their full-time staff members or face paying a sizable fine to the IRS.
Benefits for health let workers and their families pay for routine physicals, preventive care, prescription drugs and medical procedures. Candidates may give preference to positions that offer comprehensive health insurance plans if they or one of their dependents needs regular medical care. Additionally, if workers are motivated to maintain their health and given the resources to do so, they will probably feel more energized, take fewer sick days and work more productively. To get more benefits from a company you can check out freshers jobs in Hyderabad and start applying for recent job openings.
An Increase in Productivity
Employee benefits importance may increase productivity and focus. Employees can avoid worrying about things like money, health care costs and child care if their benefits package includes paid time off, health insurance and disability insurance. Employees can better concentrate on their tasks and career advancement if they feel more confident about personal matters before, during and after work. To do so you must know how to increase productivity at work.
Retirement Planning
Why are employee benefits important? Some businesses provide retirement benefits like 401(k)s and employee pension plans, which let workers contribute a portion of their earnings before taxes to their retirement savings. A portion of those funds may be matched or contributed to by the employer.
Employees eligible for retirement benefits may find it easier to save money and make long-term financial plans for their families and themselves. Depending on how much money they saved through their company's retirement plan or other retirement options they pursued, employees will have a set budget to live on when they do retire.
What are some of the major Benefits for Employees?
The benefits that enhance an employee's financial and personal well-being are typically the most important. A company is more likely to be competitive in the job market if its benefits package is more extensive. The following are a few of the most well-known and importance of employee benefits for workers:
Healthcare: Organizations can provide a variety of health insurance packages, including indemnity, health maintenance organizations, preferred provider organizations and health savings account plans. The goal of each policy is to lower an employee's and in payments while covering medical procedures or other costs.
Vacation Time: Each year, full-time employees are typically granted one to two weeks of paid vacation. Some businesses provide extra or limitless vacation days. The longer an employee works for a company, the more vacation time they may earn. Companies must provide employees with up to 12 paid weeks off for the birth of a child or a significant medical condition, as required by law.
Retirement Programmes: As previously stated, companies may provide a variety of retirement plans, say private or government, but all call for setting up a specific percentage of your income for your golden years.
Flexible Working Hours: Instead of requiring employees to report to work from 9am to 5pm, some companies let workers choose their own hours.
Remote Jobs: The most employee benefits importance are companies may allow their staff the freedom to telecommute and work from home or the office. 
Wellness Program: Wellness initiatives in the workplace could take the form of policies and programmes that aim to keep staff members in good physical and mental health.
Tuition Reimbursement: Companies may assist with staff member's professional growth by covering a portion of their continuing education costs. Companies frequently impose restrictions on the courses employees can take, making sure the courses they take are relevant to their job at the company, or they mandate that workers remain working for a specific period after completing their coursework or earning their degree.
Life Insurance: In the event that an employee passes away, life insurance plans provide a predetermined sum of money to help sustain the employee's family and the importance of employee benefits.
Performance Bonuses: A company may offer advantages such as freshers salary hikes or bonuses based on the successful completion of objectives and milestones.
Relocation Assistance: Companies may pay for employee's relocation expenses in order to hire qualified workers from other areas.
Other office incentives include free meals, gym memberships, pets allowed on the job, child care, business automobiles, employee retreats and complimentary massages. As you are proceeding with the company you must know the rules for negotiating job offers.
Conclusion
I hope you are clear from the blog on the employee benefits importance. Offering employee benefits may initially be more expensive, but the long-term benefits can more than offset those expenses and boost your business performance. Your benefits will draw superior candidates and retain them for a long time. A happy, productive and healthy crew will pay off for you. Simply put, an employee benefits programme is cost-effective.