There are many chances to find a career with a respectable earning potential if you want the flexibility of a work-from-home job. While some tasks that can be done from home need specific technical training or degrees, others call for creative abilities like writing or design. There are many choices to consider when looking for a new remote work that is high-paid jobs, no matter your strengths.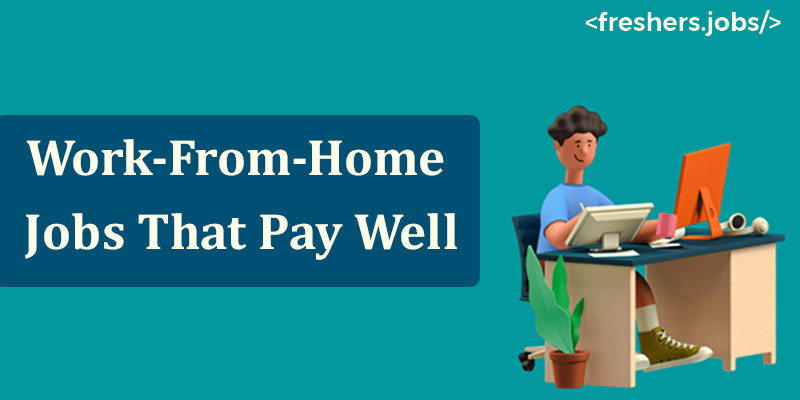 This blog lists a few well-paying work-from-home freshers jobs and their typical salaries and duties.
Work-from-home jobs have become increasingly popular over the years, especially during the COVID-19 pandemic. There are many reasons why people may prefer to work from home, including avoiding long commutes, having more flexibility with their schedule and working in a comfortable and familiar environment.
Many options are available if you're interested in finding a work-from-home job. Here are a few ideas to start:
What are the benefits of working from home?
There are many benefits of working from home, including the following:
Flexibility: One of the biggest benefits of working from home is the flexibility in work it provides and the option of high-paying careers. You can set your own schedule and work at the time that's most convenient for you.
No Commute: When you work from home, you don't have to deal with the stress and time of commuting. This can save you money and reduce your carbon footprint.
Comfort: You can create a comfortable, positive work environment that suits your needs. You can customise your workspace with comfortable furniture, lighting, and temperature to maximize your productivity.
Improved Work-Life Balance: Working from home can make balancing work and personal responsibilities easier, such as caring for children or elderly family members.
Increased Productivity: Many people find they are more productive when working from home, with fewer distractions and interruptions than in an office environment.
Reduced Stress: Without the distractions and stress of a busy office, working from home can be a more relaxed and stress-free environment.
Cost Savings: Working from home with the highest salary job can save you money on transportation, meals, and other expenses associated with working outside the home.
Better Health: Working from home can lead to better health outcomes, as you have more control over your diet, exercise routine, and stress levels.
As you know, many companies offer work-from-home options post-pandemic and follow the hybrid working model. To look into these options, you can look for job openings from freshers jobs in Pune.
Here are a few Work-From-Home Jobs
Customer Service Representative
A customer service representative is responsible for answering questions and resolving customer issues via phone, email, or chat. This job can be done anywhere with an internet connection and a computer. Some companies may require prior customer service experience, but others will train the right candidates. The Customer Service Representative is the best high-salary jobs earning, around 2.1 LPA to 3 LPA. 
Virtual Assistant
A Virtual Assistant is someone who provides administrative, technical or creative assistance to clients remotely. This can include tasks like scheduling appointments, managing email and social media accounts, and conducting research. Virtual assistants can work for individuals, small businesses, or large corporations. The Virtual Assistant's salary is around 2 LPA to 3 LPA. You can look out for careers that make you rich with high-paying jobs & how to get them.
Writer/Editor
If you have a talent for writing, there are many job opportunities and jobs that pay well to work from home as a writer or editor. Content creation, technical writing, and copywriting are just a few options. Companies and websites constantly need fresh, high-quality content to engage their audience. The content writer's salary is around 1.8 LPA to 3.5 LPA.
Graphic Designer
Graphic designers create visual content for websites, marketing materials, social media, and more. With the right software and a good eye for design, it's possible to create stunning graphics from the comfort of your home. Many graphic designers work as freelancers or consultants, taking on projects as they come. The Graphic Designer's salary is about 2 LPA to 5 LPA.
Software Developer
Software developers create applications, websites, and other digital products. With the right skills and experience, working as a software developer from anywhere in the world is possible. This is a highly in-demand field, with many opportunities for advancement and growth. The Software Developer's salary is around 3 LPA to 7 LPA.
Online Tutor
If you have a talent for teaching, then highly paid work-from-home jobs as an online tutor can be a great way to share your knowledge with others. Online tutoring can cover many subjects, from basic math and English to advanced sciences and languages. Many online tutoring platforms offer flexible schedules and competitive pay. The Online Tutor's Salary is approximately 2.4 LPA to 5 LPA.
Social Media Manager
Social media managers are responsible for creating and managing social media content for businesses and organizations. This can include everything from creating posts and responding to comments to analyzing data and developing social media strategies. With social media becoming increasingly important for businesses of all sizes, there are many opportunities to work as a social media manager from home. The Social Media manager's salary is approximately 3 LPA to 6 LPA.
Translator/Interpreter
If you're fluent in multiple languages, there are many opportunities to work as a translator or interpreter from home. This can include translating documents, interpreting for clients over the phone or via video conference and more. Many companies seek bilingual employees to help them communicate with customers and partners worldwide. The Translator's salary is approximately 1.75 LPA to 3 LPA. Henceforth you must know how to learn a new language.
Virtual Event Planner
Virtual event planners are responsible for organizing and executing online events, such as webinars, conferences, and virtual meetings. This can include everything from choosing the platform and coordinating speakers to managing registration and promoting the event. With many events moving online due to the pandemic, virtual event planners are in high demand. The salary of a Virtual Event Planner is high paid jobs that get around 2.5 LPA to 3.5 LPA.
Data Entry Clerk
Data entry clerks are responsible for entering information into databases, spreadsheets, and other digital formats. This job can be done anywhere with an internet connection and a computer. While it's not the most glamorous job, data entry can provide a steady income stream for those willing to put in the time and effort. The Data Entry Clerk's salary is around 2.1 LPA to 4 LPA.
Data Analyst
As a data analyst, and you can analyze data and provide insights to companies or organizations. The salary range for data analysts in India can be between Rs. 5 LPA to Rs. 12 LPA, depending on your experience and skill level.
Digital Marketer
As a digital marketer, to be one of the high-paying careers, you can work from home and create and implement marketing strategies for companies or individuals. The salary range for digital marketers in India can be between Rs.3 LPA to Rs.10 LPA, depending on your experience and skill level.
Blogger
Blogging is a popular work-from-home job in India that involves creating and managing a blog on a particular topic or niche.
You can work for yourself, companies, or freelance writers as a blogger. The salary range for bloggers in India can vary depending on your experience, niche, and work type. Generally, bloggers in India can earn approximately Rs. 2 LPA to Rs. 3 LPA per month, depending on various factors.
As most companies provide work-from-home jobs, You can look out for TCS jobs for freshers that offer remote work options.
Conclusion
I hope you are clear from the blog about the Work-From-Home Jobs That Pay Well and work-from-home jobs that have become popular in India due to their flexibility and convenience. These are just a few examples of India's many remote work options that pay well as high paid jobs. The freshers salary range for these jobs can vary depending on your experience, skill level, and industry, among other factors.