Bandhan Bank is actively involved in granting banking and financial services. It mainly involves the treasury, financial services, wholesale banking, and other banking business. Bandhan Bank assists and gives more than the services offered in banking. Bandhan Bank will listen to your needs, understand your desires, and support your plans so that you can succeed and be happy. Examine learning opportunities with the bank and get an excellent bandhan bank salary that is gearing up India's development.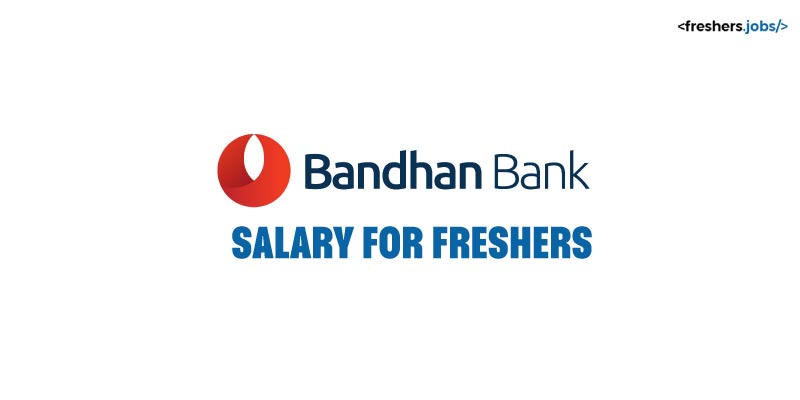 Bandhan Bank is a fantastic opportunity for both Fresh and experienced employees. They are eligible to apply if they have professional experience in the banking and financial administration area, as well as experience in these fields. Candidates with certifications in Tally, Statistics, and Accounting can be an added advantage while joining the Bandhan Bank job.
Why do freshers choose Bandhan Bank?
At Bandhan Bank, you'll be surrounded by experts who are eager to assist one another.

Our work culture is based on collaboration, participation, and mutual effort. 

Bandhan Bank value diversity, especially among our employees.

We will listen to your needs, understand your desires, and support your plans so that you can succeed and be happy.

Consider relevant learning opportunities with the bank that is propelling India's development.
Bandhan Bank Vacancies
Bandhan bank is based out of Kolkata and has various branches across India in almost all states of the country with nearly 50,000 employees working all over the branches. Every year Bandhan Bank releases almost 100+ vacancies with the most competitive Bandhan Bank salary for freshers and candidates can easily submit an application for these jobs released by the Bandhan Bank. Bandhan Bank releases the recruitment notifications for all the posts every year. Young and talented candidates can apply for various jobs under the National Career Service. The candidates who have just passed out and already working can apply for jobs in Bandhan Bank.
There are various job domains in Bandhan Bank, and freshers can easily get into these jobs and earn a high Bandhan bank fresher salary. Freshers from relevant educational backgrounds can apply for jobs in Bandhan Bank. Knowledge of accounting, tally, and customer service can be an added benefit while joining Bandhan Bank.
Various sectors of Bandhan Bank
Banking Executive, Loan Executive, Phone Banking Executive, Front Office Executive, Assistant Manager, Branch Manager, Clerk, and many more job roles are open for freshers and the experienced in Bandhan Bank.
Let us now have a look at what responsibilities are these roles working for.
Branch Banking Executive
Banking Executive assists the MSE in dealing with the Business Banking Officers in order to achieve all of their creation and development goals.

Assists the MSE in developing a key and benefit plan for business banking within the district.

To create Small Business product deals and administration targets, coordinate Business Banking exercises with Trade Area Managers in each allocated district.

Recognizes needs and coordinates gathering and preparing training for Retail Banking Staff.

Small Business transactions and administrative efforts.

Run exchanges and generate reports using the store and loan systems to assist the various divisions supported by Commercial and Private Banking.
Phone Banking Executive
The Telephone Banking Executive in Bandhan bank earns a profitable

Bandhan bank salary

and is responsible for providing excellent customer service. 

On a daily basis, the job will be responsible for resolving client inquiries over the phone, resulting in effective client service. 

In a bank, call customer service and provide details regarding the banking services, solve customer confusion, handle concerns regarding transactions, and queries, process financial applications, and also complete tasks within the given stipulated time.
Front Office Executive
The Front Office Executive fresher in Bandhan Bank gets a high

Bandhan Bank salary for freshers

. 

A front office executive is responsible for responding to all incoming calls, answering them, and routing the call to the appropriate section.

A front office executive is responsible for greeting visitors at the company. Getting their names and contact information.

A front office executive is responsible for ensuring that important reports and paperwork are supported and kept in a timely manner.

A front office executive is responsible for assisting the organization division's heads.

A front office executive is in charge of keeping all of the organization's fixed assets up to date and requesting new goods.

A front office executive is in charge of overseeing the housekeeping department and ensuring that all of the necessary items are in stock.
Assistant Manager 
The Assistant Manager working in Bandhan Bank is offered a

high Bandhan Bank salary

and assists the General Manager in answering and resolving customer complaints.

Assist the Store Manager in closing deals by creating a deal-making environment and following through on all corporate deals.

Work with the Store

Manager

to meet or exceed the planned gross margin through stock management, from purchases to sales and special events, price changes, and slack activities.

Supervises the staff's decision-making, preparation/direction, and implementation.

Creates, implements, and evaluates the division's quality and basic administration programs, such as capability testing and quality controls, and takes appropriate action to report and resolve significant issues.
Clerk
A fresher clerk gets a high

Bandhan bank fresher salary

and is involved in dealing with the office that the bank has assigned to them.

Keep track of the transactions that take place on a daily basis.

Collaborate with various divisions.

Prepare daily reports for department heads.

Assist each and every client that comes to the division with a problem.

Each and every record should be counted on a daily basis.

To communicate with clients, letters and messages are used.

Provide excellent customer service to each and every one of your clients.
The above discussed are the roles in Bandhan Bank and their job responsibilities. The freshers can always join in these job profiles which is supposed to be a great opportunity for freshers and the experienced as Bandhan bank provides good salaries and sufficient benefits for freshers. There will be an overall development for the freshers in the banking sector. 
Now let us see what are the academic criteria required to get jobs in Bandhan Bank
Candidates who have graduated from a recognized university can apply for a job in Bandhan Bank.

12th-grade graduates can apply for this bank job. 

Aspirants should be proficient in mathematics, accounting, and

tally

, which will be an added advantage and will also earn a great Bandhan bank salary.

The candidates can even develop in the field of marketing,

sales

, and customer relationship management to work efficiently in Bandhan Bank.
Let us now see what are the interview process in the Bandhan Bank
The recruitment process at Bandhan Bank happens every year for many job profiles.
The Bandhan Bank conducts exams for freshers as PO/Clerks, SO, etc. This exam may be conducted online or offline. 

The candidates who have cleared the written exam will be notified and they will have to attend the face-to-face interview conducted in any of the Bandhan Bank offices.

The candidates can prepare for aptitude-related subjects like mathematics, and science concepts so as to clear the interview process with ease.
Training offered in Bandhan Bank
NextGen Banker program for freshers
The Post Graduate Diploma in Banking and Finance offered by NextGen Banker is a high-level preparation program for freshers in the banking and financial industry. Bandhan Bank recognized the need for skilled applicants and created this remarkable program affiliated with West Bengal's Maulana Abul Kalam Azad University of Technology (MAKAUT). The main aim of this program is to enhance an upgraded financial working strategy.
The program Structure is as Follows
Bandhan School of Development Management (BSDM) in Kolkata offers a one-year full-time private course.

Includes ten months of study hall preparation and a two-month temporary job with the possibility of advancement. 

Banks Courses are centered on many aspects of banking, such as administrative requirements, laws, services, products, and administrations.

During the course, freshers receive a stipend like a Bandhan salary. 

Candidates are awarded certificates after successful completion of the training.
Let us now discuss the Fresher salary offered in the Bandhan Bank for freshers
Fresher salaries
The Bandhan Bank salary for a Bank Executive is 2 LPA.

The salary of a Phone Banking Executive is approximately 1.5 LPA.

The Bandhan bank salary for a Front Office Executive is 1.5 LPA.

The salary of an Assistant Manager is around 3.6 LPA.

The Bandhan Bank salary for a Clerk is approximately 1.25 LPA.

The Customer Service Representative's salary is around 1.32 LPA.
Hope you have got an idea about Bandhan Bank's salary for freshers. As a fresher with Bandhan Bank, you will be well trained and exposed to the various streams of the bank sectors. The banking sector gives you a sense of pride and prestige and makes you a top-notch employee. Apply now for Bandhan Bandhan Bank jobs here at freshers.jobs.