BHEL is one of the biggest engineering and manufacturing firms in India, designing, engineering, building, testing, commissioning, and servicing a variety of goods and services with over 180 product lines to satisfy the constantly expanding demands of the main economic sectors. If you want to learn and grow, BHEL careers are the perfect place. One of the many groups that recognise people and their work and give them praise. This place will provide you with the professional feel you want. Education is essential, and growth is steady. Interesting career possibilities and job opportunities, Be it engineering, finance, or human resources, BHEL offers rewarding career prospects with dynamic exposure to the most recent advancements in each area.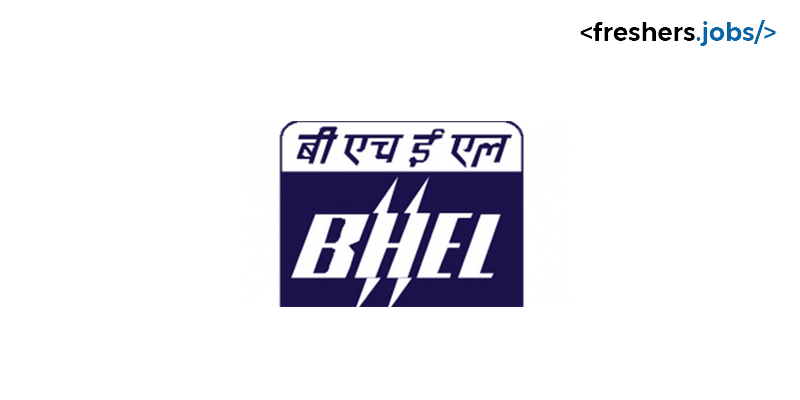 A balanced work-life schedule. BHEL understands the value of work-life balance and encourages employees to balance their personal and professional lives well. A list of the Top 25 Best Companies to Work For in India has included Bharat Heavy Electricals Limited (BHEL) as one of the contenders.
Exciting career possibilities
Be it engineering, finance, or human resources, BHEL jobs offer rewarding career prospects with dynamic exposure to the most recent advancements in each area. As an employee advances within the company, he is given increasing responsibility and is constantly given opportunities for advancement.
Roadways to Growth
One constantly has the chance to work on innovative ideas at BHEL with the support and encouragement of the seniors and the enthusiasm of peers and juniors. The organisation's unique culture and open communication channels foster an environment that is welcoming and conducive to generating innovative ideas. BHEL careers for freshers are included in organisational activities to provide newer inductees with the best start and direction. To improve their skills and keep the company in front in every industry, each employee spends an average of 15 days in training each year. The personnel who joined BHEL's Executive cadre at the induction level have been able to advance to Top Management positions within the Company and hold essential roles outside.
Opportunities for Everyone Equally
All of its employees have equal access to opportunities at BHEL and jobs alert. It offers workers a place to learn and develop and a supportive workplace that values diversity, cooperation, and innovation.
Having a good Work-Life Balance
BHEL understand the significance of work-life balance and urge you to balance your personal and professional lives well.
With a goal of becoming a world-class organisation dedicated to improving stakeholder value, BHEL recruitment is on the right track to make its dreams come true and meet the country's hopes to become a global player. We want you to join us in our work and participate in our fantastic growth story.
Full-Time a Bachelor's degree in engineering or technology or a five-year integrated Master's degree or dual degree programme in engineering or technology in the fields of mechanical or electrical engineering from a recognised Indian university or institute is required.
Suppose a candidate wants to be considered for the Electrical or Mechanical Discipline at BHEL. In that case, they should only take the GATE paper in the EE or ME code, even if they have a degree in one of the other engineering fields.
Candidates must be able to show their degree or final-year grade sheets by the time of the interview or by the deadline, whichever comes first.
BHEL will also accept applications from people with engineering degrees in other fields equivalent to mechanical and electrical engineering.
For considering the next step in the hiring process for BHEL job vacancy, each candidate must meet all of the points in the list of eligibility criteria.
You will be disqualified immediately if you don't meet the eligibility requirements.
The recruitment board could take legal action against those who give false information.
Let us know how to apply for the Jobs at BHEL
Candidates can apply for the BHEL through the online application form. The candidates can look for the latest job openings and vacancies and apply for these freshers jobs. You can apply using the process listed below, which is easy to access.
Visit the official BHEL website at https://edn.bhel.com or https://careers.bhel.in for BHEL careers.
Read the instructions and details about who is eligible that are on the official website.
Fill out the form and upload the required documents in the size and format specified.
Online is the best way to pay the Application Fees.
Check all the information on the application form and then send it in.
After submitting the application form, candidates need to print the detailed application and send it to the given address along with the fees receipt to "AGM (HR), Bharat Heavy Electricals Limited, Electronics Division, P. B. No. 2606, Mysore Road, Bengaluru-560026."
Designation Offered in BHEL
Testing Engineer
The Testing Engineer in BHEL jobs Talks to the product management, project management, and development teams to get a clear picture of the project and testing goals.
Create, run, and automate solution test plans to verify how customers use the product and what it can do.
Develop and lead the automation strategy and work, and write scripts to automate testing cycles.
Run automated tests and look at the results.
Coordinate activities with test and development teams in North America as needed.
Review of FS and test plan able to host test plan reviews for features given to them and add to test strategies.
Test plans call for automation testing for system, integration, and regression testing.
Keep track of bugs/issues and update the status of defects.
Work should be prioritised based on the project timeline and quality goals.
Project Engineer
The Project Engineer in BHEL careers for freshers helps makes plans for and build tools and equipment.
Do design studies or help someone else do them.
Make sure you have reliable equipment to make sure you have medicine.
Manage the project's budget and schedule to ensure it meets its needs.
Manage and give out resources to the engineering team as needed.
Help with how equipment is used, maintained, and fixed.
Serve as a technical expert or as a leader.
Always follow safety rules and put them into practice.
Mentor junior team members and help keep an eye on them.
Take charge of the product's roadmap and initiatives and help with technical design.
Fix systemic problems by coming up with short-, medium-, and long-term fixes.
Help with setting up, maintaining, and providing general support for systems.
Help with the design of other projects and review them.
Make strategic plans to ensure that product development goes well.
Help with the planning of work tasks and budgets in BHEL jobs.
Follow local, state, and federal rules when you do work and keep it up.
Management Trainee
The Management Trainee in BHEL careers Takes care of all tasks given to them and helps with day-to-day operations.
Attending meetings, workshops, and other opportunities to learn.
By watching and learning from staff members with more experience
Getting to know the Company's rules, procedures, and policies.
Taking detailed notes and talking with Managers, Supervisors, and other senior staff.
Meeting any requirements and goals set at the beginning of the traineeship.
Following all health and safety rules and company rules.
Making documents and keeping records up to date.
Learning how to deal with conflicts and being present at disciplinary hearings.
Going to different offices and helping out with daily tasks as needed.
Design Engineer
The Design Engineer Should be very familiar with Pro/E, be able to make engineering drawings, and know the basics of engineering.
Maintain your area according to the SMP and the schedule.
At the beginning or end of a shift, talk to the Maintenance Shift engineer in the following change about how to switch shifts.
Planning and carrying out a project in BHEL company job.
Help the Manager run the design review of the mechanical work from the conceptual design stage to the detailed design stage.
You should be as good at communication.
Should be self-motivated and eager to learn, and have a good mood.
Terms and conditions of how electrical work is designed and done.
Site meetings and site inspections are done regularly with the help of consultants.
Communication with the authorities.
Counter Sales
The Counter Sales in BHEL careers should help customers at the counter with their questions and give them practical answers simultaneously.
Should ask questions and give customers the information they might need. Then, they should list the orders that customers might buy, giving them excellent service.
Must show respect and courtesy to every customer.
It should list every record on the computer, such as customer information, orders, prices, and quotes, and be able to pull it up whenever needed.
Need to keep track of what the customer orders and be positive while solving problems and ensuring the customer is happy.
You should give quotes from different sources that are appropriate.
Should also keep the product details up to date with any of the working resources.
Keep yourself up to date on the products you have and how they work.
Communicate with the customers about relevant policies and procedures that could help them.
Interview Process in BHEL
To hire BHEL Engineer Trainees with BHEL recruitment, Bharat Heavy Electricals Limited (BHEL) conducts a BHEL Engineer Trainee Selection Process. There will be two stages to the selection process for BHEL engineer trainees. An interview follows a computer-based test in the procedure. The commission has announced these open positions in various areas, including mechanical, electrical, civil, chemical, etc. Before applying for the job, all candidates must understand the BHEL Engineer Trainee Selection Process. Know how to get a job as a fresher.
To advance to the next round, candidates must receive the minimum score on the BHEL Engineer Trainee written test.
Selection Procedure for BHEL Engineer Trainees
The Computer Based Test (CBT) and Interview are the two components of the BHEL Engineer Trainee exam. The stage has a particular curriculum and exam structure. The specifics are provided below:
The BHEL Engineer Trainee Exam is a computer-based, impartial test for BHEL jobs. General Knowledge, General English, Reasoning, and Technical Knowledge are the four sections of the exam paper. To gain a position in the Organization, a candidate must qualify at this level and achieve a score over the minimal qualifying and cut-off values to earn a BHEL.
Interview
It aims to evaluate the candidate's personality and general knowledge. Typically, it takes place offline at locations selected by the board. To do well for the interview, you inculcate a few preparation tips to excel.
Training and Development in BHEL
The BHEL careers Training Program should last between four and six weeks. In the days before, you will encounter members of the assigned division. You will receive a project in the coming weeks. Training To ensure adequate maintenance of the in-service equipment, BHEL trains clients in certain facets of transportation equipment operation and maintenance. To meet the unique demands of the customer, customised training programmes are organised both in Bhopal and on the customer's premises.
The following benefits are said to be offered by Bharat Heavy Electricals, according to current and past employees. Insurance, BHEL company salary, Wellness, and Health monetary & retirement Parents & Families Benefits and Perks for Vacation and Time Off Professional Assistance.
HR rules at BHEL are accessible to its staff members in keeping with the Company's dedication to its human resources. While implementing all modern workplace practices, the Organization has ensured that all HR practices are transparent to foster two-way trust. As freshers, you can start looking for freshers jobs in Hyderabad, where you can find ample BHEL job openings in almost all sectors.