Today, Bharat Heavy Electricals Limited (BHEL) is India's largest engineering and manufacturing company. Thermal, hydro, nuclear power plants, transmission, transportation, oil & gas, and non-conventional energy are just a few of the many goods offered by BHEL. Jobs at BHEL are open for postgraduates and Engineers from any discipline with a high BHEL salary.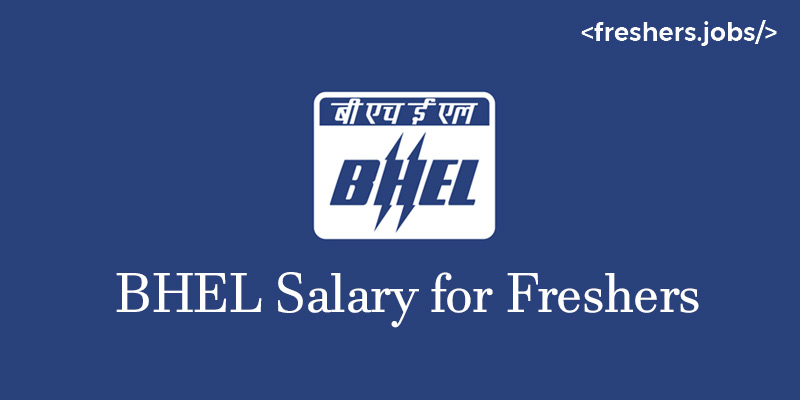 For the vital economic sectors of power, transmission, industrial, transportation, renewable energy, oil & gas, and defence, BHEL designs, engineers, manufactures, assembles, tests, commissions, and services a wide range of products, systems, and services.
For engineers in any stream and postgraduates, BHEL has openings. Administrative posts are chosen among management candidates. People with diplomas and other technical backgrounds are also selected for appropriate positions. The top national dailies and employment news would post all open positions as jobs alert.
Why choose BHEL Jobs? 
PSUs BHEL pays their employees a fair BHEL company salary and gives them several other benefits, such as housing, retirement benefits, help with travel costs, and more. If you work for an Indian PSU, your job is safe or any other government organisation.
The various sectors of engineering, finance, and human resources are all covered by the fascinating job options offered by BHEL. A professional and fulfilling experience is made possible as one advances within the organisation and is given additional responsibility and growth opportunities. As BHEL is located in top cities, one can look out for freshers jobs in Bangalore for the latest openings.
Job Vacancies in BHEL
Every year, BHEL hires many people, ranging from Engineers to managers, offering them a high BHEL salary for freshers. For Engineers in any stream and postgraduates, BHEL has openings. Administrative posts are chosen among management candidates. People with diplomas and other technical backgrounds are also selected for appropriate positions.
It offers vast job opportunities to talented candidates by hiring for various top positions. BHEL recruits many candidates yearly for multiple posts like Trainee Engineer, Management Trainee, Executive, Project Engineer, Apprentice, etc.
In the BHEL sector, there are permanent jobs, temporary jobs, and contract jobs. In different departments, there will be Group A, Group B, and Group C categories. Before applying, candidates should carefully look over the Job role, requirements, Eligibility, Pay scale, and other essential details.
Services and Products
With as many as 180 product offerings to meet the constantly expanding needs of the core sectors of the economy, BHEL is one of the biggest Engineering and manufacturing companies in India, with lots of job openings and offering a splendid BHEL job salary. They are involved in designing, engineering, construction, testing, commissioning, and servicing a wide range of products and services.
The core sectors of the economy, namely power, transmission, industrial, transportation, renewable energy, oil & gas, and defence, are served by BHEL through the design, engineering, manufacturing, building, testing, and servicing of a wide range of products, systems, and services.
Its infrastructure, which includes a network of 17 manufacturing facilities, two repair facilities, four regional offices, eight service centres, eight overseas offices, 15 regional centres, and seven joint ventures, enables it to carry out more than 150 projects at locations throughout India and abroad, creating a large number of BHEL Jobs. As freshers, you can check out the Top government careers in India to avail the best benefits.
Job Roles offered in BHEL
Engineer Trainee, Executive Trainee in Finance, Executive Trainee in HR, Architecture / Interior Design, Design Engineer, Software Developer, Counter Sales, Testing Engineer, Electrical Engineer-Utility, and Engineer Trainee are few the jobs in BHEL with high BHEL salary.
Let us discuss a few of the job roles in BHEL
Electrical Engineer Utility
The Electrical Engineer Applies electrical engineering principles with a high level of technical expertise.

Building services project planning and design techniques and methods.

Make sure to list all the quality and environmental aspects of the project.

Industrial project design and management.

Work with all agencies, clients, and consultants to ensure projects are finished on time, offering a good

BHEL company salary

.

Putting together a project cost analysis, Checking the Bill of Quantities or the Bill.
Design Engineer
The Design Engineer Should be very familiar with Pro/E, be able to make engineering drawings, and know the basics of engineering.

Maintain your area according to the SMP and the schedule.

At the beginning or end of a shift, talk to the Maintenance Shift engineer in the following change about how to switch shifts.

Planning and carrying out a project

Help the Manager run the design review of the mechanical work from the conceptual design stage to the detailed design stage.

You should be as good at communication.

Should be self-motivated and eager to learn, and have a good mood.

Terms and conditions of how electrical work is designed and done.

Site meetings and site inspections are done regularly with the help of consultants.

Communication with the authorities.
Software Developer
The Software Developer earns a high

BHEL salary

. The candidate will work for Spreadtrum India's R&D department, responsible for developing camera software.

The candidate will develop and debug the entire camera software stack, from the device driver to the HAL layer.

Analyse the underlying causes of system defects and processing problems in application software, then plan the necessary repairs.

Investigate complicated requests to see whether they may be combined with others to reduce job repetition.

Review team resolution schedules to make sure deadlines can be met

When necessary, do software performance matrix tests to ensure that new products and product enhancements are finished within the standards for quality.

The candidate will use native Linux kernel interfaces while developing in C

/

C++

.
Interview Process in BHEL
To hire BHEL Engineer Trainees with a high BHEL salary for freshers, Bharat Heavy Electricals Limited (BHEL) conducts a BHEL Engineer Trainee Selection Process. There will be two stages to the selection process for BHEL engineer trainees. An interview follows a computer-based test in the procedure. The commission has announced these open positions in various areas, including mechanical, electrical, civil, chemical, etc. Before applying for the position, all candidates must understand the BHEL Engineer Trainee Selection Process.
To advance to the next round, candidates must receive the minimum score on the BHEL Engineer Trainee written test.
Selection Procedure for BHEL Engineer Trainees
The Computer Based Test (CBT) and Interview are the two components of the BHEL Engineer Trainee exam. The stage has a particular curriculum and exam structure. The specifics are provided below:
The BHEL Engineer Trainee Exam is a computer-based, impartial test. General Knowledge, General English, Reasoning, and Technical Knowledge are the four sections of the exam paper. To gain a position in the Organization, a candidate must qualify at this level and achieve a score over the minimal qualifying and cut-off values to earn BHEL job salary.
Interview
It aims to evaluate the candidate's personality and general knowledge. Typically, it takes place offline at locations selected by the board. To do well for the interview, you inculcate a few of the preparation tips to excel in the interview.
Training and Development in BHEL
The BHEL Training Program should last between four and six weeks. In the days before, you will encounter members of the assigned division. You will receive a project in the coming weeks. Training to ensure adequate maintenance of the in-service equipment, BHEL trains clients in certain facets of transportation equipment operation and maintenance. To meet the unique demands of the customer, customised training programmes are organised both in Bhopal and on the customer's premises.
Benefits offered in BHEL
The following benefits are said to be offered by Bharat Heavy Electricals, according to current and past employees. Insurance, BHEL company salary, Wellness, and Health monetary & retirement Parents & Families Benefits and Perks for Vacation and Time Off Professional Assistance
HR rules at BHEL are accessible to its staff members in keeping with the company's dedication to its human resources. While implementing all modern workplace practices, the Organization has ensured that all HR practices are transparent to foster two-way trust. As freshers, you can start looking for freshers jobs in Hyderabad where you can find ample job openings in almost all sectors.
BHEL Freshers Salary
The BHEL salary for Electrical Engineer Utility is 2 LPA.

BHEL's salary for a Design Engineer is 2.2 LPA.

The BHEL's

freshers salary

for Software Developers is approximately 3.2 LPA.

The salary of a Counter Sales at BHEL is around 1.9 LPA.

The salary of a Testing Engineer at BHEL is about 2.5 LPA.

The BHEL salary for an Engineer Trainee is 3.5 LPA.

The salary of a fresher in Architecture / Interior Design in BHEL is 3 LPA.
Conclusion
I hope you have got an idea of the BHEL salary for freshers. The salaries are a mere estimate. Job seekers want to get freshers jobs in the Public Sector Units, which is the most excellent career option for people looking for jobs in the government sector. They want and have active working careers life. BHEL! You get the opportunity to demonstrate your abilities in a fantastic location. With the most significant salary for freshers and benefits, candidates are persuaded to use this Organization's recruitment.