Government jobs are the most searched jobs in India. The freshers most eagerly wish to get into the government sectors. There are many benefits of getting a job in the government sector, such as job stability, security, allowances, and many more. Many government jobs pay splendid freshers salaries for the employees. Here in this blog, we explain the complete list of the government jobs that pay the highest paying jobs in India for the freshers and the experienced in India.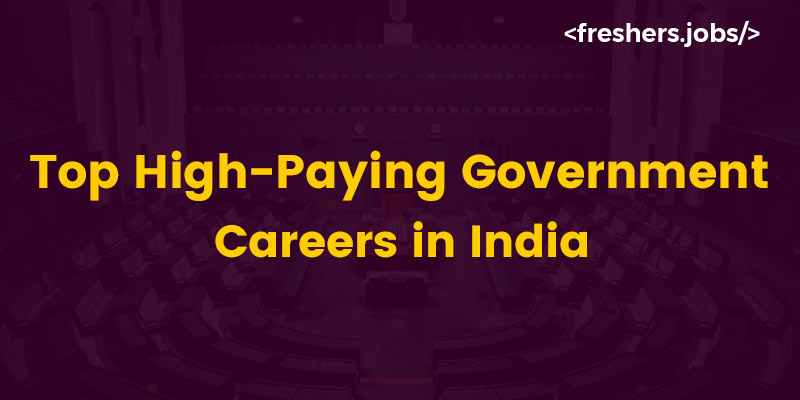 Jobs in the government sector have been admired for a long time, not only because they help people but also because they pay well. Considering the extra benefits, allowances, and appreciation, it is the best way to build a successful career in policymaking, communication, public administration, law and order, tax and revenue, engineering, statistics, and scientific fields. Most of India's best-paying government jobs are filled through competitive exams, which may have two or more stages. 
Indian Foreign Services
Suppose you want to join the Indian Foreign Services. In that case, you must appear for the civil services exam UPSC organises to select the diplomats who will represent India abroad. Among the highest-paying government jobs in India, you will be travelling worldwide as an IFS officer, where you will spend a minimum of three years in our country. Additionally, IFS Officers can enjoy free medical care and education for their families.
Indian Civil Services
The Indian Civil services exam candidates will be selected through the UPSC exams, which are supposed to be the most challenging in the country. This particular field attracts lots of applicants. Through this exam, a graduate can join one of the services associations like Indian Administrative Services(IAS), Indian Police Sevices ( IPS) and many others. 
As per the Seventh pay commission, An IAS officer gets a salary and can expect around 56,000 to 2.56 LPA depending upon the level of position and seniority, ranging from the Assistant Secretary to the Cabinet secretary of India.
Furthermore, To crack this exam, you must cover a comprehensive UPSC exam and the included Syllabus. Even more, The state Services Examinations like TNPSC, KPSC etc., which fill the state administrative job positions, government jobs India, are also highly paid with additional benefits. Keeping aside the Civil services exams, those who want to continue in the field of engineering can attend one of the toughest exams in the Country, The IAS exams.
Defence Services
A job in the defence sector is one of the most looked-after jobs for freshers. Candidates who are aspiring to join the Indian armed forces and enjoy the maximum benefits offered can always join the Indian Defence Services. These are supposed to be the highest-paying jobs in the government sector. There are plenty of jobs alert for both freshers and experienced personnel with maximum benefits and rewards. The Lieutenant of all three defence forces are paid exceptionally well and offered benefits such as free rations, housing, children's education, scholarships, allowances and maintenance and retirement pension. The base salary of a Lieutenant is approximately 68,000 per month, which shows that it's one of the highest-paying govt jobs in India. If you wish to join the defence services, you can go through the NDA preparation tips and the AFCAT preparation tips to join Indian defence services.  
Indian Forest Services
Indian Forest Services is the best job in the government sector for people who want to work in forestry. Indian Forest Officers are in charge of protecting forests and wildlife sanctuaries. They also regulate mines and forest activities and ensure they don't hurt the environment. This is because there is more attention and focus on preserving forests and wildlife. IFS is one of the most exciting and well-paid government jobs in India. It is an apt job for people who love nature and want to protect the forests from anything that could hurt them or make them unsafe. To join the Indian Forest Services, people need to do well on the IFS exam and meet all of the IFS department's eligibility requirements.
Government Banks
The public sector banking organisations are renowned for having the highest paying government jobs in India, from working as a Branch Manager or Bank PO at the State Bank of India to working as a Grade-B officer at the Reserve Bank of India. Specifically, newly hired RBI Grade B Officers make an average gross compensation of  77,208 monthly. This covers their base income of 35,150 per month, as well as their local, dearness, family, grade, and rent allowances.
Bank PO (Probationary Officer)
Each year, lakhs try to become a Bank PO, one of the highest entry-level positions in the banking industry. The benefits are enough to make people want to work in this field, whether for health care, rent, or travel. As a Bank PO, among other things, you will be in charge of managing employees, keeping track of cash flow, and handling customer complaints and questions. The first month's pay for a Bank PO is between INR 30,000 and INR 40,000, which is the highest paid government jobs in India.
Research organisations
The Indian public sector unit comprises several research groups, such as the Indian Space Research Organisation, DRDO, Council of Scientific and Industrial Research, etc., and it gives people who want to build a career in research a lot of space to grow. A senior DRDO worker can expect to make up to 81,000 per month, plus many other benefits and the chance to work with the latest tools and technology. Even jobs with nothing to do with technology, like Administrative Assistant, Stenographer, Security Assistant, and Clerk, pay well.
Associate Professor/Assistant Professor/Professor/Lecturer at State/Central Universities
If you want to work in academics, a professorship or lectureship at a government university, whether it's a central or a state university, is a good choice. It's not only one of the best ways to build a career but also one of the best-paying government highest paying jobs in India, with flexible hours and the chance to work in a university research environment. The rewards are also high for people with a PhD and years of experience working in an academic domain. As a professor at a University, you can expect to make between 37,100 and 67,00, excluding allowances.
Government Doctor
If you want a government medical job, why not become a government doctor? You can read the NEET preparation Tips and AIIMS preparation tips to become a doctor professional. This is the highest-paying government jobs in India.  You will get a pension, good pay, maternity and paternity leaves, paid time off when you need it, and vacation time, among other benefits, when you retire. In India, the average starting salary for a government doctor is around 50,000 per month. This makes it one of the best-paying government jobs in India.
IPS Officer
It is one of the most searched jobs in the government. This job is for you if you care about your country and have always wanted to help keep it safe. As an IPS Officer, you can take study leave abroad and get free rent-free housing, an official car with a driver, security guards, and household help, among other privileges and perks. We put it on our list of the best-paying government jobs in India because the average starting salary is 50,000 per month.
Submarine Engineer Officer (Indian Navy)
One of the most exciting jobs is to join the "Submarine Arm" of the Indian Navy. You will have the chance to explore and go to places no one has been to before. You can attend college at well-known schools in India, like IIT or NIT, or even abroad. It's on our list of government jobs in India that pay the most after you graduate from college. The average starting salary is between 35,000 and 40,000.
The Indian Railway Personnel Service
If you like trains and are passionate about them, why not become an IRPS officer? Indian Railways is one of the largest sectors that cover the entire country, with the mode of land transport providing enormous job opportunities. You will be able to hire people, train them, promote them, and even move them down. You can also monitor the well-being of almost 1.4 million employees. The benefits package includes a place to live, money to pay for travel, medical care, and a pension. A Deputy Chief Personnel Officer's average salary is between 37,400 and 67,000.
Conclusion
I hope you have got the blog Top highest paying government jobs. These government jobs not only come with many benefits and perks but also pay well and are safe. Many government jobs pay well for freshers jobs, such as the Indian Forest Service, RBI Grade-B, Defense Services, and PSU. Scientists who work for ISRO and DRDO can make up to Rs.60,000 per month. There are many well-known highest paying jobs in India, such as IAS, IPS, Defense Services, and PSUs.
Many students also want to know which government exams are easier to pass and how much they get paid. You can always go through the preparation tips to excel in competitive exams. A career with the government is better than a private job because it gives you job security, social prestige, and some power.