Everyone who says, "I want to enter the Military as an officer," immediately thinks of NDA. It is a well-known exam in our nation that contains a lot of expectations. Today, we'll discuss and learn more about the NDA exam and how to prepare for it.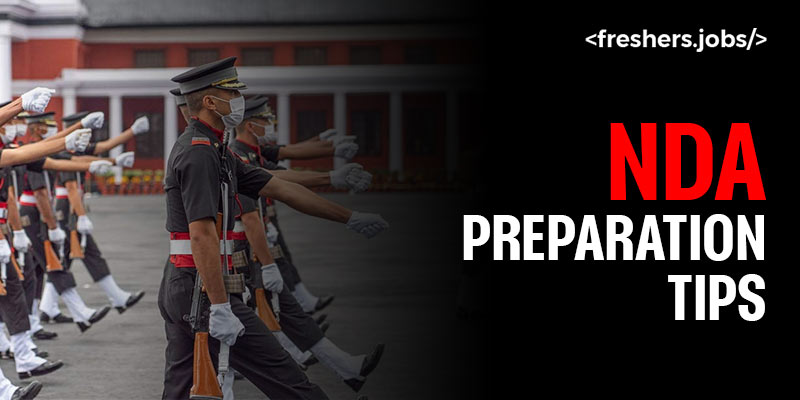 About NDA
The Union Public Service Commission (UPSC) is responsible for the NDA exam. NDA is a vital examination among the candidates who want to join the Defence Forces of India under the government jobs sector. It is the way for the candidates who aspire to join the Indian Air Force, the Indian Army, and the Indian Navy. The NDA exam is never the easier. Requires enough preparation and hard work. For preparation for NDA Exam, the candidates must have a more brilliant study plan or preparation strategy, which is very effective for them to get through the NDA Exam.
NDA is a good choice for Candidates
The National Defence Academy, or NDA, is a tremendous

freshers jobs

opportunity for applicants who desire to become officers in the Indian Armed Forces. 

It permits enthusiastic and young candidates to enlist in the Indian Army, Air Force, or Navy and render dedicated and honourable service to our nation's government. 

If you have completed 12th grade and are looking for an exciting and illustrious career option, the Indian Armed Forces are beckoning. 

Candidates can choose from a variety of jobs after finishing high school. 

The candidates can find lots of benefits from choosing the Indian Defence forces. 
Before applying for NDA and joining NDA, candidates must qualify for the NDA written Exam. You must become prepared for the eligibility requirements before applying for the NDA Exam.
Eligibility Requirements 
Age restriction
Applicants must be between the ages of 16 and 19.
Qualification
To join the Indian Army, candidates should be cleared in 12th or equivalent 10+2 certification from recognized boards. 

Candidates must have passed Physics and Mathematics in order to join the Indian Air Force and Navy. 
I assume you are familiar with the NDA exams' requirements for eligibility, age restrictions, etc. The NDA exam preparation advice and how to crack NDA in first attempt is included in the section below. 
How to Study for the NDA Examination
Preparing for the UPSC NDA Exam must have complete attention and dedication to the Exam's pattern and Syllabus, which is necessary for the NDA Exam.

All of the subjects listed in the syllable must be covered by the candidates.

Some tips can be used to achieve the target in a brief span that is useful to cover the most vital issues that are often asked in the Exam.
This article will brief you on the most critical UPSC NDA preparation tips that will always help you prepare for the NDA Exam. These tips are designed as per the guidance and based on the instructions from the UPSC. The following are the tips 
Tip 1: You must be familiar with the NDA Exam Pattern
According to the NDA Exam format, two procedures are used to make the selection: an SSB interview and a written test.
The written Exam has a pattern of multiple-choice questions consisting of Mathematics and General Aptitude.

The Personality and Intelligence test is administered by the SSB Board. 
Now that you know how the selection process works. Let us examine the NDA Exam schedule and the preparation of NDA exam. The pattern and the marks are different for different competitive examinations. 
Pattern and Time
The pattern and the marks are different for different competitive examinations.

The NDA Written exam is for 900 Marks, the same as the SSB Exam. 

Under the section of Written Exam, the questions will be included from Mathematics and General Aptitude having a total of 300 mins time with equally divided into 150 minutes each. 

The weightage of marks for General Aptitude will be more than Mathematics.
SSB Interview
The candidates need to keep in mind the

preparation of NDA

SSB interview.

SSB Round consists of screening, psychological, group, personal interviews, and conferences. 

This particular round happens for four days, having a weightage of marks of 900. 
Tip 2: Know the Essential topics of NDA
Once you are familiar with the exam pattern, the next tip to keep in mind is how to cover the essential topics of NDA, which are mentioned in the NDA UPSC Syllabus and the very frequently asked questions in the examination. 

The Syllabus covers maximum portions and will be very useful for the candidates to prepare these topics first and then move to the further ones. 
Tip 3: To know the subject-wise preparation 
We hope that you have a better understanding of the Exam's structure and subject matter. 

The courses are board-level and cannot be completed in a single day without thorough planning and consideration of the strategy that should be taken for each subject.

We are providing you with

NDA preparation tips and

recommendations to help you get ready for the Exam's Mathematics and general ability sections.
NDA Preparation Tips for Mathematics
To revise the class 10,11,12th Mathematics syllabus.

Have a prepared sheet with all mathematical formulas, which is always handy with you.

Always make up your mind to work out the previous year's papers and try those questions.

Make sure to prepare some sample papers and a series of tests very often to get accurate answers.

Try to solve the maximum number of mathematical problems to increase your speed in solving the issues.

A single problem can be solved in a variety of ways in the universal discipline of mathematics.

Try to get the shortest method to solve the problem and get an accurate answer because of the time constraint.
NDA Preparation Tips for General Ability Test
Here are some of the tips on how to prepare for NDA exam and preparation of the general ability.
Prepare for the complete NCERT Textbooks from grade 6 to class 10th of Science and Social.

In classes 11 and 12, the candidates must do well in physics, chemistry, and biology.

The candidates must be very well through on current affairs and recent topics as questions may arise from this area too.

This can be achieved if you are a regular reader of the Newspaper or referring to some of the books for UPSC NDA.

You must be accurate in the solution which you have achieved. 
Tip 4: Set a structured timetable
Always plan as per your ability and potential. 

You can decide how many hours you can dedicate in a day to your preparation and how much time you can spend on every subject every day.

Always make short plans and

preparation of NDA

, so they quickly work out as per your prepared timetable.
Tip 5: Prepare notes
The equations and formulas are essential for

preparing of NDA exams

, so always make notes of formulas, equations, and current affairs. 

Having all of these handy will be helpful during the last preparation for the NDA Exam. `

When preparing the notes for current affairs, make sure you mention them in order, relevance and points so that you will be able to understand.

Review these notes periodically to make sure you don't forget anything you've read in the past.
Tip 6: Practice with previous year's papers and mock tests
Solving the previous year's papers can help you crack the NDA Exam. 

This will also help you know the exam pattern better and the exam level, whether it is easy, medium, or challenging.

Try to solve as many question papers as possible, as it will help you know where you are lagging and can analyze which area you need to concentrate more, which requires extra effort, and also manage your time effectively.
Tip 7: Revise regularly
Don't presume that you will only revise once at the end. 

Make sure you revise each week to stay current on older chapters and ensure that nothing takes you off unprepared.

Plan out your preparation long enough in advance to allow for plenty of revising time. 

Review all the courses and subjects from the previous weeks to ensure you remember everything as a course of

preparation on NDA.
Tip 8: Time Management Tips for the NDA Exam 
Set daily and weekly goals for your time.

Candidates should start studying far before the exam date to fulfill their Syllabus on time.

While practicing, students should set a timer for themselves to finish the question which is a very important

preparation of NDA exam

.

Take small breaks after finishing a subject to avoid becoming bored.

Make time for regular exercise, meditation, and yoga to maintain a healthy body and enjoy a good night's sleep.

Every Exam strongly focuses on time management, so students must learn to use their allotted time more effectively.
Tip 9: Know the Exact books to refer to for NDA Exam
The best books for NDA Preparation are very important for candidates to get off easily with the exam. 

These books will act as a hub for everyone to complete the topics efficiently. 

The information will be reliable and understandable, so you'll be able to respond with accuracy in exams.
Tip 10: NDA Medical Fitness
If a candidate is not physically and medically fit, they cannot be chosen for the Indian Army, Navy, or Air Force.

To pass the physical and medical exams, applicants should maintain their physical and mental well-being through exercise and actively studying for the tests.
How to prepare for the GAT section of the NDA 2022?
Study the Class XI and XII NCERT Books as you study for the

preparation of NDA

to get your basic understanding of biology, chemistry, and physics explained.

There aren't any challenging concepts in history, civics, or economics that you need to memorize.

Because the GAT covers most of the NDA test, you cannot ignore any part of this segment.

Pay close attention to every topic under each heading in the GAT section's Syllabus.

Review the English grammatical rules in this area to refresh your knowledge.
NDA SSB Preparation Tips
Once you have gone through how to crack NDA in first attempt tips for the written Exam, we believe that you will be able to clear the NDA Exam with flying colors. The SSB is a critical decision component, and the following are some important considerations for each stage.
Review the UPSC NDA sample questions before the test, most importantly.

Because the SSB interview will include a personality and cognitive test, get mentally and physically ready.

At several SSB stages, the candidate will be expected to participate in interviews individually and in groups.

Tasks are assigned to assess a candidate's ideas.

One needs to prepare to answer the questions intelligently and confidently.

If you thoroughly understand the various daily activities and current events scenarios, it would be simpler to develop a better comprehension and objective perspectives.
Have a proper healthy diet
Aspirants must have an extreme mental attitude to succeed in any competitive examination.

To maintain good physical and mental health, candidates need to eat healthfully.

Eating meals rich in iron and fibre will help you boost your brain performance by giving your body the nutrition it needs.
Proper Exercising
Exercise is a great way to reduce stress and strengthen your body. 

Playing indoor and outdoor games, going on walks, swimming, and engaging in other activities could help the prospects relax.

This will help you feel more comfortable and confident when inculcating

tips to crack NDA

exams and help you stay motivated, happy, and successful throughout your life.
Have the right confidence and Attitude
For every undertaking you start, Attitude is essential.

Your Attitude can significantly impact when preparing for the NDA or when taking other competitive exams.

An optimistic viewpoint can boost your self-assurance in general and prevent you from wishing to minimize yourself.

If you have a negative attitude, it will bring down your confidence and cause you to think you can't do the job.

Many problems will arise if you have a negative mindset.

As soon as you start to think positively, you can feel and display creativity. 

You'll be more receptive to innovative theories and concepts if you're in the right frame of mind.
NDA Exam Last Minute Tips
In your final days, don't try to fix the great difficulties. 

Work on example questions and exam papers from prior years to practice.

To keep your mind active and bright, consume a healthy diet and obtain at least 8 hours of sleep each night.

Read over the quick notes you made while

preparation of NDA exam.

To help you avoid any delays, arrive at the exam locations the day before the Exam with the required documentation.

You should be aware that the NDA Exam involves a negative marking system. 

Utilize your exam time wisely. 

Spend less time trying to predict the results and begin with the more straightforward possibilities.
You may be sure that the article will assist you in achieving your objective for the UPSC NDA Exam, and with that, you now know how to prepare for the Exam. Have you excelled in the NDA exam? Then, you can look out for the jobs alert on this page. The entire interview process comes to an end at this point. All you need is a better book or a coaching session where you can better prepare for the interview if you want to ace the NDA SSB interview. Enhance all facets of your preparation for NDA. All striving people should put in a lot of effort and never give up on achieving your goals to become an Indian Warrior.