Indian Engineering Services is the full form of IES. ESE is the IES (Engineering Services Examination) exam's name. If you want to work as a government engineer, you must take this exam. After you pass the exam and interview, the government department puts you to work as a Class 1 Officer. The department sends engineers to government organisations like defence, railways, telecommunications, electricity, and hydro. The allocation happens based on the engineer's stream, and the work is assigned accordingly. With the right IES preparation, you can excel in the exam.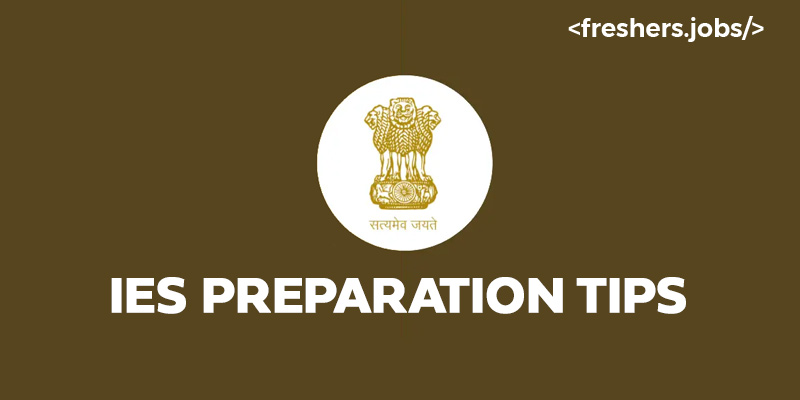 The exam is conducted once a year by the Union Public Service Commission. The exam is split into two parts: the preliminary and the main exams. Those who do well on both exams are selected for the interview. In the following sections, you can know who can take up the IES exam and the preparation tips for IES Exams.
Eligibility criteria for IES Exam
You need to have a

B.E

 or a B.Tech from a well-known university, and you should have passed all of your exams. 

You can also take the IES Exam in the final year of your course.

You need a degree in electronics and telecommunications, electrical engineering, mechanical engineering, civil engineering, etc.

These are the high-level educational requirements for taking the IES exam.

You can find out more on the

IES exam preparation

Notification. 
Here we shall see some of the preparation tips for the IES Exam.
Before you prepare for the IES exam, it is essential to know and make an adequately structured study plan and implement strategies to clear off and excel in the IES exams. Here are a few of the preparation tips to crack the IES exam.
Always pay attention to technical subjects.
How to crack IES exam

? To excel and clear off the IES exam, starting your preparation very soon is essential. 

It is necessary to start preparing for engineering services while you are pursuing your graduation. 

It will help you to learn every subject in detail, and you can easily cover most of the topics in your graduation days. 

Always remember to complete all topics and try to brush through and cover up most of the topics. 

Every subject's basic understanding and foundation are fundamental and help your preparation process.
Start Early Preparation
It is quite probable that an essential aspect of getting through for IES mains is to prepare and start your preparation at the earliest. 

Most students who are passionate about entering the engineering jobs field start their preparation at the earliest with the best

IES preparation strategy

.

However, if you are stringent about joining the best government organisations, there is always time to start. 

You can start your preparation at the earliest so that you can complete the preparation by finishing the syllabus on time and getting enough time for revising and practising at the end. 

Before starting, it is good to grasp and build a picture of how it works. As the questions asked are very complicated and twisted, preparing the right

IES preparation tips

can develop and set you on the right path towards success.
Follow a strict Routine
Create a study schedule and always make sure you strictly follow it. To follow strictly, you will need preparation, consistency and dedication. The IES exam syllabus is vast, and the examination is tough to clear off, so it is vital to follow a schedule and actively follow it. Here are some tips to be aware of and keep in mind as a part of preparation tips for IES mains.
You can cut big short topics into smaller topics and can dedicate time to each topic. 

You can set a daily study target and make up your mind to achieve it by the end of the day. 

You can simultaneously prepare for technical subjects to stay energised.

You can take breaks between preparation times to refresh your mind and boost yourself for the

best way to prepare for IES

.

You can make time for the essential activities that happen in your daily routine.
Revise your syllabus
Revising is the primary and vital path to success in any competitive exam.

Revision must be a part of your daily schedule and preparation plan. 

Take your revision time to the nth moment or last minute.

You can always try to revise what you have learned every day. 

I strongly recommend students have a strong

IES preparation

or notes written down in the notepad to avoid last-minute confusion and tension during the IES exams or any competitive exams. 

For more accessible purposes, you can figure out flashcards, flowcharts, diagrams etc.
Practise mock exams
There is only one-stop result once unless you keep up your mind for practising mock exams. 

Spend time practising as many mock exams as possible before the IES exams. 

Mock exams can help you analyse your preparation level and develop confidence and problem-solving skills. Know

how to develop your problem-solving skills

. 

Students can pretend to take the mock exams as actual exams by setting up the time and starting with it. 

Once you have completed your mock exams, check out the mistakes you have committed and try to correct them at that moment. 

Practising mock exams will let you formulate effective exam day plans.
Solve previous year's question papers
IES question papers are the most valuable sources for candidates to prepare as

IES preparation

for the Mains exams.

Solving and working out previous year's question papers will help you know the question paper pattern, the question types, the marks weightage, the repeated questions, and so on.

You can confirm on the question paper whether it is difficult, easy or medium level.

Solving the previous year's paper can also boost your confidence level, strengths, weakness and time management which is very important.
Learn Online
Nowadays, getting information through the internet is quite simple.

You can use your computer or phone to access several websites that offer structured educational content and study materials.

You can get chapter-by-chapter PDFs of all subjects, preparation suggestions, live and recorded video teaching sessions, etc.

These will assist you in improving your knowledge and achieving a higher exam result. 
IES Main Preparation Tips: Important Books
Everyone who wants to get into IES Main should look at important books because they cover everything.

Use other sources to learn about related topics.

Some books with

 IES exam preparation

also cover different subjects.

These books will have practice problems at the end of each chapter and thoroughly explain each idea, making it easier to prepare for the IES Main exams.

A candidate can work on important topics with the help of reference books. 
Positive Attitude
You should maintain a cheerful attitude at all times.

Believe in yourself.

Always keep the big picture in mind.

Additionally, you can read motivating books and display inspirational posters in your space.

Don't lose hope.

Eating healthily and exercising daily can help you relax.

Don't waste time watching TV or surfing the internet.

Be optimistic and begin working in the right way.

Learning the fundamentals and sticking to the proper approach is critical for passing the IES Main exams.

Make your unique plan using the guidelines mentioned above.

You will enter your dream job if you follow your plan in a structured way.
Conclusion 
I hope we have covered practically all the crucial IES preparation. To adequately study for the IES or any competitive exams, candidates must use freshers jobs. Candidates who maintain a good mindset and follow the planned schedule will likely score well on the IES exam. Candidates can thrive and get into dream government organisations and emerge with flying colours.