The Indian Air Force (IAF) conducts the AFCAT written exam twice yearly to choose officers for most departments except the medical and dental departments. After the written AFCAT, candidates are interviewed by the Air Force Selection Board. You can jumpstart and prepare your mind for the preparation for afcat and join the Defence Forces as Officer in the Indian Airforce Force.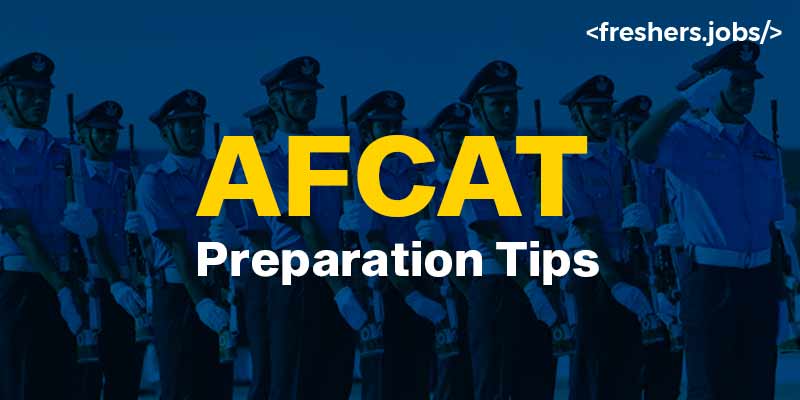 What choices do I have through AFCAT?
You can apply for three main units of IAF through AFCAT: the Flying Branch, the Technical Branch, and the Ground Duty Branch. Different branches have different rules about who can join. Both men and women can work in all three fields. In all three units, women can only get a short-term commission, but men can get both a permanent and a short-term commission. But AFCAT only lets you sign up for the Short-Service Commission for the Flying Branch. So, you can join the Air Force Academy if you pass the written AFCAT test and then the AFSB.
Let us see some of the Preparation Tips to be implemented to study for AFCAT.
Examine the Most Recent AFCAT Exam Pattern
Before beginning the

preparation for afcat exam

, candidates should review the AFCAT exam's comprehensive exam pattern and syllabus.

Candidates should know that the AFCAT selection procedure includes an online exam/EKT for the Technical Branch, an AFSB interview, and a physical fitness test.

The AFCAT exam and the Engineering Knowledge Test (EKT) is administered online and comprised entirely of objective-type questions.

Candidates should know that the EKT exam will only be given to candidates from a technical background.

Every question asked in AFCAT and EKT exams will be awarded three points, with a negative marking. 
 Physical and Medical Fitness
The final choice of candidates will be based on the number of open positions, their eligibility, the merit-cum-preference system, and their medical fitness.

Candidates should keep their bodies, and minds fit well because they can't join the Indian Air Force if they aren't physically and mentally fit.

The candidates are advised to perform physical exercises to clear the physical and medical tests at the Air Force Selection Board (AFSB).  

This is one of the

afcat preparation strategy

.

Candidates should keep their weight in line with their height according to the rules in charge of the Exam.

If you need to build up your stamina for the running part of the test, walk or jog before you run.

Start working out a few weeks or even a few months before you have to take the fitness test.

You will be told to make a good plan for studying and getting fit. This plan should include both studying and physical activities.

The candidates will be able to pass the AFCAT exam if they manage their time well and pay attention to all of the above essential points.
Start getting ready early and make a study plan
To know

how to crack afcat

, candidates should start studying as soon as possible.

The candidates should ensure they have enough time to go over each subject and topic in depth and have enough time left for revision.

Candidates should follow a clear study plan to do well on all parts of the AFCAT Exam and learn everything they need to know.

Candidates should make it a habit to read every day. This will help them as they study for the AFCAT Exam.

The candidates are told to read daily and keep up with it if they want to learn more. They should also practise the previous year's papers and mock tests.

The candidates should often practise helping them get better at managing their time and get a high score on the Exam.
Do practise tests and tests from the past year
Solving Mock Tests and test papers from the past will help you as

afcat preparation tips

. 

This may not help you to know the types of questions better, but it will also give you ideas for how to answer them right away. 

Remember that practice makes perfect, so keep doing the practice tests so that the final exam will be easy.
Revision
Revision is the most important thing to do if you want to pass an exam. The daily review will help you remember everything you have learned and make it easy for you to pass the test. 

As candidates study daily, they should write down small notes about essential topics. 

You should keep these notes nearby so you can look at them when you need to. 

Also, once the syllabus is done, you should do one last review and give tests on it before the exam. 

This will help you figure out how well you are ready for the test.
How to Prepare for the AFCAT Subject Wise
Candidates can pass the AFCAT with the right books, a good study plan, and plenty of time to study are tips for afcat exam. Here are some tips that candidates can use for each subject to clear this Government jobs exam.
How to Get Ready for English
Start writing down the new words and practising them by learning how to spell them and what they mean, as well as their synonyms and antonyms. This will help you build your vocabulary. You can always spend around one to two hours a week learning and revising on the weekends.

Make a habit of reading newspapers or magazines, and you will improve your vocabulary by reading

Effective Ways To Enhance Verbal Communication,

and staying up to date on what's happening worldwide.

For the AFCAT online test, it's essential to know about things like antonyms and synonyms, fill in the blanks, error detection, tenses, and basic grammar.
Tips for Studying General Knowledge
To get general knowledge, Newspapers and magazines are great places to learn about local, regional, national, and international news and politics, sports, fashion, food, and many other topics.

Audiobooks and newscasts are also good ways to learn about general topics and take less time than reading a newspaper.

You can always browse on Search engines like Google, Yahoo, and Bing can find the answer to any question in seconds. Use these websites to learn about the latest news, trends, and exciting topics.
Tips for Preparing Your Mathematical Skills
For the numerical ability section

preparation for afcat

, practise and revise time and work, simple and compound interest, profit and loss, percentages, series completion, Venn diagrams, odd figures, etc.

Learn how the formulas work, and you'll be able to determine the problem's answer.

To remember the formulas, write them on sticky notes and stick them around the room or on the study table. You can look at the formulas whenever you pass by.
Tips for Preparing for the Reasoning and Military Aptitude Tests
The essential parts of the reasoning section are "the odd one out," Venn diagrams, classification, pattern completion, blood relations, missing figures, embedded figures, sequencing, etc.

Practice the 3D and 2D figure questions to learn more about the Spatial ability test. Your ability to imagine will be vital.

Solve as much as you can of the paper from the year before. This will help you understand what kinds of questions are asked. It will also help you get better as

preparation for afcat exam

.
How to Prepare for the AFCAT EKT
The AFCT EKT exam is only for those who want to join the freshers jobs in the technical branch. EKT will be held for those who have applied for the Ground Duty Technical Branch (Engineering Knowledge Test). Some topics often covered in AFCAT EKT are engineering math, engineering drawing, and physics. For EKT, the only way to study for the AFCAT would be to revise the basics of engineering. Every day, go over the topics and review what you've learned. Also, practising with previous AFCAT tests will help you prepare.
The best books to study for the AFCAT
To prepare for the AFCAT exam, you must read some of the best books on each subject. By learning and practising the possible questions in the books, you would be capable of preparing smartly for the Exam.
Conclusion
You can be sure that this article will help you reach your goal on the AFCAT Exam. Now that you know preparation for afcat, you are ready to take it. Did you do well on the AFCAT exam? Then, you can keep an eye on this page for the jobs alert. If you want to do well on the AFCAT, you need a better book or a coaching session to help you better prepare for the interview. Improve your preparation for the AFCAT in every way to become an Indian Warrior. People who want to get where they want to go should work hard and never give up.