AIIMS (All India Institute of Medical Sciences) is one of the best medical institutions in the country. It is a group of public medical colleges set up by an act of Parliament in 1956 and is supported by the Ministry of Health and Welfare, Government of India. It gives out medical degrees and other academic honours recognised as medical qualifications under the Indian Medical Council Act. If the students work hard, they can easily crack the competitive exams with the correct techniques and approach, which is one of your main aim on how to crack AIIMS.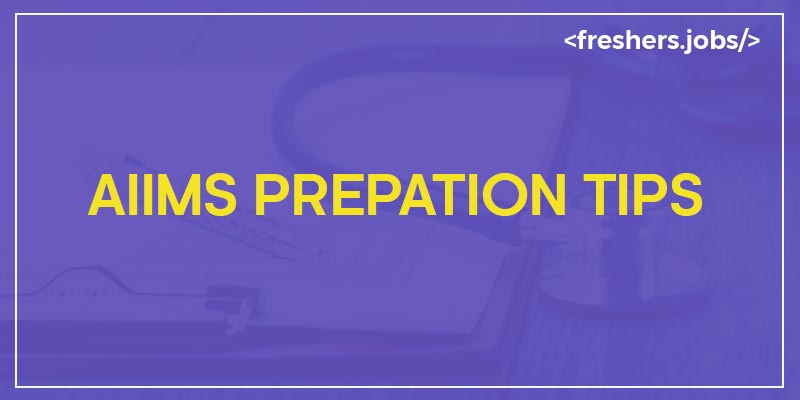 About AIIMS exams
The AIIMS, in Delhi, is in charge of conducting the AIIMS national entrance exam. It lets people into MBBS programmes at AIIMS-affiliated colleges all over the country.
Experts say that after the National Eligibility cum Entrance Test, AIIMS is one of the most basic tests for getting into Medical colleges (AIIMS). While AIIMS decides who gets into MBBS, BDS, and AYUSH programmes, AIIMS New Delhi has its own UG exam for only MBBS programmes in colleges affiliated with AIIMS and gets jobs alert for the post of doctor. Having said this, it is not easy to prepare for this examination. All the students who score an average of 60% in their 12th grade in the stream of – Biology, Chemistry and Physics are eligible to take up the AIIMS examinations.
Students must be well prepared to get through this most challenging medical examination. The AIIMS preparation plays a vital role in every student's life. This is a guide for all the AIIMS aspirants on how to crack this examination.
To get through AIIMS Exams, here are some preparation tips for students to learn better and score in the examination.
Get to know the AIIMS Syllabus
The first strategy to crack AIIMS is that applicants should learn the complete information regarding the official AIIMS Syllabus. 

They can compare and check the AIIMS prospectus with their schedule for board exams. 

It's advantageous because candidates need not spend time on common topics. Instead, they can spend time on new concepts. 

This can allow you more time to prepare for courses that are not included in the schedule. 
Essential to have a Good Study Material resource
The most critical aspect of

AIIMS exam preparation

has excellent study material. 

It is vital to prepare for the examination by following the correct AIIMS material sources. 

Candidates can seek advice from AIIMS trainers or read their interviews to see which books were mentioned. 

By following the AIIMS toppers interview, candidates can learn about AIIMS ideas, procedures, and AIIMS preparation strategies.
Create a Study Timetable
A scheduled timetable might make it easier for you to plan and maintain your study habit. 

A well-thought-out strategy can allow you to focus on their weaker areas while allocating time for the AIIMS mock test and evaluation. 

A candidate's AIIMS planning will instil a sense of reality and discipline. 
To practise the previous year's papers
The time constraint is probably the greatest challenge for any competitive exam. This is one of the best ways

how to crack AIIMS exam,

which requires a lot of practice. 

Within a three-hour time limit, candidates must complete 180 questions. 

This means they can only commit one minute to each question. As a result, time management skills are essential for the AIIMS Exam.

Candidates could practice AIIMS exam papers and previous years question papers to improve their accuracy and speed. 

Answering question papers will also give students an idea of the question paper pattern, the difficulty level of questions, and section-by-section mark weightage. 

They can also use mock papers to examine their weak and strong areas.
Preparing Notes is the Best Idea
The best way for any candidate to improve is the

AIIMS preparation strategy

and remembering what they have prepared by writing notes or by preparing notes while they are studying. 

The candidates can make points or note all the topics in a notepad or by writing down the essential points in the diary, which will be a helpful revision, and all these essential points will be at your fingertips. 

Make sure that you note down the facts clearly and precisely so that it is understandable for you during the examination time and thus avoid confusion.
Concentration on the core subjects or sections
A candidate can be very good at one topic and weak at another.

Candidates should avoid becoming depressed as a result of it. Make a mind to work harder on the weaker sections to improve those aspects. 

You can always seek help from your teachers or friends if you find any topic difficult. 

For better AIIMS preparation, you can always solve the old question papers to check for your weaker areas and spend time on those weaker sections. 

By teaching this technique, you can overcome the weaker sections and boost your confidence.
Usage of Codes
The candidates can always make use of specific techniques to remember some of the essential data or information. 

Analogies are essential

AIIMS preparation tips

that are the comparison method to get the concept clear, which can be adapted that helps you to remember the images better and retain the information by comparing it with the already existing information. 

The important sections of the periodic table in Chemistry can also be remembered using the Mnemonics technique.
Take breaks regularly
The candidates should never rush while preparing for the AIIMS examination.

The candidates can never grasp the more challenging concepts when they rush up on the subjects. 

The candidates can easily relax for themselves by solving some of the challenges like crosswords and puzzles. Implementing such ideas can master your brain and quickly look for solutions.

 This is one of the most valuable techniques and does most of the hard work to ease the preparation for candidates. 

The candidates can plan well, take breaks between study time, and know

how to crack AIIMS

.
Regularise on Revision
If you have studied any subject or mastered any topic. 

Do not leave it as it is Because studying once cannot be registered in your mind, and you will need to revise the concepts frequently. 

Always make a habit of early morning revision of topics you have prepared the previous day.

The formulas of Chemistry and Physics seem very confusing and tedious for most of us. 

So make sure you write and practice so that you remember them. Memorise them always for better remembrance. 

Concentrate on the weaker areas so that it will benefit you and the best way to prepare for AIIMS

. 
Proper Exercising
Exercising can always help you relax your body and release stress. The candidates can reduce stress by playing outdoor games, indoor games, walking, swimming, etc. 

This will help you feel relaxed in every way and make you confident in facing the

AIIMS preparation

exams, and you can always be happier and more productive and motivated.

Implementing Yoga sessions and meditations can also be a long way stress-releasing method. 

It helps you with concentration. 
Do Regular Mock Tests
The candidates appearing for AIIMS Exams must keep in mind this

AIIMS preparation

strategy. 

The AIIMS exam will be held for three hours. 

This means that you have one minute to answer each question. Candidates must keep track of their time in this section. 

It is important for every candidate to complete the questions within the time limit. 

So you can keep the time limit for every question in mind, and practising the question papers having a time limit is the best solution to keep time management.
Have a positive Mindset
For any work you start on, Attitude matters. 

Your attitude can be essential in the

AIIMS exam preparation

process or in any competitive exams. 

A positive attitude can boost your overall confidence, and you will never feel like going down for yourself. 

If you possess a negative attitude, that will, in turn, bring your confidence down, and you will also feel that you can't do it. 

A negative mindset will lead to lots of complications. 

The moment you start thinking positively, you can feel and show creativity. The right mindset will make you open to newer concepts and innovative ideas.
Conclusion
I hope we have covered almost all points on how to crack AIIMS. Candidates feel free to tap into freshers jobs to prepare well for the AIIMS exams. Candidates who maintain a positive attitude and execute the scheduled timetable can get more marks in the AIIMS examination. Candidates can come out with flying colours and excel in the Medical field as Doctors, Dentists. A most prestigious and dreamt field!!!