The State Bank of India conducts SBI PO Exams every year to select the best eligible candidates from a large pool of aspirants for the post of Probationary Officer. SBI PO Exams are one of the most famous exams that are conducted in the country for candidates to enter the banking sector, which is considered to be the most prestigious job.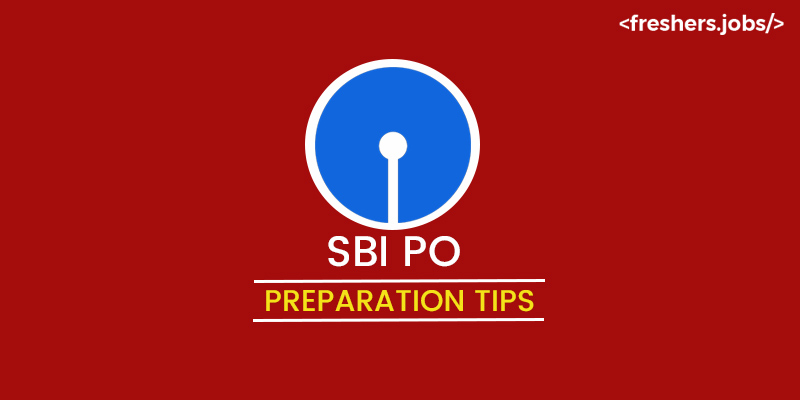 From this blog, the candidates must be beneficial in getting the best SBI PO preparation strategy to prepare well for the exams, clear it with a top score, and land into a dream bank, the State Bank of India.
State Bank of India (SBI) Probationary officer is the examination conducted by the government of India and is mainly conducted to recruit Probationary Officers. The candidates aspiring to take up the exams must get to know the SBI PO Exam syllabus, the eligibility criteria, the cut-off and most importantly, the preparation tips and strategies. The tips or strategies mentioned here are most useful for not only clearing the SBI PO Exams but it is helpful for all other bank exams too.
Phases of SBI PO Exam
The SBI Exams consist of,
Phase 1 is the preliminary exam.

Phase 2, the main exams. 

The candidate who has cleared will be further sent to Phase 3, which has the group discussion round and the personal interview round, which is the final round.
We shall discuss the preparation tips and strategies to crack SBI PO Exams.
Proper Planning
To plan and prepare the timetable is one of the most important tasks you must follow before you start up for anything you do or any examination you take, say your academic exams or any competitive exams. 

Initially, for

preparation strategy for SBI PO

you can put up a rough sketch of your plan for the timetable and prepare a structured plan for the timetable according to your convenience. 

The structured timetable must be planned to have more priorities for the different sections to be prepared for the SBI PO Exams. 

You can prepare the timetable by giving more dedicated hours for the weaker sections. 

So planning and preparing are very important before starting out as this is the most important factor because, without planning and preparing, we cannot achieve anything.
Study material
The study material you are preparing must be easily accessible to visualise and understand the concepts. 

If you want good study material, you can always look for the best resources, study materials and

preparation tips

for various competitive examinations. 

You can always go through the study materials, old question papers, sample papers etc., as

tips to crack SBI PO

.

Doing so can improve the time factor, the idea of the questions, and the question paper pattern.
Practise & Practise
As there is a saying that practice makes a man perfect. 

The conceptual meaning is that as we work on any concept or say anything, it is vital to put in lots of effort and hard work to know about the concept and repeat it several times. 

It will automatically fetch you to know more about it. 

It is the same case when you prepare the

strategy to crack SBI PO 

or any

for the competitive exams. 

Make a habit of practising every concept you study daily. 

You can include practice sessions while preparing the timetable. 

In SBI PO exams, the main subjects are Mathematics. 

Math needs more and more practice as there are more and more problems to solve.  

Take out more mock papers, worksheets, and old question papers and solve as many problems as possible. 

While working out, if you find any questions tedious, you can practise more on those questions. 
The best thing to do is to take notes
The best way for a candidate to improve at the

SBI PO preparation strategy

and remember what they have studied is to write notes or make notes while studying.

The candidates can make points, write down all the points in a notepad, or write down the important points in a diary. 

This will be a good way to study, and all of the important points will be close at hand.

Make sure you write down the points clearly so that you can understand them during the test and avoid getting confused.
How to Use Codes
The candidates can always use certain methods to help them remember some of the important facts or data.

Analogies are an important

preparation strategy for SBI PO

that help you understand a concept by comparing it to something else. 

This helps you remember the concepts and keep the information by comparing it to something you already know.
Read the news
Reading newspapers is an important part of SBI PO preparation that is often overlooked.

Candidates must read the paper often and pay special attention to the economic and business sections as they study for the test.

When taking the exam and completing the General Knowledge section, this makes a big difference.
Concentrate on each section
The PO exam has two parts covering many of the SBI  syllabus.

Each part of the exam has the same format, so candidates should focus on one part at a time.

SBI PO preparation strategy

  Prelims will help you learn what to know for the SBI  Mains.

Then, studying for the SBI PO Mains exam could be based on the different subjects on the SBI PO syllabus.
Accuracy and time management:
The most important aspect of working on when preparing for competitive exams are accuracy and time management. 

Most candidates may be good at solving the questions in the stipulated time but not with perfect accuracy. 

Time management and accuracy have equal importance while preparing for any competitive examination. 

Every section in the question paper has a different duration, like some questions, and their solutions will be lengthy. 

Some questions will require much less time, so plan and prepare the solutions accurately within the stipulated time. 

To achieve that, you will have to practice more and more question papers, solve many problems and so on.
Experts should be asked for advice
Any competitive exam can be easier if you have a good guide on the right

strategy to crack SBI PO

.

The trainers will answer any questions you have and help readers in any way they can.

The candidates can get a full explanation.

The trainers can help you understand every subject, pass the SBI PO exams easily, and apply for freshers jobs at top banks by going through the IBPS Preparation tips.

To learn more about the SBI  exams, candidates can join bank exams coaching centres.
Take breaks regularly
When studying for the SBI PO exams, candidates should never be in a hurry. This is one of the most important things that toppers did to prepare for the SBI PO.

When candidates rush through the subjects, they never understand the harder ideas.

Some challenges, like crosswords and puzzles, are a good way for the candidates to relax. If you put these ideas into action, you can take control of your mind and find solutions quickly.

This is one of the most helpful methods because it does most of the hard work to help candidates prepare.

The candidates can use

preparation strategy for SBI PO

by making plans, taking breaks, and studying.
Release out negative thoughts
Negative thinking can always fetch you backwards, and you will lose complete confidence and destroy life. 

This can lead you to not achieving the complete target you are thinking of. 

The Negative thoughts will not bring you up in anyways. 

To get rid of these negative thoughts, you can plan out Yoga sessions, meditation and much more stress-releasing activities and regain your positive thoughts.

 A positive attitude can bring you up in every aspect and boost your confidence in every way to perform well in the SBI PO exams and come out with flying colours as an efficient probationary officer.
Motivate Yourself
This is more important than what other people have to say.

Do not be concerned about what others speak or do or what might happen next.

Do not even think about just how you try to compare to other people. Just work on the problem.

This will make you stronger and a better person, making the things you do much more beautiful.
Conclusion
I hope you have a clear idea of preparing for the SBI PO exams. Everyone knows that exams can be very stressful. But you still own it. Take some deep breaths, calm down, and show how good you are at passing banking exams. I'm happy that you've read this, and I hope everything turns out to your plans. If your friends need help studying for the SBI, don't forget to tell them SBI PO preparation strategy. If you study these tips, you will succeed in your search for bank jobs.