In today's fast-paced culture, everyone wants to be successful. Everyone wants a dynamic career, and one of the most enticing ways to accomplish this is to take competitive exams. Passing a competitive exam is, unsurprisingly, a challenging task, but it is also the most effective technique for gaining admission to lucrative jobs and great PG programs. There are various competitive exams in the country, and this post will tell you about one of the most prestigious exams, GATE. You must understand preparation for GATE exam to advance your career by taking the GATE Exam.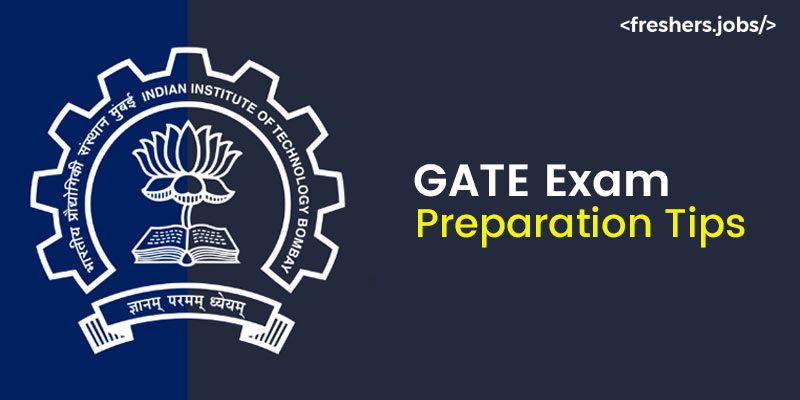 About GATE ( Graduate Aptitude Test in Engineering)
GATE (Graduate Aptitude Test in Engineering) is one of India's most prestigious examinations, providing applicants with numerous opportunities to advance their careers. It has 29 disciplines or subjects from 2023, from which candidates can choose based on their desire. Most students desire to pass the GATE exam because it will help them develop their careers and brighten and ensure their future. If you wish to take the GATE exam, you should become acquainted with its major features. For the best jobs you can track to the jobs alert.
The Graduate Aptitude Test in Engineering is a national exam authorised and administered in eight regions across the country. The GATE Committee, which includes faculty from IISc and seven other IITs, administers the exam on behalf of the Ministry of Human Resources Development, National Coordinating Board, and Department of Education. The GATE exam is intended to examine students' knowledge in fields such as engineering and science. The GATE scorecard is used by many PSUs (Public Sector Undertakings) to hire applicants for prestigious positions at Indian Oil, government jobs, and others.
Let us see how to prepare for gate and the preparation tips for clearing the GATE Exam. Scroll down to know more about the preparation of GATE.
Let us see each preparation tips one by one in detail,
Start Early
Candidates who are unsure about how to prepare for the GATE should get started as soon as feasible.

You will have enough time to make a timetable, examine the GATE curriculum, and proceed at your speed if you begin your GATE preparations early.

Another advantage of starting early is that you can devote a lot of time to your studies and focus on revising over the last few months.

Start early and don't wait till tomorrow.
Exam Pattern and Syllabus
You must be completely prepared for everything you will face.

Consider GATE to be a challenge that you will encounter, and know

how to prepare for gate exam

.

Before starting your studies, you should know the GATE test's basic syllabus and exam methodology.

The GATE test pattern outlines how the exam will be structured, whereas the syllabus outlines the subjects and units that must be covered.

This will aid in coordinating the timetable for the full preparation period.
Know which subject has a high weightage
Following comprehension of the course framework, the next step is to comprehend the relative importance of each subject covered in GATE.

You can raise your test score by devoting more time and preparation to the topics and focusing on the questions.

You might want to look at previous GATE test questions to see how the topics and curriculum are divided so you can figure out how much weight to give each subject.

You can gain an advantage on the test by focusing more on the topics with greater concepts if you determine which topics have more weight.
Always Make a Timetable
The Next is to prepare and plan for structured

gate preparation tips

.

You must have a proper timetable with a unique study chart containing various topics and units.

Prepare it as per your routine and abilities.

Creating a complete study schedule can track your progress and determine what to study. This reduces the chances of deviating from your plans.

Set daily and weekly goals to track your progress while planning your study schedule.

Subjects and units should be divided interestingly, and more time should be allotted to complex issues.

Time should be allotted in the schedule for revision and practice exams. Check that your study schedule is adequate and meets your expectations.
Referring to other study material
Because the exam's curriculum may be comparable or different most of the time, you can read your undergraduate texts books during GATE preparation.

In addition to textbooks, you can even refer to other reference books or materials.

You will gain a lot of knowledge by going through many publications and papers published that will help you during the GATE Exam.

You can even refer to the GATE top scores by going through their prepation strategy and plans and also know

how to crack gate exam.
Look out for your strength and Positiveness
During the preparation time, it is ideal for you to identify your strengths and weakness and concentrate on weaker sections.

Make sure the topics you have more confidence in are researched thoroughly to help you gain more scores.

You can also focus on achieving more marks in the areas of Mathematics, Aptitude that covers all the fundamental concepts.
Avoid Confusion
During the preparation time for the GATE Exam, if you are stuck and confused at any point, the best solution is to clear off the doubts by communicating with your classmates, lecturers, or professors and engaging in discussions.

This will progress and encourage you to study and prepare.

You can freely clarify your doubts on the subjects with your friends.

By doing so, you can develop, and it is very advantageous.

You can also avail many opportunities to find new information if you enrol on the various communities related to GATE preparation.
Revision
Revising the concepts is an important step during

preparation for GATE

Exam.

Reviewing, Revising the various topics and chapters that will require a fair time of yours so that you can grasp each and everything and are easily accessible.

Always try to spend more time on revision and include that in your study plan.

This will help you to complete the study material and elevate your development.

This will let you know how much time you have spent preparing for the chapters.

Always Perform regular revision.
Time Management
Time management is the most important criterion when preparing for competitive exams.

So managing your time is a very important aspect during study time.

If the time management is not handled properly, then there are chances for you not to complete the question paper fully.

Practise as many as previous year's papers, and try to solve every question by setting up a stopwatch as a part of the

preparation for gate

.

Look out for that time and see how much you can finish the paper within the stipulated time.
Use Flashcards
Although many students dislike doing so, flashcards enable revision.

The idea is simple, write everything important on a sticky note or card, stick it in your book, or carry it for revision.

Using flashcards, you can keep information at your fingertips.

This allows you to glance at difficult concepts quickly, and because they are written in your handwriting, they are easily remembered.

Flashcards can also help you remember your doubts. It saves time because you don't have to read an entire page to figure out where you're getting stuck.
To stay motivated, take a break
It should be high on

how to prepare for gate

and checklist.

The most important step in learning is motivation. After flipping through the pages for hours, you might feel low and like you can't do it.

The topics appear irrelevant, the vocabulary appears illegible, and the syllabus appears long. Simply take a break. Relax. Breathe. Take a walk or do something you enjoy.
Mind and Body Wellness
While it is essential to focus on your studies, it is also critical to maintaining your mental and physical health.

You will not perform well on the exam no matter how hard you study if you are ill and not feeling well.

As a result, eat healthy foods, get enough sleep, and take breaks from studying.

You can always participate in extracurricular activities during breaks to recharge yourself.
Conclusion
We can guarantee that if a student follows the preparation for gate and Tips from freshers jobs, you will get good marks and a good rank in the exam. Everything comes down to the student's commitment to his studies. Getting good grades becomes second nature when a student works hard. As a result, we wish all students good luck in their exams and future endeavours.