A career as a business intelligence analyst may be appealing to anyone who wants to work in the corporate world by earning a splendid business intelligence analyst salary in India. Business Intelligence Analysts are workable in various roles, but before taking one of these jobs, it's important to understand what it involves, where it will take you, and how long it will take. This blog will let you know each of these elements to assist you in getting ready to pursue this professional route. Let's move forward!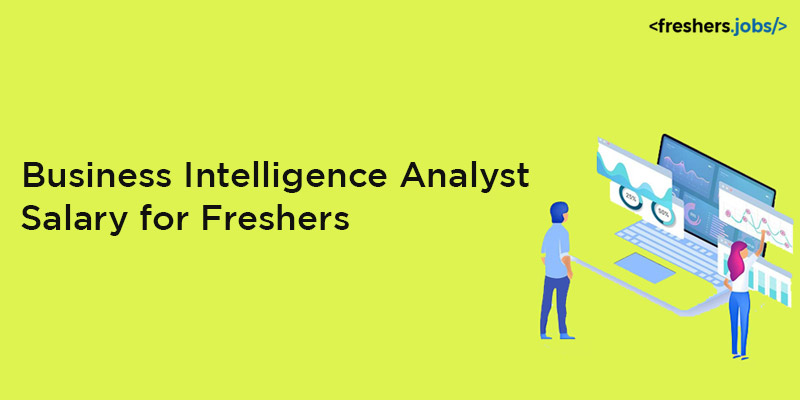 If you want to help a company meet its goals, enhance its services, and satisfy the needs of its clients, think about becoming a business analyst. There are numerous career paths one might take to pursue this job. Even though the skills are general, their application varies depending on the projects, services, businesses, and industries. In this article, we define Business Intelligence Analysts, salaries, the qualifications for their chosen career path, and why business analysts' career paths.
Business Intelligence these days has a great scope. It has numerous job opportunities for candidates who recently passed out, provided they should have some extra certifications in Business Analytics, Data Science. We'll learn about business intelligence and what it takes to be a business intelligence analyst, and a business intelligence salary in India.
What is Business Intelligence, exactly?
Business intelligence (BI) provides information and assists in strategic decision-making. Unprocessed data is transformed into insights that are easy for everyone to understand and apply through four key phases in business intelligence. Data collection, analysis, and visualisation are the first three processes that enable final decision-making.
Who is a Business Intelligence Analyst?
A Business Intelligence Analyst works for data management and analysis, which means they work on numbers or statistics.

They mainly deal with collecting sources like the data and then using the tools and analysing it.

Their data is mostly used for business tactics and marketing strategy decision-making. They earn high

business intelligence salary in india

.

In today's data science workforce, business intelligence analysts evaluate data from their organisations, competing companies, and other companies in the industry to evaluate how and where to improve their firm's market position.

Business intelligence analysts should consider newer methods for updating a company's data collection and analysis procedures, such as ensuring data integrity.

Business intelligence analysts may occasionally be tasked with hiring more data specialists, including data engineers.
The Way to become a Business Intelligence Analyst
Being a business intelligence analyst is difficult. The abilities necessary for this profession must be developed over many years of commitment and effort. Fortunately for someone with experience in business intelligence analysis, many possibilities are available. Let's see the steps that one must complete to become a BI analyst:
Completing a bachelor's degree programme in a suitable field, such as business or computer science

A master's degree can help you become more skilled at statistics and analysis, raising your chances of moving up the corporate field.

Start preparing for the required abilities as soon as you have a general idea of the position.

You can do this by enrolling in online classes and workshops or reading pertinent books and articles.

When you have certain skills, apply for jobs in the relevant field that fit them and earn a good

business intelligence analyst salary in india

.
Companies hiring Business Intelligence Analysts
There are opportunities to work for smaller companies that do not have a BI department. Yet, most BI Analyst employees are larger companies dealing with massive data volumes. The following list includes some of the most frequent workplaces for business intelligence analysts:
Banks

Insurance businesses

Retailers

Providers of telecommunications

Tech companies
Why Certifications of Business Intelligence for freshers?
Business intelligence is a skill set that is in demand.

Obtaining a business intelligence certification is essential because it will help you prepare for a challenging position in the tech industry and get a splendid

business intelligence salary in India

.

You have a better chance of getting a senior position than a certified business intelligence analyst.

A certification is a fantastic way to demonstrate your potential to a firm.

This shows that firms are willing to pay extra for trained BI professionals.
Knowing about Business Intelligence, its scope, and why there is a need for the certification. Next part, we shall discuss the salaries of Business Intelligence Analysts.
Business Intelligence Salary
Let us know the salaries of a Business Intelligence Analyst and the varying salaries offered for them by many influencing factors. To begin, we'd like to emphasise that your salary will vary depending on various factors. Your location, experience, skills, and educational qualifications play a role. Working at a top firm enhances your chances of earning more than applicants with comparable skills and experience. Furthermore, the salaries indicated below are only estimations. These salaries are being discussed to give you an idea of how things work in the field and what you may expect if you work as a BI analyst for a company.
Salary Of An Business Intelligence Analyst as per the Experience
Business Intelligence Analyst salaries are heavily influenced by experience. You will be paid an exceptionally high salary as a fresher Business Intelligence Analyst. If you need to earn more business intelligence analyst salary India, you will have to gain experience by showcasing your skills and learning more about Business Intelligence. Let us check out how are the salaries varying as per the experience.
The entry-level Business Intelligence Analysts get a salary of about 2.5 LPA.

The Business Intelligence Analyst who worked for a few years and gained experience will get a salary of 6 LPA.

The Senior Business Intelligence Analyst gets a salary of 10 LPA.
Salary of a Business Intelligence Analyst salary as per the Location
Location is an influencing factor that impacts the business intelligence analyst salary in India. As every industry lines in the way of Business, there is a lot of need for a Business Intelligence Analyst. So almost all companies located in the top cities are hiring Business Intelligence analysts. Let us check out the salaries varying in different locations.
Bangalore: 3.45 LPA

Chennai: 3.2 LPA

Hyderabad: 3 LPA

Mumbai: 3.05 LPA

Pune: 3.25 LPA
Salary of a Business Analyst as per the Organisation
Companies pay high salaries in India for freshers as business intelligence analysts. These days, most companies are hiring more Business Analysts to run business strategies proficiently. As a result, there is a need for business intelligence analysts. Let us see the varying salaries for BI Analysts in different organisations.
General Mills

: 4 LPA

SafeGuard Global

: 3.5 LPA

Flipkart

: 5 LPA

Lendingtree Research Services LLP

: 5.2 LPA

Aegean

:

4 LPA

Prodapt : 3.95 LPA

Innovatia Inc.

: 4 LPA
Business intelligence analyst's base salary according to skills
To become a proficient Business Intelligence Analyst, you must learn skills and become a good analyst to earn more salaries. So, here is a business intelligence analyst salary in India based on the skills of the Business Intelligence Analyst.
Business Intelligence: 2.5 LPA

SQL: 3.5 LPA

ETL (Extract, Transform, Load) : 3.12 LPA

Microsoft SQL Server: 2.95 LPA

Data Warehouse : 3 LPA
What abilities are needed to become a business intelligence analyst?
Skills Required
The skills required usually depend on a BI analyst's project to earn a high business intelligence analyst salary India. A BI analyst may be required to work more like a SQL specialist than a software engineer on some projects. The following are some necessary skills for BI analysts:
Knowledge of BI tools.

DB/DBA experience.

Knowledge of SQL.

Business analysis.

Creation of Software.

Data analysis.

Troubleshooting or debugging.
Business Intelligence Analyst responsibilities
Finding immense potential in company data is the fundamental duty of a BI analyst. Here are some further responsibilities:
Analyze market, business, and product trends to generate warehouse data.

Convert business needs into technical specifications.

Create systems that provide decision-making information.

Upkeep data analytics platforms.

Examine and improve existing business intelligence interfaces.

Troubleshoot multiple businesses and intelligence models.

Customers should be provided with high-quality reports.

Conduct quality assurance tests on a variety of reports.
Future Scope of Business Intelligence Analysts
Because businesses utilise data-driven analysis, the business analyst role is usually combined with data analytics, which will play a crucial role in an organization's data security systems.

This, in turn, contributes to the lucrative and promising future of business analysts.

This mix of technology is expected to develop by 2020 as IoT (Internet of things) and Big data analytics advance.

Business analysts are expected to do a wide range of tasks in the business analytic industry, which is predicted to grow rapidly.

Without a doubt, business analytics will be a developing issue in the future.
Conclusion
I hope you got the idea from my blog regarding the business intelligence salary in India. If you are reading this blog, you will almost certainly opt to apply for Business Intelligence Analyst jobs. As technology advances, more companies hire maximum freshers as Business Intelligence Analysts and pay them well. Business Intelligence Analysts are in high demand. Keep yourself advanced on demand for Business Intelligence Analysts and start applying for jobs at freshers jobs.